Have you taken advantage already of Sweetest Things: Layali Ramadan or are you saving yourself for a sweet treat at the end of the week?

The campaign sees more than more than 70 restaurants, cafés and lounges across the capital offering up delicious deals on desserts and pastries until the end of Ramadan.

Part of Abu Dhabi Culinary, it's the second instalment of Sweetest Things. The first edition, in November 2020, was a smash hit, with people flocking to venues to take part.

And having launched on Monday April 12, there is no time like the present to get down to one these venues to satisfy that quivering sweet tooth with a moreish dessert.

Looking for a great deal?

Here are all the Sweetest Things desserts that Dhs30 or less

You can also find out how you can take part and win two cool prizes at the end of this feature. To find the full list, visit timeoutabudhabi.com/sweetest-things.
The venue, which is named after the optimum temperature for brewing an espresso, is conjuring up a top quality dessert of a baked kunafa and cream cheese in a chocolate sponge cake for the basement price of Dhs19 this Sweetest Things.
Dhs19. Grand Millennium Al Wahda Hotel (02 495 3968).
Coral Restaurant
This beachside venue, which serves Mexican, Arabic and other international dishes, is serving up a super-tasty offer of tiramisu and a hot drink for Dhs29. The espresso soaked lady fingers are dusted with a layer of Guatemalan cocoa power.
Dhs29. Al Muneera Beach Plaza, Al Raha (02 585 9191).
Diners can grab a cup of freshly roasted coffee with a slice of tea cake thrown in here.
From Dhs23. Courtyard by Marriott WTC, Abu Dhabi, Hamdan Bin Mohammed Street (02 698 2222).
Want a dessert with a view? Looking out over Eastern Mangroves National Park, this picturesque mezze and seafood restaurant is offering its Arabic cheesecake kunafa for Dhs20 during Sweetest Things.
Dhs20. Eastern Mangroves Promenade, Salam Street (02 441 8244)
Serving a mix of popular 'high street' curries and cuisine from across India, during Sweetest Things, India Palace is serving its mango falooda, a mix of mango, radi, kulfi and nuts, for Dhs26.
Dhs26. All locations Abu Dhabi and Al Ain including Dalma Mall, Deerfields Mall, Mazyad Mall and Mushrif Mall (02 644 8777).
Khazana – Grain of Salt by Sanjeev Kapoor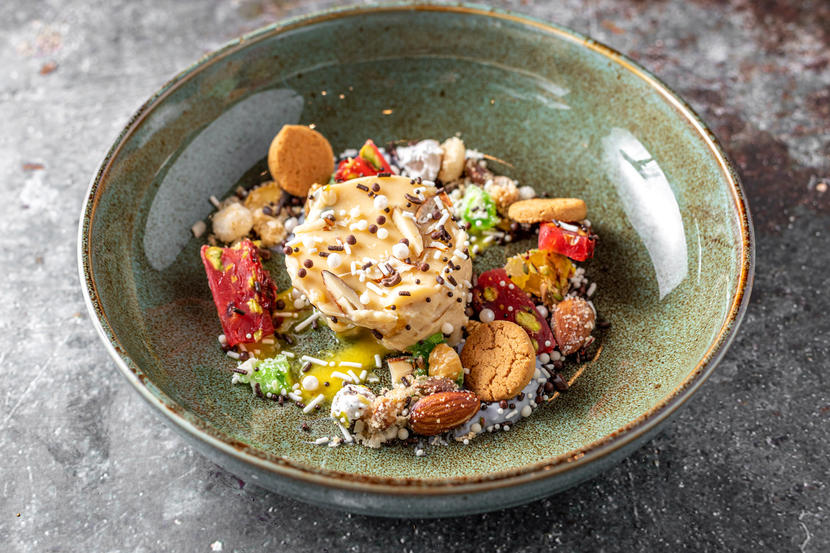 For Sweetest Things, this relaxed Indian restaurant is offering 50 per cent off two of its most popular desserts, the berry phirni (an Italian lime granite ginger cookie crumble) and the pista kulfi (a homemade Indian style pistachio flavoured kulfi).
Dhs23. WTC Mall, Khalifa bin Zayed The First Street (02 667 7333).
With a name like La Brioche, you've got to expect good things when comes to all things sweet. For Sweetest Things, the popular chain is serving up a Ramadan-inspired date cake dolloped with saffron cream for Dhs23. There's also the option to add a cup of coffee for an extra Dhs7 throughout the month.
Dhs23, Dhs30 (combo). All outlets in Abu Dhabi and Al Ain, including Abu Dhabi Mall and Yas Mall (600 53 53 59).
It's not all about tacos, fajitas and guacamole at this funky Mexican bar and restaurant. No, there's the small matter of the Bedel Tres Leches, a three-milk chocolate cake, too. During Ramadan it will be on offer for Dhs20 all month. Vamos.
Dhs20. The Galleria Al Maryah Island (02 582 3639).
Whether on a comfy lounge chair in the beautifully decorated interior or out on the pleasant terrace, diners can indulge in a drool inducing baklawa cheesecake with rose blossom cream at Orchid Lounge this Sweetest Things.
Dhs25. Dusit Thani Abu Dhabi, 925 Sultan Bin Zayed The First Street (Al Muroor Road) (02 698 8137).
Primo Dolci Café
Grab yourself a bargain sweet treat at Primo Dolci Café. The Italian styled coffee house known in the capital for its coffee and croissants, is slicing 50 percent off a tiramisu dessert for Sweetest Things.
Dhs25. Millennium Central Mafraq Hotel - Sheikh Maktoum Bin Rashed Rd - Shakhbout City (02 659 6783).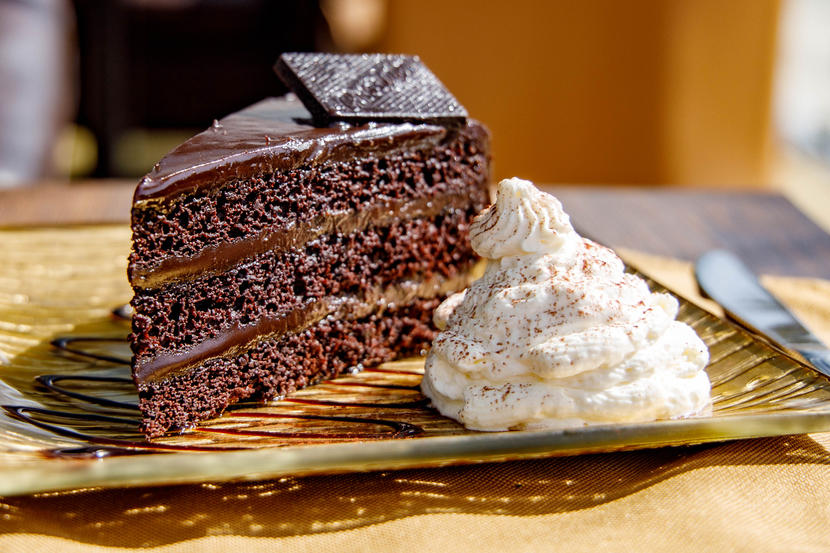 This cosy café overlooking the marina at Al Bandar is serving up a choice of carrot cake, cheesecake, black beauty cake or a salted caramel brownie with a hot beverage for Dhs45. If none of those are doing it, there's also a muffin and hot drink deal for Dhs30.
From Dhs30. Al Bandar Marina, Al Raha (050 501 5052).
This swanky rooftop restaurant on the 31st floor of the Grand Millennium Al Wahda Hotel is offering diners a baked kunafa and cream cheese in a chocolate sponge cake for Dhs19.
Dhs19. Grand Millennium Al Wahda Hotel, (02 953 3916).
Turf Café
During Ramadan, this cool homegrown spot has a quite frankly incredible sounding new dessert on offer, and new Emirati chai, as well as reintroducing its kunafa cheesecake (available by the slice or whole) and Vimto mocktails. The new dessert is a twist on a traditional Emirati sweet, rice cake waffles, served with dulce de leche and drizzled with saffron sauce.
Dhs15 (chai), Dhs20 (Vimto juice), Dhs30 (rice cake waffle), Dhs27 (cheesecake slice), Dhs180 (whole cheesecake). Mubarak Bin Mohammad Street, United Square, Khalidiya (02 386 6742/050 386 6742).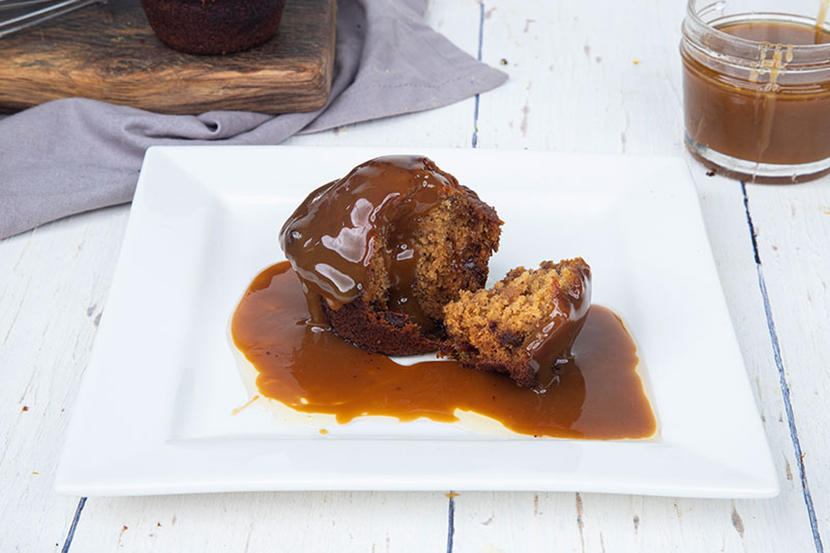 A top place for those who love the cuisine of the Caribbean and West Africa, West to West Kitchen is offering a sticky toffee pudding slathered with toffee date syrup for Dhs20.
Dhs20. Al Bzaymi Street, Al Danah (02 671 9119).
SHARE YOUR SWEETEST MOMENTS
We want you to share your snaps of the delicious desserts you try as part of Sweetest Things: Layali Ramadan edition. Abu Dhabi Culinary has teamed up with Brooklyn Creamery to offer one lucky winner a year's supply of ice cream. And that's not all. The Sofitel Abu Dhabi Corniche is offering a staycation for two people to stay at the classy five-star hotel. You'll get a half board deal too. The stay will be valid from May 12 until July 31 2021.

All you need to do is take a picture of the Sweetest Things dessert, post it on your Instagram feed and use the hashtag #mysweetestmoments.

We will take the best pictures and use them in a gallery on Time Out Abu Dhabi. At the end of Ramadan, we'll pick one winner to win the prize.