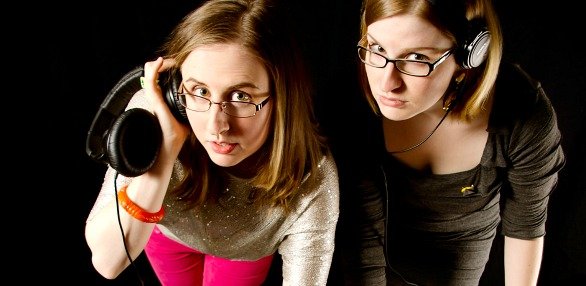 Sadly, the poster boy of YouTube-fed music superstardom tends to be Canadian singer and Segway getaway driver Justin Bieber, but truthfully, the prototype for Internet singer-songwriters is Jonathon Coulton. Most famous for writing and performing the viral hit that played over the credits of Valve's 2007 shooter-puzzler game Portal, Coulton is a former software programmer who's launched a singing career by recording a new song each week and posting it online for free. In embracing the viral nature of the Internet early on, he attracted a loyal fan base that supports his particular brand of nerdy jams through concerts, album sales and donations. In the process, he created a new model by which artists can connect to dedicated niche audiences using the global reach of the World Wide Web.
In their own brand of hyper-specific and slightly precious music about grammar gripes and dinosaurs' body-image issues, The Doubleclicks -- a Portland, Oregon-based pair of sister singer-songwriters who will play in Madison as part of their Ladies of Ragnarok tour -- exemplify the kind of creative potential that the Internet has created for musicians, particularly geeky ones.
The Doubleclicks will perform at Pegasus Games on Saturday, Oct. 6 at 7 p.m., along with along with YouTube songstress Molly Lewis, comedian Joseph Scrimshaw, and acoustic guitar-slinger, Doctor Who fan and Madison resident Dr. Noise.
"It's been said that our music is for software developers and the people who love them," says Angela Webber, who rocks vocals and guitar (and often ukulele) while her sister Aubrey provides a soothing bass line to each song on cello. Their sedate acoustic sound mashes Kimya Dawson-esque vocals with the highly specific lyrics of artists like Coulton, Hard and Phirm, and They Might Be Giants. She cites author John Green for a quote that informs all of her songs: "Nerds like us are allowed to be un-ironically enthusiastic about stuff."
That enthusiasm makes their songs -- which range in subject from a love song pining for a Dungeons and Dragons player to another lamenting the plight of the oft-abused apostrophe -- feel honest, referencing aspects of geek culture to serve a decent song, rather than to pander to an audience of nerds eager for a song about playing Halo.
While "Apostrophe" sticks to cute its-versus-it's jokes, "This Fantasy World" tempers references to dungeon masters and +1 fire resistance with a note of longing for a certain D&D player to balance being a valiant hero with other, more pressing real-life concerns. Like sex, for example.
Webber admitted that song ideas can come from anywhere, largely whatever interesting bit of pop culture buzzing around Twitter catches her fancy.
It's not hard to imagine an exchange of @replies serving as the inspiration for "Worst Superpower Ever," which channels a favorite online activity -- arguing about pretend things -- into an argument straight out of a Kevin Smith film, minus the penis jokes. What follows is a game of "Would You Rather...?" filled with awkwardly handicapped superpowers. It goes like this: "Would you rather stop time, or never need to breathe / Would you rather have your one weakness to be a really well-known thing / What if you were lactose intolerant but could make things taste like cheese? / Or if you had the power to induce a slight fatigue?"
But as in the case for many bands in this sub-genre, many Doubleclicks songs often boil down to waiting for the punchline of the song to arrive.
"Hollywood Raptor," aptly renamed "Clever Girl" for their album Chainmail and Cello, sounds like a song about girls' body-image issues until the listener realizes that the song is directed at velociraptors. It means that some of their songs have a fleeting, jokey quality to them, but that doesn't mean that seeing the pair scream "RAWR!" at the live set will be any less fun.
But importantly, none of the laughs seem mean spirited. "We want our fans to make things, and to embrace all of [their] strangeness," says Webber. Each song holds a romantic reference for people who have passion, whatever that passion may be. That's something even a Madden-loving jock should be able to appreciate.