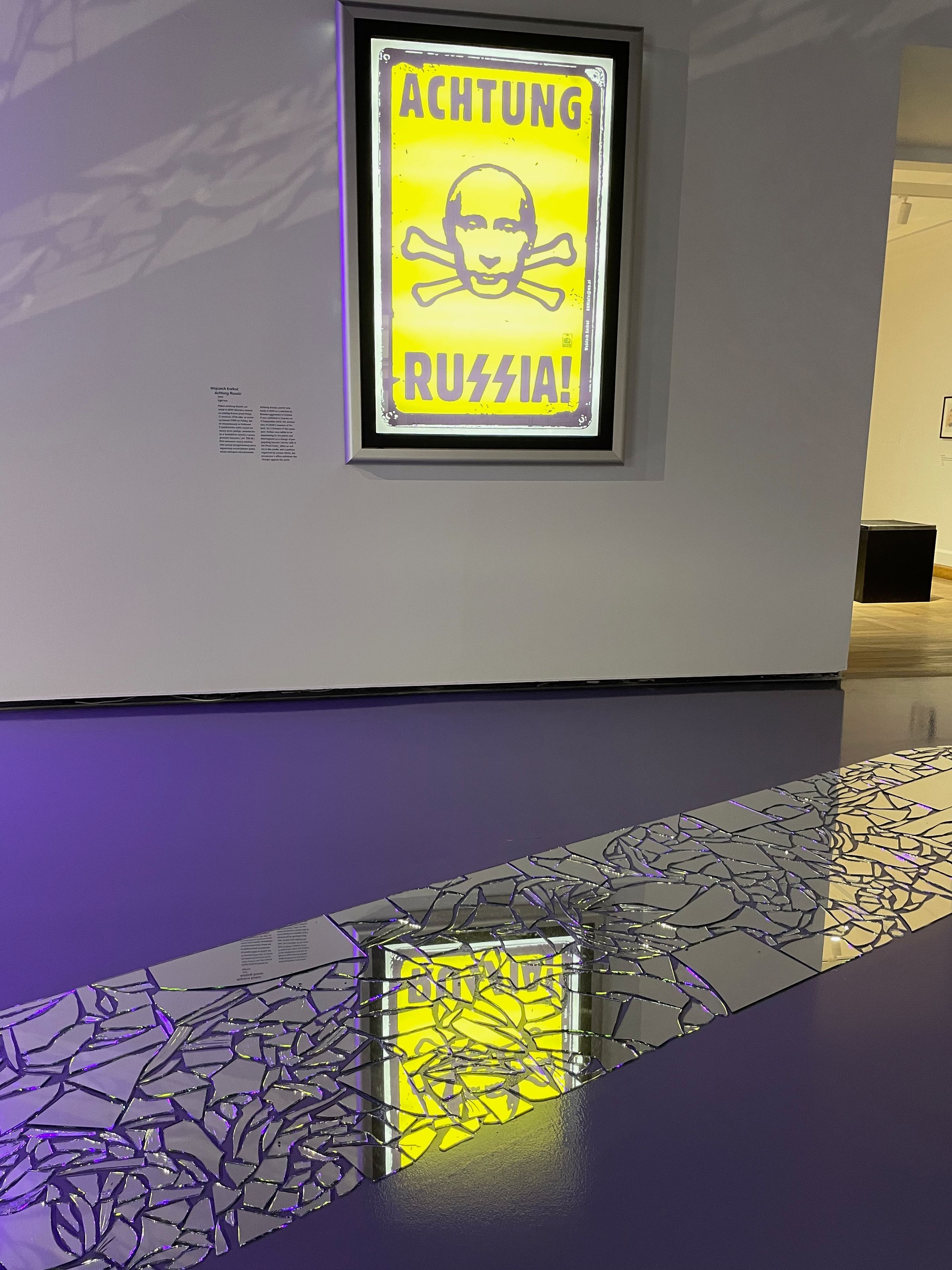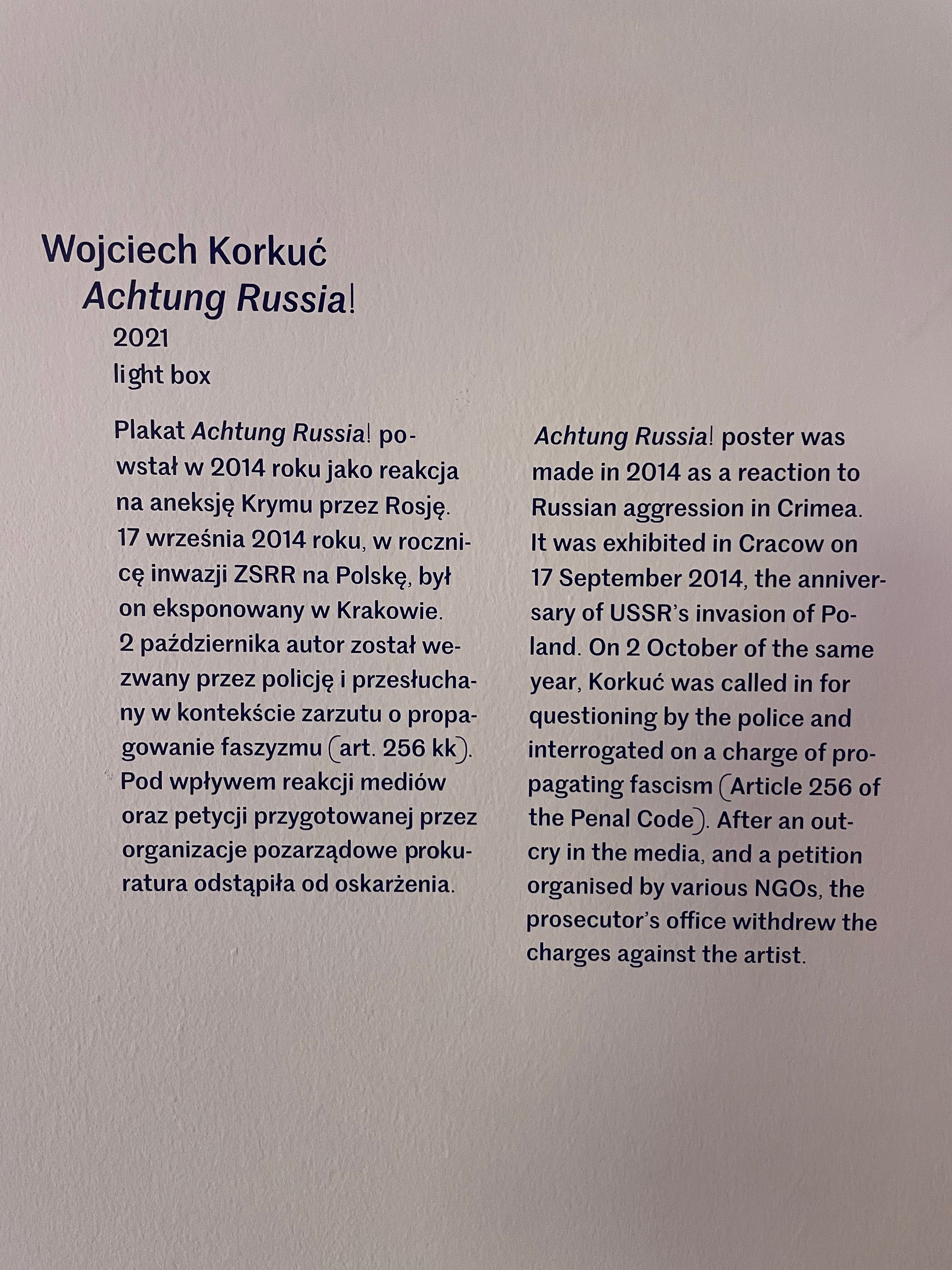 I fly to Warsaw, Poland next week...My third visit since November 2021. I've been co-curating a series of public discussions at the Ujazdowski Castle Centre for Contemporary Arts with Agnieszka Kolek - artist, curator and co-founder of the the Passion for Freedom Art Festival in London - called Culture Tensions. The Sacred and the Profane is the second in the series.
Our next event is on Thursday 17 March, and you can either be there IRL, in Warsaw or via Facebook Live where it will be dubbed in Polish or on YouTube where it will be also be streamed in English. I hope you will all tune in by hitting the reminder button on YouTube.
When I proposed the thematics of the discussions to the directors of the museum, little did I know that there would be a full out aggressive war and invasion by the Russian president Vladimir Putin against Ukraine, an independent sovereign state (formerly a USSR state), neighbouring Poland.
There's an information war going on to justify this barbaric invasion so I just wanted to use my site to share some important and thoughtful articles regarding this invasion.
Firstly I unreservedly am against the Russian invasion and gradual destruction of Ukraine and I give complete moral support to both Ukraine and Poland in this conflict. As I write, Poland is reported to have taken in 1,294,903 Ukrainian refugees who have fled from Putin's tanks and bombs attacks. The Polish people and government have taken real positive measures to help the displaced. Jacob Reynolds gives an excellent report on the ground of what real solidarity looks like, in Poland.
The questions we have to address are: Why has Putin invaded Ukraine? what are his motivations? What can we do to stop this attack and support the Ukrainian national sovereignty and autonomy, its citizens and residents? What is the role of art and artists in times of war?
Putin is said to have launched a "spiritual war" and we will be interrogating this claim at our discussion - a sacred or profane act?
"Putin's attachment to Ukraine often takes on emotional, spiritual, and metaphysical overtones. His pronouncements don't align with reality, let alone with how Ukraine is viewed by most Western or Russian observers. It is conceivable that moves in recent months by Zelenskyy and other players have simply pushed too many of Putin's buttons." Carnegie Endowment for International Peace, November 2021
Have secularist, enlightenment, humanist, cosmopolitan ideals failed to create a more rational, objective, reasoned, tolerant, progressive world of governance and understanding?
"Ukraine is an inalienable part of our own history, culture and spiritual space" Putin said. That's what this is all about, "spiritual space". Giles Fraser, February 2022
'The philosophical underpinning of Putin's foreign policy is a political-religious movement broadly known as Eurasianism. Similar to the relationship of the Christian evangelical movement to the Republican party, Eurasianism offers a grounding for policies in both the spiritual and historical spheres. The central tenet is that Russia is a civilization in the form of a state. Whereas the United States is thought to be part of the broader family of "Western" civilization, Eurasianists see Russia as its own self-contained world. In this world, Russia shares values with states like Kazakhstan, Iran, or Turkey – countries that are neither European nor Asian in their values, but with a political and cultural leadership oriented toward Moscow.' Georgetown Journal of International Affairs, March 2017
Rebel Wisdom's excellent video, Putin's Religious Mission provides a profound insight.
Putin's brutal invasion of Ukraine gives a lie to all those silly daydreams about his being a pillar of Christian and conservative values. The two lengthy speeches which Putin delivered this week to justify the war, make his motives clear. In his world, Ukraine is just an administrative unit within the Soviet Union, whose territory was given to it by Lenin, Stalin and Khrushchev; it was an unintended, unfortunate incident of history that it ever became independent. Addressing his troops as "comrades", Putin made their mission abundantly clear: the Soviet empire is coming back to take what belongs to it. Godless and Gutless by Pavel Stroilov, The Critic 28 February 2022.
What can we do to help Ukraine and the displaced Ukranians?
I received this message from a curator and facebook friend:
Dear UK friends,
if you are looking for a good way to do something about the Ukrainian crisis, here is a trusted, UK-registered charity I have been working with since 2018, helping Ukrainian migrants and refugees here in Poland. https://www.globalgiving.org/projects/support-displaced-ukrainians-in-poland/
With your support, we will be able to directly address their most urgent needs. We focus on finding personalised, long term solutions to the problems of individuals and families, creating bonds of friendship (which we believe are stronger than typical institutional solutions) and empowering our beneficiaries so that they, in turn, can support others on their own.
Soon, on Wonder Foundation's website and Facebook account, you will be able to follow stories of the people we are working with and learn more about their current situation.
Thank you in advance for everything. Please share this message with anyone you think might be interested.
I cannot imagine the trauma that Ukrainian children and families are going through, and it's great to see the Ujazdowski CCA helping out by having free film screenings so children and families can momentarily to suspend the disbelief of horror playing out in their world.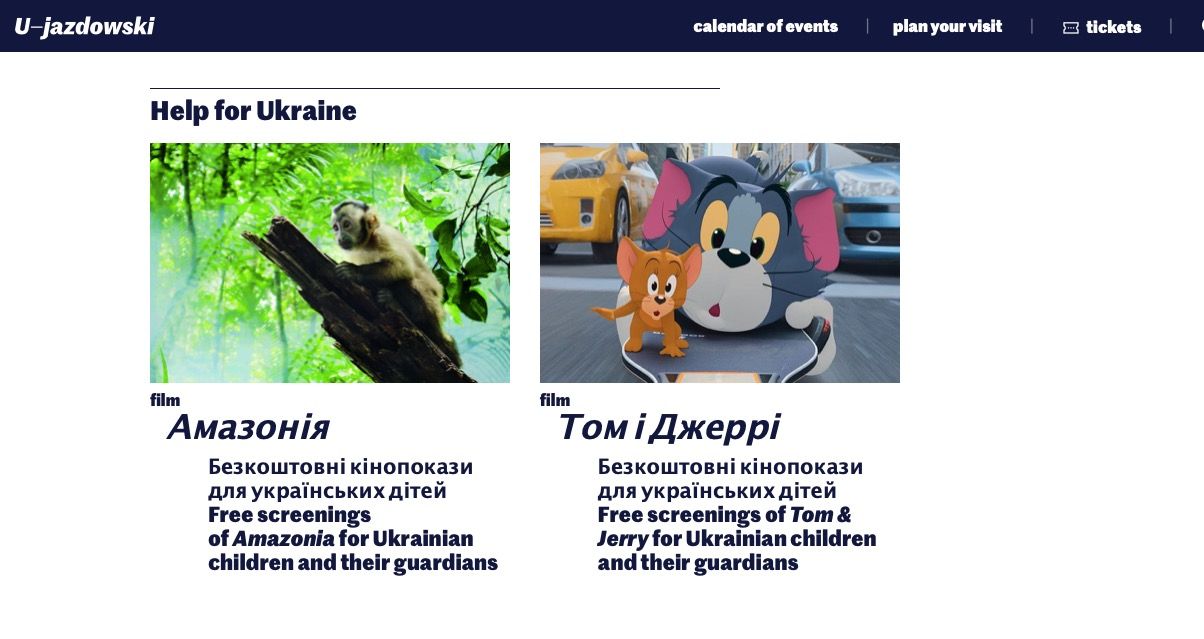 Our public discussion won't be completely dominated by Putin's profane war, we will talk about art, the secular, the spiritual imagination and a shared sense of community, and we will give ample time for audience Q&A and thoughts in Warsaw. We have some wonderful speakers, so do tune in on 17/03/2022 via YouTube, hit that reminder button!