Written by Loyd McIntosh Photographed by Meg McKinney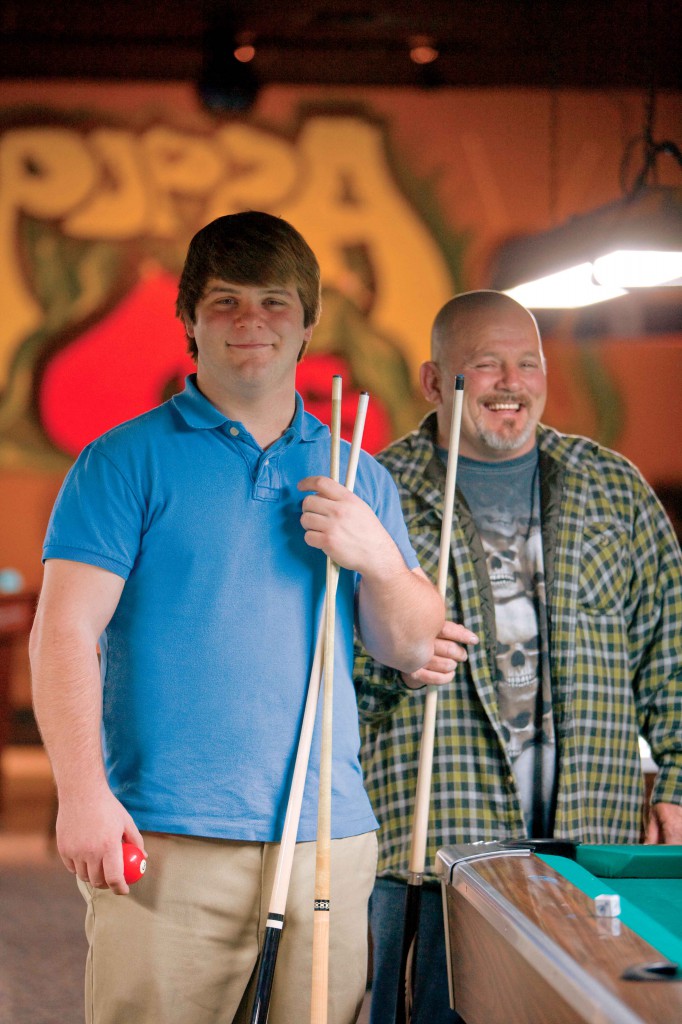 It's one of the classic pop-culture images of the 20th century. The smoky, dimly-lit pool hall. Dozens of hard-living men hunched over tables with torn, green felt, calling their next shots. Money changing hands as strangers from out of town hustle the local hotshots out of their money, and their pride.
While these images are the stuff of Tinseltown, the reality is the modern billiard scene is much different. In many cases, the pool halls are smoke-free, fist fights are practically non-existent, and middle-age women and insurance salesman rub elbows with the blue-collar guys on a nightly basis. One thing that hasn't changed since the black-and-white glory days is the drive to be the best – and for the rest of the city to know it.
From the days when Minnesota Fats was a larger-than-life character (despite never winning a major pool tournament) to today's players, it's not enough to simply be good. You need a certain mythos, a word-of-mouth legend that follows you around from pool hall to pool hall, tournament to tournament, that ensures your name will remain on the tip of every pool player's tongue in town.
Today, when people ask the question, 'Who's the best pool player in Birmingham?', a handful of names trickle out – Tyson Allen, Harold McAbee, Bill Price. But there are two names that are 100 percent guaranteed to be mentioned by anyone with any knowledge of pool in the Magic City. They are Joseph Cole and David Rowell.
These two guys are the cream of the crop, the big cheeses, the head honchos of Birmingham pool. Their rivalry is fierce, their skills are legendary and their friendship is complex, to say the least. Their stories of how they got to where they are today are better than any movie, and their desire to be the best has pushed their legends to new heights. Need proof? Read one, baby!
Joseph Cole
At only 23 years old, Joseph Cole has earned quite a reputation as one of the hottest pool players to come out of Birmingham in decades. Known around Birmingham's pool community as Jo-Jo, Cole's story of how he got into the game sounds like it came straight out of 1930s Kansas City.
After his parent's divorce in 2001, Cole and his father, James, moved to the blue-collar enclave of Tarrant City and started "living as bachelors," according to Cole. In search of a hobby the two guys could do together, they started shooting pool at a local joint called Jackpot. Cole's father taught him everything he knew about the game and, at the age of 12, it wasn't long before Cole was beating his old man regularly.
Jackpot soon became Cole's home away from home as the middle schooler began spending as much time learning the game of pool as possible. This hobby was now practically an obsession. As long as Cole kept his grades up, his father would let him shoot pool at Jackpot for hours at a time.
"As soon as I got out of school, I'd walk straight to the pool hall, and we would stay there real late. Sometimes, believe it or not, I'd stay there until I had to go back to school. I'd go home and change shirts then go straight to school," Cole says. "I swear I did. That's how much I loved the game. I'd stay there as long as I possibly could."
After about a year of Cole knocking balls around at Jackpot, a local pool legend by the name of Terrance Clark saw Cole's potential and began working with him, serving as a coach and a mentor, even though Cole says he didn't think he was very good at the time.
"He noticed that I had some natural ability, and every day he showed me something new," Cole says. "From there, he told me where some tournaments were, and that I needed to start playing in tournaments and have pressure put on me by playing better players."
With his father and new mentor Clark in his corner, Cole began playing in local youth competitions at Jackpot, winning 11 of his first 12 tournaments. From there, he moved up to bigger and better tournaments and, by the time he was 13 years old, placed third in the DCH Junior Nationals in Ann Arbor, Mich.
Clark wouldn't get the chance to see his star pupil fully develop. Shortly after Cole's accomplishment in Michigan, Clark, a lifelong smoker, revealed he had been diagnosed with lung cancer. Six months later he was gone. However, even during his last weeks and months, Clark never stopped telling whoever would listen about this talented kid from Tarrant.
"Every day he'd go home and tell his wife about me, and he told his nephew about me. He told everybody about me," Cole says. "He had a really rare cue. They only made about 30 of them, a 1975 model worth about $5,000. He put it in his will to give to me."
Over the last decade, Cole's star has been on the rise, as he competed in tournaments throughout the state and beyond. In 2009, Cole placed second in the U.S. Amateur Championship, losing only one game and beating the previous year's champion and runner-up in the process. Cole can be seen working on his game at various places around town, such as Bumpers in Hoover and Poppa G's in Pelham. He admits he's something of a natural, but feeds his need to improve through his love of competition and a desire to be the best.
"It's so easy to me. I don't really have to try that hard," Cole says. "I didn't have to try that hard to get where I am. I just played a lot and I pick up on things really quickly."
"I like to compete, and what I'm best at is playing pool," he says. "I know I'm not the best now, but what keeps me going is I eventually want to be the best in the world. "I'm wanting to be a touring pro, and I know I'm eventually going to get there. I'm not going to stop until I do."
David Rowell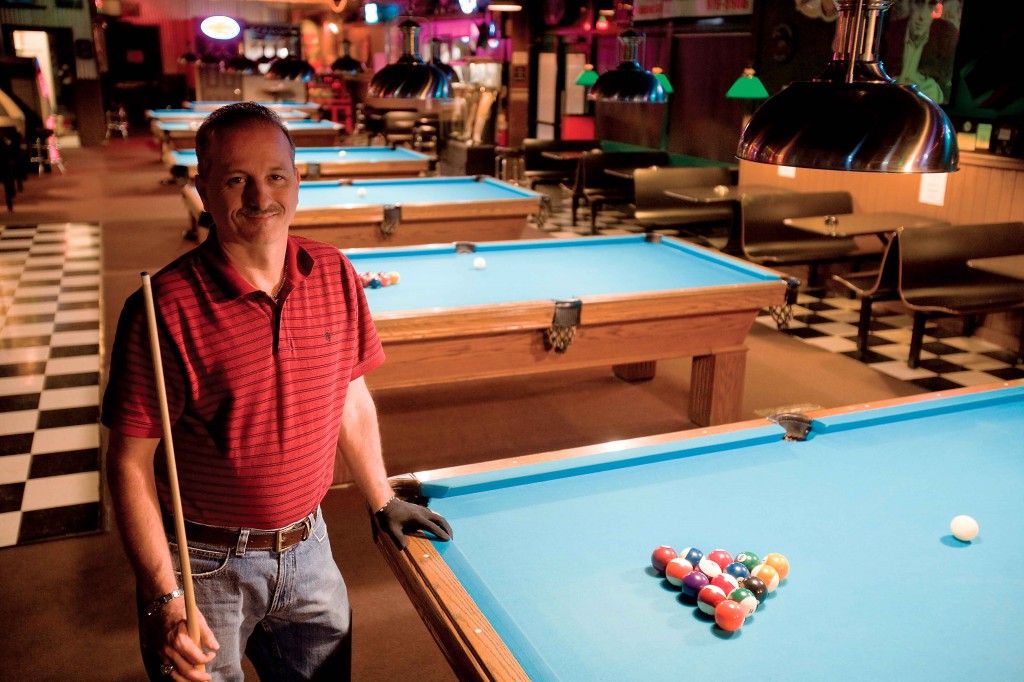 It's a short drive down U.S. 31 to Bumpers, one of the most popular pool halls in the Birmingham area and where you're likely to find David Rowell. The 51-year-old Pelham resident not only plays there regularly, but he bought the joint in April 2011. Rowell's life practically revolves around pool. In addition to being the boss at Bumpers, Rowell is well-known as a master pool-cue builder and repairman, but he is best-known as the top player in Birmingham for over a decade.
Rowell became the first player to win the U.S. Amateur Championships in his first year of qualification in 2000 and has finished in second place twice in the years since. He competed briefly on the American Pool Association (APA) pro tour from 2003-04, earning the nickname "The Birmingham Bomber" in the process. "I learned you've got to play really well and consistent," Rowell says of his pro experience. "I'm probably the best player around here, but when you get out there, there's tons of players than can really play."
Like Cole, Rowell is a pool junkie with a desire to be the best he can be. Unlike Cole, however, Rowell wasn't a natural. He's worked tirelessly over the years since first picking up a cue at the age of 15 after his friends were tired of losing to him in pinball at a local game room and hangout.
"I was beating them up in that and they wanted me to play them in some pool," Rowell says. "They thought they could beat me. That's when I first started playing, the first day, and I've been playing ever since."
Soon, he became the top player in his circle of friends. However, once he was old enough, Rowell and one of his friends graduated to a pool hall in Five Points West, one with a serious pecking order and even more serious players.
"We went in there, and I was about the worst player in the thing," Rowell says. "All of the good players would play up front, and we'd play in the back. I just couldn't stand getting beat, so I bought a pool table and put it in this house that you couldn't even shoot in except on two sides of the table, it was so small."
"I was working and practicing every day and then going in and playing pool," he adds. "When I left I was the best player in there. It took me a couple of years, maybe three, to where I could beat the best players in there."
In the mid-1980s, around the time he turned 25, Rowell started taking lessons, inspired after having the opportunity to see some of the world's best pool eight-ball and nine-ball players in Las Vegas. His goal: to learn the techniques of the masters with hopes of joining their ranks.
"That's what really motivated me was watching those guys and seeing how they play precision pool," Rowell says. "That's the way I designed my game. I'm something of a technician because I always tried to do things the right way, by the book as far as stroke and keeping the ball in a perfect position. It makes the game a lot easier."
After a few years dominating the local pool scene and playing a little on the road, Rowell qualified for the U.S. Amateur Championships in 2000. A relative unknown on a national, Rowell was an underdog in the finals against John Binion, a well-known Detroit-based player who finished second in 1999 and 1997. Rowell beat Binion in a match series of eight games of eight-ball and 13 games of nine-ball. Victorious, Rowell now stood shoulder-to-shoulder alongside some of the nation's best pool players.
"They didn't know me or know who I was. After that they gave me a little respect," he says.
"I was all excited because it was my first year there and I was just expecting to win a couple of matches," Rowell says. "There are 128 qualified players, and that means you're getting the best of the best."
Since then, Rowell has beaten some of the world's best players, including Earl Strickland, Danny Winch and Danny Harriman — at the time ranked no. four in the world — and has remained at the top of the Birmingham pool scene with relatively few challengers. That is, until Jo-Jo Cole came along.
The Rivalry
Rowell first encountered Cole when he was a 14-year-old kid being driven to Poppa G's by his father after school. Already a star in junior pool, Cole wanted a shot to learn from and play with The Birmingham Bomber. While it ain't the 1950s anymore, this is still pool, and there is still a little gambling that goes on from time to time. It's called having "action" on a game. In a scene straight out of a Hollywood movie, Rowell agreed to play Cole, but not without a little skin in the game.
"I actually played David for $20 a game trying to get better," Cole says. "That's how much I've progressed. I knew I was going to lose but I would play him for $20 a game, and my dad would pay him. He would give me a spot, a handicap, so that I would have a better chance, but he'd beat me with ease."
"It wasn't $20 a game. It was something like $50 a set, races to five or seven or something like that," Rowell remembers with a slight laugh. "That was back when I was spotting him, when he was real young. I was giving him the seven ball or something playing nine-ball."
Those early games were the genesis of their rivalry. Over the years, they've played a handful times, with Rowell maintaining the upper hand early in their competition. They share a goal: to be the best and to have the respect of other players. It may seem like an old-fashioned, Godfather-era notion, but respect remains of paramount importance among pool players. (For more on The Players click here)
It's not enough to beat a good player, but to have other players in the pool hall seeing it with their own eyes helps build the myth – the legend, if you will. By the time these two top players finally set a time to test each other at the table, sometimes weeks or months of behind-the-scenes theatre has taken place before the first set of balls has been racked. In this case, the stakes couldn't be more diametrically opposed: Rowell has already been at the top and has little more to gain except keeping his pride, and legend intact. Cole, on the other hand, is the rising star with nothing to lose but a butt-load to prove. Their relationship, therefore, is a wee-bit complicated.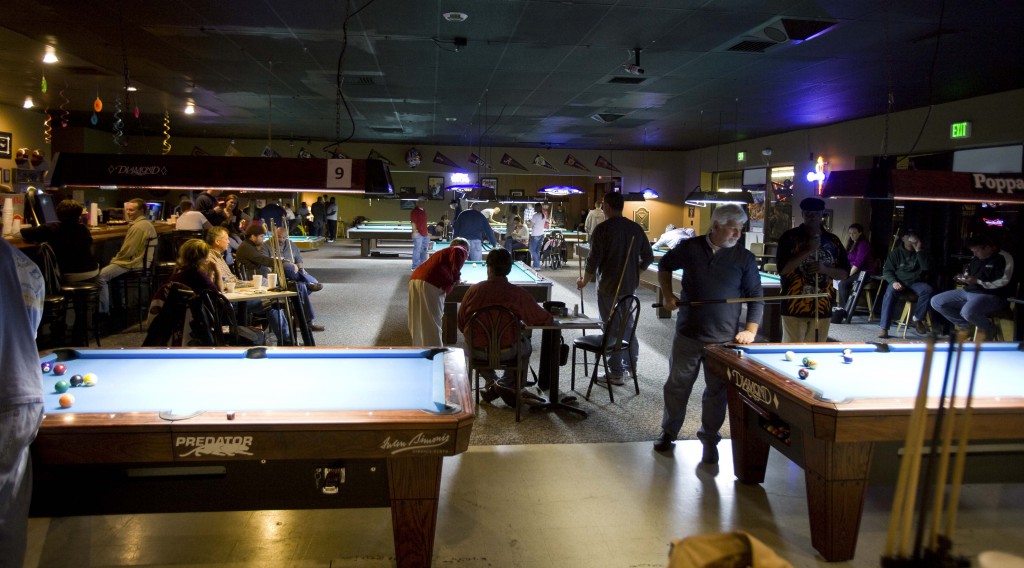 "We're buddies," Cole says. "One day we're getting along, the next day we're fighting, because he's trying to be the top as well," says Cole. "He and I believe in a lot of the same things. He wants to be on top, he wants to be the man, and he wants to be in the spotlight, the same as me. Although I don't get to play him a lot, that's the person I like to beat the most."
"Every time we play he'll get on the Internet and put on Facebook that he's playing me because he likes people to come out and watch him play me. It's kind of funny," Rowell says.
"He wants to be the man real bad, you know," Rowell adds. "We've played several times, and he beat me a couple of times.When he beats you he kind of drives it in you, and it kind of gets up under your skin. The last time I played him, I didn't give him any breaks. I think I beat him 0-7."
Even though the lives of both men revolve around pool, they are at vastly different stages in life. Cole is focused solely on the game, while Rowell, with a business to run and an income to earn, let his game slide for a short time, something he recognized, and, as a result, Rowell wouldn't play Cole for a while. Rowell says this flat drove Cole crazy, unable to get a game against his favorite rival when the pendulum was swinging in his direction.
"He was trying to get me to play when I wasn't playing real good, and I wasn't playing him, so he would make little tapes on his phone and put it on Facebook and said all different things about me," Rowell says. "He would say stuff like 'the Bomber won't play me no pool' and this kind of stuff."
On the verge of going pro, Cole will be playing in a handful of major tournaments in 2012 — the APA Masters in Las Vegas and the Derby City Class in Indiana — and is playing the top of his level. Rowell will most likely make his way to some of the same events this year, as well, having gotten his game back on track. One thing is for certain: their rivalry — friendly or otherwise — is what keeps them motivated to be best pool player around.
"Right now, David is playing better than I am, but if I practice for a little while then I'll be above him," Cole says. "Me and David, we don't spar a whole lot, but he thinks he's the man and that he can't be beaten. I go in there and want to show him that I can beat him."
"Now I'm playing every day and practicing, and I beat him pretty bad the last time we played," Rowell says. "It makes you practice, that's for sure."
Read more in "Cued Up" and find out more about the Birmingham Chapter of the American Poolplayers Association here