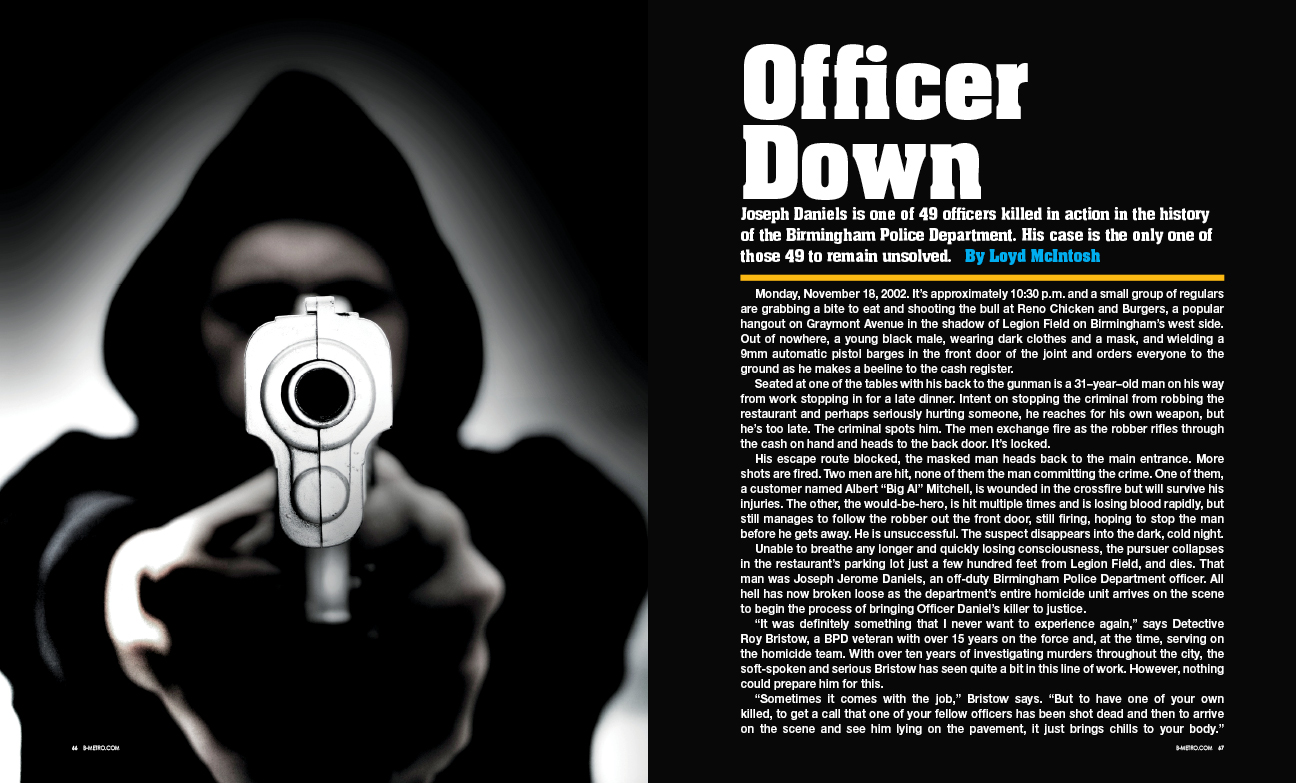 Monday, November 18, 2002. It's approximately 10:30 p.m. and a small group of regulars are grabbing a bite to eat and shooting the bull at Reno Chicken and Burgers, a popular hangout on Graymont Avenue in the shadow of Legion Field on Birmingham's west side. Out of nowhere, a young black male, wearing dark clothes and a mask, and wielding a 9mm automatic pistol barges in the front door of the joint and orders everyone to the ground as he makes a beeline to the cash register.
Seated at one of the tables with his back to the gunman is a 31–year–old man on his way from work stopping in for a late dinner. Intent on stopping the criminal from robbing the restaurant and perhaps seriously hurting someone, he reaches for his own weapon, but he's too late. The criminal spots him. The men exchange fire as the robber rifles through the cash on hand and heads to the back door. It's locked.
His escape route blocked, the masked man heads back to the main entrance. More shots are fired. Two men are hit, none of them the man committing the crime. One of them, a customer named Albert "Big Al" Mitchell, is wounded in the crossfire but will survive his injuries. The other, the would-be-hero, is hit multiple times and is losing blood rapidly, but still manages to follow the robber out the front door, still firing, hoping to stop the man before he gets away. He is unsuccessful. The suspect disappears into the dark, cold night.
Unable to breathe any longer and quickly losing consciousness, the pursuer collapses in the restaurant's parking lot just a few hundred feet from Legion Field, and dies. That man was Joseph Jerome Daniels, an off-duty Birmingham Police Department officer. All hell has now broken loose as the department's entire homicide unit arrives on the scene to begin the process of bringing Officer Daniel's killer to justice.
"It was definitely something that I never want to experience again," says Detective Roy Bristow, a BPD veteran with over 15 years on the force and, at the time, serving on the homicide team. With over ten years of investigating murders throughout the city, the soft-spoken and serious Bristow has seen quite a bit in this line of work. However, nothing could prepare him for this.
"Sometimes it comes with the job," Bristow says. "But to have one of your own killed, to get a call that one of your fellow officers has been shot dead and then to arrive on the scene and see him lying on the pavement, it just brings chills to your body."
Now the head of the department's cold case unit, Bristow, along with his partner Detective Jody Jacobs, a tall BPD veteran with a booming baritone, have the task of solving the unsolvable. The two men recount the story of their fallen comrade from their windowless, first–floor office at the Birmingham Police Headquarters downtown.
Surrounded by hundreds of files containing information on all sorts of violent crimes, many going back decades, the two men have just returned from Kentucky to talk to the suspect in a 24-year-old rape case after receiving a positive DNA match. Rape, murder, burglary, battery, you name it. If it hasn't been solved, for whatever reason, it makes its way downstairs to this two-man cold case team.
After a few minutes talking about the rape case, the two men turn the conversation back to the case of their fellow officer, Joseph Jerome Daniels. "We were in the same rookie class. October of 1992 we started rookie class in the academy together," says Jacobs. "When you go through the academy together like that it builds a bond that never goes away."
Jacobs leans back in his desk chair and talks a little more about Daniels. Jacobs remembers him as a really laid–back character, one who didn't like to draw too much attention to himself. However, he was a fine officer and was well-liked among his peers and the neighborhood he served.
"That's one of the things about police officers, military, any type training like that where you have to deal with the same people for a period of time, you build a friendship," Jacobs says. "The guys that are still here from that class aren't going to let this go. I'm not going to let this go."
At the time of his death, Daniels was the father of a 4-year–old son and a 10-year veteran of the Birmingham Police Department, most of that time spent working out of the North Precinct. Daniels is one of 49 officers killed in action in the history of the BPD. However, his case is currently the only one of those 49 to remain unsolved.
Almost 10 years since the robbery gone bad that ended Daniel's life, Bristow and Jacobs are still perplexed as to why someone hasn't come forward with information that could help solve this case once and for all. "What I don't understand is why someone hasn't called, or written a letter, and said 'hey, this guy in my cell' or 'this guy I know' has been running his mouth about killing a cop," Bristow says.
"I still just can't understand with the things that we do putting our life on the line, that somebody just won't come forward and help," he adds. "I just don't understand when we're doing it everyday, day in and day out. All we want is information."
"The information is out there on Jerome's case," Jacobs says. "People know."
Unlike the television cop shows in which a brutal murder matches up in a computer database because of single hair on a doorknob, the real world of police work is much, much different. Most violent crimes are solved because someone has information. They've heard someone on the street bragging about something they did, or someone with some tangential involvement comes forward in a moment of soul-cleansing.
The fact that this case remains unsolved after close to nine years doesn't mean the BPD doesn't have a suspect. Bristow and Jacobs say the force has a suspect in mind and have thought for years that this guy, at the very least, was involved in some way. Also, the restaurant was at least somewhat crowded that evening in the middle of the densely populated area of West Birmingham. This means, to Bristow and Jacobs at least, that there are people in the neighborhood who saw or heard something.
This wasn't a murder committed in the middle of nowhere for no apparent reason. "Here in Birmingham, we don't get random killings. Most of the homicides are committed by people the victim knows. We don't have a lot of transient, serial killers, someone just passing through deciding to kill someone," Jacobs says.
So what is keeping someone, anyone, from coming forward with information that could land a cop–killer behind bars for the rest of his life? There are several answers to that question. One of the most probable is fear of retaliation. However, Bristow says the primary suspect isn't in any position to threaten anyone who may give his name to the police.
The suspect (Bristow and Jacobs declined to give his name) is currently serving time in an Alabama prison on a burglary conviction and, according to Bristow, "he's not due to get out anytime soon."
"He can't bother anybody now," Bristow says. "If someone calls us and gives the name of the same guy we're looking at, he's in prison now, but he's in prison for something else. So, there is no reason to fear retaliation. He can't get to them, he's locked up."
Jacobs believes many people may simply also be scared of getting involved in a case of this magnitude. Those with information, Jacobs says, may worry about the attention they may draw to themselves if they come forward. However, Jacobs wants to assure the community that he understands those concerns and that they simply want closure, not to open up another can of worms.
"Because it involves a police officer, once you give information, you're in the case and a lot of people don't want to be in this type of case," Jacobs says. "I thought that we had put it out as plainly as possible, all we need is information. We're not necessarily trying to get you involved in it, we just need information that we can confirm and move forward and it just has not happened."
The most baffling kink in the chain, Bristow says, revolves around respect among criminals. In the perverted world of the criminal underworld, the police, let's just say, don't exactly expect to get Valentine's Day cards in the mail from the community gang-bangers any time soon. Whether it's on the street or in the Graybar Hotel, Bristow says these guys like to talk, a lot, about what they have done to police officers in order to gain that all-important street cred. "It's kind of like a badge of honor, especially in prison, to talk about what you've done to a cop. That gives you respect in prison, because most guys in prison don't like cops," Bristow says.
Experience shows, according to Bristow, that someone has heard Officer Daniel's murderer talk about the crime. To Bristow, it's unlikely that the shooter has remained quiet about it all these years. When you've killed a cop, Bristow says, it's just too juicy to keep to yourself, because news like this doesn't just earn you respect with the other guys you run around with, but it works on the ladies as well.
"Men and women know," Bristow says. "There are females that know. Because this guy that we're looking at, he's a young cat. Men talk to their women, especially with the kind of life that he lives."
"They talk after sex, they talk while laying in bed, or he may get mad and say 'if you don't do this I'm going to do you like I did so and so.' They talk," Bristow adds. "They're street people. When you're living in the street like that, hanging out, it's a different life. They're going to talk, because they've got to make themselves look big and bad."
All this to say that without someone developing a set of cajones and coming forward to making things right for Officer Daniels and his family—barring an outright confession of course—the police simply don't have a strong enough case. Bristow and Jacobs say it's a too big a gamble to take the case to court now. They can't risk a jury coming back with a not-guilty verdict.
"Even though we may have ideas about who is responsible for it, we still may not be in a place for that case to be prosecutable," Jacobs says. "That's the frustrating part of it. "You only have one shot and you want to present the best case possible. If you don't and you lose it, there's no going back. If they're found not guilty, you can't ever try them again."
"We've only got one shot and we're not going to blow it," Bristow says. "We're still holding on."
Take a drive today down Graymont Avenue and, at first, you may not realize how many changes have been made in the neighborhoods near Legion Field since the night in 2002 when Daniels was murdered. The area has seen an influx of new residents in recent years, and there are plans to tear down the Elyton Village housing projects, one of Birmingham's most notorious slums, and replace it with nicer housing.
About a mile away, the First Ebenezer Baptist Church has the phrase "God Still Answers Prayers" on its marquee out front. For longtime residents and business owners, these changes are, perhaps, the answer to decades of prayer. However, Bristow says these changes, as positive as they are, make it less likely that the prayers of those holding out hope for closure in Daniel's case will be answered any time soon.
"It's a good thing and a bad thing," Bristow says. "To me the more it changes and the better it gets, the harder it is for us to solve it. Because, it's that old saying 'out with the old, in with the new.' So all the people that were trouble makers, they don't live there any more. Now they're building new homes, new apartments, and they come in and they're new residents. They don't know anything."
Even the joint at the center of this tragedy, Reno's, has changed. It's now known as Meat's Diner. The owner at the time of the murder is now serving time in a "fed pen" on drug charges. Jacobs and Bristow are convinced he knows the identity of Daniel's killer. Bristow says he's surprised that the man, who faces a long sentence, hasn't helped himself by cooperating with the police on the case.
"He didn't try to help his situation by coming to us and giving us a cop killer," Bristow says. "The reason why he didn't, to me is, he hates cops. He dislikes officers that much to where he won't even help himself. It's about survival. They're not going to cut him free. Now he gets to prison and people know he snitched on somebody. Now you got your time cut. So you still gotta survive. When you live that life it's hard. You got to make those decisions."
The reasons why these men want this case solved are varied: closure for the family, seeing justice served, etc. However, doing this job every day, Jacobs knows this could happen to any member of the force at any time, on or off duty. It's a game of life and death and, as officer Daniels learned, the other team doesn't play fair.
"Jerome was just in the wrong place at the wrong time, and he was at a disadvantage," Jacobs says. "You're sitting there with your back turned to the door and a guy comes in with a gun, even if you've got a gun, there's no way you can draw fast enough, no matter who you are.
"I don't care if you're Gunsmoke, I don't care who you are," Jacobs adds. "You cannot draw fast enough if somebody's already got a gun on you. That's a losing battle, but he tried. He tried to do what he was trained to do while sucking air. That's hard to do." •