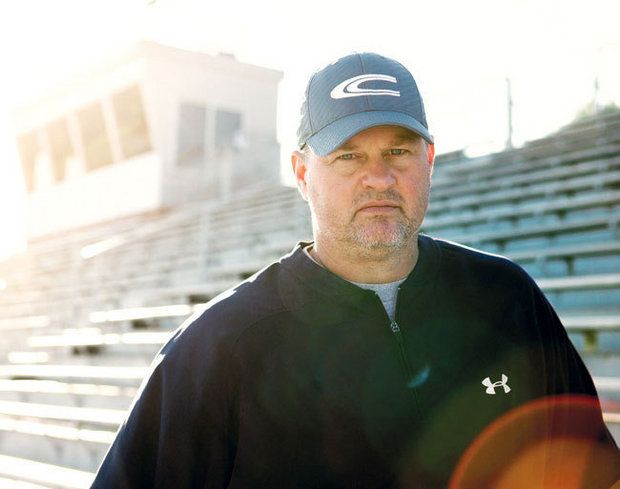 By Loyd McIntosh
Photo by Cary Norton
The Clay community may soon find itself the beneficiary of a Richter scale-busting, earthquake of change in the intense world of high school football.
After decades of high-school athletic competitions being played out in one of six divisions, ranging from 1A to 6A, the Alabama High School Athletic Association created a 7A division. The new designation, which kicks off this season, separates the largest high schools, such as Hoover, Spain Park and Hewitt-Trussville, into a division unto themselves.
And that may mean opportunity for the schools left behind in 6A, Clay-Chalkville chief among them. The school opened in 1997 as a result of immense population growth in the Trussville area. Just three years in, Clay-Chalkville won the state championship, beating Montgomery's Robert E. Lee 30-27. That championship is a significant one considering every state title since 2000 has been captured by a school now in 7A, seven of which were won by Hoover.
In 17 years of football, Clay-Chalkville has racked up 14 winning season, five region titles, one state title and an overall record of 135-75 — a winning percentage of 64 percent. In addition, the Cougars had what many believe to be the best team in the division in 2011, but an ineligible player controversy ended their playoff chances prematurely. And, despite being thought of as inferior by their closest rival, Hewitt-Trussville (now 7A), Clay-Chalkville has dominated the rivalry winning 11 out of 17 meetings.
However, that doesn't mean Clay-Chalkville Cougars head football coach Jerry Hood is content to avoid scheduling 7A schools. On the contrary, he wants to play them — and beat them. "Is this good for Clay Chalkville? Yes, absolutely, but I'll be honest with you. As soon as we found out (about going to seven divisions), we made a call to Hoover to see if we could play," Hood says. "One, because of the money, and two, if you play football I say let's play the best and see where we are."
The schools in the revised 6A will be more alike in terms of population, resources and finances, a change that will greatly enhance high school football throughout the state, Hood says. "I don't think there's any doubt it's good for high school football in Alabama," he explains. "The 7A schools can claim 'we're the best of the best,' but the 6A can look at it from this perspective: There were more 6A schools that went deeper in the playoffs last year than 7A schools."
Details:
Clay-Chalkville opens the 2014 season on Aug. 23, facing Niceville High School of Niceville, Fla. The game will be played at 3 p.m. at Hoover High School and broadcast nationally on ESPNU.
In Focus: Adjusting the local high school football picture
The move to seven divisions in high school football means many local teams will undergo a little fruit basket turnover in terms of their regions, which affects who they'll play year to year. All of the Birmingham area schools added to 7A will now be in Region 3, while the remaining local 6A schools will be spread among four regions, Region 3, Region 4, Region 5 and Region 6. Here is the breakdown:
7A
Region 3
Hewitt-Trussville
Hoover
Mountain Brook
Oak Mountain
Spain Park
Thompson
Tuscaloosa County
Vestavia Hills
6A
Region 3
Benjamin Russell
Chelsea
Opelika
Oxford
Pell City
Valley
Chilton County
Region 4
Bessemer City
Brookwood
Hillcrest
Tuscaloosa
McAdory
Northridge
Paul Bryant
Selma
Region 5
Briarwood
Christian
Homewood
Hueytown
Jackson-Olin
John Carroll
Minor
Pelham
Walker
Region 6
Center Point
Clay-Chalkville
Gardendale
Huffman
Pinson Valley
Shades Valley
Woodlawn