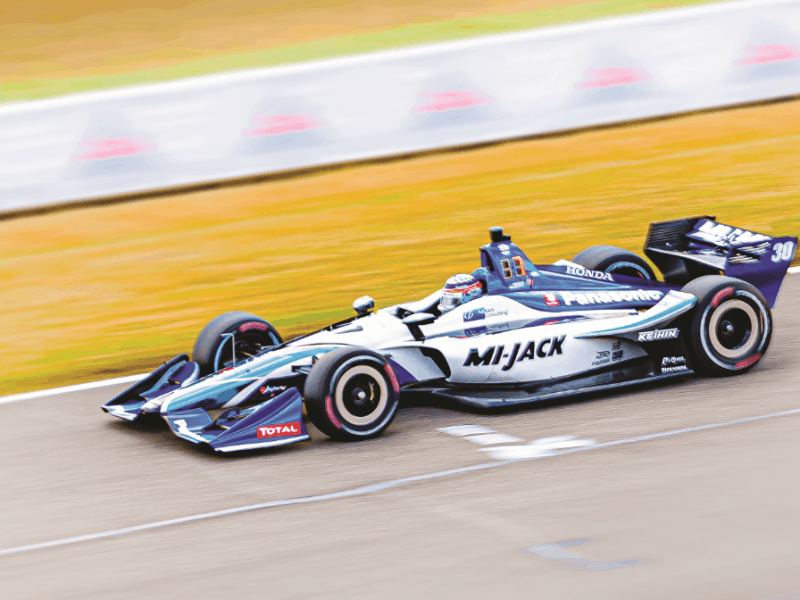 Story by Loyd McIntosh and photos by Brit Huckabay
"Ladies and gentlemen: start your engines!"
To the ears of sports fans and gearheads, few words are as thrilling as these. A split second later, you can feel your molars rattle as two dozen of the world's finest racing machines roar to life and begin zipping by at blurring speeds. In the air you can feel the heat from the engines and sun-baked pavement, you smell the racing fuel, and you feel the tension and excitement as drivers push their machines, and then themselves, to the edge of disaster.
Now in its tenth year, the Honda Indy Grand Prix of Alabama at Barber Motorsports Park has become one of the most anticipated races on the INDYCAR schedule, drawing in excess of 80,000 fans since the first race in 2010. The idea of bringing road racing into a region dominated by NASCAR seemed, to many observers, simply nuts.
However, it didn't take long to prove the naysayers wrong. "Many skeptics didn't think INDYCAR would work in our community but we're right there among the top three INDYCAR races in the middle of stock car country," says Gene Hallman, President and CEO of Zoom Motorsports, the management team behind the Honda Indy Grand Prix of Alabama.
The success of the Honda Indy Grand Prix of Alabama is due to several factors, but the key is this incredible community asset, Barber Motorsports Park. Since its opening in 2003, Barber Motorsports Park and the Barber Vintage Motorsports Museum has established a sterling reputation, placing it on equal footing with some of the world's finest road racing courses, such as Belgium's Circuit de Spa-Francorchamps, known as Spa for short, and Nürburgring in Germany, among others. For drivers and spectators alike, Barber Motorsports Park is a revelation, combining a challenging test to any driver as well as a natural beauty unseen in the world of motorsports.
Among those getting his first look at Barber Motorsports Park is Mario Andretti, widely considered to be the greatest race car driver of all time. Now 79, Andretti got his first chance to drive on the 16-turn, 2.38-mile track on Thursday of race week in a custom two-seater he uses as part of the Mario Andretti Racing Experience. Of course, Andretti, who served as the Grand Marshal of the 2019 Honda Indy Grand Prix, never had an opportunity to race at Barber Motorsports Park during his competitive prime, but that didn't stop him from expressing his opinion that he would have no problem competing on this track.
"How would I do on this track? I would do fine. Believe me," says Andretti with an extra point of emphasis. "I have a pretty good feel for what the track is about. This is one of those that you really sink your teeth into."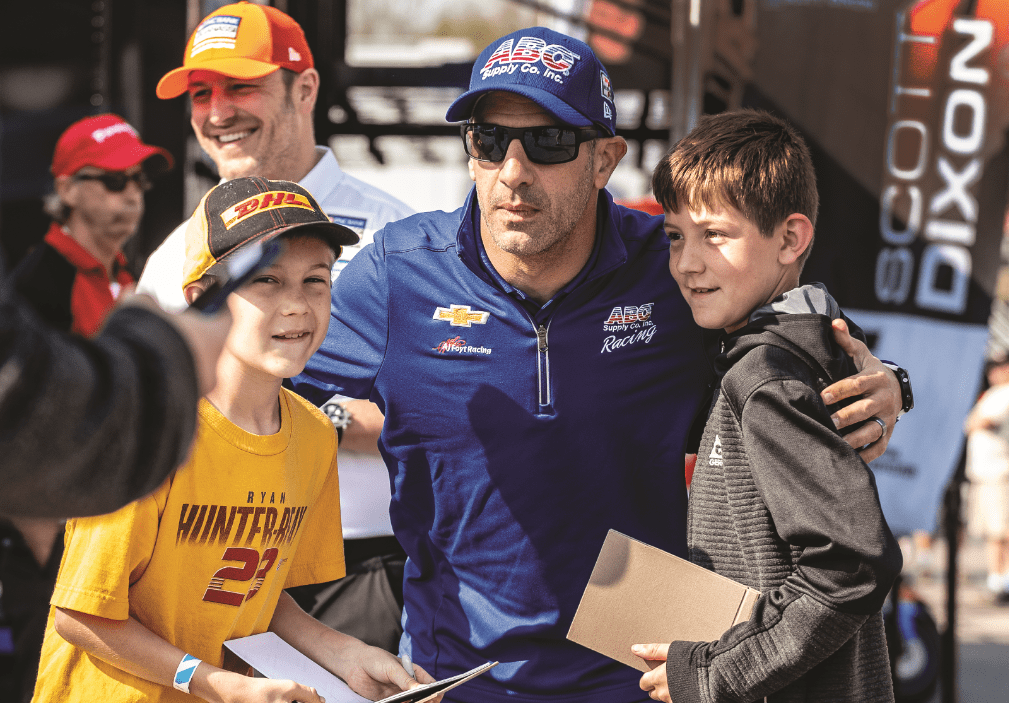 Andretti had plenty of praise for the complete package at Barber Motorsports Park. From the layout of the course, the immaculate grounds, to the Barber Vintage Motorsports Museum, Andretti said the experience at Barber rivals the sport's greatest courses around the world. "What Mr. (George) Barber has done here is spectacular, I think. I love the track itself," says Andretti. "It speaks for itself. If you attend here, you can see it's just beautiful. This is a destination for sure. Even just the museum, which itself is world-class. You're not going to find another museum like it anywhere on the planet."
Andretti, perhaps better than anyone, sums up why this annual stop on the IndyCar circuit is special. It's not just a race, but a cultural event that brings people from all over the world to our community. While you do have plenty of race car fans who grew up on a steady diet of NASCAR — Talladega Superspeedway is only 20 minutes down I-20 — those that turn out for the Honda Indy Grand Prix know this is something special. Everywhere you look, you see beautiful people, fantastically dressed, strolling through the paddock while getting up close looks at the most beautiful and finely-tuned racing machines on this blue ball we call Earth. In other words, think more Kentucky Derby, less Talladega 500.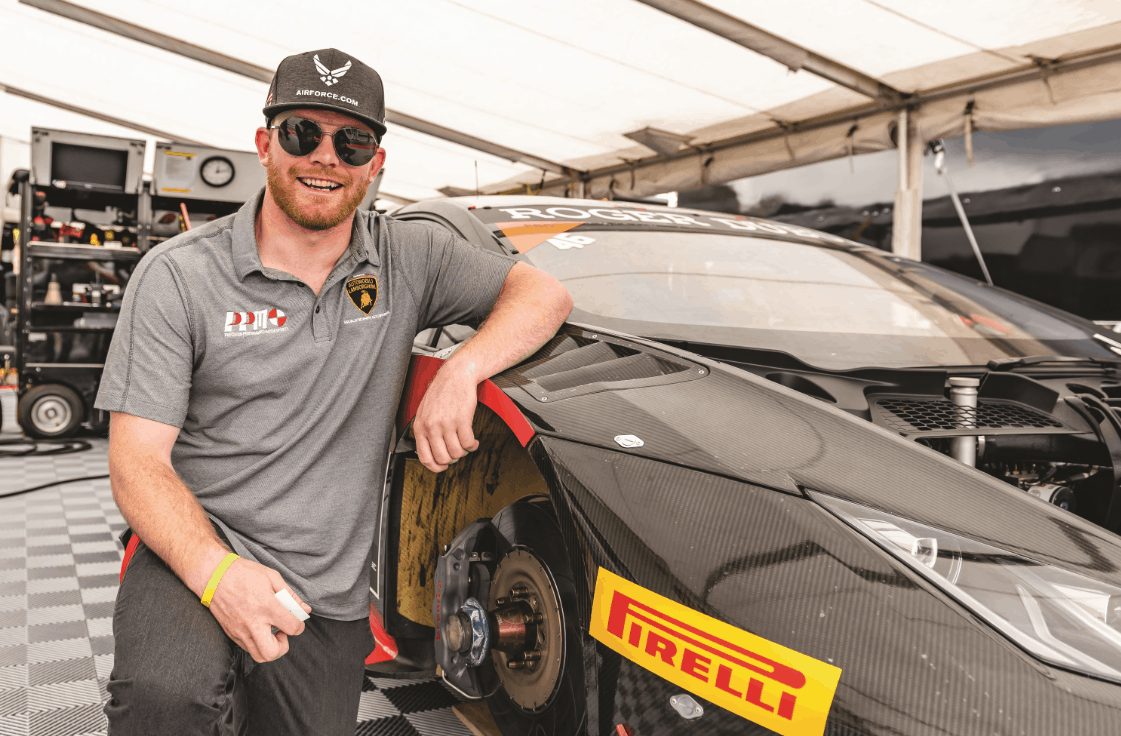 Among the fans experiencing the Honda Indy Grand Prix for the first time are Lee and Jasmine Francis, a couple from Nashville and personal friends of Simon Pagenaud, a driver for Team Penske, the 2016 Honda Indy Grand Prix of Alabama champion, and a favorite to win the 2019 Indianapolis 500. The couple says Pagenaud has been trying to convince them to make the trip three hours south to Birmingham for the annual race, and they are glad they finally did.
"We try to see Simon whenever we can, so we're excited to see him today. This track is beautiful. It's like a golf course instead of a race track."
"The fact that it was designed for Moto GP (motorcycle racing) and it's so tight, makes it pretty interesting," adds Lee. "Simon's PR person says one of the coolest races they do all year is at Barber."
Although it's one of the newest events on the INDYCAR schedule, the Honda Indy Grand Prix has become a favorite among many of the drivers for a host of reasons.
"I like Barber. This is the place my first official INDYCAR Series test was done 9 years ago," says Takuma Sato, a native of Tokyo and the 2019 Honda Indy Grand Prix of Alabama champion. "It's a good race track and a beautiful place. The track is very challenging, as it has a good level of elevation change with unsighted bends and lot of flowing high-speed corners."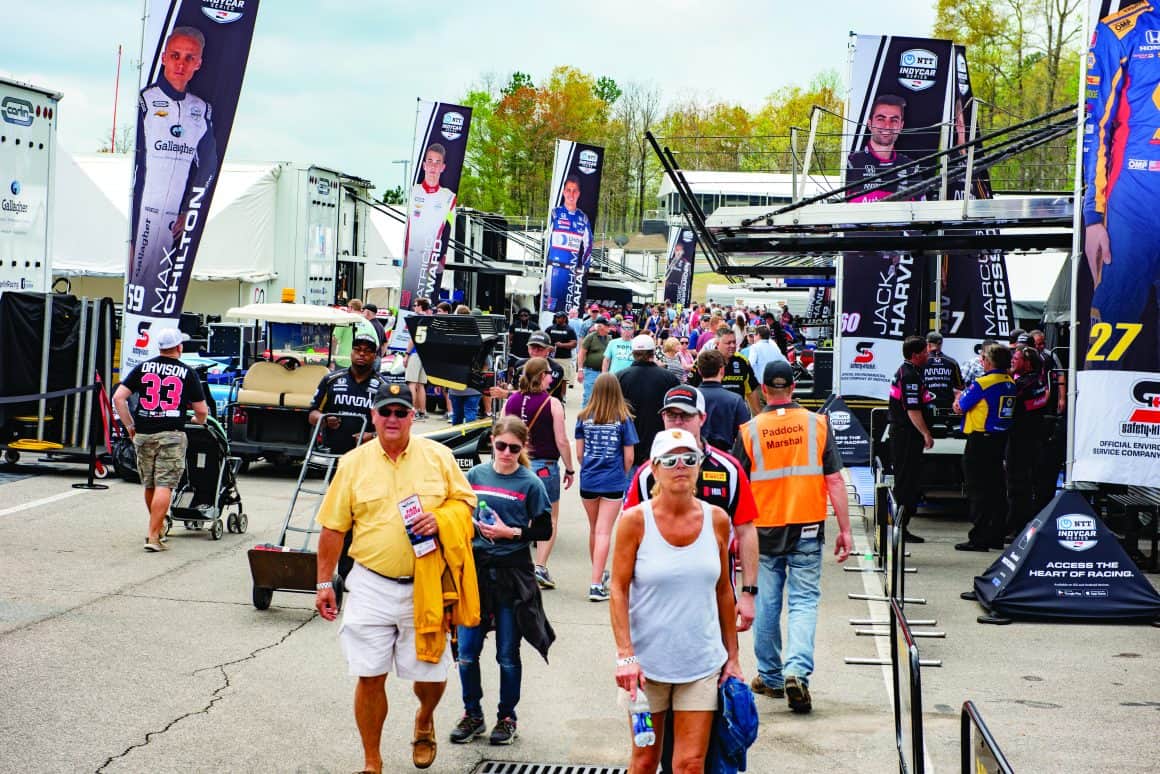 "Barber is a beautiful track which I always enjoy. The racing is phenomenal and I have great memories there," says Simon Pagenaud. A native of France, Pagenaud's first Indy Car event was at Barber Motorsports Park in 2011. In 2016, he captured the checkered flag. "I recall my first INDYCAR race there and I had a great win with my PPG Chevy in 2016."
"Barber is demanding. It's like a bullring almost. There are both fast and blind corners and it can get narrow in some places as well," says Scott Dixon, a New Zealand-based driver for Chip Ganassi Racing. A racing veteran who began racing in 2001, Dixon has won the INDYCAR championship seven times during his career and won the Indianapolis 500 in 2008. "The facility itself is one to see. The track has done a great job with the park over the years and it attracts a lot of people, which is great for our sport."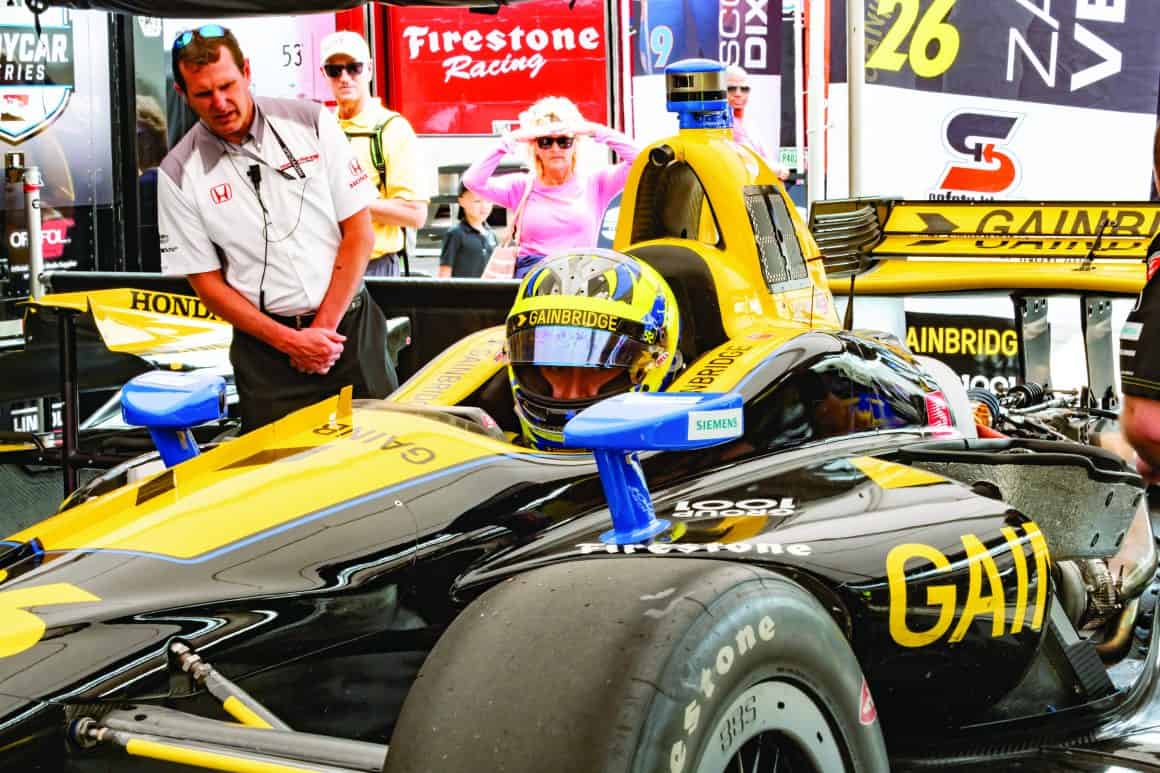 The INDYCAR includes many different classifications and styles of road racing, including the Porsche GT3, the Mazda MX5, and Formula 3 series. However, one of the most popular support series during the INDY weekend is the Lamborghini Super Trofeo series. Debuting at Barber in 2019, the Lamborghinis are, to put it simply, sexy. Each of these Italian racing machines costs around $500,000 and looks like they're going 100 MPH when parked in the garage.
The Lamborghini Super Trofeo series features professional and amateur drivers racing at the same time from all walks of life. One of the pro drivers racing is a young Canadian named Damon Ockey, who has experience racing at tracks all over North America, such as Watkins Glen International Speedway in New York. He readily admits he was expecting the track in Alabama to be a little "backwoods," but was stunned at what he saw. "This is absolutely a beautiful track, probably the most manicured, beautiful grounds that I've seen at any track in North America," Ockey says. "The track itself is pretty daunting. The high-speed blind corners are just a lot to wrap your head around."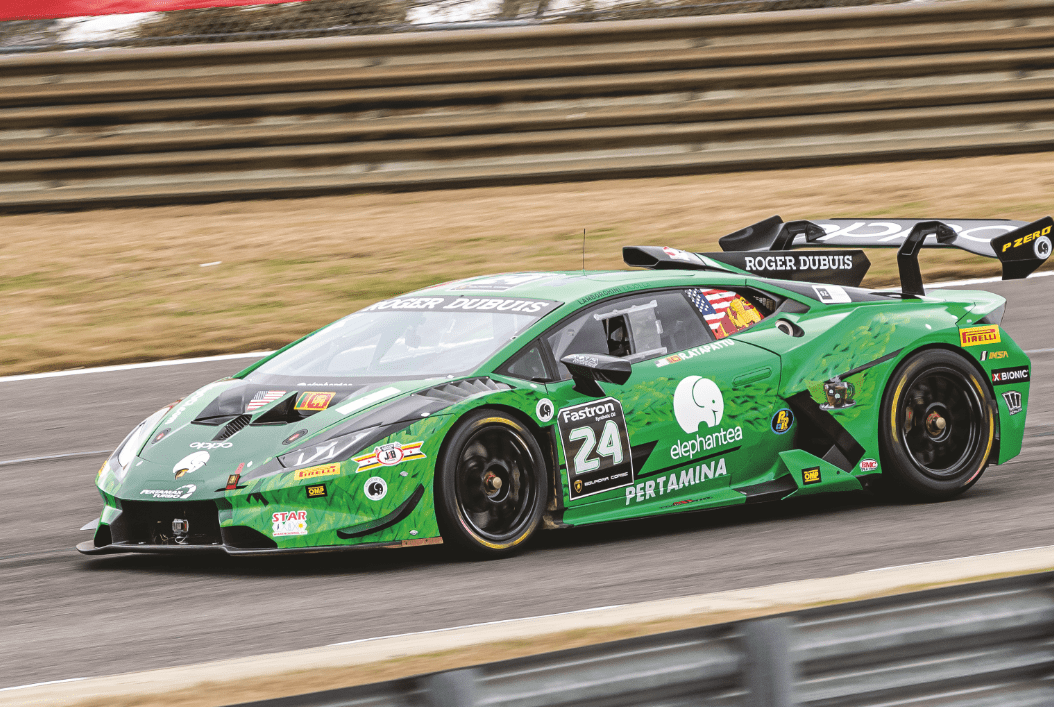 On the other end of the spectrum is Ron Atapattu, a native of Sri Lanka who has lived in Boca Raton, Florida, since 1989. Originally a professional driver in the 1990s for Lamborghini, Atapattu now drives as an amateur, which means he races Lamborghinis as a hobby. Atapattu retired from professional racing in 2003 in order to focus on his company, Overseas Cargo, but now races under the sponsorship of Elephantea, a company he founded with the purpose of preserving the wild elephant population in his native Sri Lanka.
Like many other drivers racing this weekend, Atapattu has raced on road courses all over the world, including Le Mans, and earning the FIA GT Championship in 1997 after his first victory in McLaren F1 GTR at Zhuhai, China. Now a grandfather, this weekend in Birmingham was his first official race since retiring 16 years ago and, while he admits he took it a little easier than normal, Atapattu says, "What is scary and somewhat tricky to drive is all the blind corners and the cresting hills. This car drives superbly, but when you crest and the air goes under the car and the car lands," he chuckles, "you lose a little bit of your life when it sits down."
But it sure is a pleasure to watch.