The snapping turtle sat solidly in the middle of the pathway, head tilted toward me, like he meant business. He was the size of a small dog, covered in mud, small squinty eyes unblinking, watching carefully from a very wrinkly head. "Don't worry, I won't hurt you," I told him, and got as close as I dared to snap a picture on my phone. I actually imagined him extending his neck far beyond what is reasonable, to snap off the tip of my finger. I silently wondered how fast turtles could move. I gave him a wide berth, and walked on. He side-eyed me as I passed.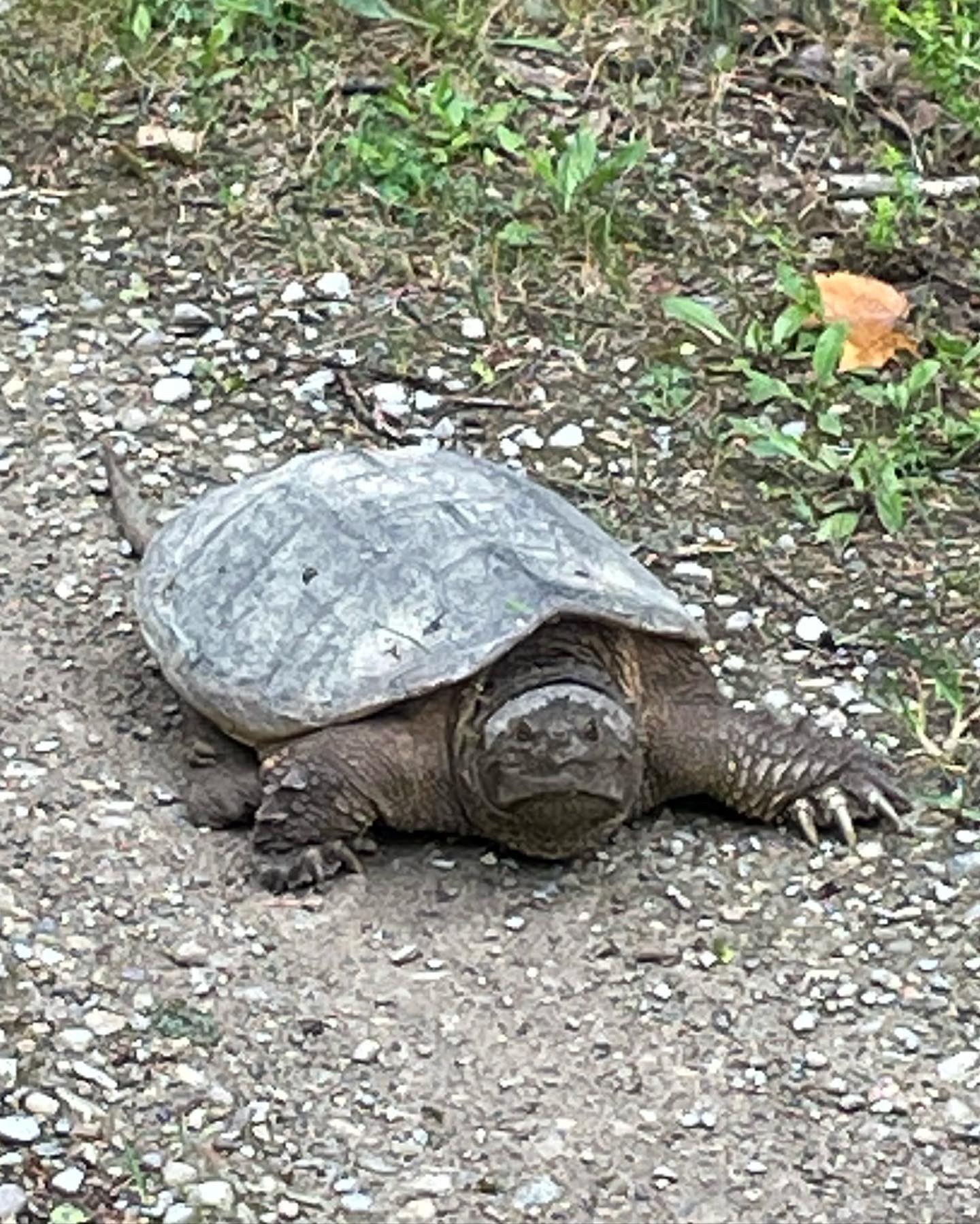 It's a Sunday morning after a rain. I'd planned to do this rail trail on my bicycle with a few friends, but the rain in the early morning stopped them. It almost stopped me, too; I am much more adventurous with friends. I'm not a joiner, but I do love company. I'm training to walk a Camino in Spain in September and October, and I am doing the trip on my own. I will have to walk in all weather, at least 20k a day, every day for six weeks. It will be one of the hardest things I've ever done.
So, this day, I decided, I needed to walk on my own. Despite that, several times before I left the house, I found myself picking up my phone to text one of my friends to come with me — it had, after all, stopped raining. Each time, I stopped myself. I really needed to do this alone.
After considering a few other trails in the vicinity, I decided I would do our originally planned trail — the Cambridge to Paris rail trail, starting in Glen Morris, a 10k hike into Paris. I spent the first five kilometres wondering if I'd make it all the way. I learned a few things about myself in the rather haphazard, half-hearted on-again-off-again way I executed this hike.
First, be prepared.
Once I'd made up my mind to do the hike, I threw things together and headed out the door. Now, since I'm training for the Camino, I took my full pack (without clothes, which means I didn't have the extra pair of socks I always carry with me on a hike) — about 5.5kg — threw in my Hoka walking shoes at the last minute, filled up a water bottle, grabbed a granola bar, and off I went. Halfway to the expressway, I realized I'd only had a light carb-filled breakfast. I hadn't packed lunch or even snacks beyond the granola bar. I expected to hike about five hours or a bit more. Not very good planning at all. I stopped to pick up a bagel and cream cheese, which I ate when I arrived at Glen Morris, about a half-hour from my home in Kitchener. I hoped I wouldn't get too hungry, because I wasn't even sure if I'd make it to Paris or not.
And that's the second thing I discovered about myself: I can talk myself out of anything, especially if it's hard. The trick is not to listen.
Which leads me to the third thing that can make a hike feel either very long, or very enjoyable: stop counting the kilometres. For the first half of the outgoing walk, I constantly calculated in my head how fast I was going, how far it was to Paris, how long it would take me, how much rest before coming back, where and what would I eat if I didn't go into Paris. It made the hiking interminable.
Somehow, though, I managed to appreciate the lush green beauty of the rail trail. Rain drops rested on leaves, the sun peeked through the trees eventually, and all around me was green. There was a canopy of green leaves over the path for a significant portion of the way, and to my right, I could hear the Grand River rushing towards Paris. There are lots of clear groundwater brooks bubbling out of the hills to my left and emerging on the other side of the trail through culverts to run down to the river. One of these became the highlight of the hike on my return.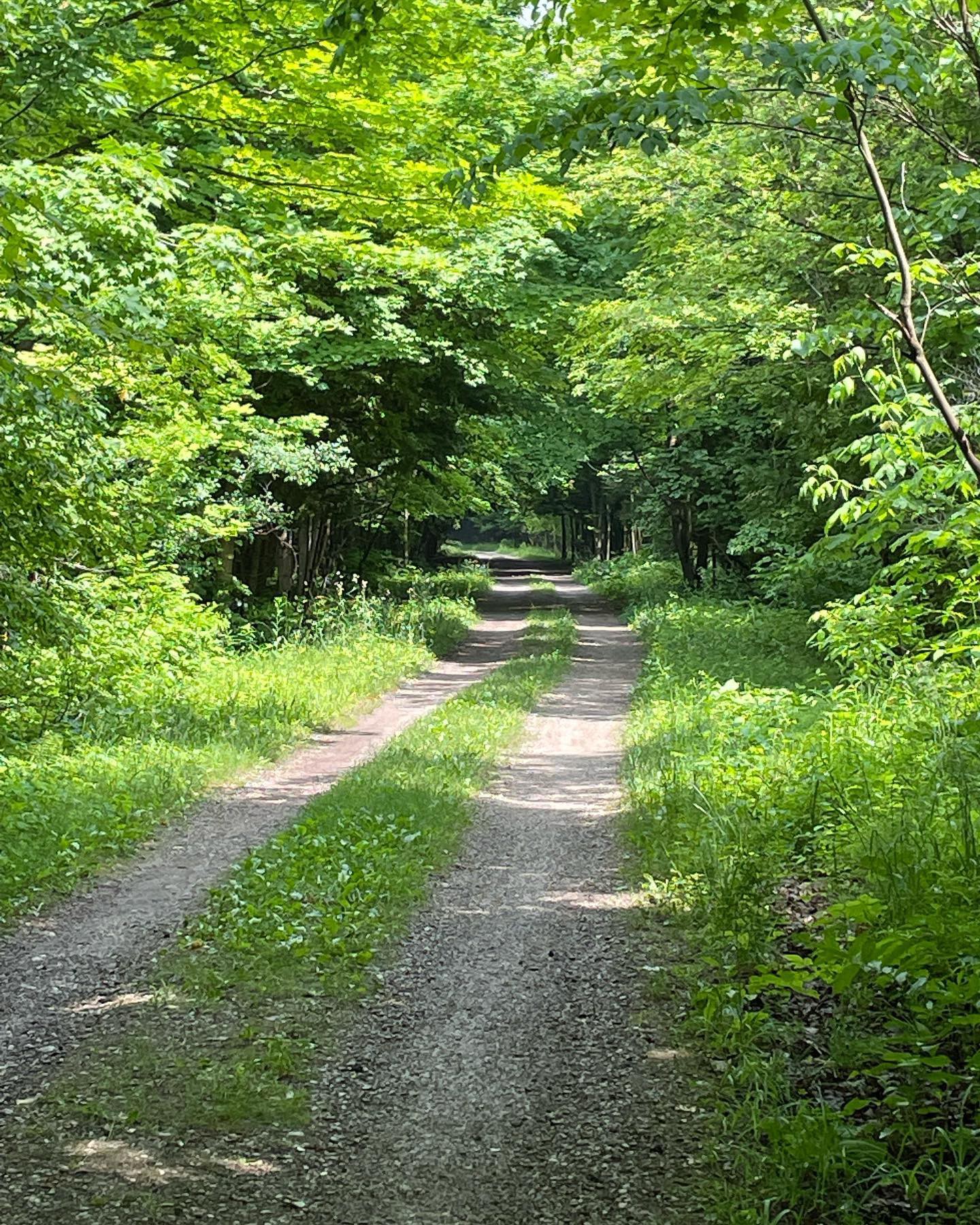 About three kilometres in, a recurring sore spot had showed up on my left big toe, and a blister had also developed at the bottom of the ball of the same toe. I changed out of my hiking boots (North Face waterproof, with a too-narrow toe box) into my Hokas. My feet were so much happier. I did this switchover at a lookout over the river that had a couple of benches, and a little plaque honouring Chief Scout Mark Gilbert, who died while canoeing with his Scout troop, 12 Sept. 1992. Be prepared, the plaque said.
That sobering thought sat with me as I took in the views along the river far below. And that, lastly, was the most important thing I learned: enjoy the views along the way.
This is a lesson I have been taught over and over again through life. It's all well and good to have a destination in mind, but what is the destination if you can't savour the journey? This trail offered many views, but also minute moments of pleasure — a deer crossing my path, or the snapping turtle circumspectly observing the human passing by him; the crystal-clear, ice-cold pool of water three kilometres from my car on the return journey, where I bathed my sore, hot feet until they were numb. These are the moments that make each long-distance hike or bike ride memorable for me.
Usually, I enjoy fleeting moments with the friends I'm with, but this day, I lingered just a bit longer. Because I could. Because I wanted to. And because the trail insisted.
I realize I've become so dependent on other humans for my adventures. They're happy to indulge me, and I really do think having friends along enriches not just the event itself, but also the relationships. I think this might be the lesson of the Camino for me — that I can do hard things, and I can do them alone. I know a 19k hike on a rain-washed Sunday morning isn't necessarily a "hard thing" for those who are able-bodied, but walking alone while female, on an unfamiliar trail, well, that is a hard thing. A small test of what will come in the autumn, when I'm in an unfamiliar country using a language I don't speak, and carrying everything on my back.
There is a saying on the Camino: the Camino provides. I doubt this is a failsafe, but I'm sure it's worked for some people. The right tool or person comes along just when you're stuck, or exhausted, or hungry. I guess that's where the element of faith comes in — perhaps faith in a larger power, or the universe, but also faith in oneself.
I will keep my life motto #1 in mind as I prepare for my 820k journey: Life is like driving in Ireland — it's not about the destination, but how you get there. And I'm adding a second to my arsenal: I can do hard things, and I can do them on my own.