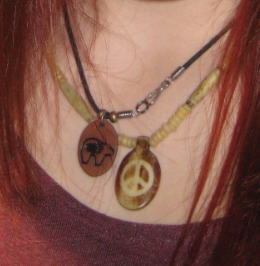 In her mother's outstretched hand, a necklace. Made of small ivory-like discs about the size of oatmeal flakes and a smooth, glossy pendant shaped like the wide end of an oar, with an ivory-coloured peace symbol burnished into its surface. This necklace is the one Zofia Switkowski had been wearing when she was brutally assaulted at a neighbourhood party.
During the assault, which put Switkowski in hospital with a concussion and significant bruising, the necklace broke, its beads scattering onto the pavement like grasshoppers in a field of grain. Her mother had gone back to the scene of the crime and found as many beads as she could, and pieced that necklace back together, adding new beads where the old were missing.
She held the restored necklace in her hand in the moment before she and her daughter entered a meeting to meet the teen who had assaulted her.
"The day Zofia decided that she wanted to pursue a restorative justice path in finding closure to the assault, I knew I would re-string the beads and pendant and give it to her to wear when we would meet for our mediation session," says Christie Mills, Zofia's mom. "One night after everyone had gone to bed, I quietly fed the beads back onto a string . . . It nourished a small part of the hunger I had for understanding and resolution. I slept that night with the necklace under my pillow."
"She gave it to me just before we went into that meeting," said Switkowski of her mother's gesture, "and she said, 'You know, this is sort of symbolic of what we're trying to do here, and what it seems like you want to do here, which is to take things that feel very scattered and scary and broken and confusing, and put them back into a way that makes sense and makes you feel okay."
Switkowski remembers the assault clearly. She remembers having a conversation outside with someone, and hearing footsteps running up behind her quickly. She remembers turning to see someone she did not recognize, someone who knocked her to the ground and began beating her. And she remembers curling into a ball to protect herself, unable to fight back, and then losing consciousness.
Why would any person who has been harmed by a violent crime want to meet their attacker?
At the time of the attack, Switkowski was in her last year of high school in a suburb of Vancouver, B.C. She planned to begin university at Concordia in Montreal, and the thought of going through a lengthy process of pressing charges, waiting for the case to go to court — or maybe not even go to court — didn't sit well with her. She admits, "I was thinking 'Do I want to get into this whole kind of thing? I don't really know.'" The officer who handled the case suggested a restorative approach, which would involve meeting with the person who'd harmed her, instead of pursuing charges.
"That definitely piqued my interest," she says. "I was grappling with the idea of what is justice. Is it just if this person suffers and must go through this process? Is it just if I can make some decisions about what happens going forward and take back some of the power?"
What is restorative justice?
Restorative justice is one way of looking at crime. Everyone who has been affected by that crime can participate, in order to understand and repair the harm done. Our current justice system assigns blame and punishment to resolve a crime; it's retributive. A restorative process examines the harm done through a criminal act and seeks reparation to the damaged relationships. Restorative justice often works in tandem with other sanctions imposed by the court, but doesn't replace the traditional court system. Collaborative, non-adversarial and inclusive, it's part of a larger framework of restorative practice.
Across Canada[llb1] , restorative justice programs exist in every province. British Columbia alone has 32 Indigenous justice programs that apply the principles of restorative justice, and a total of 91 restorative justice programs in the province. Ontario has 65 programs in total, and Quebec 74. There are four types of restorative justice processes in Canada[1], all of which can be adapted to any situation involving conflict — even those that fall outside the traditional justice system:
1. Victim-offender mediation — facilitated dialogue between a victim and an offender in a safe and structured setting, led by a trained, impartial facilitator.
2. Conferences — a facilitator meets with one or more victims, the offenders, and possibly family members or support people.
3. Circles — also known as healing circles, peacemaking or community circles, participation includes families, community members, justice professionals and others. Judges may use sentencing circles to determine an appropriate sentence.
4. Community and youth justice committees — volunteers who liaise with police and justice agencies who work with at-risk youth. The committees work towards public awareness about crime prevention in the wider community.
Outside the courtroom, restorative processes are increasingly used to address harm within schools, prisons, churches and corporations. In schools in particular, restorative practices can redirect bullying, conflict, or assault, drug and alcohol-related offenses, which might lead to expulsion or suspension.
Most often, the restorative path takes the form of circles, a format that is often also used in classrooms to brainstorm, to celebrate, to transition. In some cases, a talking piece — a stick, a feather or an object of significance to the group — is passed around the circle, and whomever holds it has the full attention of the others in the circle.
"Circles are a great way to build those proactive practices," says Mark Nill, former principal at Surrey Christian School's secondary campus in British Columbia, "whether that's in active inter-relational conversations or whether for pedagogical reasons to study a novel or to prepare for some kind of final assessment like an exam or a project or a plan for a field trip you're going on."
"It's foundational work. It's setting the stage, teaching how we're going to be together in community before there is a problem. Circles can be used for many things — we start by using it as a method of getting to know each other: how will we be in this space? What are some shared agreements we have?" says Teresa Mayer, restorative schools service coordinator with Community Justice Initiatives Waterloo Region (CJIWR) in Kitchener, Ontario. "It requires the teacher to reorient the way they see themselves relation to the students, and in doing so, it reorients the way the students see themselves in relation to each other and to the teacher."
The circle is deeply important to Indigenous communities. Miawpukek Mi'kamawey Mawi'omi First Nation in Conne River, NL, has one of the province's two restorative justice programs. Irene Joe, manager of justice, believes circles facilitate accountability, forgiveness and healing.
"It's a powerful healing tool," she says, adding that because participants sit face to face with the opposing person, they can share, cry, laugh and listen to the other person's side of the story. She notes the community's pow wow celebrations all happen in a circle form, in a circle-shaped pow wow harbor; the chief and council chambers are in a circle shape and many sharing-of-information sessions are done in a circle.
"We also conduct talking circles when needed; they bring the feeling and expectations of openness and togetherness," she adds.
Joe's community established an agreement with Justice Canada and the Province of Newfoundland in 2000, when the reserve's circuit court system became overwhelmed by the number of cases going through it. Many of the charges coming through the courts were minor, such as driving a four-wheeler on the main road; disturbing the peace or theft under $5,000.
"Youth were out of school, community members were missing work to attend court held at the Band Office, which also interrupted the work schedules and time for employees as well," she says. "It was frustrating for the professional legal representatives and very time-consuming. Classrooms at school were empty because so many youths were in court."
The community felt many of the minor charges could be taken care of by them, and so, after a seven-day training program for the community, chief and council members, provincial judge, RCMP and Crown representatives, the band hired a lawyer and community members to develop guidelines, policies and procedures. The first successful healing circle was held later the same year. Restorative programs were developed at first for the school on the reserve, but are now available to neighbouring communities.
"Why reinvent the wheel?" Joe asks. "We use it, it works, so why not share information? They can learn from us what was successful and what the challenges were."
Mills felt lost on the morning after Zofia's assault. She went back to the place where it had occurred, a cul-de-sac framed by a forest. She knocked on a door, hoping to connect with someone who had been a witness. No one had seen anything.
Several days later, she still couldn't let it go.
"I was at work that day, and distracted with the pain of my daughter's experience. I ended up on a street, where I parked and hiked into the forest. The path came out of the forest at the same cul-de-sac. It was quiet and had just rained. I bent down and realized that there were small discs strewn about the pavement. I knew these were from Zofia's necklace, and had not seen them days earlier when I was in the same spot. I searched and picked up every bead I could find. They were scattered everywhere. It felt like a message, like a connection for me," she says. "I was so deeply affected by the relief and meaning of collecting the beads, I cried, right there, squatting down on the pavement. I looked at them filling up the palm of my hand, and had an irresistible urge to ingest the beads. I took one in my mouth and swallowed it. I wanted so much to connect with what had happened to Zofia. I wanted it to be part of me. It was so visceral and base, the need to eat those little discs."
The conference circle brought significant resolution for Switkowski and her mom. "There was a lot of negative stuff going on in her head that was hard for her to sit with," she says, "and I think going through that process really lifted that."
The four-hour experience involved two facilitators, herself, her parents, a friend who had been at the party when she was assaulted, and on the other side, the offender and their parents.
"Everyone got a chance to speak to what happened," says Switkowski. "It was bizarre to sit across from this person who had hurt me, and we're coming up with an agreement of what seems fair. They decided they would do some community service hours. We said, "Hey, this harm's been done and there's no undoing it, but why not put something positive back into the world?" That's what they agreed on, and we had a hug at the end, and then we went our separate ways."
There was "a lot of stuff going on in the other person's life" that they were working through at that time, says Switkowski, who signed a confidentiality agreement with the offender as part of the process. "It felt like some of the pain they were dealing with was a lot greater than what I had experienced, and not to compare things, but I felt really good that we had gone that route. The thought of layering on something else for them, in terms of a potential court date and the more traditional criminal justice system to have to navigate, I really wouldn't have wanted that." She empathized with their situation, and felt relief after learning what was going on for the whole family. "I didn't cause this. I didn't bring this on myself or ask for this," she says. "It was reassuring to know that I hadn't caused it. This wasn't something I did."
For Irene Joe, the process works. On reserve, she delivers restorative practice programs in school, and infuses in her work opportunities for children to connect with their Indigenous heritage, using sweetgrass and a smudge bowl and demonstrating their uses in a circle setting. The programs, which can include circle sentencing and in-school education, see fewer repeat offenders.
"We have a high success rate with our Indigenous Justice Program here on reserve," she says, adding that every client who completes the recommendations and closes their file is a success. "The fact that we have less than one per cent recidivism rate is a success in itself."
A literature review [2] about the impact of restorative justice programs on offender recidivism, or relapse into crime — 46 studies with nearly 23,000 participants — found on average the programs were associated with a decrease of three per cent in recidivism overall. The programs were more effective with adults — eight per cent reduction in reconvictions — than with youth at a two per cent reduction. Restitution to victims is most associated with reductions in offender recidivism.
"Conflict is going to happen all the time, all our lives, everywhere. There's no expectation that circles eliminate conflict from your lives," says Chris Cowie, executive director of CJIWR in Kitchener. "If everyone was doing circles all the time, we wouldn't be living in some sort of utopia; we would be living in a connected community that deals with conflict well."
CJIWR emerged from a famous vandalism restitution exercise known as the Elmira Case[3] in the 1970s, which created the modern restorative justice model in Canada. Cowie says most of our structures never provide for the biggest opportunity of restorative justice: being able to tell your story in a safe environment, and being listened to.
"This process builds the ability to listen," says Mayer. "I often say when I'm doing a circle, 'This isn't a time for you to be waiting and formulating your thoughts as the talking piece is being passed around. This is a time where you can actively listen, because when you get (the talking piece), you can take as much time as you want to think about what you want to say in that moment.'"
When the conflict involves two students, Cowie says, things quiet down for the authority in charge. Check-ins are also important, and having follow-up conversations isn't seen as a failure.
For those on the outside looking in, the restorative process can look too lenient, like the person causing the harm is getting away with an inappropriate consequence. Restorative justice was used to address sexual harassment [llb2] by male students in Dalhousie's dentistry program in 2015, a decision that was both welcomed and reviled.
Joe says skepticism was initially a challenge in her community. "There were a few community members who felt our program was too lenient, that we gave clients too much room to make their own conditions and timelines," she says. "They have a time limit, and our aim is not to set them up for failure. It's all about forgiveness and giving an individual a second chance. Everyone makes mistakes and many are not given an opportunity to make it right."
In a school setting, sometimes teachers are challenged by the process, which can be long and emotionally draining, and retributive school policies also can be a barrier.
"The biggest challenge is that, at it's very core, it's a method of sharing power. That doesn't mean that the teacher gives all their power to the students, far from it; the teacher is a part of that community as well, and shares an equal part of the circle," Mayer says. "It requires them to share some of their power. Because of that, it's very frightening, especially in a system where teachers are often held accountable for things they don't have power over."
"We only work with teachers who want to work with us. We only work with schools who want us to be there. There are some people who just don't like this sort of thing, and they just don't call us," says Cowie, who adds the shift in perception from a legal lens to a relational one means asking different questions. "It doesn't really matter which rule you broke; it's more a matter of how much harm did you cause?"
Keeping the faith
The modern model of restorative justice has its roots in the faith-based principles of reconciliation, healing and restoration. It builds on practices we already know are good — empathy, listening skills, accountability, a sense of fairness, warmth. It builds on strengths.
The Elmira Case, which spawned the modern model of restorative justice, took place in a small town in southwestern Ontario in 1974. Two teenage boys got drunk, and went on a spree of damaging cars, slashing tires and breaking windows at 22 properties, in the space of two hours. Mark Yantzi, a probation-parole officer for Waterloo Region, and Dave Worth, a volunteer with Mennonite Central Committee Ontario (MCCO) advocated for the teens to apologize and make restitution with their victims instead of going to jail. Judge Gordon McConnell agreed, ordering face-to-face meetings between the teens and their victims, and a new legal precedent was set in Canada.
Restored relationships is at the heart of the model. Restorative justice or conflict mediation prepares students for living in right relationship with the greater community.
"How many times are we going to invite them back? We're always going to invite them back; we're always going to try to re-engage. It's consistent with our gospel values, and what we would expect of ourselves," says Dan Witt, principal of international education for the Waterloo Region Catholic District School Board (WRCDSB).
In 2015–16, Witt led a pilot project using restorative practice at St. Benedict Catholic Secondary School, where he was principal at the time. "We're trying to be an intervention into the community; students see that they can resolve problems," he says. "The empowering piece about conflict mediation is it gives us something that is restorative and deals with forgiveness and brings people back into healthy relationship."
Switkowski struggles with the notion of forgiveness, or the expectation of it, in restorative practice.
"Good restorative justice doesn't require forgiveness," says Switkowski, whose initial experience led her to a career in the practice, and she now works for Fraser Region CJI Association[4], a community-based non-profit located in Langley, B.C. "It has to be on people's own terms so that it's something they're willing to do. And it can't ever be the expectation going into a meeting that you're going to be forgiven."
In her case, she wanted to forgive her aggressor. "I wanted to forgive that person for myself, and for them to not be carrying that weight around and to feel bad or guilty about what they'd done," she explains. "Forgiving that person was a part of what I went through in restorative justice. But there are some people who are like 'I want to meet, I want them to hear me out, I want to hear them out, but I'm not ready to forgive you.' I think it's really important that we don't put pressure on victims or survivors or people who've been harmed to forgive."
Switkowski doesn't think of herself as a religious person, but she has faith in the restorative process. "Going through this experience showed me that's one of my core values, having faith and believing that people are good and they want to do good," she says, "and sometimes people do bad things when they don't have the tools to do good, or the support, or haven't really been shown how to do good."
Nill has a masters in restorative practice from International Institute for Restorative Practices (IIRP) Canada, and trains teachers and school staff in restorative practice within the education system in B.C. He sees a cross-section of people exploring restorative practice, including faithful people from Christian and non-Christian traditions, or no faith tradition at all.
"People who are invested in restorative practice, they're being driven by a calling on a way of being and a way of thinking. How we speak and the way we are with each other respectfully matters," he says. "Restorative practice isn't just about something in a school or a church or an organization — it's about all of life. I get to live into these practices wherever I'm at."
Switkowski is grateful that the person who assaulted her agreed to go through the restorative process. It changed her life, her choices for her future, and led her to a career in restorative practice.
"I often feel like I should get in touch to thank them because there's no way I'd be doing this kind of work now if that hadn't happened, and if they hadn't agreed to go through the process," she says. "I think it showed me there is a very different way to approach conflict, violence and harm that is not always the way we're necessarily taught we should. We're given this narrative of people deserve what they get after they've done something — an eye for an eye; if they made you suffer, you make them suffer. That has never resonated with me, and it was empowering that there was something out there that did align with what I needed and what I wanted."
She adds, "I've been doing this work for awhile, and I feel honoured to sit with people and hear about what they've experienced. And listen, and be there to listen. Listening is just the most powerful thing you can do, to make someone feel heard, especially if they've had their voice or their power taken away."
[1] https://www.albertalawreview.com/index.php/ALR/article/download/135/135/
[2] https://www.publicsafety.gc.ca/cnt/rsrcs/pblctns/jstc-rcdvs/jstc-rcdvs-eng.pdf
[3] https://mcc.org/stories/birthplace-restorative-justice
[4] https://www.cjibc.org/our-team/
[llb1]https://www.justice.gc.ca/eng/cj-jp/rj-jr/programs-programmes.aspx
[llb2]https://www.cbc.ca/news/canada/nova-scotia/dalhousie-s-use-of-restorative-justice-in-facebook-scandal-gets-expert-praise-1.2991078
https://www.cbc.ca/news/canada/nova-scotia/dalhousie-dentistry-student-calls-restorative-justice-plan-shocking-1.2877922