In the photograph, I'm in the middle of a line of five women, one hand in my pocket and the other casually wrapped around a bike handle bar. We are at the edge of a sandy, gravelly parking lot that stretches on behind us and ends at a line of trees anchored under a blue sky. We are partly shaded, and partly in the sun.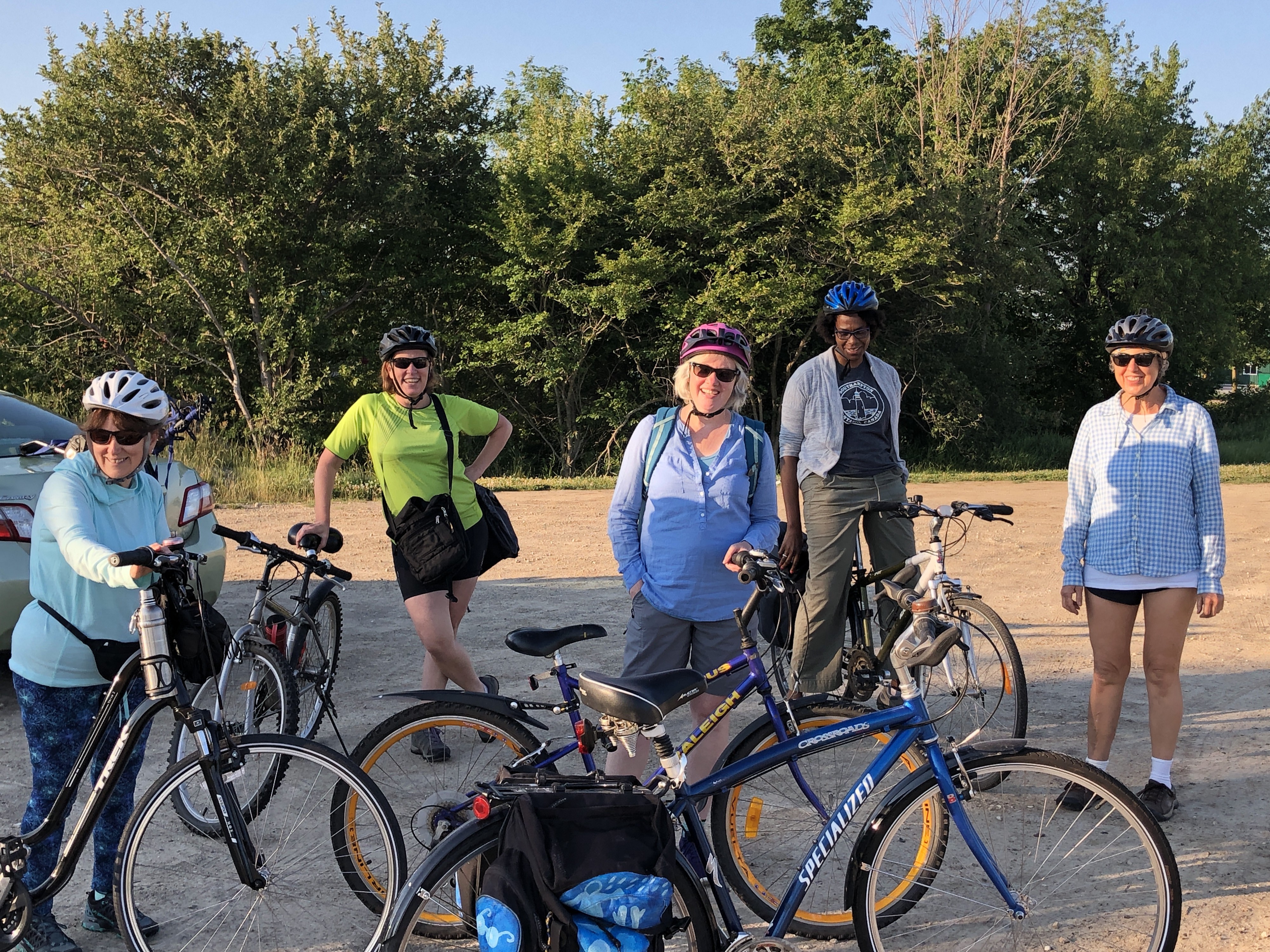 I'm dressed in a blue chambray shirt that buttons to my stomach. Peeking out the top is a sports shirt that keeps me cooler on a hot day. My gray hair peeks out from under my fuschia-coloured bike helmet — you can see the black strap under my chin; I say peeks out, but truth be told, I probably spent a few minutes getting the strands just so for the picture. My eyes are hidden behind my sunglasses. My shorts are gray, and my legs are bare. I have a knapsack on my back. I chose the long-sleeved shirt to protect me from the sun, and the shorts because they have a side pocket where I can keep my phone to register "steps" on my pedometer.
Our bikes are standing at the ready; only Peggy sits astride her bike. Fabienne's is in the foreground with its bike saddlebags, and she stands off to the right, in front of Peggy's bike and just behind me to my left. Sue is laughing at something out of view.
Dorothy, in her green shirt, stands cockily, elbow bent as she places her hand on the bike seat, and crosses her right leg in front of her left, her left hand on her hip. I've known her for more than 20 years. She's laughing, because she has an irrepressible personality. She loves to have fun, and to make things fun, and we're all looking forward to the ride.
Specifically, we are outside the little hamlet of Wallenstein, at the trail head for this section of the Guelph-to-Goderich rail trail. It is a Sunday morning, and we are biking to Milverton, a distance of about 27km.
We are all ready, happy to be together — the one thing we all have in common is that everyone knows me. The rest are meeting each other for the first time. We are anticipating a great ride, chatting and riding through beautiful countryside, along the back off Mennonite farms and at the edges of small towns. We are making better friends of each other.
Two have immigrated to Canada.
One has walked a Camino.
One has run for political office.
We're all evenly spaced. It is still a time of Covid, after all. But who do I say is closest to me, at least in this picture? I need these women — all of them — in my life. They inspire me. They ground me.They make me laugh, they refresh my outlook, they are generally up for anything. All I have done is bring them all together in one place.