My mother died recently at the age of 92. My considerably sized family gathered in the few days between her entering palliative care in the long-term care facility where she'd lived for most of a decade and her passing. I'm #7 in a family of eight children that spans 20 years from oldest to youngest. We all have different experiences and memories of my mom. What follows is my reflection of life with Mom, which I read at her funeral.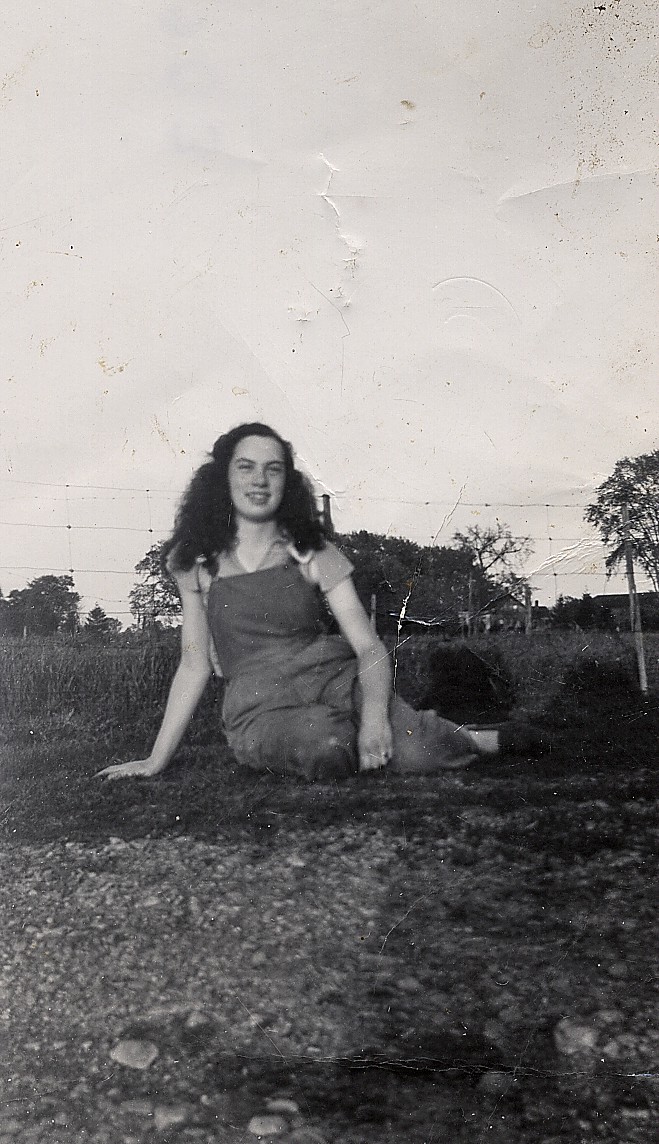 As I get older, I reflect on my stories about Mom, and I've begun to see her in a way that is informed by her past, through the lens of her grandmother, Alice.
Alice was a British Home Child who came to Canada at the age of 10 and was sent to work for a farmer. If you can, imagine a 10-year-old girl, relinquished to strangers by her parents or grandparents, sailing across the ocean to work as an unpaid servant.
I imagine Alice's deep sense of being abandoned. I imagine the incredible resilience and work ethic that must have been instilled in that wee 10-year-old. I imagine as a child, my mom may have wanted to ask a lot of questions of her Grandma Alice, who lived with her family, but back then, children were seen and not heard. I think Mom might have learned lessons from Alice that were so inherent that she passed them on to us, like lessons codified in our DNA.
Here are five of those lessons (there are many more; maybe I'll write more another day):
Mom was born the year the stock market crash triggered the Great Depression. Early years watching her parents and grandparents carefully count every penny, waste nothing, save everything, clearly had an impact on her. And through the rationing during World War II, and in the early years of marriage and having children, I'm certain there wasn't a lot of spare change laying around. These learned skills of frugality came in handy.
Mom compared her purchases with every receipt; she clipped coupons from flyers. She darned socks and mended torn clothes. We all wore hand-me-downs, from older siblings or from cousins or neighbours. Her bin of random buttons came in handy for our sewing projects, and I recall even finding army buttons from her uncle's war uniform in there.
Literally nothing was thrown out, not even the newspaper. Mom clipped obituaries and anniversary announcements from the newspaper, and saved napkins from weddings. Few life events for her friends or her children's friends or her friends' children went unclipped. Her winters were spent pasting these into scrap books.
Today marks my 712th entry into a diary documenting the pandemic. For many of those days, as I took my walks around neighbourhoods in my city to keep my mental health, I also took photos; I have amassed more than 6,000 photos. I suspect my own zeal to document life through photos and my daily pandemic journal are simply the 21st century versions of Mom's need to clip newspapers and preserve the memories.
Mom taught me that you never really stop learning. She took workshops and courses, and night school classes. She read magazines, books, newspapers. She entered writing contests. She redecorated our house in her mind likely a dozen times, but in reality, only twice.
Mom had dreams. Most of her dreams were thwarted, but her dream to finish her high school education, well, she made that happen. She got those last two courses and she graduated in 1988, with me, probably a good 40 years after she'd left high school. She had a natural curiosity, and she'd try her hand at anything, which sometimes worked out. Sometimes not.
I honestly don't know how she fit it all in. Mom worked hard. When I think of my early years at home on the farm, I remember the work most. Picking rocks, stooking sheaves, threshing, throwing hay bales, feeding animals and collecting eggs, weeding in the garden. That's just part of the list for outside.
Inside, there were whole Saturdays dedicated to cleaning the house or washing the windows, baking or sewing, canning in fall and freezing produce through the summer. She did all that during the day, and then she went to the barn to do her chores during milking, morning and night.
As I raise my own kids, I have often found it hard to relinquish that work ethic and allow myself to indulge in more fun. Work first, play later. I'm not sure Mom ever got to the play part; she didn't seem to allow herself that. But when our work was done, we could go skating or swimming with the neighbours, build tree forts or curl up with a book.
I've held fast to that adage over the years. And through my hard times, I know any inner resilience that I have is rooted in Mom's. I learned it from her when she soldiered through chores before her carpal tunnel surgeries, or when she had a broken tailbone or a bad back, or needed both hips replaced. I learned it from her when she persevered with her educational pursuits, even as she was challenged to fit everything in to a 24-hour day.
When I think of those newspaper clippings she saved, I wonder if she was saving her memories for her elder years, when all the memories slipped away. Mom's personality had some hard edges; she was harshly critical, controlling and sometimes deeply depressed. Perhaps some of this had to do with her upbringing, her thwarted dreams or unrealized goals. But what I noticed as Mom succumbed to dementia is that those hard edges wore down. She lost her short-term memories, and then her long-term ones, which, interestingly, involved needing to get home because her grandmother Alice was waiting for her. As the disease progressed, Mom laughed more. Until recent years, she laughed in all the right places, even when she could no longer form sentences.
The hard thing about Alzheimer's and dementia is that it steals your loved one well before it's time for them to go. You do your grieving early, sometimes years before death arrives. But dementia teaches us something, too. That memories are a funny thing. They trick us, and unless they're clipped out of a newspaper and pasted into a scrapbook, they are open to interpretation. In a family of eight spanning two generations, the oldest ones in our family share completely different memories from the youngest.
As news of Mom's passing and her obituary were shared on social media, some childhood friends noted they remembered Mom being a strong woman, a good neighbour, or hosting youth group activities at our farm. That she always made them feel welcomed. Another friend commented how amazing her generation is. The words "force" (as in force of nature) and "beautiful" came up often. I imagine this legacy, too, is informed by those who went before her, by Alice and others.
When I look at that photo of Mom in her dungarees, with the hole in the knee, sitting in a field with a big smile on her face, I see someone who was independent, maybe even a bit carefree. She is also beautiful. As her child, I rarely saw that beauty and independence, but many others did.
That's an interpretation of memory that I would like to hold on to. And for all of us with our own memories, I share this poem, which I think says more beautifully what I've just described:
Page 201 of The Undertaking of Billy Buffone
By David Giuliano
Gather up what has been broken
Bring what is wounded
Bring the long winter
and the impossibility of spring.
Bring hearts cracked open
by sadness, by defeat, even guilt.
Bring your whispered prayers
your raging souls,
your pain-filled memories
and your dreams stolen.
Bring your doubt and anger too.
Bring the lie, bring the lie
about the finality of death.
Bring it all, bring it all, bring it all.
Together we will carry it, like kindling.
Stack it high, brittle stick on stick
and rub those bones together,
to light a fire against the night.