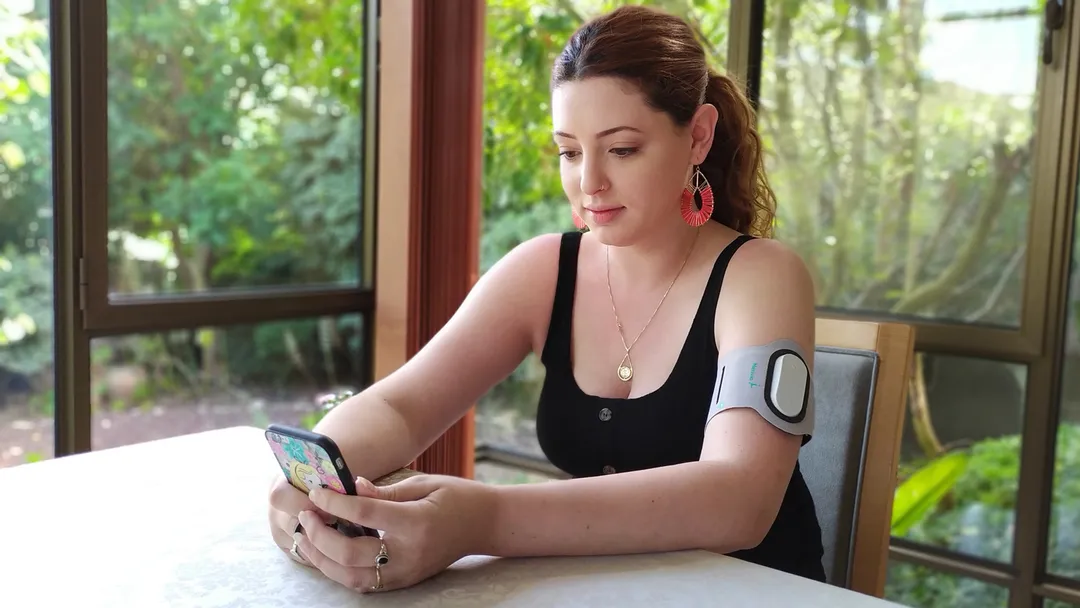 Drug-Free Device Treats Migraine Attacks in Those 12 and Older
Innovations in treating migraine in recent years have brought new relief to many patients and increased attention from the public about the disease. When Time magazine announced, back in 2019, that the U.S. Food and Drug Administration–approved Nerivio was one of the Best Inventions of 2019, it was big news for migraine, and for people seeking acute migraine relief.
Theranica, an Israeli-based startup, reported the FDA approval in May 2019. The approval was based on the results of a study funded by the company, in which 252 patients from 12 clinics used the noninvasive wearable device to treat their migraine attacks. In early 2021, Nerivio was approved for use in patients ages 12 to 18.
Theranica's Nerivio armband was another entry into the promising field of neuromodulation, which uses electrical or magnetic currents to interrupt the migraine mechanism without drugs.
A Smartphone-Controlled Device to Ease Migraine Pain
Some of the devices on the market today include Cefaly, electroCore's gammaCore, and Relivion. FDA approvals as of this date include:
Cefaly — Acute and preventive treatment for adults with migraine
gammaCore — Acute and preventive treatment for adults and adolescents 12 and up with migraine, acute and preventive treatment for adults with cluster headache
Nerivio — Acute treatment for adults and adolescents 12 and up with episodic or chronic migraine with or without aura
Relivion — Acute treatment for adults with migraine with or without aura
Nerivio is indicated for acute treatment of episodic and chronic migraine with or without aura in adult and, now, adolescent patients. The device is placed on the upper arm (not the head or neck) — an attractive feature for people with migraine who are afraid to electronically stimulate an already painful head and neck.
Theranica claims that Nerivio is the first in its class to use smartphone-controlled electronic pulses to create a conditioned pain modulation (CPM) response.
How Does the Nerivio Device Work?
You might wonder, as I did, how a band on your arm that's controlled by a smartphone could possibly relieve pain in your head. The official explanation: "The treatment is believed to work by stimulating upper arm peripheral nerves to induce conditioned pain modulation, an endogenous analgesia mechanism in which conditioning stimulation inhibits pain in remote parts of the body." In other words, those nerve systems are all connected. The smartphone-controlled device uses electrical stimulation to block pain signals from reaching the brain.
We spoke with the company's founders, CEO Alon Ironi and Vice President Ronen Jashek, who said the wireless armband for migraine offered "early inhibition of the migraine cascade." It's designed to be used at the first sign of an attack.
"The results of this study can potentially make a dramatic improvement in the quality of life of dozens of millions of migraineurs around the world," said Stephen Silberstein, MD, director of the Jefferson Headache Center at the Thomas Jefferson University in Philadelphia and former president of the American Headache Society (AHS). Dr. Silberstein is also a paid advisor to Theranica.
Watch Video of Dr. Silberstein With Paula K. Dumas Announcing the News at AHS
Armband for Migraine Offers Two Key Benefits
Since the Nerivio is the only external neuromodulation device not applied to the head or neck, it offers an important advantage, noted Silberstein.
"In addition to the high clinical efficacy and no significant risk, this device is the only migraine solution not to be applied on the head or neck, which tend to become hypersensitive during a migraine attack. Being applied on the arm, possibly under the sleeve, may allow migraine patients normal functionality even on migraine days."
Controlling the device with a smartphone and using it under the clothing is another appealing advantage to many with migraine. It's small and discreet enough to be used at work or in public without declaring, "I have migraine."
How Effective Is Nerivio?
In the original study comparing active neurostimulation with sham stimulation, two-thirds of the people using the real, active neurostimulation achieved pain relief within two hours, compared with about 39% in the sham neurostimulation.
After two hours, about 38% in the active group reported they were pain-free, compared with less than 20% in the sham group. Relief from most bothersome symptoms (MBS) was about 46% in the active group vs. 22% in the sham group.
Even better, people testing Nerivio with active stimulation reported that the pain relief and pain-freedom lasted 48 hours after treatment, a big breakthrough for people accustomed to their migraine attacks flaring up again after acute treatment.
Katherine Hamilton, MD, a certified headache specialist with the MedStar Health system in the Washington, D.C.-Baltimore area, told Migraine Again that most of her patients who tried Nerivio got at least some relief, if not complete pain freedom, from the device. "Since it is a noninvasive, nonpharmacologic approach and since the first device is only $10 with the company's current rebate program, I have been recommending it more and more for patients who may benefit from or who would prefer a nonmedication acute migraine treatment," said Dr. Hamilton.
Nerivio Plus Behavioral Techniques Even Better?
An intriguing 2022 study published in the journal Pain Medicine suggests that the Nerivio device might be even more effective when used with behavioral techniques now available with the Nerivio app.
The study compared the experiences of people who used Nerivio's neurostimulation with the in-app guided imagery, education and relaxation feature (GIER) compared with the Nerivio neurostimulation alone. The GIER feature is an audio-visual software module of guided imagery, relaxation, and education. Nerivio users can click on the "GIER up!" button when they begin a treatment to play the 25-minute video on their smartphone as it controls the Nerivio device. The video includes relaxation techniques like diaphragmatic breathing, progressive muscle relaxation, and guided imagery, as well as patient education.
The results: 79% of the users in the Nerivio-plus-GIER group experienced consistent pain relief (i.e., pain relief in at least 50% of the treatments), compared with 57% in the REN-only group, whose members used Nerivio without the added feature. Other comparisons:
71% of users in Nerivio-plus-GIER group experienced consistent improvement of function (in at least 50% of their treatments) vs. 57% in the REN-only group.
5% of the users in the Nerivio-plus-GIER group experienced consistent complete return to full functioning (in at least 50% of the treatments), compared with 17.5% in the REN-only group.
Hamilton noted, "This is a very interesting study that demonstrates the benefits of behavioral therapy for acute treatment of migraine. While not a randomized-controlled trial, there did seem to be a significant benefit in combining the device with a relaxation exercise in terms of pain relief and return to function. Patients who use the Nerivio device regularly may have the added benefit of practicing relaxation techniques, which can be helpful for managing migraine as well as stress and anxiety."
How Do I Get Nerivio?
The device is available by prescription from a specialty pharmacy in the United States. Nerivio is also available through the migraine telemedicine company UpScript. You must get a prescription from your healthcare provider to access Nerivio.
How Much Does Nerivio Cost?
Each Nerivio device delivers 12 45-minute treatments. The battery of the device will die after 12 treatments, and the device is then recycled via a prepaid envelope Theranica will send upon request.
Theranica launched a reimbursement hub called Nerivio Express Savings Program in October 2020. By working with insurance companies, Nerivio Express is able to provide the first Nerivio device for a co-pay of as little as $10, depending on your insurance.
Here's how it works: Your healthcare provider prescribes the Nerivio device and fills out the paperwork for the Nerivio Express Program. You should have the device within a few days for as little as $10. There will likely be paperwork that you need to fill out as well, so the Nerivio Express Program can contact your insurance company.
When it comes time to refill your device, your copay may be less than $49 if your insurance company decides to cover it. If your insurance will not cover the device, or if coverage is still pending, your copay would be $49 for a refill through the Express Program. Know that an appeal may be necessary if your insurance company denies the first Nerivio claim. The Nerivio Cares program is available for questions and assistance: email support@nerivio.com, or call 1-866-637-4846.
Medicare and Medicaid patients may be eligible for this program, too. Contact Theranica for more information.
In early 2021, Theranica signed an agreement with the U.S. Department of Veterans Affairs to allow veterans to access Nerivio.
In June 2022, Theranica announced the Costco Member Prescription Program (CMPP) will offer Nerivio to Costco members at a discount. The initial discount price was $130 per device before insurance. This is currently the best option for those without health insurance. You can check Costco's listing for Nerivio here.
What Kind of Phone Is Needed to Operate Nerivio?
A smartphone that can use the Nerivio app is needed to operate the device via remote control. Your StarTAC flip phone won't work, nor will your retro dial-up phone.
Who Can Use the Nerivio Device?
People who are looking for nondrug treatments or who cannot take current drug therapies and anyone 12 and older who wants an addition to their migraine toolkit.
Episodic and Chronic Migraine: While initially approved for acute treatment of episodic migraine, Nerivio gained additional approval for chronic migraine in November 2020.
Medication Overuse Headache: Silberstein noted in the company's press release, "Triptans and most current acute migraine medications, including over-the-counter drugs indicated for migraine, are associated with medication overuse headache (MOH), which is associated with increased frequency of migraine attacks, and often results in chronic migraine. This new innovative FDA-authorized treatment is an important alternative to help our patients control this debilitating condition."
Heart Problems: Those with a history of heart problems may be good candidates, but please speak with your healthcare provider as there are some heart conditions for which Nerivio is contraindicated.
Children: Nerivio is now approved in the United States for the acute treatment of episodic and chronic migraine in patients ages 12 and older. Children and adolescents usually have far fewer treatment options than adults, so this creates a new option for them.
Hamilton said, "I try to bring neuromodulation devices up as an option for many of my patients, so that they know there are possible non-medication approaches that can work. While these devices are sometimes expensive and may not work for everyone, I think patients should at least be aware of the options so that they can ask their doctor for more information and have different options to treat their migraine attacks."
Still wondering? Discuss neuromodulation with your healthcare provider to find out if this device is a good option for you.