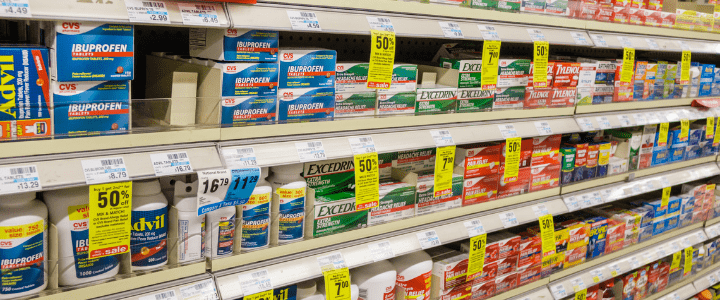 In late December 2020, several Excedrin products—including two products labeled for Migraine attacks—were recalled in the United States for safety issues. If you've purchased or used Excedrin products, here's what you need to know.
400,000+ Bottles Recalled
Excedrin's maker, Glaxo Smith Kline, recalled approximately 430,000 bottles of Excedrin products after learning that a manufacturing mistake from one of its bottle suppliers drilled holes in the bottoms of the bottles. That violates the Poison Prevention Packaging Act, a U.S. law requiring over-the-counter medications and other products to have childproof packaging (1).
Specific Products and Dates
The recall affects specific products:
Excedrin Migraine Caplets (50, 80, 100, 125, 200, 250 and 300-count)
Excedrin Migraine Geltabs (50, 80, 100, 125, 200, 250 and 300-count)
Excedrin Extra Strength Caplets (50, 80, 100, 125, 200, 250 and 300-count)
Excedrin PM Headache Caplets (50, 80, 100, 125, 200, 250 and 300-count)
Excedrin Tension Headache Caplets (50, 80, 100, 125, 200, 250 and 300-count)
These products were sold in US stores from March 2018 to September 2020 (2).
No Reports of Injury or Illness
A statement from Glaxo Smith Kline said that there had been no reports of injury or illness because of the products in question (3).
Only Excedrin Brand Products Recalled
Only products from the Excedrin brand are recalled. Generic or store-brand over-the-counter combinations of acetaminophen, aspirin, and caffeine are not impacted.
Holes in Bottom of Bottles
The problem is a manufacturing issue at a company that made bottles for these Excedrin products. The bottles for those particular products have a hole in the bottom of the container.
Although there haven't been any reports of illness or injury from those products, you can understand why they were recalled. You can't keep your medication safe, dry, and ready to take when you need it if the bottle isn't intact (4).
OTC Migraine Medications: It's Complicated
OTC medications for Migraine attacks can be complicated. OTC combinations like Excedrin Migraine formulations are a mix of acetaminophen, aspirin, and caffeine. Some people swear by them! Others don't find them helpful.
But the most complicated part is the risk of Medication Overuse Headache (MOH). Some people who use these OTC medications for Migraine attacks start getting attacks more frequently. If you take these OTC medications more than 9 days a month for Migraine attacks, you may be at risk for MOH. What does that mean? It usually means more pain and other symptoms, more often, that don't respond well to acute treatments.
If you use an Excedrin Migraine or headache product, or a generic version, pay attention to how often you use it. If you need it only once in a while, it's probably an acceptable option to have in your Migraine tool kit! If, however, you find you're taking it closer to 10 days a month or more, talk to your healthcare provider about other options, including preventive treatments.
About "Overuse"
Many experts and advocates think the name "Medication Overuse Headache" blames patients for developing more persistent or chronic headache conditions and want to change the term to something that doesn't sound blame-y! It helps if you know that MOH is the term your healthcare provider is likely to use, but don't blame yourself. We don't blame you, either! This is another great example of a way that being an empowered patient can help.
What to Do if You Have One of These Bottles
First, DON'T PANIC! Remember, there are no reports of any injury or illness. The recall is meant to make sure there won't be any injuries or illnesses.
Second, check your medicine cabinet, drawers, car, and everywhere else you keep your medications. You can check out the U.S. Consumer Product Safety Commission's Website (listed at the bottom of this article). They have photos so that you can see which labels might match up. Pictures are awesome when you have a lot of bottles to look at (5).
Third, if you have any questions about an Excedrin product that might be in this group, you can call GSK Consumer Relations at 800-468-7746 from 8 a.m. to 6 p.m. ET Monday through Friday, or online at www.excedrin.com and click on the "safety issue" banner at the top of the page for more information.
GlaxoSmithKline is issuing refunds for customers who have the affected bottles.
Is Your Bottle Okay?
Excedrin's maker says that your medication is safe to use if the bottle doesn't have a hole. Glaxo Smith Kline estimates that about 433,000 bottles are in the affected manufacturing lots. It's possible that you have a bottle that was made before or after the time when the damaged bottles were used, or that your bottle is just fine. If you have any questions, you can call their hotline at 800-468-7746 (6).
The Take-Away
The news about the Excedrin recall might be scary, but there's a lot of good news in it:
Nobody has been hurt.
You can call Excedrin's maker to find out if yours is okay.
If you have a bottle with a hole, you can get a refund.
If you just learned about "Medication Overuse Headache" because you wanted to learn more about the recall, great! Now you know what to watch for if you use OTC medications for Migraine attacks and how to talk to your healthcare provider.
Migraine disease is tough, whether you get attacks only occasionally or you never get a break. Finding out that a medication you rely on is unavailable can be scary, but there are many other effective treatments for Migraine attacks. Be sure to talk to your healthcare provider about what might be the best treatment regimen for you.
Getty Images
United States Consumer Product Safety Commission. GSK Consumer Health Recalls Five Excedrin Brands Due to Failure to Meet Child Resistant Packaging Requirement; Risk of Poisoning. cpsc.gov. 23 Dec 2020
United States Consumer Product Safety Commission. GSK Consumer Health Recalls Five Excedrin Brands Due to Failure to Meet Child Resistant Packaging Requirement; Risk of Poisoning. cpsc.gov. 23 Dec 2020
United States Consumer Product Safety Commission. GSK Consumer Health Recalls Five Excedrin Brands Due to Failure to Meet Child Resistant Packaging Requirement; Risk of Poisoning. cpsc.gov. 23 Dec 2020