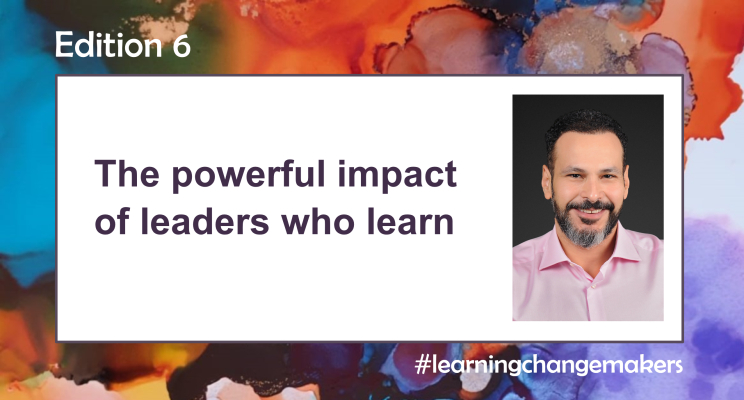 Progressive learning leaders who make a strategic difference do not have to come from L&D or HR. #LearningChangemakers include anyone tackling organisational learning challenges with innovative approaches to unlock potential and improve impact of individuals, teams, organisations, and society.
When #LearningChangemakers come from within the business - magic happens!
(As an aside, thank you for the global interest in the #LearningChangemakers newsletter. If you like what you find here, please subscribe and share with others!)
As part of my research for a new report 'Management readiness in 2021: leaving no stone unturned' I had the pleasure of interviewing Ahmed El-Hamaky a senior business leader based in Bahrain. He is not from HR or from L&D but his learning experiences released the changemaker within.
Ahmed's story *
Ahmed graduated as an electrical engineer in the early 2000s but had a career dream to lead and manage a business across a large geography. He wanted to make a difference – to customers, to the next generation of people he worked with and to the organisation.
In pursuit of this dream, at the earliest stages he learned on the job – gleaning information from as many people as possible, observing how others worked, picking up experiences and joining the dots.
Standing on the shoulders of giants
Ahmed also believed in 'the power of science' drawing on the knowledge of academics who have researched the theory and have simplified their knowledge in testable models. A clearer understanding of the science behind his work would accelerate progress. As a result, in 2014 he enrolled on The Open University's Postgraduate Certificate in Business Administration whilst working in his full-time job at a global engineering company.
Building new habits – Learning from the process
The programme provided evidence-informed models and frameworks that explored people, change, marketing, financial and operational management.
The rubber hit the road when it came to applying the business models in real life. This demanded a process of application, reflection and review as the thinking became modified in the context of the real world.
Although Ahmed had attended shorter workshops before, the ideas did not stick. The longer programme allowed for continued learning, debate, exploration and application. Working with a global cohort of diverse participants through regular video meant that the programme did not just provide new knowledge but also new habits for learning, working, reflection and analysis.
Translating learning into double digit growth
This holistic learning experience provided the foundations for Ahmed to introduce a radical change back in 2016. Teams were used to working from a centralised office, far from their customers and their families. Ahmed used the science he had learned on the programme to propose and introduce a decentralised model that moved teams closer to customers and to their home office. This change initiative would mean teams would be dispersed over a huge geographic area but Ahmed's experience on working across a global remit for the learning programme had proved how successful this could be.
He leveraged the change principles learned in the programme to manage the process, working through resistance, knowing what to do when individuals could not see the point, and providing time! The team grew stronger together and recorded record double digit growth.
The confidence and preparation of the programme meant that remote team working was already established and delivering. It also meant that Ahmed and his team were very well prepared for when the pandemic hit and, in fact, were in a position to also support customers who were not familiar with new remote ways of working. This meant that at the height of disruption the team had one of the highest sales years.
Management training isn't about how you do it but how you flex it
The structure of the initial management programme modelled a future world of work for Ahmed that was just as powerful as the knowledge conferred.
The success of the remote learning experience provided a subconscious trigger for the decentralisation programme, and helped create a vision of the right structures needed and how to mitigate the risk
Application, reflection and adaptation was instilled into participants – real life is not black and white and we need to be able to work within the grey.
The learning journey provided diversity – cultural differences on the programme highlighted the 'strength and beauty of diversity'. Ahmed recognised that 'we don't need everyone the same – on [the] team we now have different nationalities, welcome different ideas.'
Keeping an open mind is the link between the programme and the real world – 'The tutors on the programme were always subjective, highlighting there is no right and there is no wrong, and to keep an open mind that real life will be different'. The teaching that theoretical models are meant for examining and critical thought enforced the view that each manager's responsible for transforming an ideal world into the real world.
As a result of the business and personal growth of leading from better learning, Ahmed also proactively inspires others to continually learn, grow and adapt. He created opportunities for engineers to learn business development (another double-digit growth initiative). He encourages ownership of individual lifelong learning through thoughtful introduction of online learning resources with one remit – that they are only retained when used and applied. His positive experience of diversity within the programme means he is now leading an initiative to support women in engineering in Saudi Arabia.
Ahmed's recommendations
As a result of the programme Ahmed now proactively engages with and recommends the following:
Setting priorities – 'working quickly to establish what is most important is critical in the new norm'
Emotional intelligence – 'You need to understand the people more around you and understand yourself to connect'
Change management – 'new can't predict business stability – new decisions need to be made more regularly. We need to manage our own expectations and not stress out. Expect change, get ready be aware of it, stay positive and use your skills'
Active listening – to people and to customers today. In the new normal, people are confused so need to listen actively not tell
Collaboration and partnership – collaboration brings value to the market and is no longer optional
Keeping positive – it helps yourself, your team and your customers
Final thoughts
What captured my attention the most from Ahmed's story wasn't the ROI of the learning programme essential to his growth or even the smart recommendations that all leaders need to hear right now (including learning leaders!).
No, I was most inspired by the fact that a great learning experience can act as a catalyst for a virtuous cycle of personal growth that delivers ongoing impact and permanently shifts learning culture.
What has captured your attention from Ahmed's story and why?
______________________________________________________
* This interview was originally part of my research for 'Management readiness in 2021: leaving no stone unturned' and is reproduced with permission from TrainingZone and the Open University.
Please subscribe to #LearningChangemakers and tag others who might be interested.