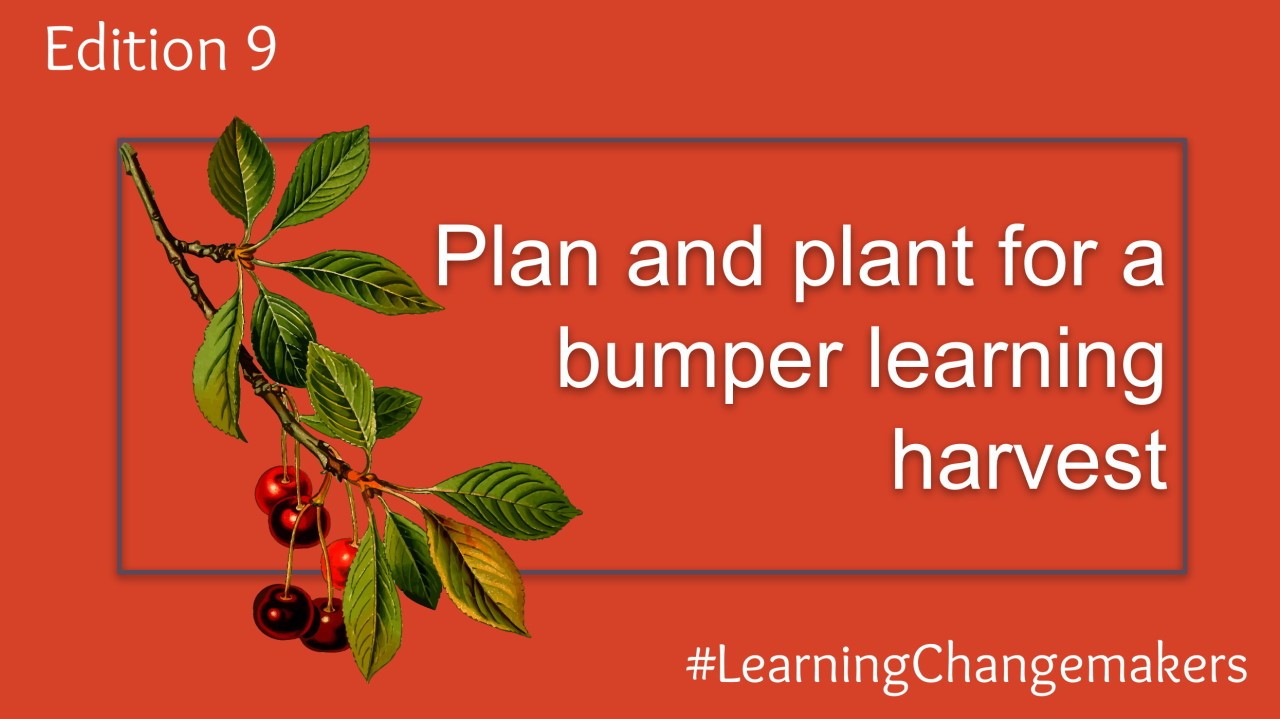 I've not been shy about talking about how Learning Changemakers can make a difference in the workplace.
For those of you who might have missed the Learning Changemaker introduction, I believe we see change happen when we tackle organisational challenges, not learning problems, are empathetic systems thinkers and inspirational problem solvers connect the dots and create solutions in partnership, when we are comfortable out of our comfort zone and when all is said and done, we get stuff done!
We also make a difference when we move out of our classrooms and content palaces, and into the actual workplace!
Our workspaces have changed forever
The challenge is that those workplaces have changed. Forever. We are no longer constrained to a single location. We take part in work in the office, the coffee shop, at the client, in the home, on the factory or shop floor.
Increasingly, for everyone, the best workspace has become a mix of all that works best for the job at hand.
The glue that has been keeping us connected across all those spaces is enterprise collaboration and the technology that enables it. Last year Gartner revealed that 80% of workers were using tools such as Slack, MS Teams in 2021, up 44% from 2019.[1]
These tools create the environments that allow us to keep connected, keep sharing and keep projects on track across the wide range of spaces where work occurs.
These environments have the potential to become fertile ground for today's Learning Changemakers!
Fertile ground for Learning Changemakers
These new workspaces are where we can learn and keep learning: from mistakes, from trial and error, from solving challenges and creating ideas and from each other.
According to the Mind Tools for Business Learner Intelligence study released in May 22[2], 7 out of 10 workers reported that community environments such as Slack and MS Teams were useful or essential for learning how to address challenges related to work.
When 85% of workers learn by turning to colleagues for support and 86% by working in collaboration with team members, it's clear to see that staff are finding ways to make learning flourish in online collaborative environment (even if they don't call it learning 😊).
What's more, it's working. For the first time in the 8-year history of the study[3], more workers are stating that they prefer online learning, done well! (41%) to face to face learning (34%).
Are L&D ready to dig in?
In my view, the role of L&D is clear. We use our professional expertise to help individuals, teams and organisations be equipped and ready – for today's challenges and tomorrow's opportunities.
Historically the spaces in which we operated confined our potential to achieve this. When L&D activity is restricted to classroom and to the LMS, our approach to supporting learning is also restricted and we have very few dots to connect, limited opportunity to create partnerships with and limited capacity to get real stuff done!
When our horizons are limited, we get into loops of repetition – fixed in our models and approaches. Whilst each of these approaches might be noble, they often represent just one facet of the learning process. Repeating them continually can reduce their potential for change. In the same way that crops need to be rotated to maximise harvest, we need to open up our approaches to learning. Learning is complex and can't be constrained to a single model, technology, or approach.
Our new collaborative workplaces provide us with a wider context in which we work, so how do we dig into the opportunities that they provide for us to learn as we work?
Cultivating a garden of learning
Learning isn't just about access to knowledge, it's the slow journey of shifting from novice to expert, from knowing about something to practicing it and ultimately to mastering it.
Typically our L&D interventions start with supporting new knowledge. We have a focus on courses and content because our physical spaces and time boundaries have constrained our interventions to the very start of the learning process, leaving the rest to chance.
Online collaborative environments create new opportunities to support the full flow of learning to literally connect the dots from knowledge acquisition, through to practice mastery and ultimately new habits.
Together with Michelle Oeckers and Shannon Tipton, I've been exploring these new spaces of work as the terrain or ground in which deep learning can take root. Inspired by the question, how do we cultivate a garden of learning in this fertile ground? We've been having great fun combining research, experience, and a stubborn focus on the practicalities of practice to come up with a simple garden inspired framework to help you plan and plant for a bumper learning harvest! Here's a snapshot of the principles we've seen work:
Preparing the ground ⛏️
Fruitful harvest follows careful preparation. Preparing the ground involves understanding our collaborative spaces – how they operate, what works and what doesn't, what are people talking about or doing there. This is a great starting point for Learning Changemakers to spot the right organisation challenges to work on and practice leaning into the conversations, processes, and practices already in play (empathetic systems thinkers 😊). Just being aware and active in the spaces in which we operate helps us dig into purpose!
Sow the right seeds 🌱
Once you are clear on your purpose, sowing is about seeding the learning process in your community with relevant content, questions, and activities. Apply principles from learning science to ensure that you not only drive engagement and interaction but provide essential nutrients to grow learning.
Seeds might be content, but they can also be questions, reflections, activities. Talking about seeds, looking at catalogues and going to garden centres may provide inspiration but if you want a harvest at some point in the future you actually have to plant something!
Nurture growth 🌿
Every garden needs regular maintenance. We need to water, prune, make space for learning to thrive. This might involve simplifying, removing content, using all the indicators available to track growth and spot challenges. It involves working with others and making sure they know what they need to do. Nurturing growth is collaborative, and these new spaces create new opportunities to collaborate with others.
Harvest impact! 👩 🌾
Environments provide us with plenty of opportunity to track what is organically happening with the seeds we have sown – what are people talking about, sharing, what challenges do they have, what expertise has been developed that can be used? How are you using those?
Getting stuff done!
It's great to explore new ideas but trying them out, experimenting and exploring is the first step. From our side we created a toolkit to help – a step by step guide complete with checklists, templates, and a gardening calendar. You can grab this for free (thanks to our publishing partner Go1). And I'd love to know how you adapt this for your own garden of learning.
I'd also love to know what you are currently doing to cultivate learning in these new workspaces?
👉 Please share your story – what are you sowing, what are you nurturing and how's the harvest?
…................................................................................................................................................
Finally... thank you for the global interest in the #LearningChangemakers. I might not publish a newsletter as often as LinkedIn would like, but I post when I am passionate about an opportunity for us to make a difference so... if you like what you read here, please subscribe and share with others!
__________________________________________________________________________
[1] https://www.gartner.com/en/newsroom/press-releases/2021-08-23-gartner-survey-reveals-44-percent-rise-in-workers-use-of-collaboration-tools-since-2019
[2] https://mindtoolsbusiness.com/research-and-reports/learner-intelligence-report-2022
[3] Original learner voice research published in 2014https://mindtoolsbusiness.com/research-and-reports/learner-voice-part-1