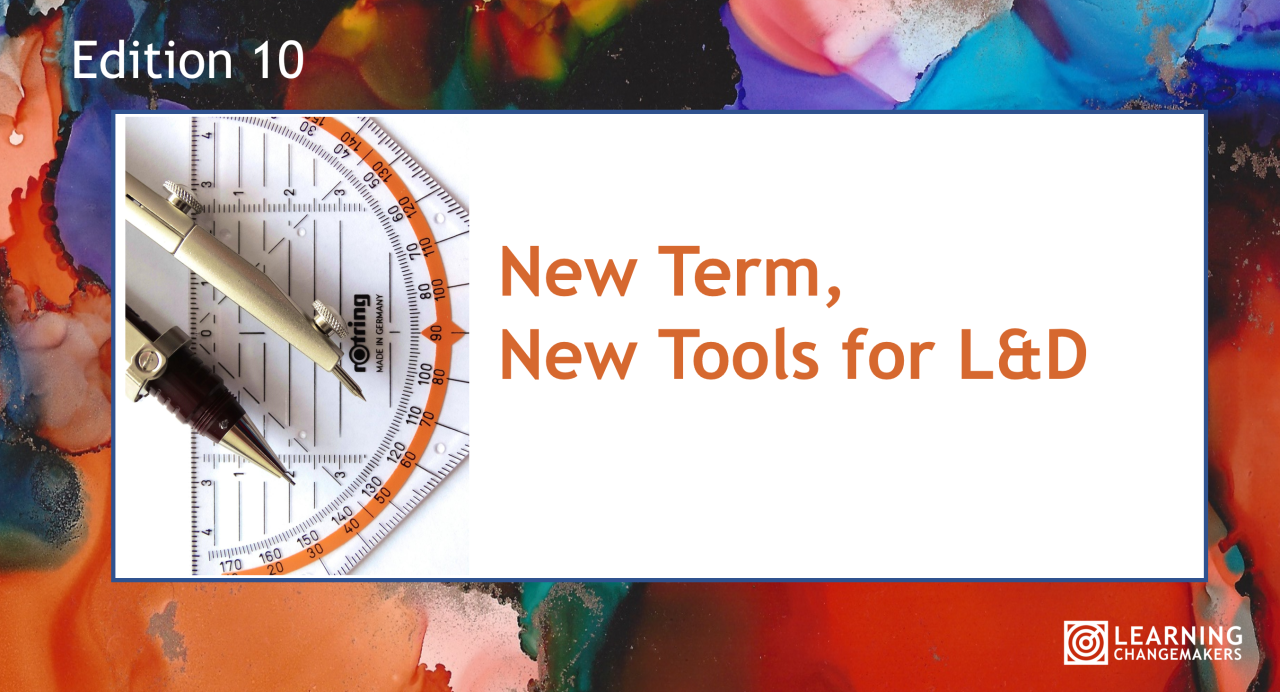 September is a great month for fresh starts! – the start of term, the start of spring, the start of fall... all represent the beginning of something new. And beginnings are important, they represent fresh starts and allow us to tap into some positive energy!
According to Daniel Pink in his book "When, beginnings provide us with the opportunities to start right, start again and start together".
So at the beginning of the new term, I thought I'd share 6 new tools for L&D professionals to help harness some of those positive vibes and hopes for the year ahead.
These have all come from our collective work with Michelle Ockers and Shannon Tipton over the past year as we've been exploring what L&D leaders need right now to emerge stronger, smarter and bolder!
The start of a new term provides a great opportunity to revisit the basics and firm up the foundations needed to improve impact over the year ahead. All of these tools have been designed as a result of exploring the tactics of high performing learning teams over the last 20 years. And we're super thankful to our publishing partner Go1 to help us bring them to you!
You've hopefully got these basics all in hand but check the tools out if you want to:
✅ Cross check your in-house processes
✅ Refresh your approach
✅ Experiment with something new
The tool that helps you focus on the right priorities for your business!
Use the Needs Analysis Tool to have an initial conversation to understand the real need when you:
receive a request for a course or content
are engaged to support a business project or change
identify a performance issue or opportunity in the business
The tool to help you make sense of the content around you!
Use the Curation Decision Tool
to help define curation goals
before sharing curated content to determine validity and need
before gathering content to supplement any learning activity
to help others to begin curating their own content
The tool designed for managers to bring them into the loop!
Use the Power Hour Tool when you want to help managers to
carve out time and create rhythm
build trust and create permission to learn and explore
understand interests and create opportunity to practice
accelerate results and create new pathways of success
support self-directed learning – and create new habits for growth
The tool to help you get smarter on getting the message out!
Use the Communication Plan Launch Tool
prior to program development (part of the program kick-off)
as part of program creation and
prior to program launch
The tool to support learning in workplace communities!
Use the Cultivating Learning in Workplace Communities Tool when you want to use an existing workplace community to
share relevant content to seed learning
build and strengthen skills
troubleshoot problems
improve processes
strengthen workplace practices or performance
The tool to help you continually improve!
Use the Improving Impact Tool when you need to
engage managers to share responsibility to ensure that solutions create impact
make intelligent choices about what, when and how to evaluate
continuously improve a learning solution
demonstrate the impact you have created together
Is this an exhaustive list of survival kit tools? By no means. I'd love for you to share some of your favourites below as well!
Did we focus on them first because these basic strategies contribute to business success and some of the toughest to master? ABSOLUTELY!
At the start of the new term, I hope you'll find ways to use them within your team to start right, start again and start together!
💡 New Term, New L&D Tools – what would you add to this basic start of term kit for L&D professionals?
…...............................................................................................................................................
Finally... thank you for the global interest in #LearningChangemakers. I might not publish a newsletter as often as LinkedIn would like, but I post when I am passionate about an opportunity for us to make a difference so... if you like what you read here, please subscribe and share with others!