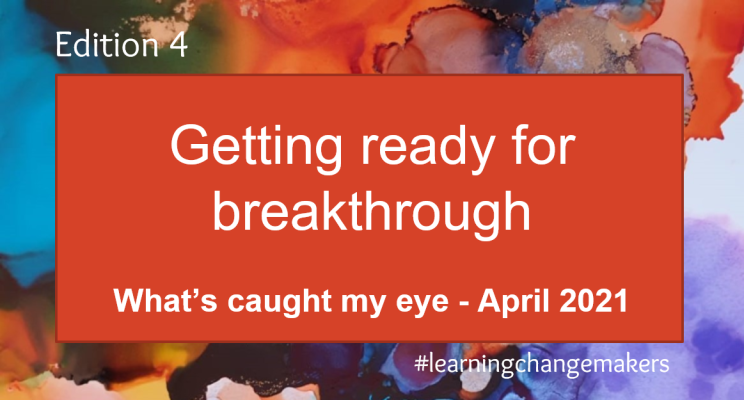 I'm overwhelmed by the global interest in the #LearningChangemakers newsletter - thank you! If you like what you find here, please subscribe and share with others!
'April is the kindest month - it gets you out of your head and working in the garden.'
This quote from Marty Rubin is a seasonal reminder that we need to take action if we want to make a difference. And radical action that makes a difference is what #Learningchangemakers is all about.
For me April has provided an unending source of inspiration and insights to help us do just that, so here are just a few things that have caught my eye (and ear):
What caught my eye? The CFO's role in capability building - McKinsey
Why? For learning to be an essential business enabler we need to listen in to what's important & tapping into the business advice coming from likes of McKinsey is just one way of doing this. Increasingly, recommendations to business leaders are encouraging them to play an active role in our traditional L&D turf. Some might see that as a threat- I see it as an incredible opportunity to redefine the learning leaders' role in co-crafting business value.
What caught my eye? Here's why less could be more in solving problems - World Economic Forum.
Why? Because we just need to hear this!
What caught my eye? Adult development and the growth Edge - Andrew Gerkens
Why? For L&D leaders - development is a big part of our job. Andrew has done a super job rounding up research and practice explaining the complex concepts behind adult development. Understanding why the process is so damn uncomfortable explains how easy it is to just step back and stagnate. The science also points to how we can achieve breakthrough! I spent 15 years researching the growth and transformation path of the L&D industry itself & I have to admit this adult development lens sheds some interesting light.
What caught my eye? There's a name for the Blah you are feeling - its called Languishing - Adam Grant
Why? Every time I ask about what L&D professionals need to stop doing in order to move forward, I get the answer stop taking orders, and yet we continue to take orders. Capturing the energy and drive to change is tough. This article has been doing the rounds exploring personal mental health but I also wonder does the concept of languishing also sheds light on our professional health as well? Would some of the personal recommendations in this article also help create a breakthrough moment for professional L&D?
What caught my eye? Experiment and fail fast to succeed - a playbook by Model thinkers
Why? The inaugural cohort of our new masterclass has had its own breakthroughs from the Emerging Stronger process this month, and one of the significant areas we've been working on is how to reinvigorate our practice with the experiment lens. This fabulous playlist from Arun Pradhan and Shai Desai lay out a matrix of simple models to do just that.
What caught my ear? Learning Hack Interview - John Helmer and Charles Jennings
Why? Do you know the thinking behind 70:20:10? Or do you just think you know? Don't dismiss or 'box in' an idea because of its name. Dig deeper, go to the source - You may well find a breakthrough moment!
---------------------------------------------------------------------------------------------------------------
What have you seen in the last month that has inspired a breakthrough moment or breakthrough action for you?
Inspired? Curious? Thoughts? Let me know. Please subscribe to #LearningChangemakers and tag others who might be interested.