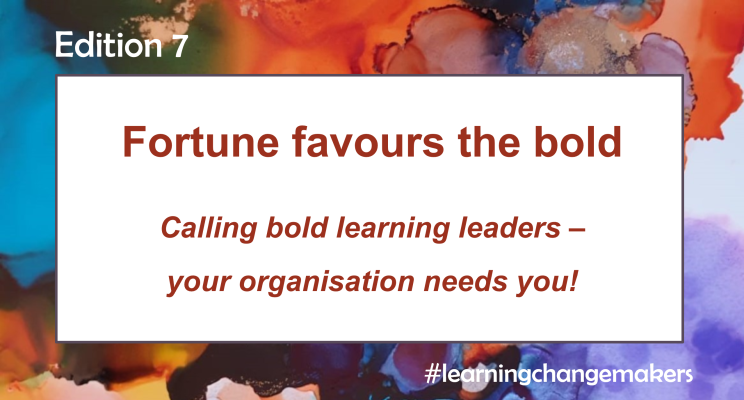 Calling bold learning leaders - your organisation needs you!
A leader is someone who can see how things can be improved and who rallies people to move toward that better vision.
Jacob Morgan's definition of a leader really resonates with me because it shows how leaders need to combine both insight and influence in order to make an impact.
Right now, in the tumultuous workplace, I genuinely believe that organisations require these learning leaders at all levels of their careers to make a difference where it counts. You've read all the articles about why (the talent imperative, the skills agenda, business and digital transformation) so I'm going to jump straight in.
We need learning leaders across the profession that can combine insight (the capacity to gain a deep understanding of a situation) and influence (the capacity to make an effect on something or someone else) with the one ingredient I think is missing from Jacob's definition - boldness!
What's more, I believe learning leadership is NOT just the domain of the Learning Leaders with a capital L in their title!
We need learning leaders at all levels who can combine evidence and experience to spot how to improve the outcomes of existing initiatives AND who are able to bring others with them when they see a better way to improve performance.
We need learning leaders who are willing to continually learn, believe in their potential to contribute to business value and have the boldness to take action to achieve it.
Revisiting bold!
The dictionary defines boldness as the willingness, confidence and courage to take risks. This is the boldness that fortune favours and impact follows!
Our learning leaders need to be bold in order to step up to the challenge ahead. But the idea of boldness is not always comfortable.
Two types of Bold – which one do you want to be?
When it comes to L& D bold - I've actually experienced two type of attitudes in my career: Brassy bold and Smart bold.
Let me explain.
Cocky confidence and sometimes fearless foolhardiness often accompany Brassy Bold. It's an attitude seen in those who love to shake things up. Why? Because they just love to shake things up.
Brassy Bold is often a characteristic of those already comfortable with taking centre stage, it is regularly opinion driven and passionately articulated. It wins over and energises the faithful followers and alienates the sceptical in equal measure.
Don't get me wrong. I've seen seen fortune favour brassy bold action.
Occasionally!
But it's impact is rarely sustainable once the personality behind the change has left. What's more , alternative arguments or fresh evidence seldom sway brassy bold. The strength of brassy bold can quickly become weakness when we can struggle to shift and adapt to changing circumstances.
I have also seen smart bold learning leaders in action through my research the last 20 years. Typically, high performing learning organisations are not led by those who have been in place the longest or those with the biggest budgets and teams, but by those willing to use evidence to question the status quo and try something new to improve business impact.
It's often the boldness of the quieter learning leaders, who are comfortable away from the centre stage.
"Smart bold is driven by a north star and clear purpose and is confident about shifting position to get there. It embraces insight - evidence informed courage and conviction, and uses it to leverage influence."
Smart bold is not immune to fear, encompasses bravery and is willing to risk, and where failure means learning. Smart bold helps us to adapt, change, learn and grow sas a result of new evidence, opportunities and challenge.
Developing Smart Bold – 9 lessons I've learned from the pandemic!
Since the middle of 2020, my work with Michelle Ockers and Shannon Tipton on Emerging Stronger initiatives has exposed me to the incredible bold stories of our podcast guests and masterclass community. This collective wisdom is helping me to make sense of the past as well as prepare better for the future. The lessons learned are continually unfolding. This is what I have learned so far:
Early in the pandemic our first Emergent podcast series explored how L&D professionals can emerge stronger from the pandemic. Back in the summer of 2020, the future was unknown and the present complicated we were all exploring what we needed to do next and how we needed to do it. During this time our guests showed us that:
Smart bold begins with business first – setting business value as our north star is more critical, especially when faced with complexity. Having our eyes on this ultimate goal helps us focus, flex and prioritise.
Smart bold begins within – with our own thinking habits and mindsets. Our actions and responses are determined by our repeated habits, the way that we see our own value, roles and response to risk and innovation all make a difference to how we approach opportunity.
Smart bold begins with the willingness to see things differently – rather than approaching our situation through old lenses of content and courses, those that were emerging stronger were more likely to look at their opportunities through the lenses of data, community, technology and experiments.
And that is where the fun began! In our inaugural masterclass last year we worked with global learning leaders over a 6 week period, which allowed us to continue to learn
4. Smart bold grows when we focus on action - as participants actively applied new thinking habits and lenses to their own projects, boldness grew!
5. Smart bold grows as a result of community - we're not always surrounded by encouragement in our own workplaces but providing and receiving caring challenges and support to and from our peers allows boldness to flourish!
6. Smart bold grows as we experiment - to reflect, to fail and to struggle and to have permission to learn does wonders!
Since that class, our research and questions shifted to digging into how bold action can deliver impact. From the second series of emergent podcasts and continuing to keep in touch with the masterclass community I have learned that those working hard to actively develop and walk in their a smart boldness are reaping rewards.
Smart bold builds momentum as insight and influence grows!
Smart bold builds resilience - the capacity to get up, try again and sometimes even enjoy it!
Smart bold builds impact which continues to build smart bold!
Fortune favours the bold
I've realised that [my work] with Emerging Stronger is ultimately about building learning 'leadership', about equipping genuine learning changemakers looking to stand up, be counted and make a difference. And in doing so I am learning as a result of the amazing people around me!
It takes boldness to step into our potential as learning leaders, at all stages of our career. I have learned that working with Michelle and Shannon, that boldness grows when we are surrounded by others on the same journey, who can challenge our thinking and encourage our progress.
Personally I want d to be surrounded by others on this journey who feel the same. Those who
want to take smart bold action
are ready to mobilise their tired or fledgling learning leader wings
are passionate about opportunity but hungry for insight
want to find and use their voice/influence for good
are hungry try something new in their own world of work, buoyed by the support of their peers who are doing the same.
These are the types of people who help me to be bolder - smart bolder! The type of insightful influential boldness that fortune favours :)
When have you encountered smart bold on your L&D journey? What did you learn as a result? Please share your thoughts...
______________________________________________________
Our next Emergent Masterclass starts on 22nd March 2022, find out more emergentmasterclass.org
DM me to find out about our scholarship programme for those who are between jobs or in the not for profit sector
Keep checking back to our Emergent Masterclass resources as we continue to add to them
Finally... thank you for the global interest in the #LearningChangemakers newsletter. If you like what you find here, please subscribe and share with others!)