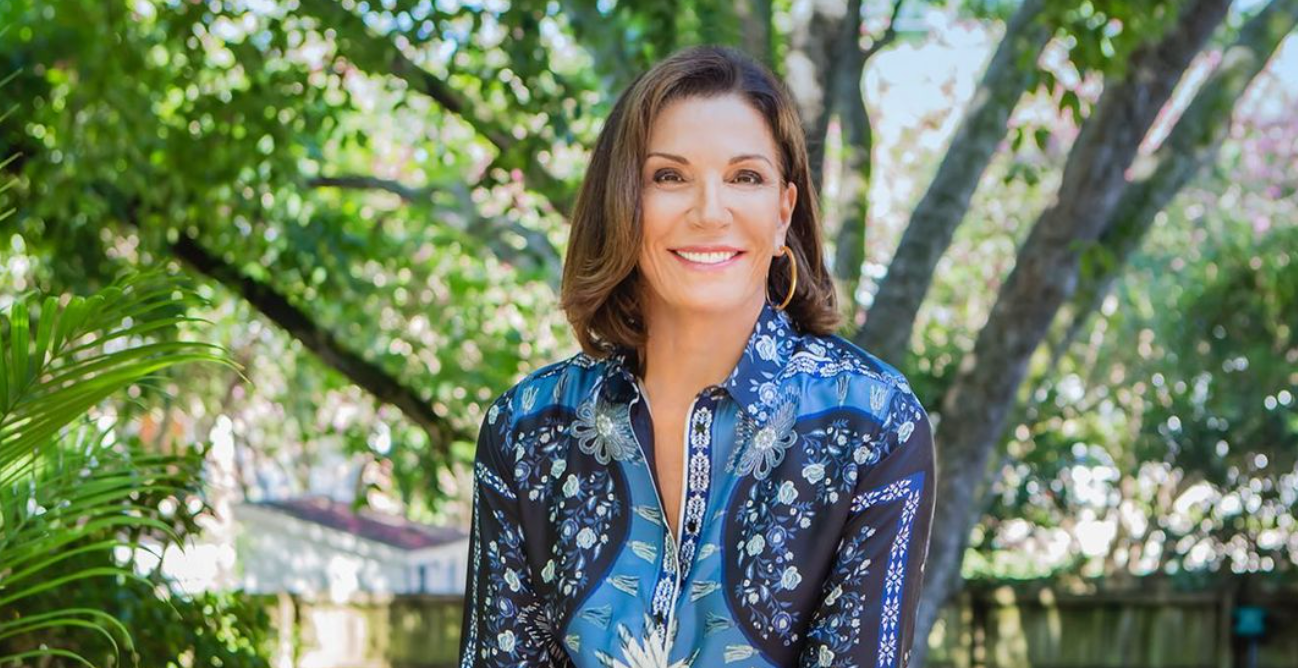 When it comes to HGTV's Love It or List It, the premise is pretty simple: People have to decide if they want to stay in their current house or sell it. The choice itself may seem like an easy one, but there's so much that goes into making a home truly yours, and memories can make you want to stay. But sometimes people just want to move, or they feel like the renovations aren't enough to stick around for — and they choose to sell.
When the people on the show renovate their homes, they work with interior designer Hilary Farr, who's got decades of experience in her back pocket. With all of this and a ton of other projects, she's got a large net worth to show for it.
According to Celebrity Net Worth, Hilary is worth $8 million. Although many people know her for co-hosting Love It or List It alongside David Vistentin, she is also the president of Hilary Farr Designs. According to her website, the brand has furniture, rugs, bedding, lighting, and more "with a mission to make decorating fun and easy." The line is inspired by Hilary's travels, with motifs including exotic animals, trees, and even Icelandic glaciers.
Plus, Love It or List It is not Hilary's only experience in front of the camera. According to her IMDb, she appeared in various roles in movies and TV shows throughout the 1970s and 1980s including The Rocky Horror Picture Show.
Hilary — who was born in Toronto and raised in London — moved to LA after university and began buying and renovating homes.
But Hilary's work wasn't just in LA. In her HGTV bio, it says that she's renovated houses all over the world including in Australia and the United Kingdom. In 2008 she moved back to Toronto, where she joined Love It or List It.
Now, she's set to be the host of a brand-new show about helping others make improvements in their homes.
Hilary Farr, who is best known as a host on HGTV's Love It or List It, has been renovating homes for years. She is also the president of Hilary Farr Designs.
Birthdate: Aug. 31, 1951
Birthplace: Toronto, Canada
Birth name: Hilary Elizabeth Labow
Marriages: Gordon Farr (m. 1982–2008)
Children: Josh Farr
Education: Ryerson University
Set to premiere in Dec. 2021,Tough Love with Hilary Farr will feature Hilary taking on a new role with HGTV. The show will be all about helping families "improve their lives and homes with a dash of tough love," according to a press release. Each episode features a different home and family who want to upgrade their living spaces.
"Now I'm working with families whose problems are way bigger than bad floor plans," Hilary said in a statement (per Today). "Upgrading these spaces will be a challenge, but transforming these homeowners' lives is where the real work begins. The end result is always worth it."
You can watch Love It or List It on HGTV and Discovery Plus.