The natural death care movement is transforming the lives of many, including those who want to know how to live life with more passion, creativity and authenticity.
You might think that natural death is all about caring for the dying, helping those who wish to be more empowered about their own end of life choices and supporting those who have lost loved ones, and you'd be right – but it is all this and more.
Zenith Virago, teacher, author and founder of the Byron Bay-based Natural Death Care Centre, recently delivered the centre's Deathwalker Training programme in New Zealand for the first time and 11 students have emerged transformed.
The genesis of this programme was a sudden tragedy back in the mid-80s. Zenith was working in a legal office in Australia's most easterly town when a very dear friend died suddenly in her garden from an aneurism. As she and her friend's partner walked out of the hospital, Zenith suggested they take care of the funeral themselves. It was a life changing moment; her involvement in her friend's funeral was to become the first of many do-it-yourself funerals that she would oversee over the next 30 years.
Gradually her role expanded, from facilitator and celebrant, to include end of life planning and spiritual and bereavement support.
These days, Zenith describes herself as a "deathwalker", someone who walks the whole journey – from wellness, to illness, to dying and then death. Essentially, being a deathwalker entails providing a continuum of end of life care and after-death care. But, as Zenith notes, we're also all walking towards our own death.
She believes that embracing death helps one lead a better life. Deathwalkers are also there for those who are left behind, giving the bereaved new skills to navigate their loss and grief. They are the "doulas of death" and a growing number of people believe they're giving the conventional funeral industry a much-needed wake-up call.
In times past, families and communities cared for their own dead in their homes but over the past six decades, death has become big business in Australasia. Paradoxically, as the cost of funerals has ballooned, the available choices have shrunk. A single US company Invocare owns more than 60 per cent of the funeral industry across the Tasman.
In many ways natural death care represents a return to old ways, but with a twist. A key goal of many involved in natural death care is to minimise any harmful impacts on the environment, by choosing not to embalm the body, by using coffins made with recyclable materials (or even a simple cloth shroud) and by considering a natural burial rather than cremation when it is available.
Presenting these choices is a way of empowering people to care for their loved ones. Ultimately it supports rituals that make for a healthier bereavement.
"Bereavement is the total reaction to loss and includes the process of healing and recovery, " Zenith says. "All my work is about healthy bereavement."
I first met Zenith in 2008 at the Byron Bay Writers Festival, where she launched her ground- breaking book, The Intimacy of Death and Dying. It was only a few months before my partner was diagnosed with cancer and given that I was a fledgling in every sense when it came to death, I didn't know then how fortuitous this meeting would be.
Having grown up in suburban Melbourne in a culture where talking about death was taboo, where we used euphemisms for almost every aspect of the inevitable, I was completely ill equipped when my partner Steve and I were told the cancer had metastasised.
No one told us directly that he was dying, but it was clear that there were no further mainstream medical treatment options available to him, other than palliative care.
There were, however, no shortage of alternative therapies and, being a qualified Traditional Chinese Medicine (TCM) practitioner, it was only natural that Steve would try everything else he could until he had exhausted all options.
While Steve did not accept he was dying until a few weeks before he left his body, I hid myself from the truth almost until the very end.
At the time I was just doing the best I could, relying on what I needed to get me through, but when I emerged from the fog of my grief more than a year later, the experience made me determined to explore what could be done in our society to bring about cultural change.
I turned to Zenith for guidance and support and our relationship developed into a friendship over the years that followed. In August 2014, along with about 10 others, I participated in the inaugural Deathwalker Training programme in Byron Bay.
Ever since Steve's death, I have been fascinated with the concept of "death literacy". According to Sydney psychologist Kerrie Noonan, the real problem in our culture is that we have few opportunities to talk about death, so she has found the Groundswell Project and in 2013 launched Dying to Know Day in Australia, which now takes place every year on 8 August.
Not long after I moved to New Zealand, I met Lynda Hannah who is based in Motueka in the top of the South Island and established Living Legacies, Aotearoa's first natural family- directed funeral company, back in 2001. She offers natural health care, end-of-life care, palliative care, natural funeral planning, family- directed funeral facilitation, celebrancy, and counselling. Like Zenith, she has played a key role in establishing natural burial grounds in her region.
Together, Lynda and I hosted a "death café" at Nelson's Day of the Day festivities at Founders Park, to encourage people to openly discuss death, caring for the dying and their own end- of-life choices. (Incidentally, this November will see the 10th annual Day of the Day in Byron Bay, which is quite a different take on Mexican tradition to that in Nelson).
While many communities are embracing change, not everyone accepts that families and communities are equipped to take back complete control of death care. As Karen Wyatt MD writes in an article published by the End of Life University, dying in current times is viewed as a "pathological process" that requires medical intervention and control.
Some argue that everyone involved in death care should be formally qualified, insured and become members of a peak body. And, while one of the recommendations of the recent Law Commission report, Death, Burial and Cremation: A new law for contemporary New Zealand is that any person or group should be able to apply to the local authority for permission to establish a cemetery or for burial on private rural land, another recommendation is that people providing funeral services must be registered or actively supervised by a registered person.
This concerns me, because it seems to run counter to the idea that families and communities are often the very best people to arrange a funeral for their loved ones. "Everyone has the capacity and courage to do death well," says Zenith. "Each of us bring our own rich life experience and this training honours and builds on the awareness and strength that we are all intrinsically have to do this work for ourselves and others."
New Zealand's new "deathwalkers"
When I took part in the Natural Death Care Centre's inaugural three-day "Deathwalker Training" programme near Byron Bay in late 2014, it had such a profound impact on my life that I invited Zenith to deliver the training here in New Zealand.
In February 2016, this dream was realised when the training was delivered at Riverside Community Centre near Motueka in the top of the South Island. The Deathwalker Training took place over three days and covered the whole spectrum including illness, dying and death, sudden death, body care, disposal, ceremony and bereavement and loss. Most participants stayed for an additional day to participate in the Funeral Masterclass, which gave them the space to work more deeply with ceremony and with more complex death scenarios.
The training attracted a diverse range of extremely talented people from across the country and even one participant from Australia.
Gail Mcjorrow is a Wellington-based celebrant and founder of a one-stop shop funeral website www.bettersendoff.co.nz, which she founded after attending funerals of her baby boomer peers who were burying their elderly parents. Gail was inspired to enrol in the Deathwalker Training programme after reading Zenith's book.
"Although the course was on death I have to say I learnt more about life than death; Zenith's teachings transformed me and I feel blessed to be able to pass on what I have learnt during my funeral celebrancy work," she says.
"One of the most interesting things I learnt is that as a celebrant, she always finishes the service with a 'take-away' - something positive about life or a gem of wisdom she wants to share that the funeral."
Birte Flatt decided to do the training for more in-depth discussion and knowledge sharing. She was also intrigued about who else would choose the path of being a deathwalker and wanted to explore how to integrate it into community work.
"I recently held space, acting as a death doula, for a very close friend. It has been a life changing experience and in this phase it is still enhancing my own growth by transforming grief into more clarity around death and dying."
Melanie Mayall is an award-winning author, artist and photographer. After emerging from the rubble of the Christchurch earthquakes in 2011, she founded the Thankyou Project to help create a new currency of kindness based on gratitude. She has published four books; including Goodbye for Times of Sadness & Loss.
Melanie was attracted to the training because she wanted to deepen her experience and understanding of loss and letting go, conquer her fear and gain more courage and to ensure she was better equipped to support friends and family to make their own choices.
Sarndra Fowler, who is based in Leeston, was drawn to the programme to gain a deeper understanding and confidence to support the dying. She also wanted to know what choices are available to families that wish to be more hands-on during the days after a death.
Lynda Hannah was also invited to attend, in recognition of her role establishing New Zealand's first natural funeral company and her ongoing work today – she is a passionate advocate of natural burials and made submissions to the Law Commission review. (Incidentally these two pioneering trans-Tasman natural death care advocates, Zenith and Lynda, discovered during the training that they share the same birthday).
For the first time the Dealthwalker Training was effectively a residential programme, with most of the 11 participants staying on site. This paved the way for deep, late night discussions following impromptu screenings of three compelling documentaries: Will for the Woods, Tender and a sneak preview of Zen and the Art of Dying (which will be released later this year in New Zealand).
The ultimate goal of everyone I've met in the natural death care movement is to improve care for the dying in our society – as well as to support those who are left behind. Many people are therefore a little surprised when it also benefits them personally.
When asked how participating in the training had impacted on their lives, "transformational" was a common response.
Birte says the training helped her bring the "overwhelming thinking" of her grief into perspective and emphasise the importance of living well. She now wants to help elevate discussion around death from being taboo.
"In addition it connected me to some beautiful women who I now look forward to sharing the passion of spreading the word 'death' and talk 'dying' with respect, intimacy and integrity."
"Something I didn't expect was to feel more wide open, more grounded, and more inspired about life," reflects Melanie. "I've gained a deeper sense of peace, a 'softer belly', am slower to sit in judgement.
"One of my big 'aha' moments was seeing how my death work can be a pathway through to my gratitude work – rather than something entirely separate."
Each of the participants also walked away with a commitment to sharing what they learned and experienced with others – in effect, to be a "ripple of change". Buoyed by the Deathwalker Training, Lynda Hannah took the Living Legacies' Natural Funeral Workshop to the North Island for the first time in March, Kristine Rose is growing the Home Funeral Network Aotearoa New Zealand, Gail Mcjorrow continues to develop the Better Send Off portal, Melanie Mayall is running a death café in Christchurch and growing her Goodbye community page, Aralyn Doiron flew to the United States to be with her father while he is dying… and I continue to write about death and dying as a MA student at the International Institute for Modern Letters at Victoria University of Wellington.
Seeing the beauty in bereavement
While Zenith Virago was delivering the Deathwalker Training here in New Zealand, the Natural Death Care Centre hosted provocative Canadian teacher, author and activist Stephen Jenkinson during his tour of Australia (he then attended a screening of the documentary about his life, Griefwalker, at the Mana Retreat Centre in The Coromandel). With Master's degrees from Harvard University (Theology) and the University of Toronto (Social Work), Jenkinson is revolutionising grief and dying in North America where, he argues, the culture is "death phobic".
"The proliferation of palliative care services is no more an indication that we're getting good with dying than the proliferation of old age homes is an indication that we're getting good with aging," Stephen told ABC Radio presenter Rachael Kohn in an interview in early March.
"I'm pleading for a quality of life that's a consequence of dying. It's not a defence against dying, it's informed by dying [and] it serves dying."
He also believes grief is one of the most "misapprehended of the riches of life" and speaks of the need for "sorrow allowed".
Like Jenkinson, Zenith Virago notes that some people say after the death of a loved one, "It was one of the most enriching experiences of my life and I wouldn't have missed it for the world".
Healthy relationships with death and dying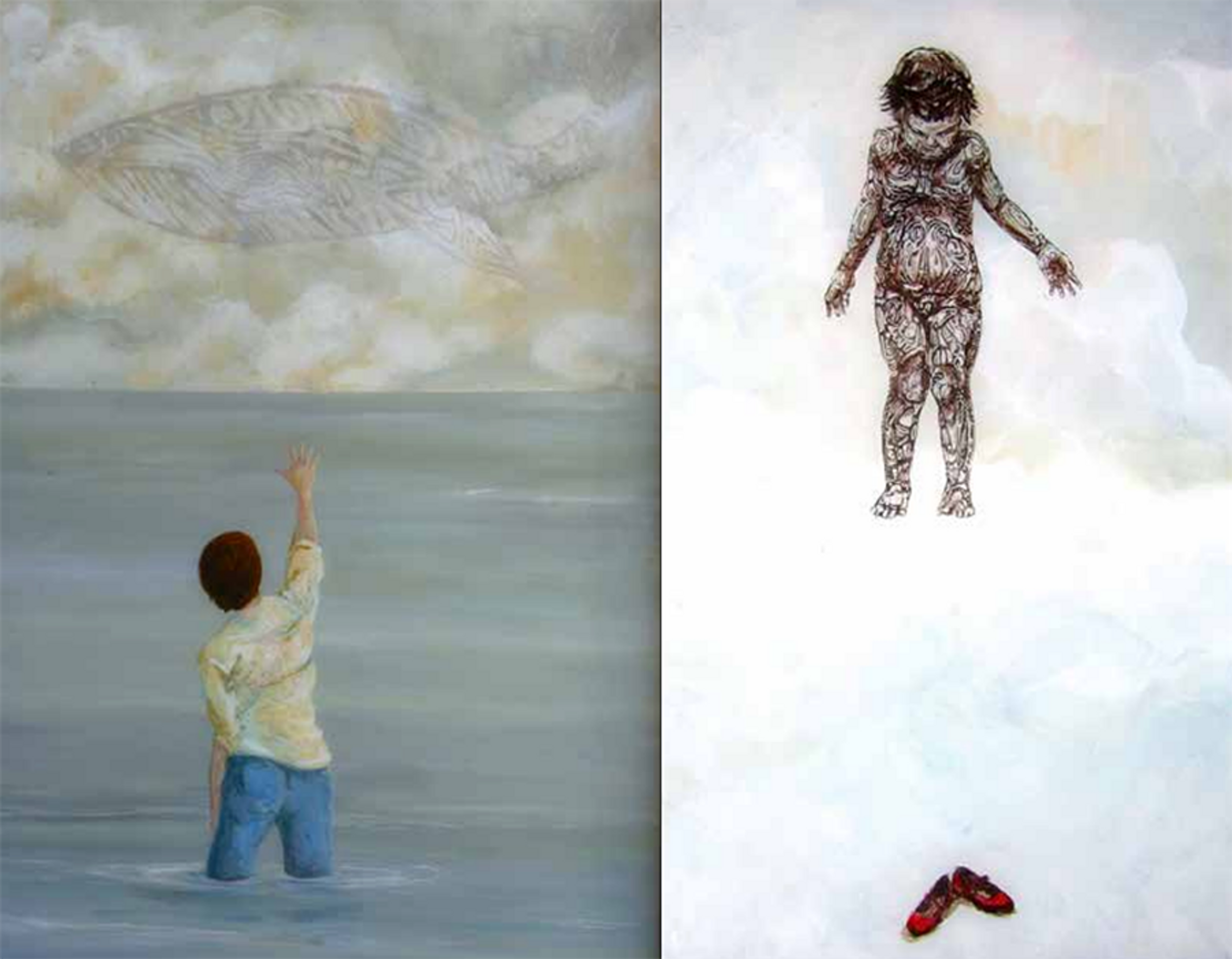 Featured above are two original paintings by artist Aralyn Doiron who lives in Golden Bay. These beautiful, evocative images are reverse painted on glass.
They are part of a new exhibition of her work, currently hanging at Dangerous Kitch- en in Takaka.
The proceeds of the sale of the paintings will cover the cost of her participation in the recent Deathwalker Training program.
Aralyn says, "They are both resonant with death walking for me. If there was anything I really would want to say about the training - it would be that, for me, within and since the training...a huge piece of my personal puzzle has dropped into place. I have felt so drawn to death and dying, a life fascination. The dance of the sacred and profane in my everyday life is what makes life so vibrant. I am excited to be riding the growing wave that is bringing healthy relationships with death and dying into the culture."
Kerry Sunderland is a freelance journalist and writer who is currently working on her first book, which explores death, dying and grief through the prism of her own loss, bereavement and growth. This article published in New Zealand Yoga Scene - Autumn 2016 New Zealand Yoga Scene - Autumn 2016