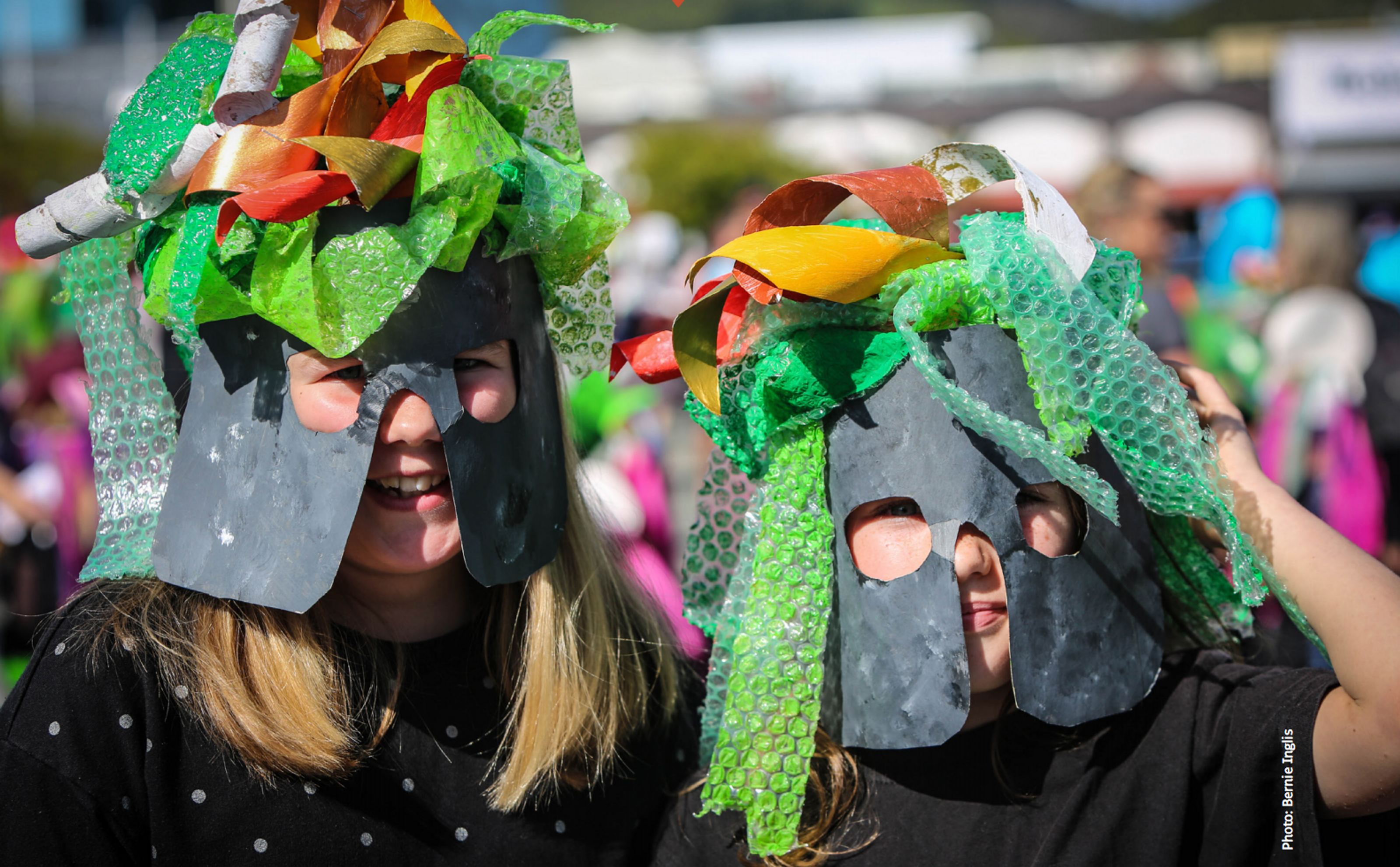 Planning for this year's Nelson Arts Festival has resumed and the team has embraced the opportunity to create and collaborate with the local community. In this article, published in Wild Tomato Issue 168 (September 2020), Kerry Sunderland speaks with the new Nelson Arts Festival Director, Padma Naidu.
Planning for this year's festival was already well underway when the World Health Organisation declared Covid-19 a pandemic. Soon after, the Nelson Festivals Trust made the difficult decision to halt planning because it would have been irresponsible to pour money into a festival that might not happen. Only three months later, we became one of the first countries in the world where large gatherings are once again possible. However, that world is now a very different place and our 'new normal' is reshaping what the 2020 Nelson Arts Festival can be.
"The focus has naturally shifted, as a result of Covid-19," says Padma Naidu, who took over the reins from Charlie Unwin as festival director late last year. "Whereas, in the past, we've brought international and national shows to Nelson audiences who might not otherwise get a chance to see them, we're now exploring how we can support emerging artists, authors and creative practitioners living here in the region, as well as world-class performers who live here and elsewhere in Aotearoa."
Underpinning all programming decisions is the belief, among board members, staff, contractors and volunteers, in the transformative power of culture; a conviction that sharing theatre, music, comedy, dance, visual arts and literature is the key to rebalancing and revitalising our region's community.
Colouring her world
Padma's background makes her the ideal person to take the helm in these strange times. Her passion for egalitarian, democratic and community-based arts initiatives also aligns with the new Nelson Festivals Trust's kaupapa, which prioritises inclusiveness, diversity, partnerships and mana toi; championing the role of the arts and the contribution artists make to our lives.
"We want to give people the chance to work out what arts and culture mean for them in this new environment we're all living in."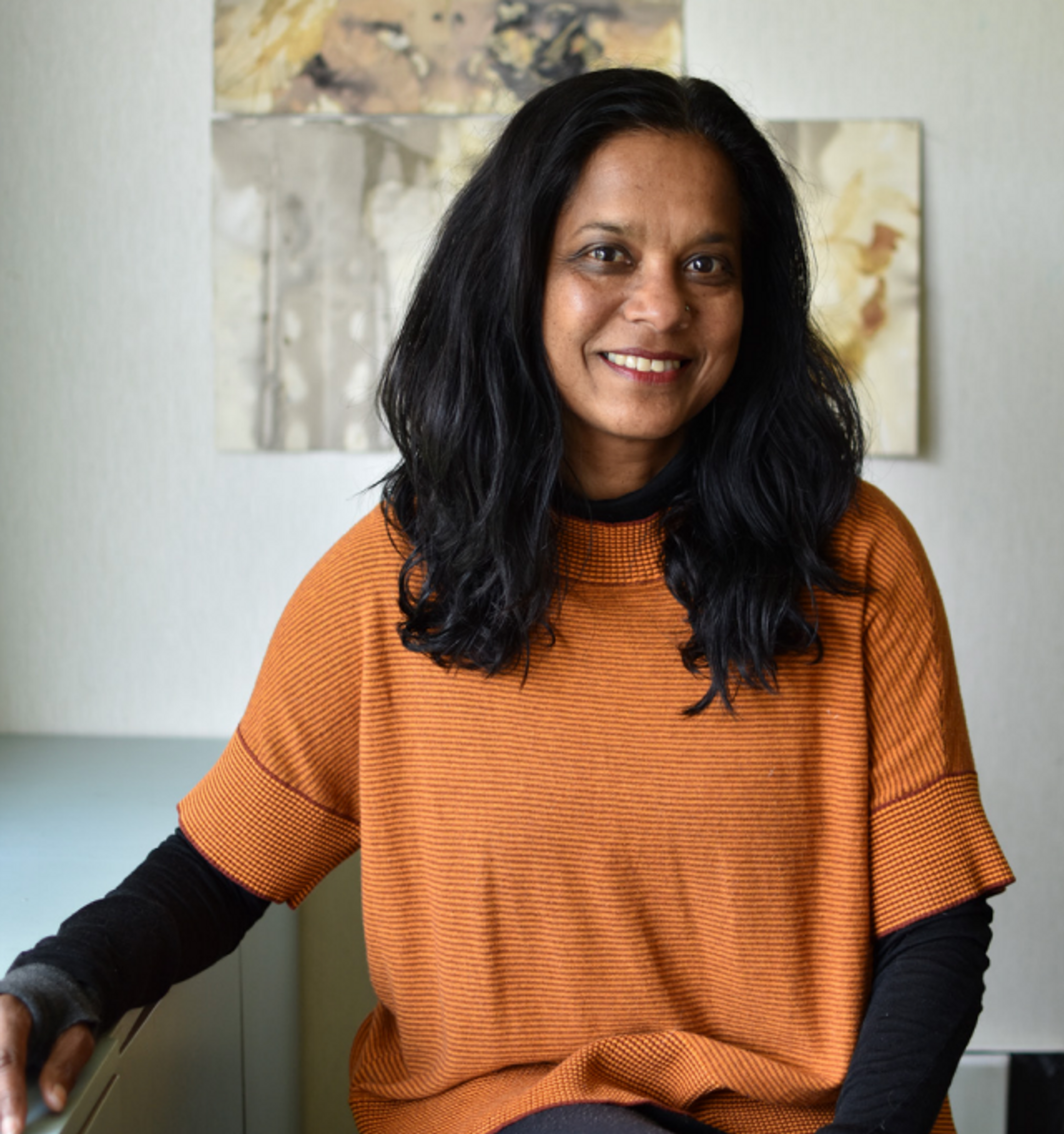 The potential to be creative first presented itself to Padma when, at the age of 10, her design for the school library mural was chosen from amongst her class.
"I hadn't really seen myself in the arts, I was more into science and left-brain stuff. It was a real eye opener for me about what colour and form and texture were about. It gave me a sense of the potential of the visual arts. What got me really excited was drawing big and bold."
After she finished high school, Padma first qualified as a chemist and then became a maths and science teacher before retraining, in her mid-30s, as an architect.
She says her passion for architecture stemmed from the opportunity to consider different perspectives, and the emphasis on looking at different ways of living and designing for different human conditions. "The way we developed projects was similar to how art projects get developed conceptually, so that was when I first started to see the connection. I trained in the days before computer-aided design (CAD), so you had to produce stunning drawings. We used paint and colour and mark-making techniques and I really got into using these materials."
After several years honing her skills as a practitioner, Padma then set up an arts trust called Art_Bridges Trust (every pun intended) with one of her colleagues and ran workshops in the community.
"All of our projects were focused on expanding audiences and breaking down barriers to make the arts accessible, making it clear it wasn't just some mystical thing but part of everyday life," she says. "It's always been my focus to ensure the arts are inclusive and to look at how they make some sort of social difference; contribute to the social good and delight. Art is a way to communicate strong messaging about important things."
While Padma notes that some differentiate between arts and crafts, she believes the more we include art in our everyday lives – whether we're producing a beautiful garden or cooking a delicious meal, or making our own clothes – engaging with the arts is for everybody; it's about finding our connection to self and connection to others.
"Obviously something like the Mask Carnivale is a great foundation for engaging many different communities and being inclusive – firstly, it's free and it's about creating masks, which provides opportunities for both self-expression and expression of culture – so it's a great platform. We're looking at how we can embody these ideas in smaller scale events too.
"Instead of only curated events, we're also working with local communities, including new migrants. We want to give people the chance to work out what arts and culture mean for them in this new environment we're all living in. It's not just the festival saying, 'we'd like you to perform this particular dance from your culture', but co-creating something together."
The Nelson Arts Festival will also present some shows from elsewhere in New Zealand, because this is another form of inclusiveness; giving those who live here access to them without having to leave the region.
New venues
For the first time in many years, the Nelson Arts Festival will mostly happen in the inner city rather than at Founders Heritage Park.
"Our focus has also pretty much been determined this year by the impact Covid-19 has had on businesses in the city so we're consciously trying to work with city venues, small and large. By collaborating with these venues, we can keep ticket prices low to free. This is another form of access and a way to attract new audiences. It's about the audience finding arts in places they normally go to, such as the cafés and bars in New Street.
"This year, about half of all events will be free. Being part of the Nelson City Council's Ngā Toi Huatau initiative has also given us the opportunity to 'sprinkle' our programme over the whole month. Just as people start stretching their wings as spring gets underway, we wanted to offer opportunities for people to engage and be entertained so we've scheduled shows every weekend in October. We're also collaborating with other organisations and promoting what they're doing under the Nelson Arts Festival umbrella. It's an experiment to see how our community responds to this."
Padma says despite the small size of the programme, she has tried to offer something from every genre: theatre, dance, music, visual arts, comedy and literary events feature in the programme.
This year's programme aims to appeal to new audiences, partly because the Nelson community has become more ethnically diverse, but as festival director, Padma is interested in exploring what we all have in common.
She says 'relatable' is a key word. "Anyone who has had a broken heart knows what that experience feels like, regardless of your ethnicity or your age, and if Covid showed us anything, it is that we have this shared experience and no one can escape it. We're looking at what we share as the human race, those core needs for love and connection and kindness. Likewise, we're all impacted by difficulties and challenges."
Highlights of week one
This year, the festival kicks off on Thursday 1 October with Night Vision, a whānau-friendly event inspired by the international phenomenon White Night (Nuit Blanc), where the inner city comes to life with art exhibitions, performances, interactive events, installations and artists-in-residence, all happening in one energetic transformative night that encourages friends, families and visitors from outside the region to wander around the city to see and experience art, both indoors and outdoors, in a casual and relaxed manner.
Cycle-in Flix in Pocket Park (on the west side of Bridge Street) is a variation on drive-in movies, where people will be invited to venture out on their bikes. "We want to encourage new migrants to celebrate and share their arts and culture," says Padma, "so this will be an opportunity to experience Hispanic and Latino culture on both the big screen and through live performances. But it's not only about the arts but also about encouraging a greener travelling mode around city."
The first theatre show is A Traveller's Guide to Turkish Dogs, which opens on Friday October 2 for two nights only at the Suter Theatre. Padma describes it as a heart-warming story of international travel and a border crossing that all Kiwis will be able to relate to, being such great travellers. "Given the absence of international travel, we can reflect on the past. Attending a show like this is a chance to explore vicariously."
On Sunday October 4, the local theatre production, The Boy With Wings, also takes to the stage at the Suter. "It sold out as a work-in-development at Nelson Fringe and, being suitable for
those aged from five to 95, is something several generations can enjoy together," says Padma.
Highlights of week two
Well it only seems appropriate to start a week that, for the Nelson Arts Festival's purposes, starts on a Thursday, with a show called The Man Who Was Thursday. A local production directed by Giles Burton, the show has received high praise at both local and international fringe festivals. Peter Coates takes on the daunting role of playing all 20 characters, including an elephant, in this fast-paced, gripping, humorous show. Reviewers have described his transition from one character to the other in quick succession as close to flawless; each character has its own accent, traits and personalities, all of which shine through his remarkable ability to make each character distinct.
Wellington Media Collective's exhibition, Unrefined, opens at the new Refinery Artspace in Hardy Street on Monday October 12 and runs through to Saturday November 7. Curator Chris McBride, who originally hails from Nelson and is one of the founders of Wellington Media Collective (WMC), has selected for display a large body of WMC work, much of which he had a part in creating. The exhibition weaves a story of political activism with a cultural history of performance and art, reflecting on the social, political, cultural and economic trends of the era (1978 to 1998). It's a rare opportunity to see a significant piece of New Zealand history before it is permanently archived. Don't miss the floor talk featuring Chris and fellow artists on Tuesday October 13.
Highlights of week three
Presented as a work-in-development at last year's festival, The Grooves! Triple Bill is a series of short, entertaining vignettes, danced in contemporary ballet style to eclectic pieces of classic rock involving both professional and emerging NZ dancers.
"It represents our approach of investing in artists rather than art product," Padma says.
The inner-city-wide Mask Exhibition commences on Sunday October 18, in the lead up to the Nelson Arts Festival's iconic community celebration, the Mask Carnivale. Inspired by the teddy bear in the window craze during the lockdown, look out for masks appearing all over town in shop fronts and other visible (and sometimes surprising) places.
The first collaborative literary event will be held at Red16 in New Street on Tuesday October 20, when the hilarious and sprightly octagenarian poet Rachel McAlpine headlines the October gathering of the Nelson Live Poets Society.
Highlights of week four
Extraordinary and inspirational solo vocalist Estère is performing on Thursday October 22 and Friday October 23 at the Theatre Royal. She's been described by Pantograph Punch, for whom she has been 'artist in residence', as both a musician and empress of electric blue witch-hop. The New Zealand Herald has called her sonic amalgamations "a beautiful mix of everything the music world is lauding and lusting after right now".
The Human Voice is not for the faint hearted; the one- act opera explores human feelings and needs around love, relationships and communication over the phone, while physically distanced. It takes place in an intimate setting; a hotel room at the Rutherford, with a maximum audience size of 20, on both Saturday October 24 and Sunday October 25.
Padma says, "I expect people to come out of this unsettled, a bit unravelled even."
The Nelson Arts Festival's literary event programme, Pukapuka Talks, again takes place over the Labour Weekend but special literary events will also be happening either side of this.
"Pukapuka Talks is more integrated into the rest of the festival programme this year rather than existing as a stand- alone series of writers' events," Padma explains. Included are genre-bending works, literary performances and captivating kōrero featuring both local and visiting writers, some who are debut authors and others who are internationally renowned.
"While we didn't set out with a specific theme at the outset, themes often emerge subconsciously. This year, there is a thematic connection, across the whole programme, around human rights and activism," she says.
"A good arts festival programme should encourage people to see and engage with performances and ideas they normally wouldn't; to be surprised by something they normally wouldn't think of as 'this is the sort of show I would normally go to'."
We'll take a closer look at Pukapuka Talks in the October edition of WildTomato. In the meantime, the full programme is available at www.nelsonartsfestival.nz
The whole Nelson Arts Festival team is well aware things may change – we all now know how life can be unpredictable and we need to be able to live with uncertainty – but are adopting a 'best case scenario' mindset in the meantime. If for any reason any events don't ahead, all tickets will be fully refunded.