In this article, published in Wild Tomato Issue 169 (October 2020) Kerry Sunderland previews the 2020 Nelson Arts Festival Pukapuka Talks programme.
Award-winning Iranian Kurdish journalist and author Behrouz Boochani will appear with fellow Iranian refugee Golriz Ghahraman in conversation with investigative journalist Anke Richter at this year's Pukapuka Talks on Friday 23 October, as part of the 2020 Nelson Arts Festival.
Behrouz survived, stateless, for seven years – six of those imprisoned by the Australian Government in an offshore detention centre on Manus Island for the 'noncrime' of seeking political asylum – before arriving in New Zealand in November last year to be greeted by a small entourage including human rights activists, literary folk and fellow refugees, including Golriz.
After meeting Behrouz, 'the world felt a little freer, a little fairer, and a little more hopeful', Golriz writes in her memoir, Know Your Place, which was published by HarperCollins just after the nationwide lock down.
Behrouz recently learned his application for refugee status in New Zealand had been successful, which meant he could accept our invitation to talk at this year's festival. The event, which is titled 'Fleeing to Freedom', will be held at 5.30pm on Friday 23 October at Old St John's in Hardy Street. It will be presented in association with Multicultural Nelson Tasman and the New Zealand Society of Authors (NZSA), which is the local arm of PEN International, the organisation that fights for the human rights of writers around the world.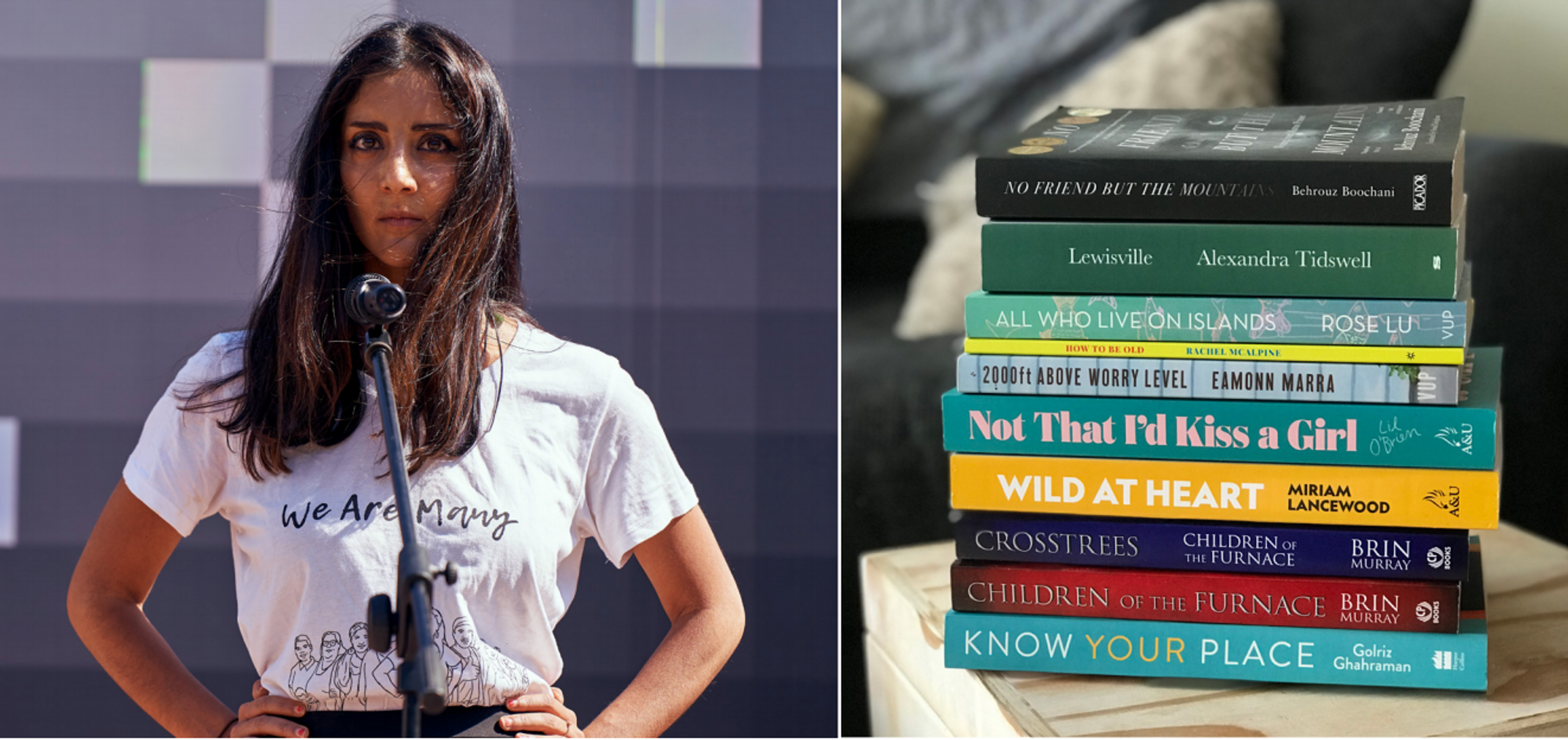 At 1pm on Saturday 24 October, join three writers who know how to make people laugh – Mara and Lil O'Brien in conversation with Nelson Mail columnist Ro Cambridge – as they discuss how it is possible to engage readers in important stories using humour.
On Saturday at 3.30pm, multi-award-winning author of fiction for young adults Mandy Hager will facilitate what is guaranteed to be a 'hearty' conversation with local YA writers Rachael Craw, Brin Murray and Robyn Prokop. Both Brin and Robyn will be publishing their new books – Heartsblood and Heartstone, respectively – in October. This session will appeal to young readers, adult readers and current and aspiring YA writers. Author sessions The Sunday sessions kick off with another book full of heart, when Miriam Lancewood discusses Wild at Heart, her sequel to the international bestseller, Woman in the Wilderness.
Christine Leunens (author of Caging Skies, which Taika Waititi adapted into the Oscar-winning film Jojo Rabbit) and Alexandra Tidswell (author of the captivating historical fiction novel Lewisville) will then join me on stage to discuss how they work with both research and imagination when creating characters from the past. Audiences will also get a glimpse into both authors' works in progress.
Our final Pukapuka Talks session at the Suter sees Ian Trafford and William Moloney in conversation about the novels each wrote inspired by their grandfathers' WWI diaries.
This year, Pukapuka Talks extends beyond the Suter with a number of 'Lit Crawl' style 'genre-bending' events either side of Labour Weekend. The literary programme kicks off on Tuesday 20 October with Nelson Live Poets featuring the extremely vibrant 80-year-old poet Rachel McAlpine and concludes with the launch of kiss me hardy, NMIT's literary and arts journal. In between these two bookends you can also sign up for two writing workshops, join Cliff Fell and John Newton to explore the poem's ability to escape the lyric tradition and, on the public holiday, enjoy wine and nibbles at Pic's Peanut Butter World before hearing Annabel Langbein go 'behind the scenes' of her life when she discusses her new memoir, Bella, with local food writer Nicola Galloway.
Visit www.nelsonartsfestival.nz or Eventfinda for more details