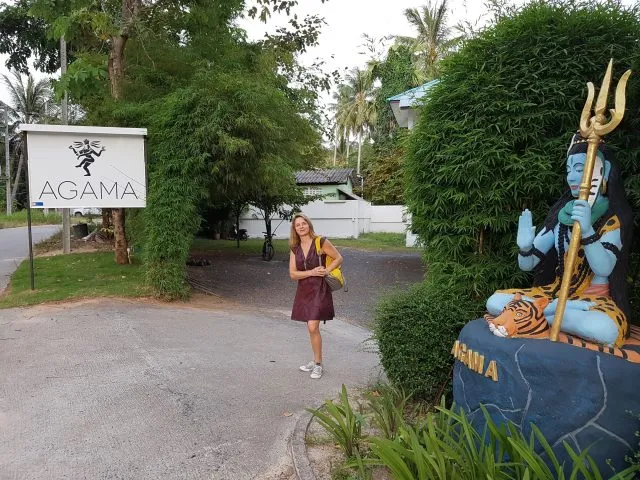 'People don't join cults,' said leading investigative reporter Anke Richter when quizzed about her new book, Cult Trip: Inside the world of coercion and control (out in Australia this week). 'They join something that has been misrepresented to them'.
The book begins in Byron Bay in 2012 when, on a typically stormy, sticky summer evening, Richter retreated to the upstairs balcony of the Byron Bay Community Centre, hot and sweaty following an ecstatic dance session at the Taste of Love festival.
'This,' she thought, as she stretched her arms out into the rain to cool off, 'is how I always want to be'.
Then, on the final day, while sipping iced chai in the courtyard, she met Angie Meiklejohn, a fellow Kiwi who, as a teenager, had lived at Centrepoint, an infamous therapy commune that operated outside Auckland from 1977 till 2000.
When they first met, Centrepoint founder Bert Potter was still alive. Only months later, after he died, Angie approached Richter again, ready to talk about her experiences; a story of grooming, drug rape, alcoholism, and prostitution.
What Richter didn't know at the time was that Angie's testimony would set her off on ten-year investigation into cults operating across five countries.
The book is a triptych: the first part is a riveting account of her investigation into Centrepoint; the second examines Agama Yoga, which opened for business in Koh Pha Ngan, Thailand in 2003; and in part three, Richter turns the lens on Gloriavale, a so-called religious closed community that has operated on the west coast of New Zealand's South Island since the early 1990s. Richter weaves her own story through all three parts.
After speaking to more than a dozen Centrepoint survivors, as well as enablers and perpetrators, including the guru's convicted son John Potter, Richter said she got too close. The years she spent mired in the damage wrought by Centrepoint took their toll.
'The weight of all the unresolved trauma of others crept under my skin while the legal and psychological challenges seemed unsurmountable,' she said. 'I was overwhelmed by what I had unearthed and eventually gave up.'
Then, in 2018, the international tantric school Agama Yoga in Thailand was rocked by a sex-abuse scandal when 31 women submitted reports, including rape allegations, about the Romanian head of the school and other lead teachers. Richter flew to Koh Pha Ngan to help break the story.
Agama was a turning point for her, making her more wary about so-called sacred sexuality communities, including those she herself had been involved in.
The year after her ecstatic Taste of Love experience in Byron Bay, Richter undertook a week-long training course with the International School of Temple Arts (ISTA) in Victoria's Yarra Valley. She became a passionate advocate of its benefits, going on to complete more courses and encouraging her friends to join her.
But after interviewing those who had been abused at Agama, she began to question ISTA's practices.
'The sparkling world of love, liberation, and learning that had enticed me revealed its cracks,' she said. 'There was a covert harem culture at ISTA. Male pioneers surrounded themselves with young female lovers, often from their trainings, who were then accelerated to apprentices and facilitators.'
Last Friday, Radio New Zealand reported accusations by some former students and teachers of ISTA leaders turning a blind eye to abuse. The following day, the New Zealand Herald published Richter's insider account of her experience in the tantra scene.
Both tantra and cult are terms Richter deconstructs in the book. Like many others who specialise in this field, she prefers to use the terms 'neo-tantra' and 'high-demand groups': neo-tantra being the westernised, body-focused appropriation of ancient tantra teachings and high-demand groups describing parallel societies that appear to be safe havens for spiritual seekers but instead cause harm.
On the surface, Gloriavale appears to be a world away from neo-tantra but, with its arranged marriages of young girls and colour-coded uniforms for women designed to 'prevent the expression of vanity' (blue for everyday wear, pink for weddings, and head coverings at all times), the fundamentalist Christian enclave has more than shades of The Handmaid's Tale.
Richter describes it as a gulag, where children become slave labourers and women breeding machines.
Its founding leader, the late Hopeful Christian (formerly known as Neville Cooper, who was born in Australia), was convicted of sex crimes and served a year in jail but, until very recently, Gloriavale continued to operate with impunity under the cover of being a religion, ignoring employment laws and paying no tax on its income. It now has assets worth more than NZ$50 million. In the past few months, though, Gloriavale has faced what many hope will be the first of many legal challenges.
It has apologised to its victims, but Richter said lasting change and reparations still need to be seen.
Today, Richter believes everyone is susceptible to cultic influences. 'Cults don't really look like cults. No-one goes, "Oh, that's a really cool cult over there on the West Coast, I want to join it"'.
Instead, she explained, there are some key markers: In a cult, people are often bound by their passion for a common cause or their admiration for a charismatic leader; there's a lot of volunteer work and often financial input; and there's definitely a high level of social control – about what you can say about those in leadership positions – and coercion, which is often subtle. This can often be very sneaky and not so obvious.
'If you know you can't say things or question leaders without being made an outcast, then it's very likely you could be in a cult.'
Cult Trip: Inside the world of coercion & control is out on November 3 (HarperCollins, $34.99).
Support The Echo
Keeping the community together and the community voice loud and clear is what The Echo is about. More than ever we need your help to keep this voice alive and thriving in the community.
Like all businesses we are struggling to keep food on the table of all our local and hard working journalists, artists, sales, delivery and drudges who keep the news coming out to you both in the newspaper and online. If you can spare a few dollars a week – or maybe more – we would appreciate all the support you are able to give to keep the voice of independent, local journalism alive.