National literary treasure Maurice Gee will launch his new book, Memory Pieces, on the opening day of the Page & Blackmore Readers and Writers programme. In this article, published in Wild Tomato Issue 147 (October 2018) he speaks with Kerry Sunderland.
October heralds a rare public appearance for author Maurice Gee, who all-but withdrew from public life when he turned 70. His last official appearance was at the Auckland Writers Festival in 2012 when he became the AWF's inaugural 'honoured New Zealand writer'. Now 87, he will appear on stage in Nelson with his publisher, Fergus Barrowman from Victoria University Press, on Friday October 12.
The publication of Maurice's memoir closely follows renewed kudos for his landmark 1978 novel, Plumb. A group of fellow writers and book critics have voted it the best prize-winning book of the past 50 years.
Maurice Gee first moved to Nelson with his young family in 1975 and started writing Plumb soon after. He'd had the story in mind for a long time, saving it up in a way – his 'grandfather novel' – while he wrote the four that he now looks upon as 'apprentice novels'.
"Nothing is better for a writer of my sort than to have interesting parents or grandparents. And my circumstances were right at last: my daughters at school; my wife Margareta keen to go back to work and support the family while I wrote. So in our new town of Nelson, in a little room I had built under the house, I sat down to write Plumb."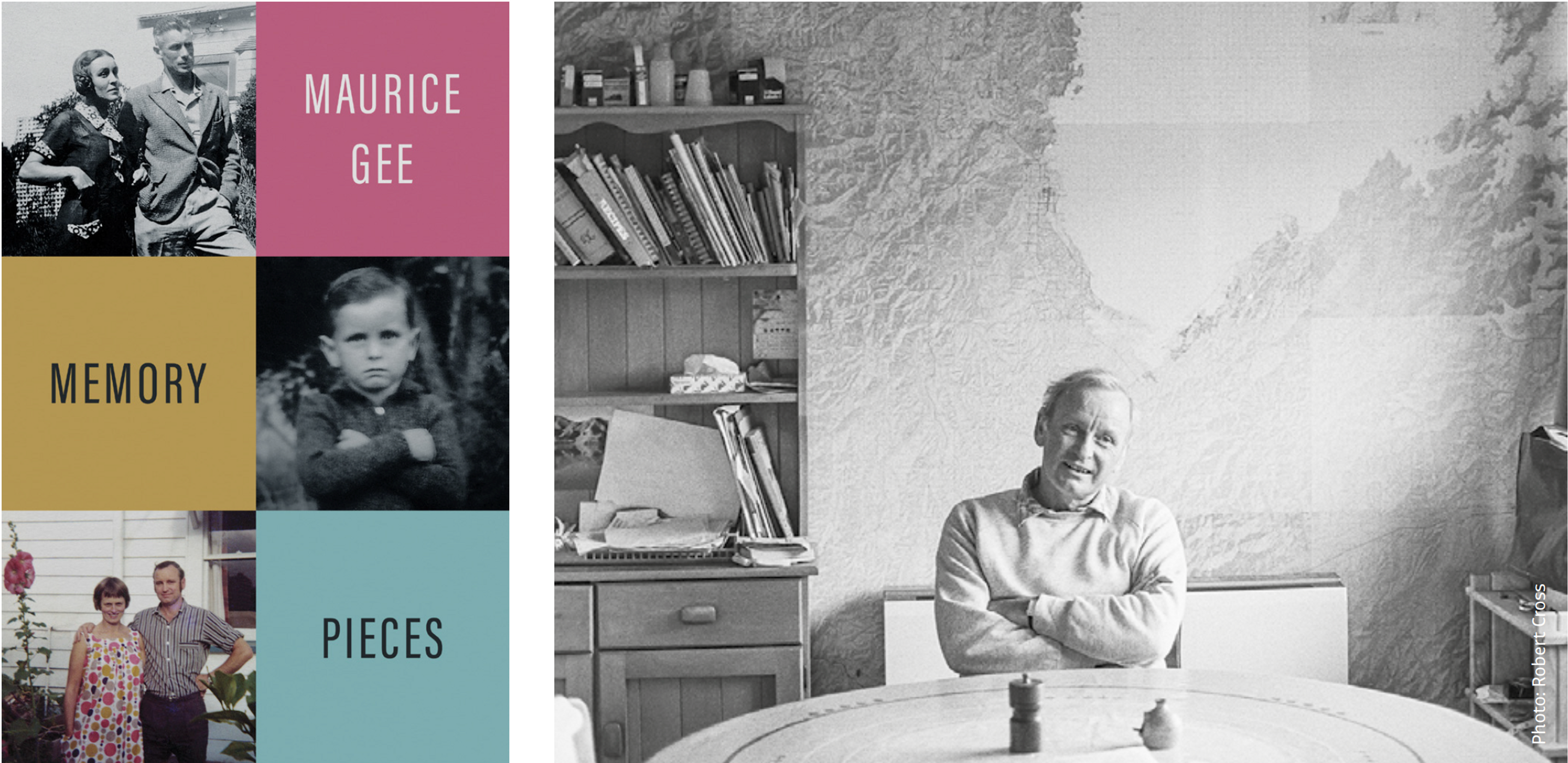 Set close to home Place undoubtedly plays a big part in Maurice's writing. He likes to set novels where he's living. Of his memoir, he says, "Places play a huge part in it."
The Nelson region inspired two of his novels. "Prowlers owes a lot to Nelson," he says. "At the time, Margareta was working at the Cawthron Institute, where she was researching its oral history." Maurice drew on a lot of this research to bring the book's main character, a soil scientist, to life. "Royd Thornton was the director of Cawthron at the time and was very supportive."
Nelson's landscape found its way into The Burning Boy. Maurice also mentions that his own home was the setting for a children's book, The World Around the Corner. Illustrator Gary Hebley disguised the house slightly but it was essentially the old family home on Cleveland Tce, perched above the Maitai. One of Maurice's greatest joys at the time was watching his two daughters slide down the backyard paddock to go for a swim in the river.
Walking has always been a big part of Maurice and Margareta's lives, and one of the key reasons they moved back to Nelson in 2006 when Margareta retired.
For the past five years or so, Maurice has led a private life, venturing out only for quiet walks and visits to the bookstores. During this time, he has been writing the story of his parents, his own upbringing and his wife's peripatetic life as a child.
The first part of the triptych, titled Double Unit, describes his parents' life. "I just wanted to get them down because I, of course, think they were remarkable people but I think most people would agree my mother certainly was a remarkable woman. I've written about her in some detail and have given her the credit she deserves for the early writing she did and explain why it stopped."
The book includes excerpts of Lyndahl Gee's writing. His maternal grandfather appears there too, 'in all his glory'. This is the grandfather who was imprisoned for 'seditious utterance' and inspired the main character in Plumb.
Most of Maurice's childhood up to the age of 18, which forms the second part of the memoir, Blind Road, was spent in Henderson. It was, he says, "the most influential place in my whole life as far as writing is concerned. You'll only find Nelson in the piece at the back, which describes Margareta's early life, which is extremely interesting and unusual."
Saved by his soulmate Maurice's wife of almost 50 years was born in Sweden. She was only five months old, and World War 2 was in full swing, when her mother
decided to leave and join Margareta's father, who was a seaplane pilot. Mother and daughter made an extraordinary journey, by land and air, to Australia.
"I sometimes say, over-dramatically, that Margareta saved my life. I was sliding when I met her and I don't think I would have survived as a functioning person, or as a writer, without her," he writes in Running on the Stairs.
"The book felt incomplete without her story," he tells me. "I decided quite consciously to write about Margareta's life because I'd written about everybody else and she kindly loaned me her teenage diaries."
At this point, Margareta starts laughing and Maurice joins in, so I ask him what it was like reading them. "Ah, it was revelatory," he exclaims.
When we first spoke in April, Gee said he was considering submitting the manuscript to a publisher. In a matter of weeks, it landed on Fergus Barrowman's desk. Victoria University Press offered to publish it immediately and less than four months later the advance copies had arrived.
It proved, he says, the quickest publishing deal in his writing life. "Sometimes you wait for a year, 18 months, for a book to come out." The presentation hits the spot too: "I am very, very fond of the sulky little boy on the cover."
That VUP published the book was fitting, given that Fergus's sister Rachel Barrowman wrote the eponymous biography of New Zealand's leading living writer, which VUP published in 2015.
"The memoir is very much a companion piece to Rachel's," he says. "She hasn't covered my parents' lives as fully as I have, but she's got the essentials. I've gone much more deeply into it, into what I call the sadness of my mother's life, when she stopped writing in her early 40s."
The Memory Pieces book launch is at 2.30pm, October 12, at the Granary Festival Café. Entry by koha but places strictly limited (first-in, first-served).