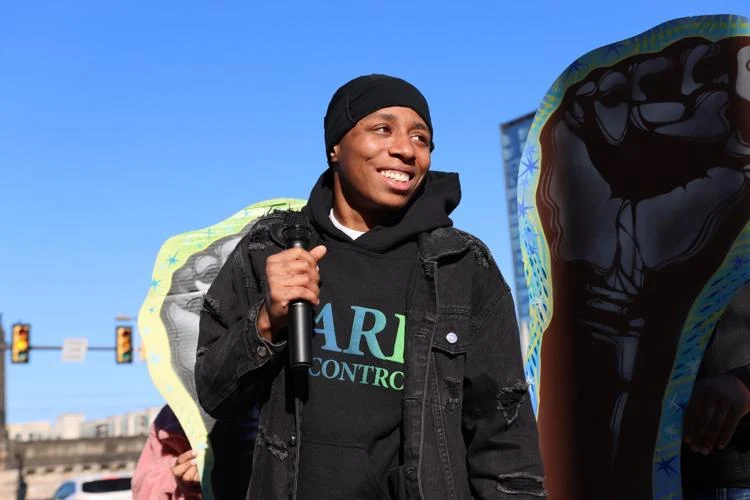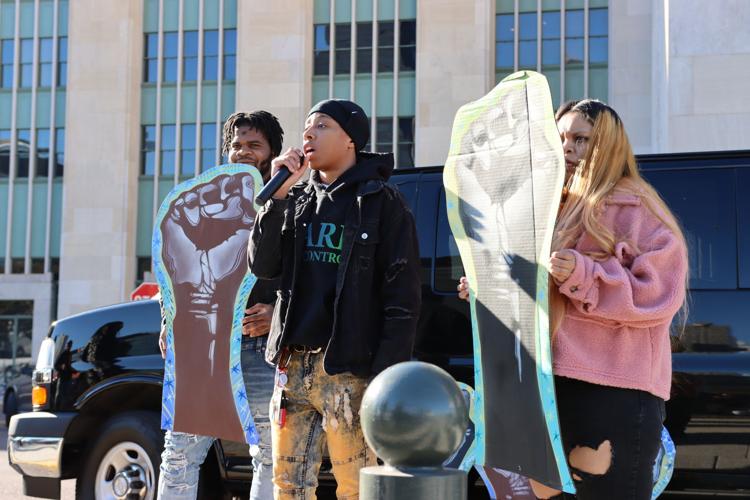 On Friday, November 11, 'Care, Not Control,' a coalition of young people and youth advocates working to end youth incarceration in Pennsylvania, released its debut album. 'Care, Not Control: The Album' highlights the talents, hopes, and dreams of young people who have been directly impacted by the criminal justice system. The album's goal is to change the narrative around youth incarceration and encourage investment in community-based alternatives.
The album includes hip-hop, rap, and R&B music. The album's first single, 'Untold Story,' was written and performed by Bre (Briannah) Stoves of 'Care, Not Control.' Bre is a Juvenile Law Center youth advocate and The Village of Arts and Humanities youth organizer. She began making music when she was 12 years old and began writing 'Untold Story' while incarcerated. Bre hopes the music conveys a strong message.
"I hope that young people, especially those impacted by the system, can find a sense of comfort in our songs," said Bre. "I also hope that this album will help urge legislators to take action to end youth incarceration in Pennsylvania."
Bre went into more detail about how the arts helped her begin her path to healing as an advocate.
It was asked of the determined advocate Bre how art helped her survive incarceration in a system that isn't always built for real rehabilitation.
"Music was my outlet because I started writing these songs when I was incarcerated. Music was my go to, it was my safe space when I felt like everything around me was crashing down. Can't nobody take this music away from me. This is my voice. It was a great way to express how I felt and in a way where others can relate."
It's one thing to use music as a means of survival but it's another to pull resources together to take those songs and make an album.
Jahir and Will, Two Care, Not Control youth organizers, came up with the album concept after being inspired to connect with other young people and community members through music. Jordan McCree, Dan "Dilemma" Thomas, Elle.Morris, Simon Martinez, HeemFuQuan, and Emyne collaborated with acclaimed musicians and producers on the album.
Bre explained the coming together as "Actually Jahir and I weren't the initial creators of it. I just had the honor to be asked to join the project and from there I had the honor to work with Jahir and a lot of other young people."
Generation Z was born with access to social media tools. They are frequently vilified for being vain rather than caring about social issues, but the summer of 2020 demonstrated how this generation took to the streets to be heard, as well as voting in the midterm elections. This generation is still underappreciated, and young people like Bre demonstrate how they combined the art of music with activism to help their age group.
"It starts with everyone being on the same page. It's important to be of the same mindset. We are expressing these stories but to resonate with the young people who can't advocate for themselves and also with the legislators who are taking these young people's voices away."
She adds, "not only are we using those stories to uplift but those same stories are still occurring as we speak and we hope to grab those young people who are experiencing that pain to make changes."
Bre and the 'Care, Not Control' team are excellent examples of meeting young people where they are. It is critical not to give up on the younger generation who were born into the struggle, and part of that rehabilitation must include providing access to creative outlets, therapy, and support from the older generation. Only then can the cycle be broken and healing can begin.
'Care, Not Control: The Album' is now available on streaming platforms. You can visit www.carenotcontrol.com/thealbum to learn more.