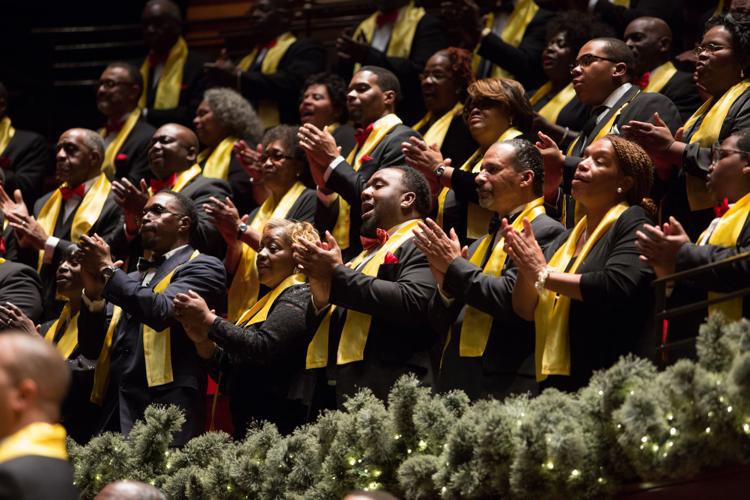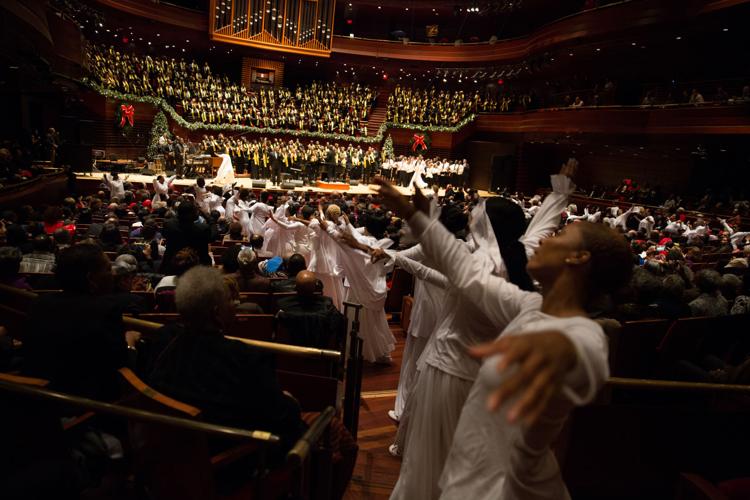 A Soulful Christmas, now in its ninth year, brings together the area's finest church and community choirs for a night of soul-stirring music, spoken words, and movement. Creator and Director Dr. J. Donald Dumpson returns to supervise the exciting, uplifting meeting of regional choristers and clergy, presenting Christmas hymns, gospel favorites, and inspirational messages of good-will. Arch Street Presbyterian Church, Deliverance Evangelical Church, Enon Tabernacle Baptist Church, Gospel Music Preservation Alliance, Mother Bethel A.M.E. Church, Mount Carmel Baptist Church, PA Commonwealth C.O.G.I.C. Mass Choir, Philadelphia Catholic Gospel Mass Choir, Philadelphia Heritage Chorale, the Philadelphia Heritage Youth Ensemble, and a wide variety of individuals from singing communities throughout the region will participate.
This year's show will be in the Kimmel Cultural Campus' Verizon Hall on Tuesday, December 13, 2022, at 7:30 p.m.
"That's my purpose to encourage and uplift people," those are the words of gospel artist Kurt Carr, one of the honorees at this year's celebration.
He shared what it means to be awarded for his work during a time of such celebration.
"I didn't grow up in a musical house. My mother could play the piano just a little bit but I always loved music and was musically inclined. I ended up studying music at the University of Connecticut. When I left there, I became music director for Reverend James Cleveland. I toured the world with this gospel great giant never dreaming that I would be an artist one day myself, " is how he described his foray into music.
"It's always ebbed and flowed with the times. This is not the first generation that has reached the mainstream. Mahalia Jackson has been considered one of the most beloved Americans in the world. I read articles about that and she sang before kings, queens and every President. There's Andrae Crouch, who also was mainstream and there was BeBe and Cece etc. It's always kind of been accepted in the mainstream, it's just that there are more opportunities with the internet. I was signed with Kirk Franklin's label and we really watched his cross over appeal. It's been exciting to see and look forward to what the next generation brings," he said.
ENON Tabernacle Baptist Church's Senior Directress and Administrator, Music and Arts, Dr. Cassandra Jones, is simply happy to be participating fully in this year's festivities. She realizes that the Soulful Christmas is the balm we all need as we enter the holiday season, especially in light of the difficulties the city is facing.
"It is once again a collaboration between the Kimmel Arts Center, church and community choirs, Temple University with Dr. Dillard and our youth around the city," Jones noted on who will be participating in this year's festivities. "We are over the top excited about having Kurt Carr," she added.
"In the past years, we've had individual choirs but last year we had a combined choir. That will occur again but you will see more engagement. We have drummers coming again, we have the stilt walkers, dancers etc. The numbers have increased while we are still following all the safety protocols. The music is absolutely phenomenal this year. It is every year but this year the audience will get to hear a wider variety of music," she shared.
Jones wishes to reassure the community that it is a judgment-free zone, despite the fact that many, particularly our youth, may view Soulful Christmas and similar activities as more religious than spiritual.
"We will have more youth. Our youth mass choir has returned, that is looking at young people from different churches as well as schools from across the city. Their parents and colleagues are going to be there. Our drummers also include a good portion of young people. We have done a real outreach to get more young people. "
She empathizes "that we need healing and we need hope, to be able to see that we can beat the violence and hardships that we are seeing and the arts have always been a way to engage and uplift."
Soulful Christmas has always been more than just a concert; for many, it has been a family reunion.