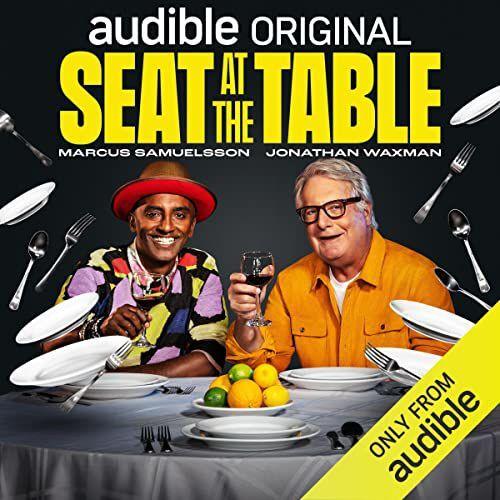 Marcus Samuelsson is one of the most renowned chefs in the world. He's a James Beard Foundation Award-winning chef and author. He recently partnered with executive chef Rose Noël on a new restaurant called Hav & Mar located at 245 11th Ave, New York, NY 10001.
Samuelsson is working on a new audible series that is more intimate, called "Seat at the Table." The series aims to capture the inside stories of America's most iconic restaurants as told by chefs and diners. These are the people who brought these iconic locations to life. Along with co-host Jonathan Waxman, Samuelsson serves as executive producer and host.
The two men are joined by food and delight connoisseurs who take listeners on a journey to restaurants with amazing food but an even better atmosphere.
"I love telling stories about the connections between food and community, especially through audio. I'm excited to collaborate again with Audible on this incredible series about some of the most iconic restaurants across America," said Samuelsson.
He shared why he was inspired to create the series, and what he's hoping listeners will take away from each episode.
"It was a lot of fun telling these incredible stories about the restaurants. They are not just restaurant stories, but truly American ones. Leah Chase's story is being told. Her restaurant, Dooky Chase, was America's first integrated restaurant. Wolfgang Puck and Ben's Chili Bowl in Washington D.C. These restaurants became well-known in popular culture," he shares enthusiastically.
Another hot spot the duo discusses is Jezebel in New York. Alberta Wright's ground-breaking restaurant in the Hell's Kitchen section of the city is the subject of the pilot episode.
When it first opened in the mid-1980s, Wright exemplified the American dream of self-made. Without business strategy, funding, or advertising, she built up the low-country restaurant in New York City. Black superstars such as Arthur Ashe, Vanessa Williams, and Magic Johnson frequented Jezebel for its exceptional cuisine and enticing atmosphere.
"It didn't matter what night of the week it was, Jezebel always drew a star-studded crowd. Performers in ever artistic medium imaginable were represented. Guests would feel like they've walked into the most exclusive club if she had been anticipating your arrival," Samuelsson explained.
It was important for Samuelsson to include Wright's story in the series. She was the blueprint that gave him the courage to open his restaurant, Red Rooster in Harlem.
Additionally, he made sure to include Ben's Chili Bowl and Dooky Chase, other inspirations for him as he embarked on his culinary journey.
"Every achievement, whether a new restaurant or a new frontier in the culinary industry, is owed to those who came before you, the community you're a part of, and the things you're creating collectively," Samuelsson remarked. "Without the labor and inspiration of legends like Leah Chase and Edna Lewis, I would not be where I am today."
As one of the most recognized chef's who also happens to be Black, it's important to Samuelsson to celebrate Black culinary pioneers. In his book "The Rise: Black Cooks and The Soul of American Food" he tells how Black cooks and creators have been a part of the culinary language in America since before this nation became a country.
"Seat at the Table" is another way for him to be able to broaden that food conversation.
"Excellence in the Black culinary community is all around us. I believe the common ground is tenacity. Life in a restaurant is demanding, as there is constant pressure to improve, advance, adapt, and repeat. These long-lasting restaurants all share the same tenacity. However, our travels are not unidimensional; rather, they are multilayered. It is therefore vital to tap into the ancestry that brought you to this point in time. [This series] has been a fantastic opportunity to delve into what makes a restaurant great, and how its influence and place in the hearts of people endures far beyond the dinner itself."
Samuelsson also hopes that each episode listeners not only learn about these food giants and their journeys, but he hopes it inspires them to travel and expand their food palate.