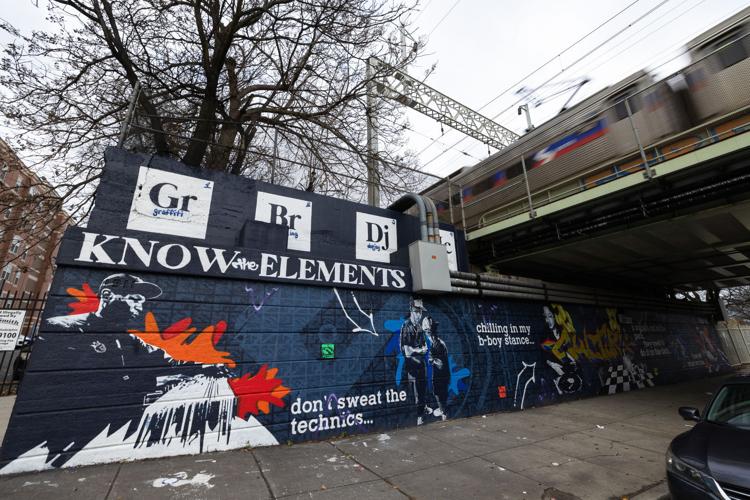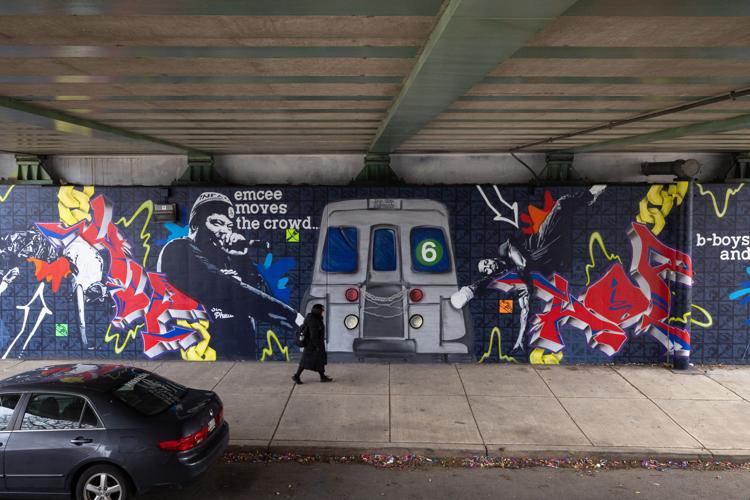 Next year marks the 50th anniversary of hip hop. Since its inception in 1973, the culture has grown exponentially. While the other elements of hip hop are often overlooked in favor of Rap, it is important to remember that graffiti, which has evolved into graphic arts and murals, as well as dance, were integral to its development. Known as "the mural capital of the world," it's no surprise that graffiti's roots run deep here.
"Graffiti is the oldest form of hip hop," states visual artist Christian "TAME ARTZ" Rodriguez.
He and artist Bill Strobel collaborated to create a mural honoring Philadelphia artists who have had a positive impact on the art form. The "Know The Elements" mural, located at 900 Cecil B. Moore Ave, pays tribute to the four elements of hip hop pillar which includes DJs, MCs, Graffiti writers, and Breakers. The mural demonstrates the significance of unity and the global impact of Hip-Hop culture.
DJ Jazzy Jeff, Reef the Lost Cauze, Bboy Box Won, Queen Jo and Michele from Ladies of Hip-Hop are among the Philadelphia figures depicted on the mural. The team behind the mural hoped that young Philadelphians, who are looking for their tribe, recognized themselves in the artist's feature on the wall. Through workshops and mural painting, Mural Arts' Restorative Justice Guild program and Rec Crew collaborated on this mural.
TAME ARTZ shared why this project is so important to the culture and community.
"The concept began about three and a half years ago when I imagined a mural that, as far as I knew, did not exist in Philadelphia. I'd always had a thing for the location where we were working on the mural. I grew up not far from there. I would always see it and said to myself, 'I have to do something there.' Two years ago, I received a call from Kali Silverman (Mural Arts Project Manager) asking me to assist her with a vandalized mural. She recognized that the artist I was working with was a crew member of mine and thus developed a genuine organic relationship. I pitched the idea to her after learning she was a project manager and went from there," TAME shared.
"Basically TAME saved my butt," Silverman added. "The mural in question has been tagged, and we understand how important it is to have local artists with ties to the community. We were working in Old Richmond at Thompson and Lehigh, and TAME knew some of the artists who worked there, which was extremely helpful. We just knew it had to happen," she said.
The culture has grown at a faster rate than expected, often creating a vacuum, so the question is how does one choose who should go up on the mural without overlooking someone.
TAME responded by explaining the decision process "It was something that was on my mind. I designed it so that the mural's intention was celebration rather than omission. I personalized the project for myself. As someone who lives the culture and has many friendships within it, I made it personal without detracting from hip hop's origins. Every single person I chose is still alive. I wanted to make sure that the murals reflected people who are still alive, because too often the murals reflect people who have passed away. The second step is to select some of my friends who represent all aspects of the culture. Those two criteria assisted me in narrowing the list and highlighting individuals who truly embody the work of hip hop. The other aspect is that I wanted it to reflect the community. I wanted the community to contact these artists if they wanted to collaborate with them," he said.
The piece also helps dispel the idea that rap and the culture are one and the same when in actuality rap is one of the elements.
The mural honors an often-overlooked subculture of hip hop, women. Women have been present since the beginning, and TAME recognized their contributions through Michele Byrd-McPhee. She is the founder of Ladies of Hip-Hop, a non-profit organization that empowers girls and women through Hip-Hop culture and the arts. She received her bachelor's degree from Temple University and her master's degree in nonprofit arts management from Drexel University. She has worked as a production coordinator at Brooklyn Academy of Music and as the Senior Music Coordinator at Late Night with Seth Myers. She also teaches Marketing at Texas Tech University. Her introduction to culture was through dance.
"Ladies of Hip-Hop will turn 20 in 2024. Prior to that, I ran Montage, an all-female dance company in Philadelphia. I've been doing this work for nearly thirty years. So here I am in my fifties and literally alone in this because, for one thing, the issue of women in hip hop becomes about us being the primary caregivers. When things like artistry and culture happen, we kinda fade away because there isn't a lot of support in general for what we do. I danced while pregnant and my child was raised in the culture. I believe hip hop reflects society as a whole. We as women face the same struggles everywhere, but I believe things are changing because I am able to tell and share my story. TAME advocates for me so that helps," Byrd-McPhee said.
There is a constant battle between old school artists and new school artists reaping the benefits of the pioneers' sacrifices.
"We have to remember that we can't relive the golden era," she emphasizes. "We must think about the future. The key is education plus technology. It's really hard to get them to see the value in social media and having things like a website where people who want to keep up with them can go and also contact them for work. Even if you don't want to have an account, allow others to amplify your voice in a way that benefits you. This is an issue overall with Black people that we hold on so tightly to the point where they disappear. We have to learn to share our artists in a way that creates opportunity."
Mural Arts Philadelphia and artists like TAME ARTZ and Michele combine their love of community and the arts in their work.