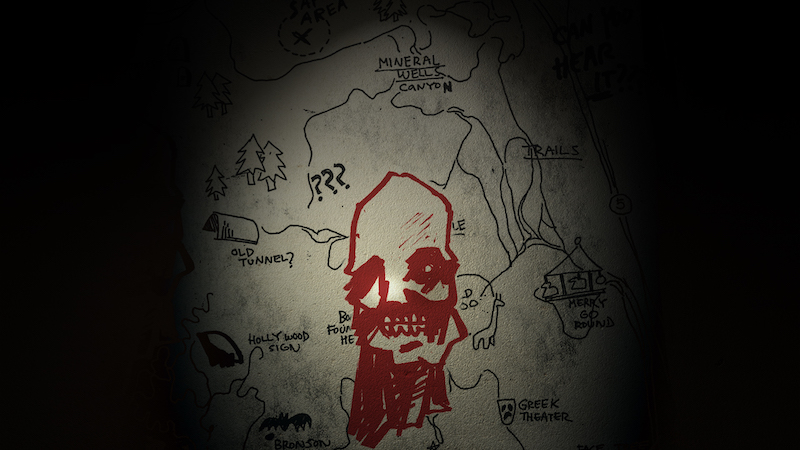 If you're a fan of local urban legends, you'll find many of them live in Griffith Park. Over the course of its 124-year history, lore has included a centuries-old curse, the ghost of an ill-fated actress, and a haunted picnic table. But is the park home to The Putty Man?
Searching for Putty Man is a new iHeartRadio Original podcast from Bamfer Production's Jeff Heimbuch, Matthew Tyler Vorce, and Kori Celeste. It's a horror fiction podcast, but the twist is that many of the legends it unearths are culled from real life, leaving you to do your own Googling and subsequent falling into rabbit holes.
"Ever since I was a kid, I've been fascinated by spooky stories and urban legends, so getting to be a part of creating one was an absolute blast for me. Also, in a way, this show is a love letter to Los Angeles and all of the wonderful weirdness that exists within it," Celeste, a musician who also scores the podcast, said.
This isn't Heimbuch or Celeste's first podcast project together. They previously collaborated on Light House, a horror podcast Heimbuch wrote and directed about a woman's lifelong attachment to her sinister childhood home, and Return Home, a horror-comedy. Tonally, Searching for Putty Man is much different. It's still in the vein of horror, but it unfolds in the style of an investigative podcast like SERIAL.
As such, Heimbuch, Vorce, and Celeste each play a version of themselves. Heimbuch references his real experience growing up reading Weird New Jersey and seeking out bizarre places and strange tales. His character enlists Vorce, an actor, as the co-host of his new cryptids podcast, while Celeste is their producer.
When Heimbuch and Vorce decide their podcast is missing something, they pivot to focus on just one local legend. He's known as the Putty Man because, well, he looks like he's made out of putty. Those who have encountered him claim a high-pitched noise follows him wherever he goes and that his face looks like a melting candle. Hikers and picnickers at Griffith Park, venturing out for the first time since the Stay at Home orders lifted, claim to have found ominous flyers warning of the Putty Man. Rumor has it, this man—whoever or whatever he is—is responsible for numerous disappearances within the park dating back years. But when the team tries to talk to a park ranger about the legend, they're quickly rebuffed and kicked out of the park.
Throughout the show's 10 episodes, the crew dives deeper not just into the mystery surrounding the Putty Man, but into a lot of other L.A. lore, too.
For example, the investigation obviously starts in Griffith Park. They discuss the park's namesake, Griffith J. Griffith, who, in a paranoid rage, shot his wife in the face. She survived to testify against him. Later, they visit the Sixth Street Viaduct and Forest Lawn Memorial Park, and explore the tunnel system once purportedly used during Prohibition to transport liquor and host secret bars. They talk about George Warren Shufelt, a geophysicist who once convinced the County Board of Supervisors to let him search underground for treasures supposedly left by Lizard People. Yes, that's a real thing that happened in the 1930s.
"I dug down pretty deep into a lot of stuff I wanted to include, and it was super interesting what I learned," Heimbuch said of his research. "The city itself is so full of history that we were able to find some kind of connection for every idea we had. A lot of the history and stories you hear in the show sound far-fetched, but I'd say 90% of them are true. The rest was skewed, just slightly, to fit our story."
Though the podcast is L.A.-centric, they explain each location well enough that you'll get the gist of things even if you don't live here. If you do live in L.A., the podcast will post photos corresponding to each week's episode on social media, including many places Angelenos can actually visit right now.
"Hopefully the listeners, whether they are in Los Angeles or someplace else, can either visit these places physically and listen along or look them up from afar," Vorce said. "Every place in the story has major energy connected to it and [you can] physically go to every place. So to be able to listen to us go through these experiences and be in the same place and walk in our footsteps I think would be a lot of fun."
According to Heimbuch, that was an intentional choice. Though they'd started putting the podcast together before the pandemic, the narrative shifted to incorporate COVID-19. The characters often hold their meetings outside and six feet apart, and most of the places they go are outdoors and open to the public. In a way, listening to it feels like a bit of an escape and a reminder of the things we can still do safely—like make an audio show or take a hike.
"Making this show during COVID was super hard, but it was worth every second, every self-quarantine, and every COVID test we had to take in order to make sure everyone was safe," Heimbuch said.
Searching for Putty Man's first episode drops today everywhere podcasts are available. New episodes air every Wednesday. Check out the trailer here. Follow along on Instagram at @SearchingForPuttyMan and on Twitter at @Search4PuttyMan for photos and extra material from each week's episode.