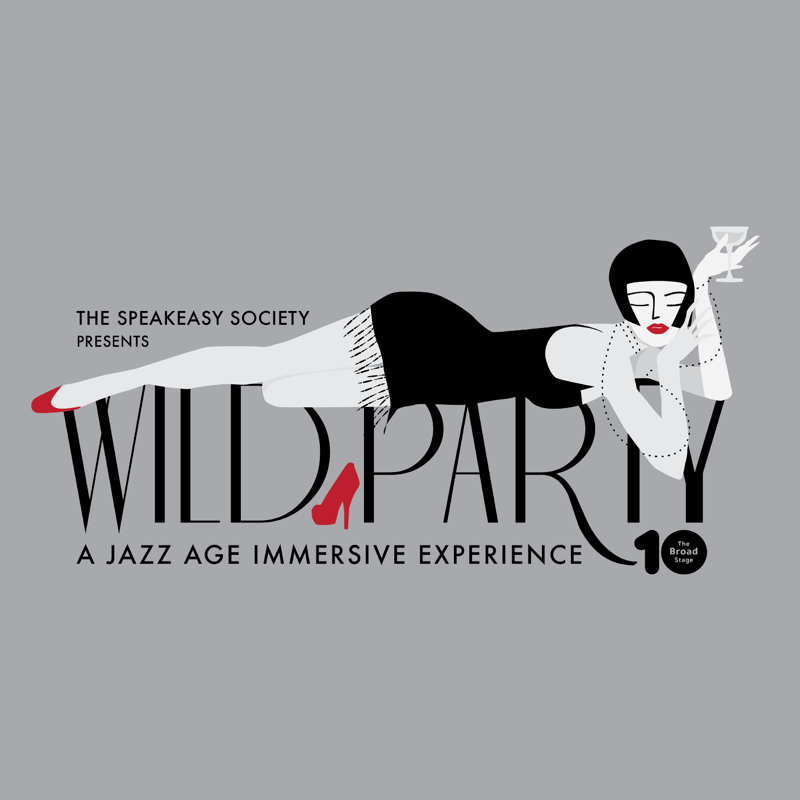 That time The Broad Stage threw a party by commissioning a show about a party
The year is 1926. Prohibition's on, silent films are about to give way to talkies, and the Great Depression isn't on anyone's mind. Not tonight, at actor Ramon Navarro's (played by Emilio Garcia-Sanchez) fabulous party for the Hollywood elite. Ernest Hemingway, Dorothy Parker, Buster Keaton, and Fred Astaire are on the guest list. And, as it turns out, so are you. The guests of the hour are F. Scott and Zelda Fitzgerald; this is their welcome-to-LA soiree.
It's the top of the party when guests enter The Speakeasy Society's latest venture, which has been described as a "Jazz Age immersive experience." Wild Party also served as a fundraiser for The Broad Stage, taking place across the street from the theater at the Masonic Center of Santa Monica. Guests filtered in and were given a seating assignment, which placed them at one of several tables around the room. (So there's no confusion: this Wild Party is loosely connected to the Joseph Moncure March poem and subsequent stage musical adaptations of said poem, including the immersive one produced last fall in Denver. — ed.)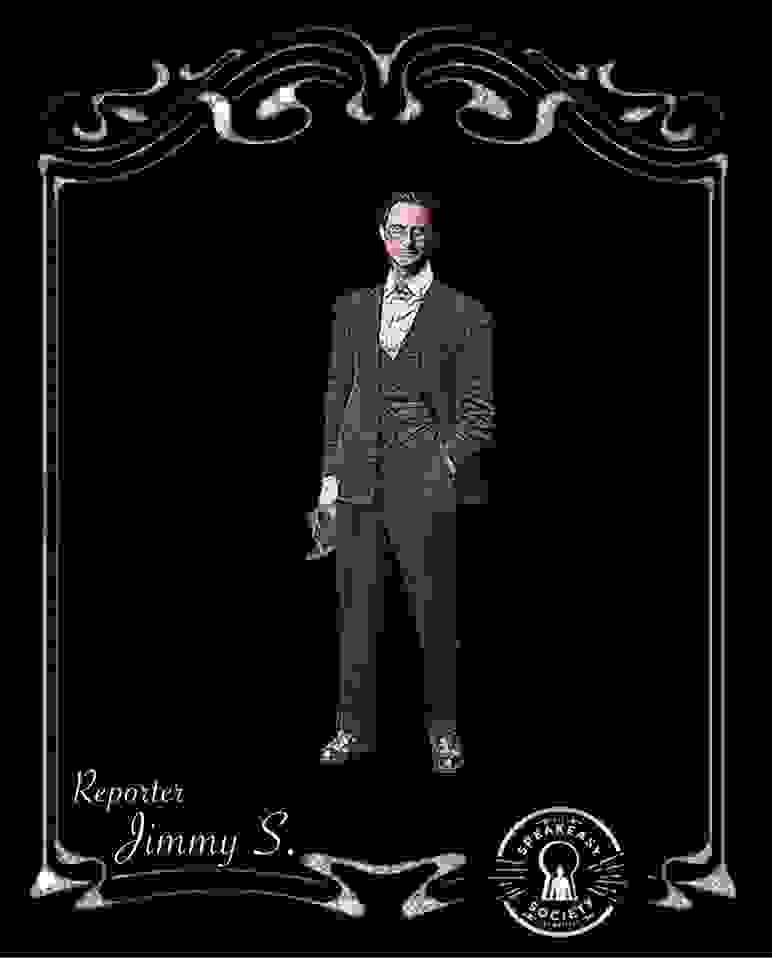 We could stop off at the bar for a beer or glass of wine (of course Novarro would skirt Prohibition), or browse an array of savory and sweet items set up buffet-style. Throughout, the celebrity guests — of which there were more than 20 — mingled with the audience. Some were roving gossip machines, spilling secrets about the other party guests, while others let us in on their Hollywood projects. My favorite was sleazy tabloid reporter Jimmy Schnitzel (Brandon Bales), possibly because no one else liked him due to his salacious reporting and unscrupulous prying. It was great to watch him verbally spar with Ernest Hemingway (Alexander Demers), a very different sort of writer and one you could tell Schnitzel respected.
After about a half hour of mingling, Josephine Baker (Monica Quinn) agreed to treat us to a song. The entire cast convened for a musical number, impressing the rest of us with their choreographed moves. It's odd, but immersive theatre doesn't often come with these kinds of boisterous ensemble song-and-dance numbers, so it's refreshing to see one.
And we didn't spend the entire evening just basking in their glow. Twice, the characters came over to our tables and lured us into other rooms in the Lodge. With about a dozen different tracks onto which an audience member could be diverted, including a few one-on-one scenes, it was impossible to get even half of the full story. If you were lucky, you went with friends at other tables who could fill you in on a few of the other tracks. At the same time, however, there wasn't a narrative that needed all the pieces to be put into place. If you and 20 or so friends had unresolved beef and a lot of liquor, you'd be just as likely to overhear or participate in gossip without getting the whole story. And haven't you ever been to a party where someone pulled you into the bathroom to cry on your shoulder, or where going out for a smoke resulted in an unexpected conversation?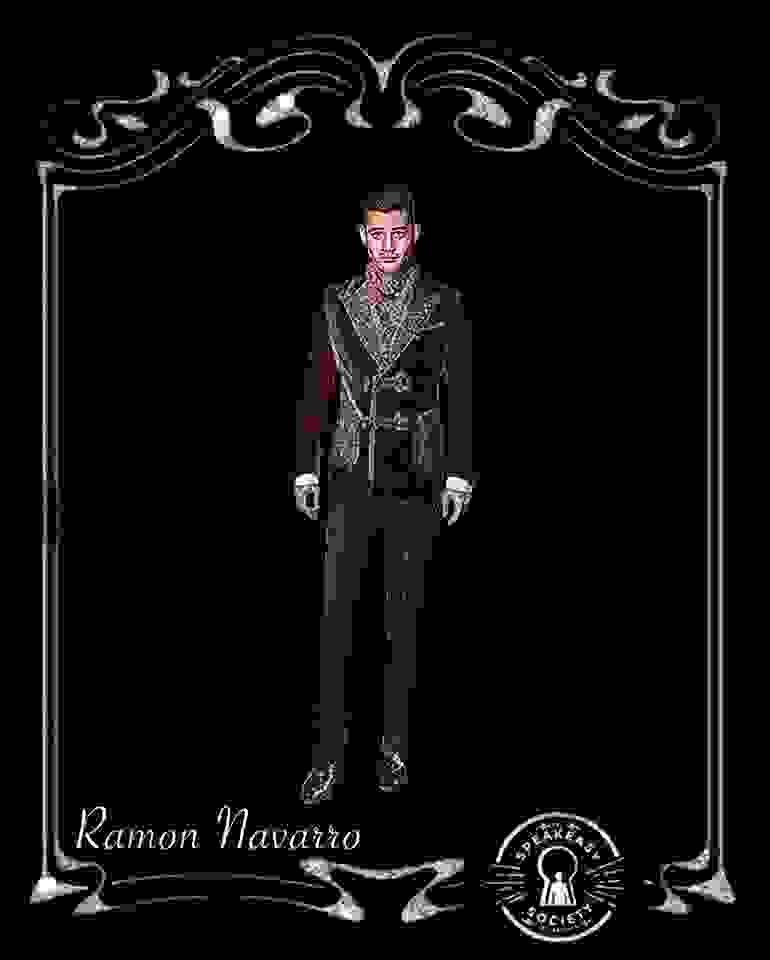 As for me, I spent a fair amount of time with the party's host, Ramon Novarro. If you're familiar with Novarro, you know he had a tragic life. Though promoted by Hollywood as a heterosexual "Latin lover," he was a closeted gay man, who struggled with his sexuality in a time and industry where it was not openly accepted. This situation set him up for a drinking problem and a lot of unresolved angst. In 1968, the night before Halloween, Novarro was murdered by two brothers posing as escorts. They tortured him in his Laurel Canyon house, demanding he tell them where he kept his money. He didn't have the money they thought he did, so they kept beating him. Novarro ultimately died of his injuries at just age 69.
He wasn't the only party guest to have a tragic ending. Hemingway killed himself at age 61, and silent film star Olive Thomas (played in Wild Party by a vivacious Christine Harms) would die at 25 after accidentally drinking mercury bichloride while on her second honeymoon with Jack Pickford.
But on that night of his party, Novarro and his friends didn't want to think about their troubles. The Wild Party guests made sure to constantly remind us that "it's a party," and we should all eat, drink, and be merry. Even when Novarro briefly faltered in his joy, the ever-witty Dorothy Parker arrived to cheer him, and all of us, up. She asked each of us to irreverently shout, "Fuck it!" In a way, there was something bittersweet about our raucous party: each of them resigned to their fates, we just voyeurs passing through.
All in all, Wild Party may not satisfy you if you need to know every single thing that happens in the course of an evening. But if you let yourself feel like you're at a party and not solving a larger puzzle, you should have a fine time. The actors, as usual with Speakeasy Society shows, were great in their one-on-one scenes, but also shone in their song and dance numbers as their personalities and grudges shimmered darkly beneath their fancy clothes.