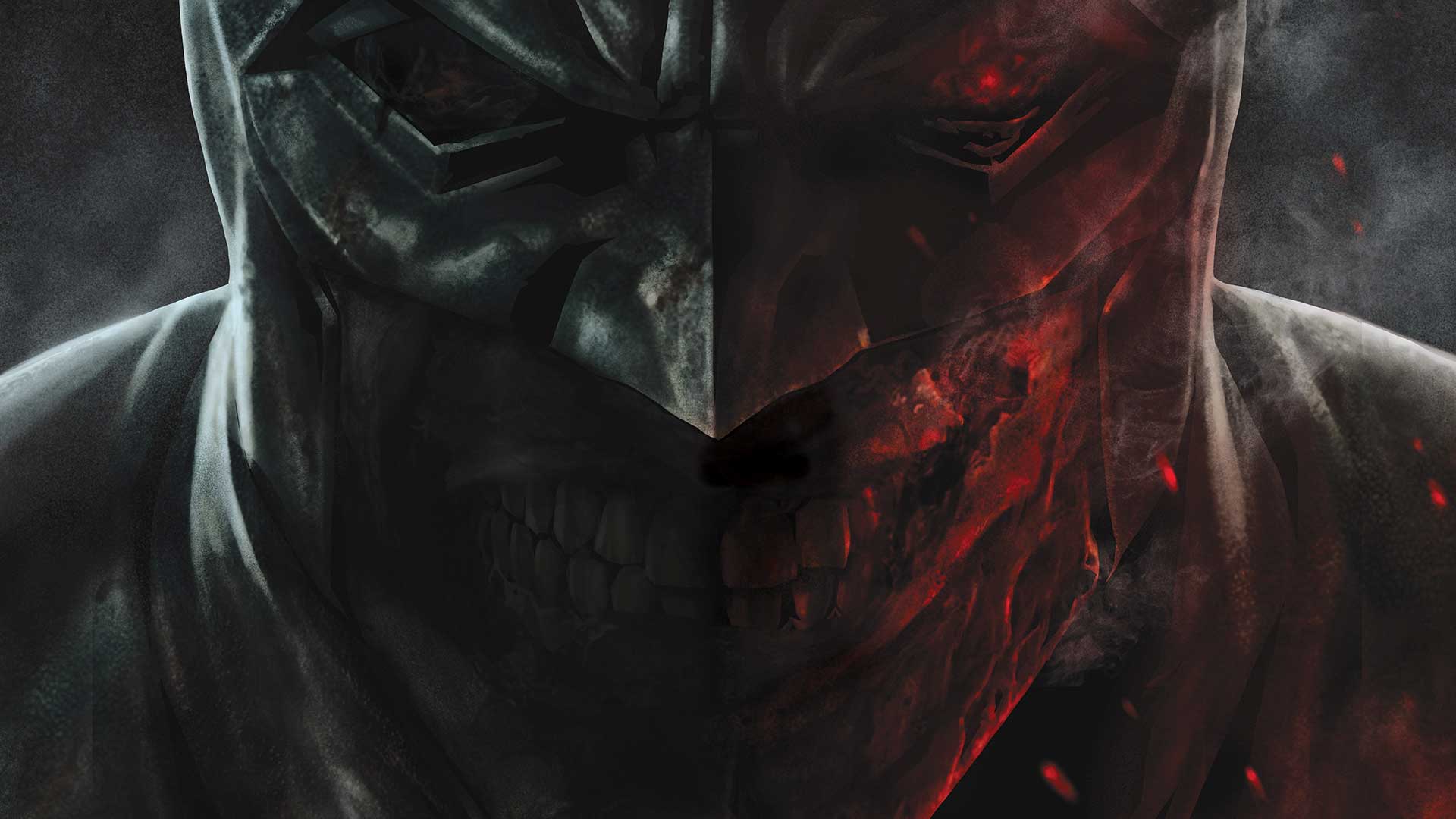 Batman: Damned is not just a departure from a traditional superhero story, it's also a macabre turn on the mythos of Bruce Wayne/Batman. It is perhaps best read by asking oneself, what if Batman were full-on horror instead of just a little goth? While Batman has always been one of our darker superheroes, forever brooding over a twisted Gotham City in his nocturnal getup, Brian Azzarello's standalone tale—accompanied by gorgeous artwork from Lee Bermejo—pushes that darkness to nightmarish extremes.
To distill it to its simplest plot, it's a murder mystery, but it's wrapped in horror tropes. It's told by the mercurial John Constantine, who admits early on that he's an "unreliable narrator." The story unfolds not chronologically, but like a dream. It's Batman's nightmare, specifically, with Constantine waxing poetic as he strings us along, dragging us through layers of Batman's own past and present.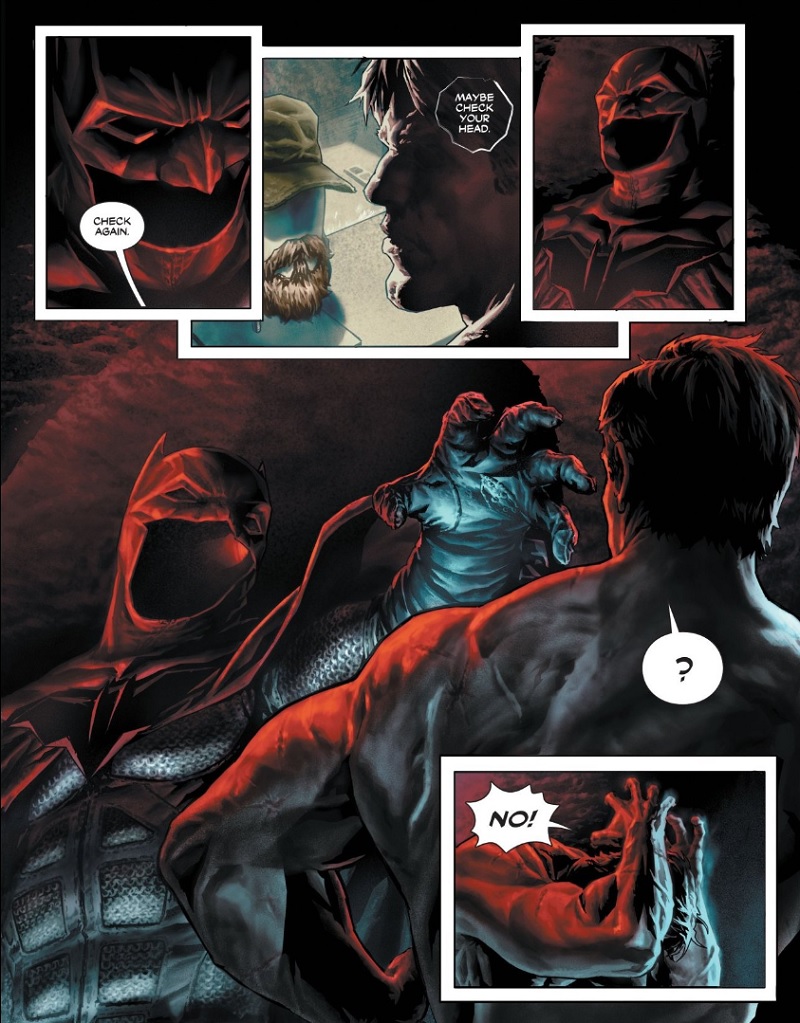 Neither Batman nor the reader are ever quite sure if the story is really happening. Bruce may, in fact, have hallucinated his entire adult life. He may be trapped in some layer of hell, forever doomed to wrestle with his internal darkness and an entity that has stalked him since he was just a boy—if she's even real. There are ghosts. There's possession. Maybe a little necromancy. There are ghastly visions; at one point, Bruce imagines his own batsuit attacking him as he cowers naked on the floor of his lair.
The story begins when a wounded Batman wakes up in the back of an ambulance, right before a curious responder leans down to unmask him. He escapes the ambulance, rolls out into the street, and staggers down an alleyway where he collapses. He is rescued by Constantine, who takes the injured hero to his home.
When Batman awakens at Constantine's, he catches the news on TV. It's troubling. The Joker's body has washed ashore beneath the Gotham Gate Bridge. Batman knows he was on the bridge the night before, but he has no idea who murdered his arch-nemesis. Could it have been him? The Dark Knight needs to know the answer and so, in classic fashion, he vanishes while Constantine is mid-sentence.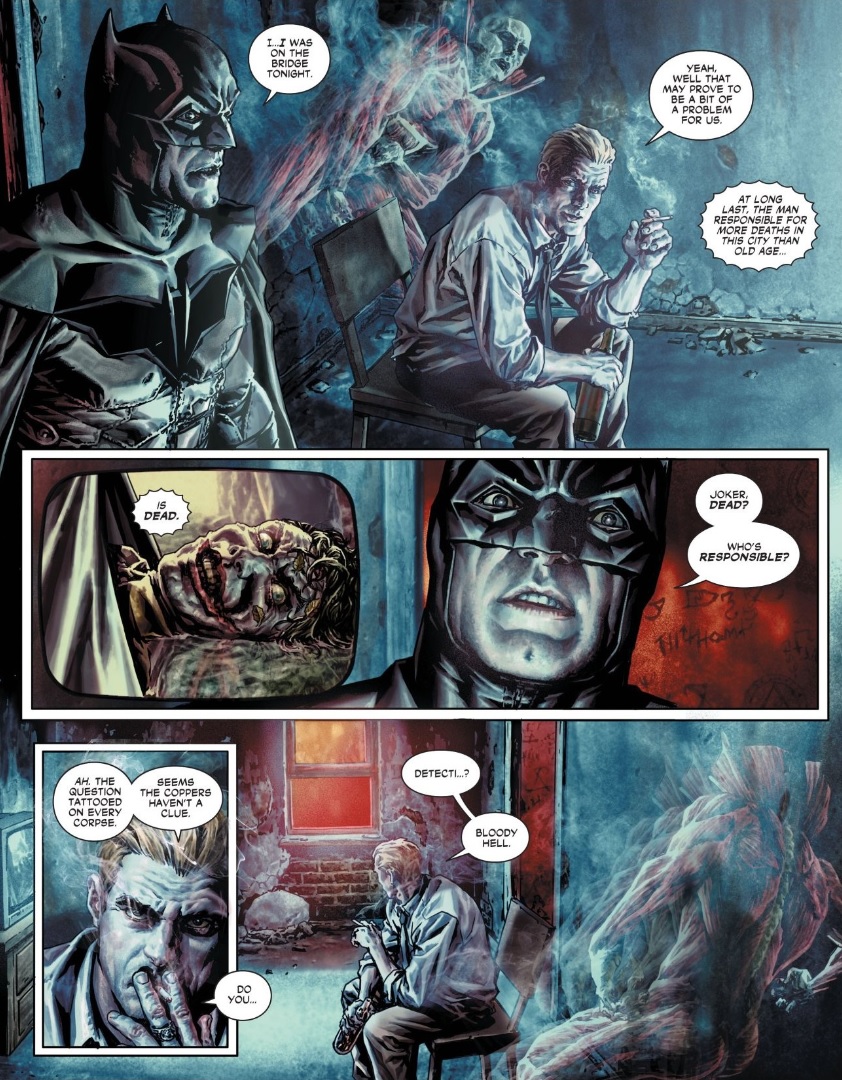 Batman's no stranger to solving a case, but things soon grow darker and more convoluted. We learn that Bruce has been plagued by what looks like a demon-spawned version of Enchantress since he was a boy. She comes to him in his most vulnerable moments. She appears as a child when he is a child and an adult when he is grown. It's this sorceress who leads Bruce down the alley where his parents are murdered. They chased after him as he chased after her. And, as she knelt by the Waynes' bodies alongside young Bruce, the witch made him a deal. "Fearless, for tearless." At one point, this frightening figure even foreshadows who Bruce will become by pinning a live, screeching bat to his bare chest.
Other characters also take on a monstrous twist, too. Take Thomas Wayne, often depicted as a loving family man. In flashbacks, we learn that he cheated on Martha with another woman. When Martha confronted him, he left Wayne Manor in a huff. Bruce pointed a toy gun at his mother, blaming her for the fight, and a sobbing Martha made him promise to never aim a gun at anyone again. This is, we can surmise, why Batman has long refused to use guns or kill.
In this way, this Dark Knight is not a man driven by vigilantism. He's a man driven by an ostensibly evil spirit with whom he made a Faustian bargain in his youth. He didn't come from the perfect family, but a broken one—its sins hidden behind a veneer of wealth and prestige. Bruce, and thus Batman, are forever literally haunted.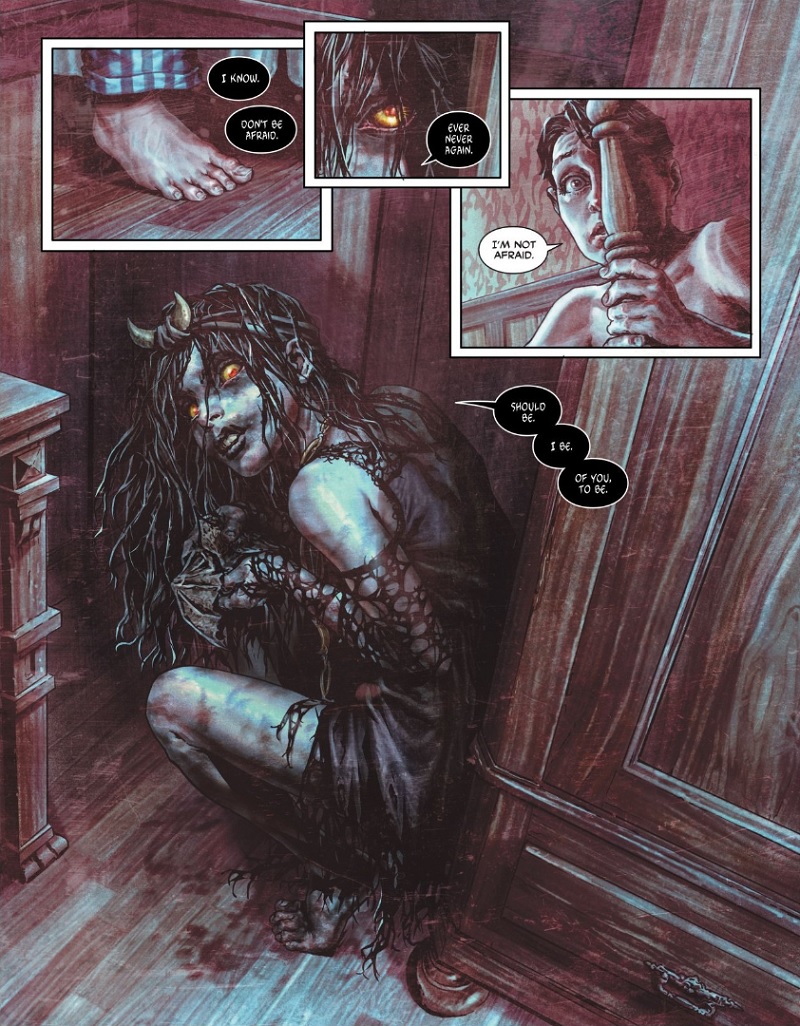 Other characters Batman encounters before the book ends include Etrigan (who is an underground rapper in this world), Swamp Thing, Spectre, Deadman, and a much more disturbed Harley Quinn than readers may expect. He also pays a visit to Zatanna, who holds a seance and summons the ghost of young Bruce Wayne.
This leaves us with multiple options in a narrative where we're free to choose our own interpretation: Was the ghost of young Bruce a metaphor, or did Bruce die with his parents in that alley? Is Gotham a hell of his own making?
Azzarello doesn't spell it out for you, and numerous reviewers seem to have come away with different conclusions. And in a genre like horror, it's not uncommon for an audience to have wildly different theories (which they'll later hash out on Reddit). Damned stands alone as a bizarre and artistically beautiful example of this with one of our favorite complicated heroes.
Batman: Damned by Brian Azzarello and Lee Bermejo is now available in bookstores, comic shops and as a digital graphic novel.
Juliet Bennett Rylah writes about horror comics and the dark side of superheroes for DCComics.com. Check out more of her writing on No Proscenium, WeLikeLA and IGN, and be sure to follow her on Twitter at @JBRylah.