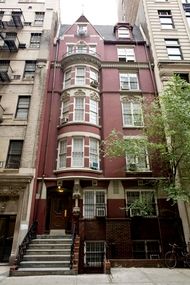 When New York City's Landmarks Preservation Commission designated Harlem's Striver's Row as the St. Nicholas Historic District in 1967, it said that the enclave constituted the largest and perhaps the finest example of row housing development in the country. Also called the King Model Houses, the 147 buildings on West 138th and 139th streets between Seventh and Eighth avenues had been home to Eubie Blake, Scott Joplin, W. C. Handy, and Bojangles Robinson.
WIt's probably a reflection of just how far Harlem had fallen in the 1980s that even Striver's Row, the pride of the Harlem Renaissance, endured conversions to single-room-occupancy hotels and rooming houses. This had happened to a few houses once before, during the depths of the Depression.
After World War II, however, Striver's Row regained much of its earlier prized status and high housing values, recalls choreographer Mercedes Ellington, who grew up a few blocks away in Sugar Hill. "Owners on the Row never stopped caring," Ms. Ellington said recently. The Abyssinian Baptist Church, which is right around the corner, also provided an anchor to the neighborhood with its presence, and financed the reconstruction of nearby housing.
But in 2001, when Hermea Nelson, an MBA student and mother of two children, came across a former rooming house listed for sale for $685,000 on West 138th Street while house-hunting, she initially blanched at how much work it would require.
Built in 1891, the pretty, three-story Georgian house was in sad decay, with badly warped floors and chunks missing from moldings. Its five original fireplaces were intact, but languishing under layers of black and blue paint. Sprinklers jutted out from the ceilings, doors appeared in weird places, and the staircase was missing most of its spindles. Mrs. Nelson's optimistic architect, Andre Tchelistcheff, who heads his own firm, said the house had a "friendly, archaeological" feel.
Its systems, however, were shot. Harlem had only experimental electricity in 1891, said Willie Suggs, the real-estate broker who sold the house, and the house had been built without electricity or plumbing. The wiring installed by previous owners proved inadequate, and the pipes, which were lead, would have to be completely replaced. (Ultimately, Mrs. Nelson's contractor, Robert Brooks, had to knock out the plaster walls and original moldings in order to update the wiring, plumbing, and ductwork.)
But the house was structurally sound and had "great bones," Ms. Suggs said. Like the other buff-colored brick houses on the north side of 138th Street and the south side of 139th, it was designed by 19th-century architects Clarence Luce and Bruce Price, who went on to plan famed Tuxedo Park in Orange County.
Seventeen feet wide and 53 feet deep, the three-story house, which includes a small "renter's apartment," offers about 4,000 square feet of living space. Its list price of $685,000 meant that even with $500,000 spent on renovations, the house would cost less than a third of a comparable row house on the Upper West Side, where Mrs. Nelson had lived in a co-op apartment.
Then there was the garage in the back, an extraordinary amenity appreciated by Mrs. Nelson, who had lived for years with alternate side of the street parking. The garage is reached by a service alley that runs the length of Striver's Row - one of the very few places in Manhattan with alleys, a feature of Boston living admired by Striver's original builder, David King. Sanitation trucks actually pick up the garbage from behind the houses, leaving the front streets clean and free of garbage cans.
But the neighbors were the factor that sealed the deal. Ms. Suggs seemed to know everyone in Harlem, including the NYPD detective, Terrence Brown, who lived on one side of the house, and the Hattiangadi family, who lived on the other. Mrs. Nelson was confident that she and her family would be happy and secure on a block where the neighbors knew one another so well. Even the surrounding neighborhood had become far safer - a 61% decrease in crime in the 32nd Precinct since 1993.
After closing on the house in November 2001, Mrs. Nelson spent the next year getting permits from city agencies, such as Buildings and Landmarks. "You're at their mercy," she said, "but it wasn't too bad." The previous owners had obtained a certificate of non-harassment on the rooming house, so she was spared that bureaucratic headache.
She moved into the renter's apartment above the basement in October 2002 as construction went on around her.
Her architect designed a huge 48-foot eat-in kitchen, taking advantage of an odd extension alongside the garage. Mrs. Nelson installed G.E. stainless-steel appliances that fit snugly into the narrow, efficient-looking extension. Above them she put in about $15,000 worth of Ikea cabinets, which have a custom look.
Throughout the elegantly simple house she has used bamboo, prized in Chinese culture for its longevity and regeneration. "Very good feng shui," said Mrs. Nelson, who was born in Hong Kong. She installed a tin back splash with a dragonfly-and-bamboo motif above the kitchen's utility sink. She has huge bamboo leaf ceiling fans in the kitchen and bedrooms. Her first-floor floors are composition bamboo, which she found on the Internet.
Last Sunday, she celebrated with her first party - a brunch for her neighbors. On her table she put a clear vase of yellow roses surrounded by lemons and limes given to her by her neighbor, Vincent Falls, a landscaper and interior designer. Serving fruit from Fairway on 138th Street and pastries from Settepani Bakery on Lenox Avenue, Mrs. Nelson wore a black T-shirt that said, "I'm a Harlem Girl."