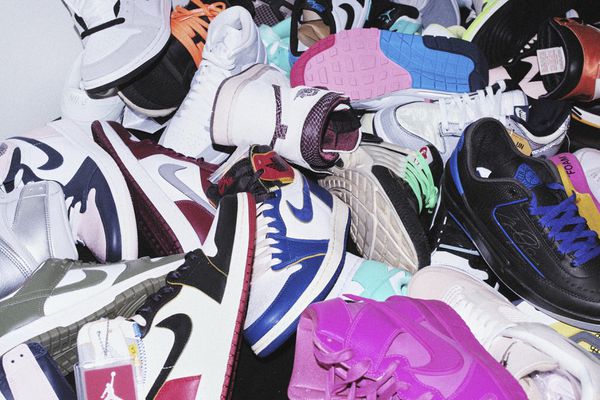 In 2016, Idrees Kickz flipped his first pair of Yeezy 350 V1s, reselling the sneakers for $900. Teens everywhere, including at his high school in Richmond Hill, Ont., were clamouring for a pair of the futuristic athletic shoes, which, at the time, retailed for $225.
They were the first pair released as part of a new collaboration between Adidas and rapper and fashion icon Kanye West, now known as Ye, and were impossible for anyone to get their hands on. Adding to the frenzy, the shoe was released in a "drop," or limited-edition product run; if you missed it, you lost out on the style – and any chance of paying retail price.
The story of sneaker culture: From niche obsession to multi-billion dollar reselling industry
As rare shoes became the hottest item to flaunt in the school cafeteria, a secondary market emerged, driven largely by sneaker-savvy teenagers who found a way to buy them at retail and wanted to make a buck. "A lot of people were like, 'Oh, yo, this is so sick, where did you get that?' and I'm like, I can show you," Kickz remembers.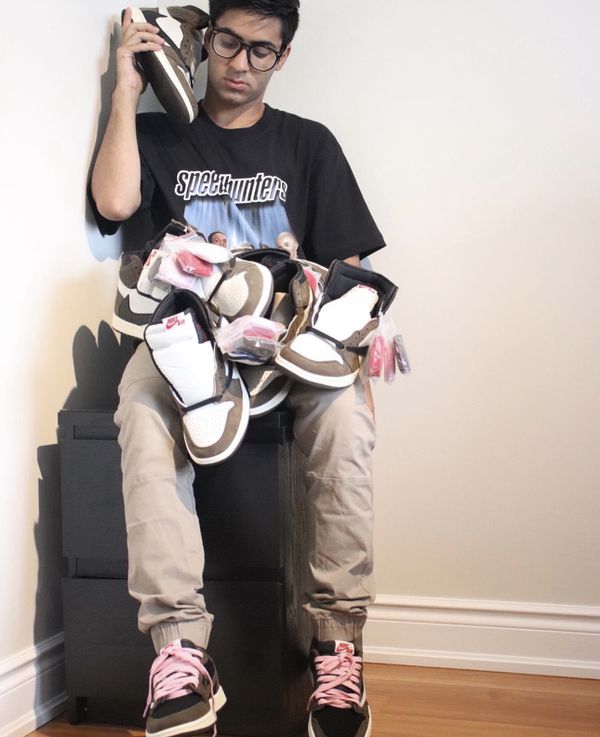 Within three years, Kickz, whose real name is Edris Hashimi, hit a million dollars in sales. So how did a teenager from suburban Ontario literally turn selling sneakers into a million dollar business? First, there's the Instagram following he worked to build of a million users. Then, there's Woiair, the online business he launched in 2016, where he works with a small team to ship coveted, rare pairs, as well as select streetwear, to eager buyers mostly in Canada and the U.S., but also as far as Asia.
"I remember my mom was telling me that every kid was playing with toys, but I was playing with shoes," says Kickz, now 21. As a teenager, he became obsessed with streetwear, impressing his classmates with his hard-to-find Supreme T-shirts and Jordan sneakers.
In other words, Kickz was a self-proclaimed hypebeast, a fashion-obsessed kid who devotes his time and money to scoring the latest limited-edition drops of sneakers, T-shirts and hoodies from labels like Supreme, Palace and Off-White, brands built on their deep connections to an authentic scene, from hip-hop to skate culture to surfing.
This uniform lent Kickz credibility as a legitimate source for rare, authentic sneakers with his classmates. He realized that to convince people to buy from him, he had to show them he had the real goods – by wearing them. He became a walking billboard for rare sneakers and streetwear. "If I don't promote it myself, then how is he going to trust me?" he says now of his hypothetical sales target back in school.
Kickz's trained eye and business savvy catapulted his rise to the top of the sneakerand streetwear business as an independent reseller – and business is booming. The global market is estimated to hit US$30-billion in sales by 2030, up from $6-billion in 2020, according to the investment firm Cowen.
Flipping sneakers at scale can be lucrative business hinged on sellers' authority, access and marketing savvy. But it's not without its challenges: Your word is everything, snipers are swirling and your Jordans best be authentic. In an increasingly crowded market with skyrocketing demand and shark-like competition, how do top Canadian sellers stay in the game?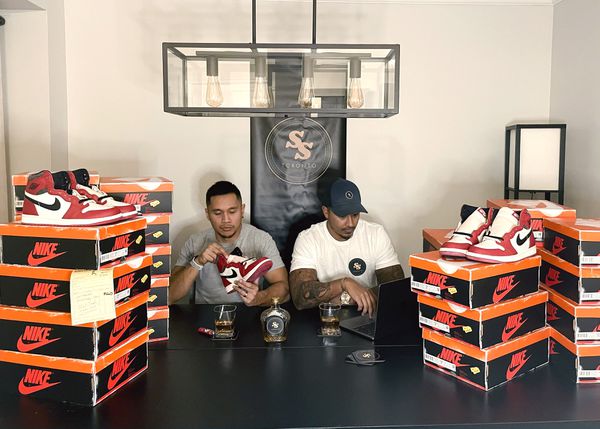 Reaching an audience that's graduated high school is a strategy that's working for Richard Chang and Shawn Alonto, the duo behind Sneaker Source Toronto. The friends, both in their early thirties, sell about 80 to 100 pairs of sneakers per month to everyone from women in their early twenties to dads in their forties. "We both have families. We're older," says Chang. "We can relate to a dad that comes asking for a shoe or a kid that comes asking for a shoe."
Unlike Kickz, Chang and Alonto weren't teenage sneakerheads or even particularly interested in fashion. "We never had any expensive shoes over like $200," says Chang. "We just were regular Joes when it came to shoes and stuff like that."
But after watching The Last Dance, the Michael Jordan documentary released by Netflix in 2020, a rush of nostalgia compelled them to seek out a pair of Jordan 6 DMP sneakers, the shoe His Airness wore before nabbing his first NBA championship. Chang fell short, but Alonto managed to score a pair on the Foot Locker website for $299.45.
Alonto was hoping to wear them himself, or at least keep the shoes as a memento. But after browsing Facebook Marketplace and Kijiji to see what the shoe was going for, they both decided to get in the reselling game. Alonto flipped them for $380 – a modest markup, but he could see he was sitting on a business opportunity. Others were flipping the Jordans for up to $150 above retail. "And we were like man, let's start a business, this market is untapped right now in Canada," says Chang.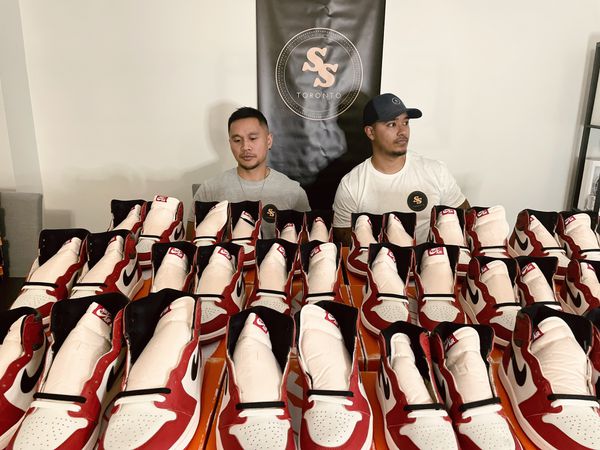 They also understand that cultivating a loyal community and building brand trust takes time. "We speak to everyone with the same integrity," says Chang. "The customer service is always there, and I think that keeps people coming back. Even if our sneakers are not the cheapest compared to other resellers, people will still come back to us just because they like the experience."
The driving force – or necessary evil – behind the sneaker market is bots. The computer programs automate and expedite the online checkout process, allowing resellers to snap up all the stock on limited-edition sneakers before buyers can purchase the shoes at retail – driving buyers nuts, and keeping outfits like Sneaker Source and Woiair in business.
Vancouver-based SoleSavy, however, offers a way around such bots: for a monthly or annual fee, shoppers sign up to get alerts the moment a sneaker is made available. As SoleSavy puts it on their site: "These notifications are sent faster than any human can tweet or share, thus giving you a major advantage over the competition."
The model also engenders loyalty among SoleSavy's target consumer base of older, more affluent buyers by giving access to a messaging platform, facilitating connections between staff and other shoppers. In that way, customers are also buying into a community. "From a community perspective, it's very simple," says CEO and co-founder Dejan Pralica. "We're just bringing people together who love something and we're creating a place to do that online with a structure and an ecosystem that makes them feel like they belong and are part of something."
For Canadian resellers, most deals happen on Facebook Marketplace or Instagram. But Pralica finds that social media platforms can be alienating rather than community building. "It's not about creating relationships and friendships," he says. Throwing subscriber events in Vancouver as well as other cities, offering 30 per cent off laces or giving away free sneakers keeps customers loyal.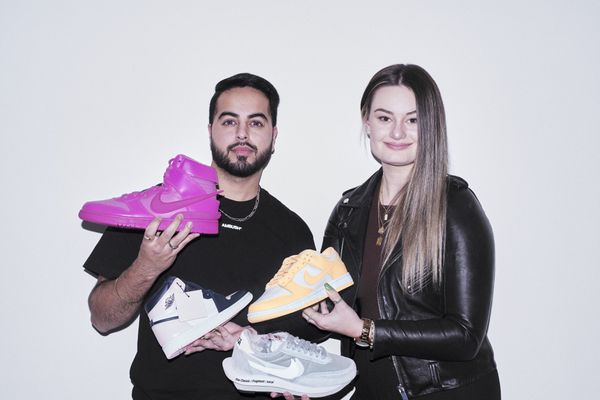 There's another problem plaguing the market: The resale business is dominated by men. For years, Brayden Kerr, 26, always brought along her boyfriend, Nav Marwah, 27, to sneaker meetups with other resellers in the Greater Toronto Area because she felt uncomfortable being the only woman. "I realized there's not a lot of girls in the sneaker industry," she says. "I have a lot of friends who are into sneakers, but they just don't know where to buy them. So, I decided maybe this is a niche that's untapped, especially in Toronto, because there's so many guys, but I could count on one hand how many girls that I know who are really into sneaker reselling."
About 10 months ago, she and Marwah decided to launch SneakHer, a reselling business that caters to women. And it's taken off; SneakHer averages selling two to three pairs per day, and has built a thriving online community of nearly 40,000 followers between TikTok and Instagram. Kerr pegs her customers as 90 per cent women, "which is amazing because that was the goal, to create a space for girls who aren't really into sneaker reselling but just like Jordans," she says. SneakHer is popular among Toronto shoppers, but sells all over the country, including in the Yukon.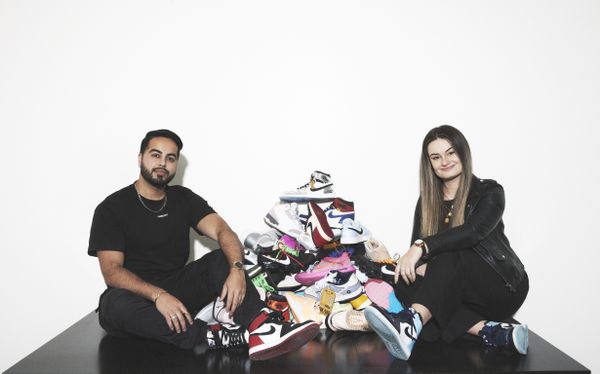 Like their competitors, Kerr and Marwah are fastidious about authenticity. But their edge is offering a hyper-personalized customer experience to an underserved market; they respond to every Instagram direct message and even include a handwritten note in each sale. "It's the knowledge, the end-to-end experience," says Marwah. "We always try to be customer focused." The pair have noticed their followers forming genuine connections online through the SneakHer TikTok page.
And word-of-mouth goes a long way. Marwah and Kerr have observed women showing off their new sneakers to their friends – "and then their entire friend group is like, Oh, those are really nice, where did you get them?" says Marwah. "And now this friend group is now ingrained into that culture. That's a byproduct of trying to fit a niche that wasn't being served."
The sneaker resale market may be exploding – as teenage hypebeasts grow up, new business models emerge and more women enter the game – but like any facet of fashion, it remains at the mercy of cultural whims.
Take Ye, who has swiftly destroyed his credibility and the Yeezy brand by espousing hateful antisemitic rhetoric and aligning with far-right figures like Alex Jones, costing him his billion-dollar deal with Adidas. And yet, the rarest shoes from his bygone collaborations with brands like Nike and Adidas still command up to nearly $20,000 on StockX, the premier online marketplace for sneakers.
Some like Pralica at SoleSavy, have vowed to stop sourcing Yeezys for their subscribers, deeming any association toxic and morally reprehensible. Others, like Kickz, anticipate skyrocketing demand for Yeezys thanks to market scarcity.
Ultimately, the reselling business is the fashion business; trends come and go, and culture shifts with the speed of a swipe. But no matter which celebrity is driving the market, a passionate community of sneaker enthusiasts – and the resellers who hook them up – will keep this culture alive.
Sign up for the Health & Wellness Newsletter
Keep up to date on the latest nutrition news and dietary advice, fitness tips and wellness trends.