Journalist – Lisa LaFlamme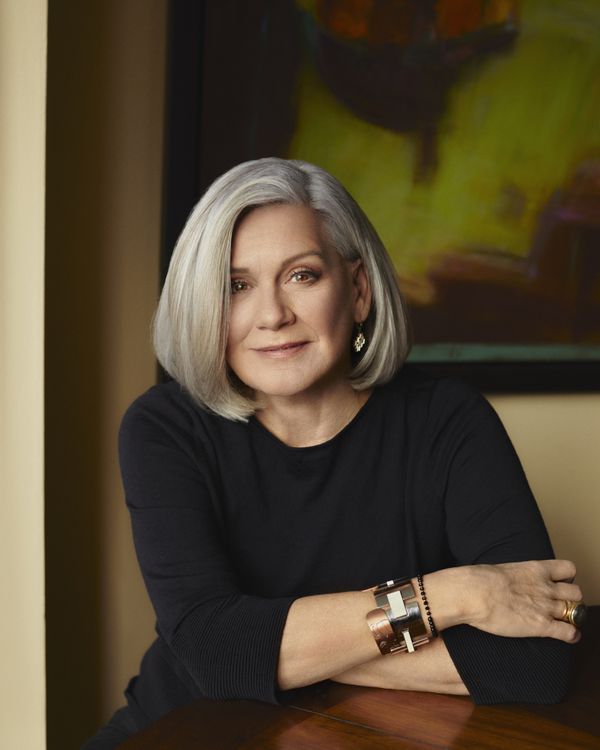 Lisa LaFlamme has remained largely silent since CTV abruptly ended her contract last summer. In a recent sit-down with The Globe and Mail, LaFlamme says she is still processing the events of the past six months, but she tries to keep things in perspective.
"It wasn't a cancer diagnosis. It wasn't a war breaking out. It wasn't an earthquake," she said. "People lose their jobs. And I did."
In April, 2022, for the second year in a row, LaFlamme was named Best News Anchor at the Canadian Screen Awards. It was the veteran journalist's fifth time winning the honour since she took over CTV's flagship news broadcast 11 years earlier.
With LaFlamme in the chief anchor chair, CTV National News was consistently the most-watched news program in the country for any time of day. LaFlamme, after spending two years as a steady voice for Canadians during the pandemic, appeared to be thriving at the apex of her 35-year-long career. For women, in particular, LaFlamme's public decision during the 2020 lockdown to let her grey roots grow in generated high praise.
In a video posted to Twitter after she was let go, LaFlamme said she was told that Bell Media – CTV's parent company – had made a "business decision" to end her contract.
"I was blindsided," LaFlamme said in the two-minute clip, which has now been viewed 4.6 million times. "At 58, I still thought I'd have a lot more time to tell more of the stories that impact our daily lives. … While it is crushing to be leaving CTV National News in a manner that is not my choice, please know reporting to you has truly been the greatest honour of my life."
LaFlamme's sudden removal ignited a national conversation about sexism and ageism. Prominent Canadians and politicians made public statements in support of LaFlamme and criticized CTV's treatment of its star anchor. Within Bell Media, accusations of a toxic workplace culture prompted a third-party review.
Major brands such as Dove and Wendy's released supportive, go-grey advertisements. The backlash continued for months. LaFlamme's exit emerged as one of the major Canadian news events of 2022.
In her recent interview with The Globe, LaFlamme reflected on all that's transpired and also what she has planned for the future.
To this day, she says, strangers still regularly stop her to offer kind words and support. This, she says, has been a real comfort. Although, inevitably, people want to know what she plans to do next. Another show? Radio? Podcasts? A book? Something outside of journalism? LaFlamme says she honestly doesn't know yet.
"It takes more time than people might imagine to rewire the brain and I am taking that time to think," she said. "I have committed to going to Africa with Journalists for Human Rights to work with journalists there and to tell the story of the groundbreaking work that they're doing. That's in January. After that – I don't know."
For most of her life, LaFlamme says she knew she wanted to be a journalist. As a kid, she loved writing.
She got her first taste after high school, when she moved to France for two years. Primarily, she was working as a nanny, but she picked up some odd jobs writing dispatches from Paris for the Toronto Star and also some radio work.
After France, she took communications at the University of Ottawa and then, in 1988, she landed a copy-writing and editing gig in her hometown at CTV Kitchener.
Within a year or so, she transitioned to radio, which was in the same newsroom. And then on one weekend shift, the TV reporter called in sick and they asked if she would fill in. The assignment was a Saturday night psychic fair at the bar she used to go to in high school.
"I'd never done a television report. … I was nervous," she said. "I got all of my sisters and girlfriends to come as my moral support. This psychic did my reading and saw flags of the world and ultimately that's what ended up happening."
On television, LaFlamme was a star. She rose quickly through the ranks, juggling between reporting and anchoring.
In September, 2001, she became host of CTV's Canada AM daily morning show. The attack on the World Trade Centre was her second day on the job. She ended up in New York that night.
In the ensuing years, she covered the war in Iraq and later Afghanistan. CTV gave her a reporting position that allowed her to cover breaking news anywhere in the world.
For the next decade, LaFlamme covered Hurricane Katrina, political uprisings in Haiti, the tsunami in Sri Lanka, Olympic Games, royal weddings and American elections.
"It was amazing. I literally had a front-row seat to every powerful story. I feel incredibly privileged to have that experience," she said.
And then in 2011, LaFlamme landed the most coveted job at the network as anchor of the 11 p.m. national newscast, taking over for Lloyd Robertson. Even in the host's chair, she never gave up reporting. Before her ouster, LaFlamme was at the Poland-Ukraine border in the early days of the war covering the Russian invasion.
As for the controversy around her departure from CTV, LaFlamme declined to elaborate beyond her video statement that was posted to Twitter. In general, she says, she is trying to focus on the happy memories.
"I had 35 incredible years with the same company and I'm not going to let one day define me or erase the privilege I had of covering the country or the world. I'm not," she said.
"I am an eternal optimist. I really am. I've covered bad news and sudden change my whole life. My own thing pales at the real tragedies I've seen. With my sudden change, the comeback is – hopefully – going to be better than the setback."
Three Ways I'm Practising Self-Care This Year:
"I'm still going to be working on democracy projects. Working with refugees. Helping get families out of Afghanistan. This is a passion for me."
"Dinner with friends. … For years, I never had my evenings free. So I guess that has been a bit of a silver lining."
"I'm a podcast junky. I have a routine, including The Decibel, The Daily and This American Life. News. Current events. Big thinkers. Democracies. I also love true crime when I need a little bit of a break. At the moment, I'm listening to This Is Actually Happening."
-Robyn Doolittle
CEO & Entrepreneur – Anna Sainsbury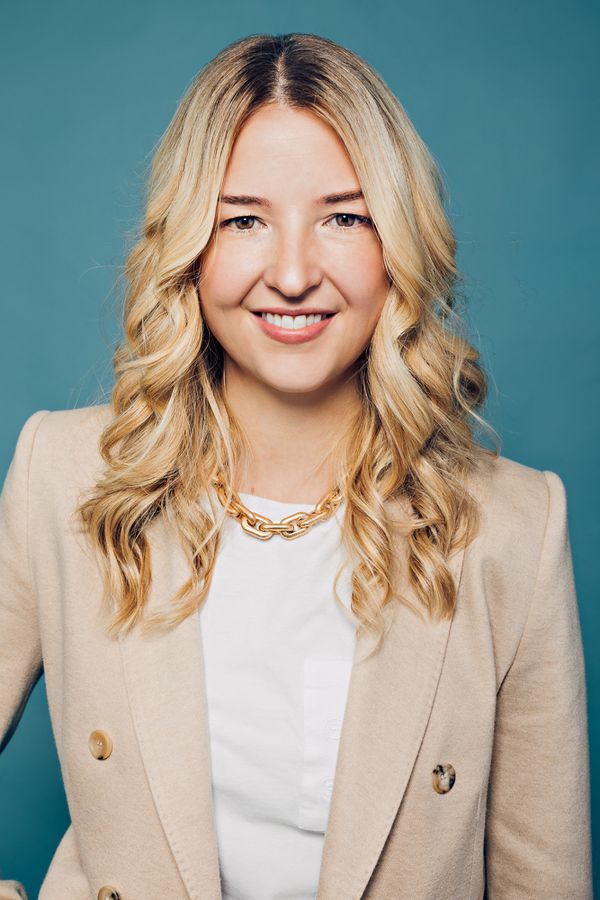 Four years ago, Vancouver entrepreneur Anna Sainsbury decided the time was right to step away from her role as chief executive of GeoComply, a Vancouver-based cyber security company she co-founded with her husband, to spend some quality time with her young children.
Last year the 39-year-old came back as CEO, refreshed, invigorated and ready to tackle the challenges of steering a company that had grown exponentially in her absence. When Sainsbury took her sabbatical in 2019, GeoComply had about 100 employees. Today, it has more than 500 in offices in Canada, Poland, Britain, the U.S. and Vietnam.
One of the first things on her to-do list was to work on team building so in February, 2022, Sainsbury flew to Kharkiv, Ukraine, where approximately one-third of GeoComply's work force was based. The first night she was there the war with Russia began.
"We had contingency plans but we never expected the war to be so violent, so fast," says Sainsbury, who managed to get 40 families to safety in Warsaw, Poland, and over subsequent months has now successfully relocated all of them to Toronto and Montreal. "It was a tremendous success but it was set in the context of an enormous tragedy.
"It feels like we ran a marathon with a lot of bridges missing along the way. However, we crossed the finish line and that's all that matters."
In 2022, Sainsbury said she spent a lot of her time ironing out the human-resources issues that come with transitioning from a small start-up to a multinational company.
This year, she plans to focus more of her creative energy on marketing and product innovation so that GeoComply is nimble and able to adapt quickly to changing market conditions.
"To elevate our team that might mean bringing in new talent, some who have already experienced the growth we are going through, so they can help us see around the corners.
"I also have very ambitious goals of educating the government on what online privacy means and where we should steer the conversation in terms of informed consent so that people really understand the pros and cons when they click, 'accept,'" adds Sainsbury.
"We want to help move legislation to help law enforcement prosecute and stop online child exploitation. It's a forever goal."
Three Ways I'm Practising Self-Care This Year:
"I'm going to schedule creative time into my schedule to follow pursuits I love such as gardening and painting."
"Instead of listening to audiobooks – usually at two-times the speed – I'm going to read books. I just started rereading Harry Potter. The books, and their creativity, inspire me."
"I'm going to continue doing neurofeedback four to six hours a week. It's a new science that helps improve the brain's neuro pathways. It's like doing a cleanse for the whole of me. I've never been this alert and present."
- Gayle MacDonald
Athlete – Karin Harjo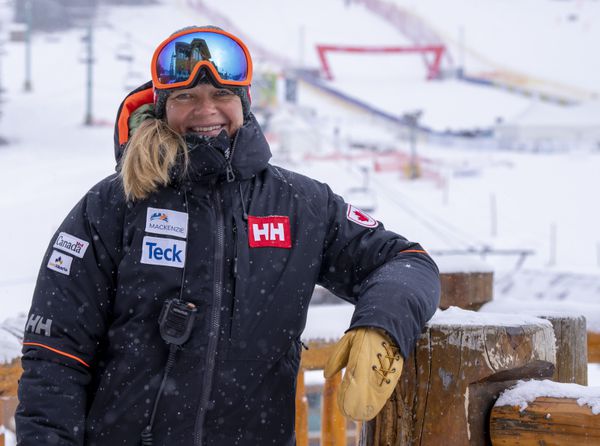 Karin Harjo says being named head coach of the Women's Canadian Alpine Ski Team last year was a milestone in her life she never saw coming: "It was a dream I never expected to come true," she says.
"I literally pinch myself every day that I get to do this job and work with these remarkable athletes."
Her appointment in March, 2022, was also a significant marker in the world of sport. It's the first time a female has been tapped to lead a Canadian alpine team, and Harjo is also one of the few women to ever hold the position across the entire World Cup circuit. (Marie-Theres Nadig coached the Swiss national team in the 2004-2005 season).
"I am humbled and honoured that Alpine Canada and so many others believed I had the skill set to lead this incredible group of women. That, in and of itself, is a huge responsibility and not something to be taken lightly."
The daughter of Norwegian missionaries, Harjo was born in Tokyo (her childhood was spent between Oslo and Japan) before moving to the United States as a teenager.
In the intervening years, Harjo, a gifted skier herself, worked her way up assistant coach of the U.S. women's ski team, working with champions Mikaela Shiffrin and Lindsey Vonn, among other American skiers.
Her job, as she describes it now, is simply to help athletes be the best they can be. "That has always been what has motivated me, helping athletes achieve their dreams.
"The lessons we learn in sports last a lifetime, and some of the people who have had the biggest impact on my life – besides my parents – have been coaches and teachers. My priorities for the new year, besides helping these athletes become the fastest racers in the world – is to help them embrace who they are, and to believe in who they are," Harjo says.
As the 2023 ski seasons kicks into high gear, she says she is determined to never lose sight of the fact that basic human kindness is important.
"What we say, how we act and how we treat others matters. It can make a huge difference in people's lives, often more than we ever imagine."
Three Ways I'm Practising Self-Care This Year:
"First and foremost, is checking in with home. My husband [Randy Pelkey] is head coach of the U.S. men's World Cup speed team. We joke that at least we're usually on the same continent. Regardless of how busy we are, we communicate every day. It centres me."
"Time is the most precious commodity we have so I'm going to make sure I invest in it in the right way and not waste it."
"Regardless of where I am, I try to cross-country ski with nothing but the sound of the wind, my heavy breathing and the whish of the skis. It's worth its weight in gold."
- Gayle MacDonald
CEO – Kirstin Beardsley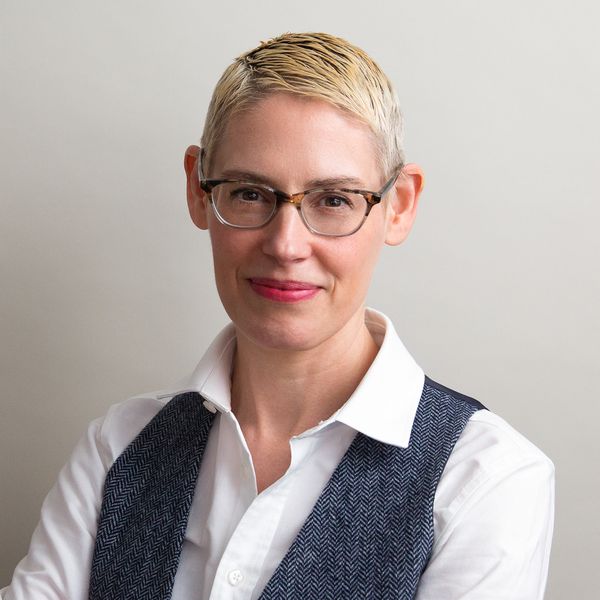 "It's been an interesting year," says Kirstin Beardsley, the chief executive officer of Food Banks Canada, which represents 5,000 hunger relief organizations across Canada.
When she started the role in February of 2022, Beardsley knew people were struggling, but she didn't realize she was going to be heading into the highest rate of food-bank use in Canadian history. "This is the work that I want to do," she says. "Obviously it weighs on me. It's a challenge."
Beardsley made it a mission to educate Canadians about the food crisis.
In a recent op-ed for The Globe and Mail, she called upon the government to reduce food insecurity by 50 per cent by 2030. And in an interview with the Toronto Star, she advocated for affordable housing solutions so low-income people can afford groceries.
In 2023, she will continue advocating for social policies that will reduce reliance on food banks. "I think it's time to make some material shifts to reduce food insecurity," she says.
"And I know it can be done because I get to see how many people care and how much work is being done across the country."
She hopes the same display of compassion and action is on display this year. "It's stepping into the courage and actually believing that we can make the change we know we wish to see," she says.
"And I think we'll need courage individually and collectively to solve hunger, food insecurity and the other problems we've got in front of us, and I have so much hope that we will. I just really do."
Three Ways I'm Practising Self-Care This Year:
"Making sure I take time to rest, getting enough sleep and getting enough cozy time with my daughter."
"When the work is heavy, as it often is in food banking, finding time to connect with people, sitting around and sharing a meal, to have a bit of joy leading into some of the tougher times."
"I take my mental health quite seriously – meditating, journaling, seeking professional help, doing physical activity to connect mind and body. I'm a walker, and I love to walk and explore neighbourhoods. I do yoga most evenings – a nice way to sort of wind down the day."
-Josh Greenblatt
Performer – Gisèle Lullaby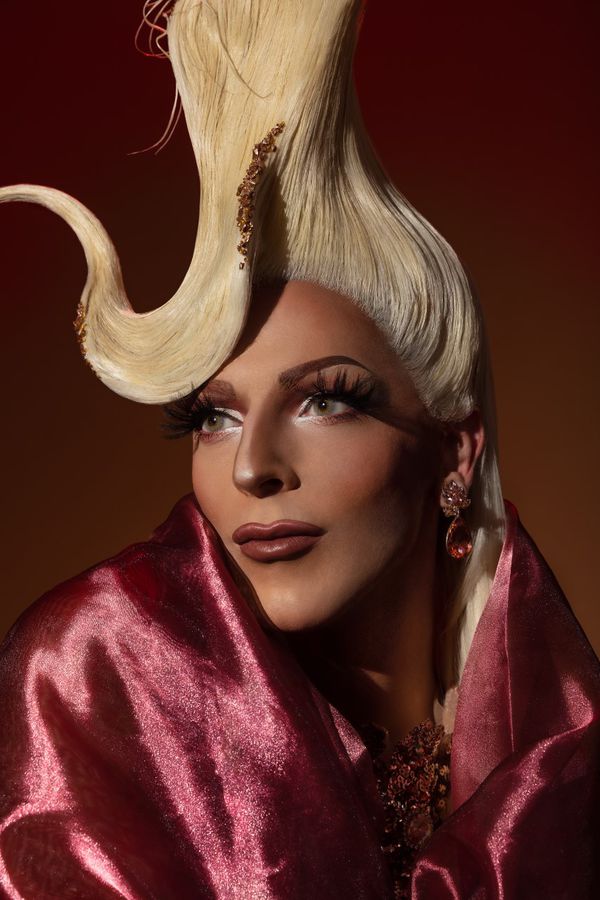 The thrill of winning Season 3 of Canada's Drag Race in September was quickly followed by feeling like an imposter, Gisèle Lullaby says. Did she deserve to win? Was she really the right choice? She couldn't summon the self-confidence to figure out what to do next.
It was her boyfriend who talked sense into her. "You never did a mediocre show before, so why would you start now?" he said.
It was all the Montreal-based performer needed to hear.
Her self-confidence restored, Lullaby, 34, is taking her love of drag and performing boldly into 2023.
She's writing a movie – "It's going be like an Ocean's 8, but with only gay and LGBTQ famous people from Quebec," Lullaby says – and hopes to launch a web series set in a drag bar. "I've been working in drag bars for 15 years and it's the best TV I've ever seen."
In the meantime, she's got a busy touring schedule. Early December saw her doing shows in Saint John, Ottawa and Montreal.
Born in Boucherville, Que., Lullaby says she fell for drag because of its power of transformation, similar to the way an actor putting on a costume can become someone entirely different.
"That's the excitement I was looking for, for the rest of my life. That's what drag gives me – the feeling that I am someone else mentally, the strength and the confidence of whatever the character can have."
Her stage name was inspired by Gisele Bundchen – the most beautiful, highest-paid supermodel in the world when Lullaby began performing in 2009, she says – and a little bit of tinkering with the French word for dragonfly, libellule.
Creative expression is at the heart of what Lullaby loves about drag.
"Every time I'm doing my face, Tracy Trash, who is a really famous drag queen here, she always says, 'Who are we today?' I always think that's a good question to ask."
Who is she today? She's someone who has shot to fame thanks to Drag Race – and plans on making the most of it.
"I always say that Drag Race is like the perfect golden ticket," Lullaby says.
Her resolution for herself and society at large for next year?
"Before putting someone down, put three people up."
Three Ways I'm Practising Self-Care This Year:
"FOMO does not lead to good sleep."
"Don't drink pop. It's too much sugar."
"When you think of your friends, call them. When you think about them, that's when you're having the feeling of joy with them, so call them. Enjoy every opportunity you have to talk to your friends."
-Dave McGinn
Senator & Doctor – Dr. Gigi Osler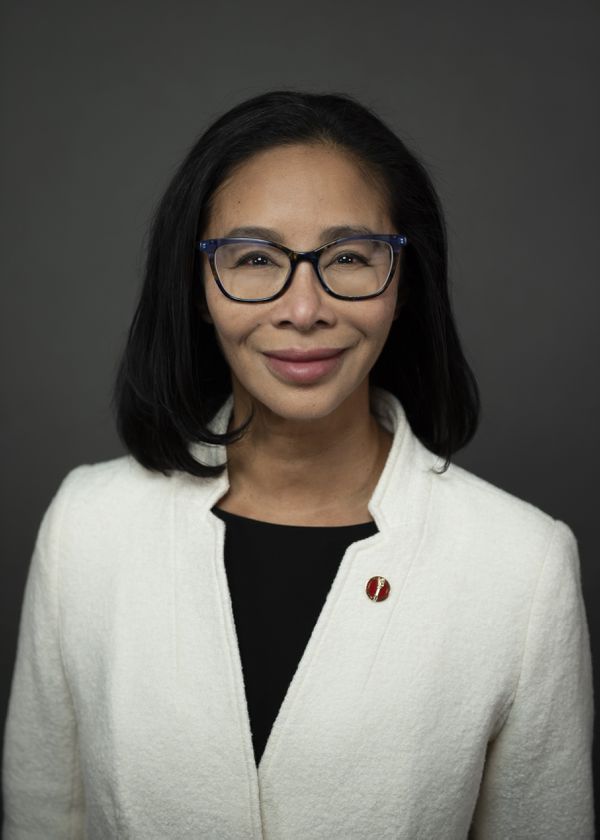 Becoming a senator was never something I thought to apply for. I had someone reach out to me and say, "I nominate you to the Senate of Canada." Sometimes you never see yourself applying for things or doing things until someone says, "Hey, I can see you doing that."
Instead of saying "Why me?" I tried to change my thinking and thought, "Why not me?"
In the spring, my application went in. There's an independent advisory board that reviews applications, and you don't get any feedback. So I just kept working and living my life, until August, there was a brief interview. Two weeks after that, I got an e-mail saying, "Dr. Osler, do you have time this evening to speak with the Prime Minister?"
I was at work. It was Wednesday, lunchtime. And I just dropped my phone. I was like, "Oh. My. Word."
Once you speak with the Prime Minister and accept the offer, it goes to the Governor General, who signs the orders. And all of a sudden, you're a senator. It's been a whirlwind since then.
Personally, 2022 has been such a transformative year. It started in my medical practice. I was working at a COVID testing clinic once a week. We were deep in a COVID wave. Fast forward, I'm sitting in the Senate of Canada as Manitoba's new senator, and thinking, "Wow. How did I get here?" To look at the legislation, to conduct inquiries and reviews in areas that are needed and to really help shape Canada's future, I just feel that is the greatest honour I've been given in my lifetime.
Medicine is a care-giving profession. And that is something I've always been drawn to – to service, to looking for ways to help others. Bringing some of that philosophy from medicine into the Senate is what I'd like to keep doing. Part of what I have to figure out in 2023 is to have a better idea of how to balance a career in medicine and the Senate.
As I continue to see patients, each one of them has said to me, "Please do something; I'm worried about the health care system for me and for my kids and my grandkids." And to my colleagues, including everybody working in health care, I see you. I hear you.
In 2023, stabilizing the health care crisis must become a priority for all governments, federal, provincial and territorial. In the darkest days of the pandemic, hospitals and health care workers followed an all-hands-on-deck mantra. There was a shared concern about the crisis and a willingness to work together to save lives. Now, it's time for governments to do the same to save the health care system.
Three Ways I'm Practising Self-Care This Year:
"Eat healthier. My kryptonite is potato chips and French fries, and if I'm stressed, I'm a stress-eater."
"Stop doom-scrolling on Twitter as I lie in bed. I'm one of those people who really does need seven, eight hours of sleep per night. So no phones in bed after 10 p.m."
"Start exercising more. Even just walking on the treadmill or doing yoga would be something I'd like to fall back into doing more regularly."
As told to Wency Leung
Floridez (Gigi) Osler is an otolaryngology-head and neck surgeon, assistant professor at the University of Manitoba and past president of the Canadian Medical Association. She was appointed to the senate on Sept. 26, 2022.
Writer – Suzette Mayr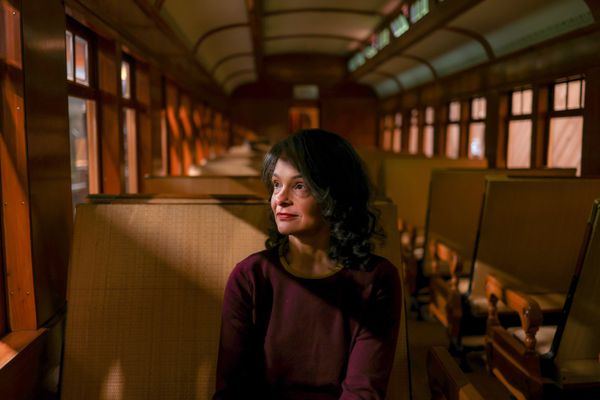 As the Calgary novelist Suzette Mayr discovered last fall, the weeks and months spent finishing a book are very, very different than the weeks and months after it wins Canada's richest literary award. Taking home the Scotiabank Giller Prize in November for her novel The Sleeping Car Porter instantly turned the 55-year-old into a marquee name.
"I kind of went from zero to 150 basically in an hour. I'm used to working in total obscurity, and suddenly festivals I've never even heard of are asking me to come," Mayr says.
She plans to take full advantage of the opportunities the $100,000 prize provides, particularly when it comes to attending those literary festivals clamoring for her presence.
"I'm picking ones where either I have friends in town or family, or I've never been before and always been curious, or I've always admired whoever it is who is running it. ... It's totally exciting. I'm loving it," Mayr says.
But as she enters the new year, the writer is also influenced by the weeks and months spent in near isolation while finishing the novel. She'll be reconnecting with her partner and her family, and getting back to other hobbies.
"I need to catch up with some elements of my life that I've let fall to the wayside through all of this and the writing of the novel."
Which isn't to say she won't be working on her next project.
"I have maybe the first 20 pages of what I think will be a haunted-house novel, that's my plan. But five years from now, who knows, it could end up being, I don't know, a spaceships story on Jupiter." Spending more time with the people in her life will help her figure out just what the next story is about, Mayr says.
Her resolution for society at large, especially political leaders, is to show more care for the environment and "minoritized people."
As for herself, she's resolving to likewise be a stronger force for goodness. "It's really a hard time and the planet's on fire, so I want to be a better citizen. I want to be a better inhabitant of this planet."
Three Ways I'm Practising Self-Care This Year:
"I will be attempting to practise the clarinet five times a week."
"I'm going to try to stop eating so much chocolate and try to eat more vegetables and fruit."
"There's a YouTube fitness program called HASfit, Heart and Soul Fitness, and I'm going to try to do that at least four times a week."
-Dave McGinn
Designer – Joey Gollish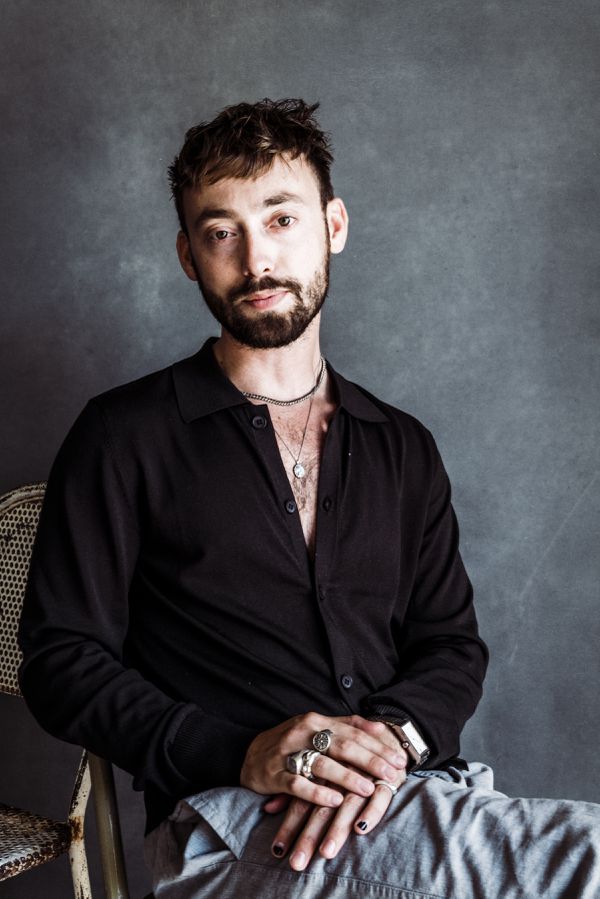 Joey Gollish is at the top of his game. "I think this was definitely a year where, in some ways, it felt like I accomplished everything that I sought out to do when I started the brand," says the founder and creative director of Toronto-based streetwear company Mr. Saturday.
Since 2017, Gollish has been steadily building his brand and refining his design language, which is informed by a broad range of subcultural references from 1960s psychedelia to 1990s raves.
All that work paid off in 2022 with two major collaborations with Roots and OLG, a Paris runway show and winning the Canadian men's wear designer-of-the-year award at the Canadian Arts and Fashion Awards.
"I'm really happy for all those moments," says Gollish of the flood of glowing press and success. "But what really makes me happy is being able to do the work that I do and like loving my work. So I think for 2023, [I want to] continue to focus on that and on creating pieces that tell the story of Mr. Saturday as I want the world to see it – but also, you know, pieces that help the brand grow."
Gollish and his team of three are ramping up for a big year ahead. But he does have one resolution for himself: to slow down. "I want to meditate 300 of 365 days," he says. "I try to meditate every day and I don't, so I'm setting the bar for myself high, but not unreasonably high. I think [meditating is] one of the biggest practices in my life that keeps me grounded and focused."
Zooming out beyond himself, Gollish hopes that, in 2023, people practise empathy and compassion. "I really hope that through everything we've seen this year and last year that people can truly be empathetic of the person that lives next to them," he says.
"I wish that people were able to put themselves in other people's shoes a bit more often and understand, you know, how decisions have to be made and what it really takes to move society forward. I think that a lot of the time we're really quick to place blame on people, and I just hope that people can maybe be a bit more empathetic to everybody."
Three Ways I'm Practising Self-Care This Year:
"I would like to do cryotherapy. I definitely put a lot of emphasis on taking care of my mind and body. I've read a lot about the benefits of cryo, and just never taken the time to do it. That's something that I want to do this year."
"I want to go on a one- or two-week meditation retreat that will likely involve a vow of silence. I've been reading a lot about the benefits of not speaking and silence and meditation."
"I want to go on a vacation with my family. My whole family's pretty active, and my parents really love to ski. It's something that we used to do a lot of as kids, and I just haven't done it in a long time. So I want to take the time to do that."
-Josh Greenblatt
Architects – Brian Porter and Matthew Hickey
Brian Porter and Matthew Hickey have seen a year of hardship and growth.
As leaders of the firm Two Row Architect, they found themselves working on important public and educational buildings. Following a design competition win in May, they've been on the design team for the Block 2 office buildings for Canada's Parliament.
Yet as Indigenous architects, they're facing a reckoning with Canada's history of violence. In May, 2021, the Tk'emlúps te Secwépemc announced that about 200 previously undocumented graves of children had been found at the former Kamloops residential school.
Porter, of the Oneida Nation, and Hickey, of the Mohawk Nation, pursue a process that favours conversation, particularly with local Indigenous people. This work has sometimes been difficult, and yet they say their ways of thinking and working – collaborative and sensitive to nature – are only becoming more widespread.
Porter: In talking about this year, you need to start with a low: the discovery of the graves at residential schools.
Hickey: Our people have always known about the children's graves, and the news is just a confirmation for us. But … in our meetings, which are usually Indigenous-based, we're constantly faced with people talking about that. Sometimes you don't realize how it affects you. I had one meeting where I had to leave. Emotions had just piled up on me, and I wasn't taking care of myself.
For our work with Toronto Metropolitan University on a land acknowledgement – a project that for now we are calling "the ring" – we did six sharing circles, listening to the community. It was really through our conversations that we came to the design idea.
Porter: It was really participatory: a very open, honest dialogue. And the process was as much fun as making the actual solution.
Hickey: We're happy to see western ways moving closer to Indigenous ways of thinking and being. We're seeing more respect for our Mother Earth through the use of mass timber and net-zero-carbon buildings. Things that we've been doing traditionally for thousands of years are coming back into fashion.
Porter: We've also noticed that, in design work, you're getting multidisciplinary teams together very early on. To sit with the engineers and landscape architects and the arborists – it feels like the solutions are richer, more integrated, more woven into the city and the landscape.
- Alex Bozikovic
Actor & Writer – Fab Filippo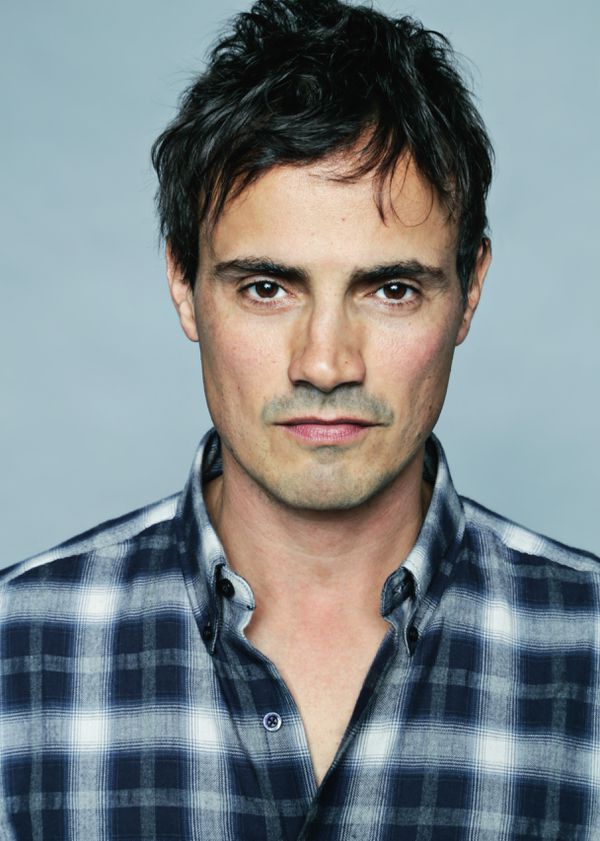 Fab Filippo was performing in a play at Toronto's Tarragon Theatre in 2018 when he first met fellow actor Bilal Baig, with whom he developed a fast rapport.
When they weren't practising their lines, the pair could be found backstage with their laptops open, each working away on different writing projects. "We started talking about ideas," remembers Filippo, whose acting credits include Buffy the Vampire Slayer and Queer as Folk.
"I always thought Bilal was an incredible actor and one day I said to them, 'We could build a show around you,'" says the 49-year-old dad.
"And they said, 'Why don't I do it with you.' That led us to talking about ideas around transition – that everyone, throughout their lives, goes through transitions of some kind. It's a constantly evolving process that is different for everyone."
That concept became the central theme of the critically acclaimed TV show Sort Of, which Filippo and Baig co-created about a gender nonbinary nanny and bartender named Sabi Mehboob (Baig). Audiences loved the funny, sensitive portrayal of an individual trying to be seen for who they really are.
In its first 2021 season, Sort Of picked up three Canadian Screen Awards and a Peabody. Last year, The New York Times dubbed the CBC/HBO Max half-hour comedy one of the best shows of the year.
At the end of December, it was picked up for a third season, a vote of confidence that Filippo describes as "amazing and terrifying at the same time."
"I don't think any of us anticipated the show would have this kind of success," he says. "And I'm thrilled. But now it's like, okay, we get to do this again. But how do we do it? How do we keep it fresh? The biggest thing I'm going to be working on, both personally and professionally, in the new year is learning to be okay with uncertainty. Coming to terms, in other words, with the whole idea of being comfortable with not seeing land for a while, just sitting in ideas, not worrying about deadlines, trusting you're going to get there."
Whenever he and his writing team feel a little stale, he adds, they turn to audience feedback. "A show like this touches people in a really important way," says Filippo. "We get messages constantly that Sort Of has given them the confidence to be their authentic selves or shown them that there is a different way to live. It's incredibly inspiring and life-changing when this is your work."
Three Ways I'm Practising Self-Care This Year:
"I'm going to continue seeing my life coach, Lisa, who is like my work therapist. She's been instrumental in helping me figure out how to get the best out of people and to give them great [work] experiences. I want to do both."
"I'm going to make meditation a regular thing. In the past I've done it when I think I need it. I want to make it a ritual."
"I'm changing my diet. Not in a super radical way, but I'm watching my blood sugar and inflammation by cutting down on simple carbs and sugars. When my body is full of good proteins and vegetables my anxiety level drops. Everything about me feels better when I'm eating right."
- Gayle MacDonald
Sign up for The Globe's arts and lifestyle newsletters for more news, columns and advice in your inbox.
Keep up to date on the latest nutrition news and dietary advice, fitness tips and wellness trends.