I do my best to learn from the folks whose vocation puts them in the middle of Star Wars news. However, Clayton Sandell's work keeps him smack dab in the midst of breaking news both here on Earth and in distant galaxies. Through it all, his Twitter handle remains a one-stop-shop of essential updates, and he'll often dispell/confirm a Star Wars rumor here and there. After corresponding via DM for several months, Clayton agreed to let us all in, and let us know about his life, his job, and his love of Star Wars. Below is Part 1 of that Q & A.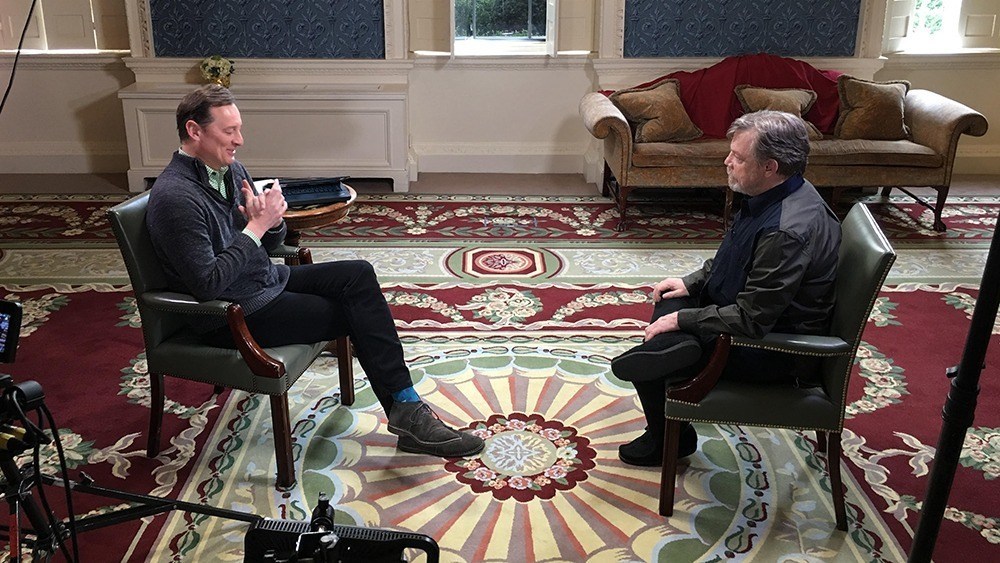 You've had so many opportunities to cover Star Wars this year — stories like "The Force Sound" and Ireland with the Hamills — what was the most eye-opening?
Oh man, where to begin? I love it all! But going back to Skywalker Ranch and Skywalker Ranch for a few days to shoot "The Force of Sound" is a bright highlight among many. Of course, to begin with, it's this incredibly beautiful, semi-hidden place that has such a mythology tied to it and George Lucas. Driving in and walking around, I didn't take a second of it for granted and tried to commit everything to memory, knowing I was truly living a privileged moment. When I saw the big main house (where Lucas has his office) for the first time, it literally took my breath away. It's stunning, inside and out. Even better, they have some props from the Indiana Jones films in a glass case off the foyer. When I saw them my eyes just about popped out of my head!
Spending time at Skywalker Sound definitely opens your eyes not just to the mechanics of good sound design (which is fascinating), but to just how stellar the talent there really is. I mean, everybody there is contributing at an A-plus level. And as a behind-the-scenes geek, it's fun to think about the women and men who have worked on Star Wars films over the years, and how cool it is that the history of creativity, innovation, and problem-solving continues to this day both at Industrial Light and Magic and Skywalker Sound. They're some of the most brilliant and fun people I've ever met (see the video linked via tweet below).
Streaming now! Check out "The Force of Sound", an ABC News Features inside look at the sound design of #TheLastJedi with @rianjohnson, @matthewood & the @skywalkersound team! https://t.co/57ZeFAt4el @ABC pic.twitter.com/WdtgJ14p9w

— Clayton Sandell (@Clayton_Sandell) February 20, 2018
I feel like I've really gotten a better understanding in general for how these films get made, and the herculean tasks the crews pull off, which is why it's always so odd for me to see people worrying about things like "Solo" still being finished in March and April, thinking that's a somehow a bad sign or that the movie is in trouble. I'm always reminded that John Knoll told me that the final visual effects shots for Rogue One weren't delivered until the week of Thanksgiving for a film that premiered December 10, and look how that turned out. It's phenomenal, one of my favorite Star Wars films.
Getting to know some of the people that make a living making or supporting Star Wars has been a blast. The Lucasfilm public relations and StarWars.com teams are always really good to us, tremendously helpful and supportive. (At least the ones who don't call security on me for frequent loitering.)
Ultimately, I am so deeply appreciative for the people I've met, the friends I've made, and the places I've been that I really want my stories to help share those experiences with fellow fans. Hopefully when you watch us on ABC News you get a sense of going along past the locked doors and gates into this incredibly cool world where really talented folks are creating Star Wars.
How would you describe yourself? As a fan? As a reporter?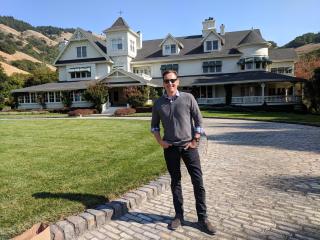 My job at ABC News is correspondent, the network's fancy name for a reporter. I LOVE what I do, and most of the time it doesn't feel like work. (Though, there are some tough days and stories, for sure.) As a kid, my uncle gave me a Radio Shack police scanner, and I always wanted to know where the fire trucks or the cop cars were going, to be in on the action in some way. I guess that continues to this day.
I'm super curious about a lot of things, and so if there's something that interests me, I want to find a way to get to the center of it. I cover all sorts of news stories mostly in the western U.S., but occasionally, all over the world. And the topics, schedule, and opportunities are so varied; there's no 9-to-5, stuck-in-an-office aspect to anything I do. We have to be prepared for anything, every time the phone rings. It's been good training to deal with just about every situation you can think of, and after all this time at ABC (18 years), I could probably teach a master class in crisis communications at this point.
I love all kinds of stories. From hard news to features. I like the rush of racing to the airport to get to the latest breaking story. But I especially love stories about people doing extraordinary things for the good of others. Whether it's the man in Denver, who started a softball league for the homeless, or the off-duty sheriff's deputy shot and wounded protecting his girlfriend during the Las Vegas massacre. It's a privilege getting to meet people like that and help tell/share their experience.
What is your earliest memory of Star Wars? What do you think drew you to the franchise?
I was four years old. My Aunt Christine and Uncle Chris took me to the one movie theater (at the time) in my hometown of Riverside California. I remember them explaining who the good guys and bad guys were before the lights went down. And of course, I was mesmerized. The music, the action, the characters, instantly falling in love with Princess Leia… I mean, how could you not love this movie? Being four, Star Wars just inserted itself into my DNA. I got my first lightsaber on Christmas Day, 1977 (see video above).
Like a lot of people, but especially a four-year-old, Star Wars was just this magical combination of heroes and action and aliens and awesome bad guys and a beautiful princess and amazing music and WHEW… it just took hold in my formative imagination, and that was universal among my friends too. That whole era of Star Wars, Raiders, ET, Back to the Future, Gremlins… it was a great time to be a kid.
And of course, let's not forget the music and the great John Williams. I may not know every line of every movie, but I can hum almost any John Williams score by heart. I do it so often I forget I'm doing it. My wife makes fun of me!
Tell me about your different media outlets; Favorite (type of) reporting/episode(s)?
Video: Our @nightline story: How 'Rogue One's' Princess Leia, Grand Moff Tarkin Were Created by @ILMVFX https://t.co/PZIiKlxia5

— Clayton Sandell (@Clayton_Sandell) January 5, 2017
At ABC I'm incredibly lucky to have a lot of great platforms to share our Star Wars reporting. There's TV of course, and over the years I've done Star Wars stories for "Good Morning America," "World News Tonight with David Muir," and "Nightline." But we also have a powerful digital presence that is always hungry for Star Wars, so I file quite frequently there too. Our 30-minute mini-documentary "The Force of Sound" was part of our long-form ABC News Features brand, and parts of that (including an extended version of my interview with director Rian Johnson) were distributed by our ABC News Radio team. So I do my best to spread the Star Wars love far and wide wherever I can.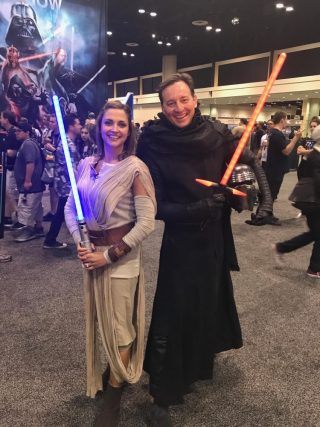 I have many favorite Star Wars-related events, but Celebration Anaheim in 2015 was special for me. Never having attended one, I was originally going to attend as a civilian (I'd already taken time off work and bought my pass) but and ended up filing a bunch of stories for ABC. But Celebration was my first real introduction to Star Wars fandom and getting to share in the energy and excitement of this thing we all love in a very communal and tangible way. It was like "The Fandom Awakens" for me.
It's where I first met and became a big fan of Anthony Breznican, not just for his reporting and writing ("Brutal Youth" is incredible) but he's just a great all-around human being. It's where I met Adam Ingeme, who had come all the way from Australia in his stormtrooper armor. Adam, interestingly, would meet his fiancée Tracy Gardner at Celebration Anaheim, and I ended up doing a segment on their romance from Celebration Orlando in 2017.
I first met the folks at Anovos in 2015, and we've done a lot of fun stuff with their costumes, including a "Good Morning America" Rey vs. Kylo lightsaber battle starring Paula Faris and myself at Celebration Orlando.
One of my favorite things to happen at Celebration Anaheim was born out of a need to do our standard disclaimer about "Lucasfilm and ABC both being part of the same parent company, Disney." (We put a version of this disclaimer in every Star Wars story we air, for transparency.) As I walked the convention floor, I spotted a stormtrooper and asked if he'd help us. He did the disclaimer for me in one take, even adding a clever "move along!" at the end. I didn't get his name then, but it was a great addition to our TV piece (below).
Work and fun colliding in the best way. Our @WNTonight @starwars story:http://t.co/5i6bysZEqr #SWCA pic.twitter.com/O7YpXIk3sE

— Clayton Sandell (@Clayton_Sandell) April 17, 2015
Then, a year later, I was standing in the middle of the sand dunes in Glamis California for a Nightline story about a group of friends making a Star Wars fan film called "The Sable Corsair." There was a group of 501st Legion stormtroopers appearing in the movie, and one of them walks over and introduces himself as Reuben Camerino, the guy who I'd asked to do our disclaimer a year earlier! It was such a wonderful, weird coincidence, but evidence of just how simultaneously huge and small Star Wars fandom communities can be.
Do I prefer hard news or entertainment? Honestly, I love both. By nature, I'm a hard news guy and love working on the big, important stories of the day. But it's all about finding the right balance in the Force, so to speak. For me, covering Star Wars is fun. But I don't want to do just the junket/red carpet interview stuff. I'm more interested in trying to do deeper stories and projects like "The Force of Sound." It is very rewarding, and an escape from the usual news diet of tragedy and destruction. To quote my colleague, the great Martha Raddatz, most of my day-to-day stories are hard news, the "vegetables" of the news diet.
But if I get the chance to jump into a Star Wars story or two every once in a while, and all the same rules of journalistic integrity and standards apply, then I'm going to raise my hand and fight to do them whenever I can. As Martha says, "who wants to skip dessert?"
In Part 2, Clayton talks Solo: A Star Wars Story. the EU, and the future of Star Wars. JB