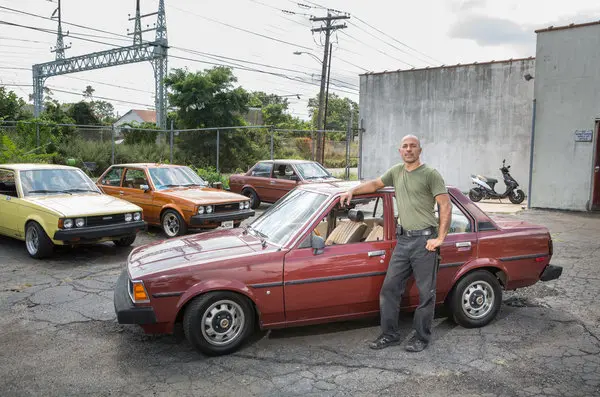 WEST NYACK, N.Y. — Luis Bonilla was inching his brown 1982 Toyota Corolla from a tight parking space outside the Clarksville Inn when something caught his eye. As he watched his mirrors for traffic approaching on Strawtown Road here, a Corolla nearly identical to his, but with shinier paint, drove by.
"I don't believe it — two of them together," said the 41-year-old father of two, his voice betraying a level of excitement people rarely display for 30-year-old econocars. But Mr. Bonilla is enthusiastic about his hobby, customizing and racing Toyotas that he calls old school, the term describing the carmaker's rear-wheel drive models built until the late 1980s.
He followed the Corolla, two cars ahead in traffic, as it turned east onto Rt. 59. At the next stoplight he admired its well-preserved condition and snapped photos with his phone. The driver, an older man, never seemed to notice.
"It's an '83," Mr. Bonilla said, explaining that the color was offered on Corollas for just that one year.
Aside from its color, a Champagne-like shade called Shell Metallic, the car looked identical to Mr. Bonilla's 1982 four-door sedan. A daily-driver with 170,000 miles that he bought two years ago, it is one of his family's seven Toyotas.
Mr. Bonilla's zeal for such an unremarkable model might puzzle car enthusiasts who look down on Corollas of any vintage as prosaic. His devotion to Toyotas, he says, is rooted in their reliability and the ease of modifying them for much more power and performance.
"They're also part of my heritage," he said, referring to the popularity of Toyotas — and people racing them — in Puerto Rico, where he was born. His family left the island in 1979, when he was 7.
Mr. Bonilla said he inherited his love of cars from his father, who did body repair work, and his uncle, who always drove an older Cadillac and still drives a 1980 Toyota Corolla in Puerto Rico.
"I just shipped him a dashboard," he said.
Mr. Bonilla's family lived half a mile from a dragstrip, where, he said, there was an active Toyota racing scene. His mother, concerned about safety, would not allow him to go to the track, but he remembers when the motorcycle daredevil Evel Knievel came to do one of his famous stunts.
"I climbed a tree outside the track to watch," he said.
Mr. Bonilla, who now lives in Stratford, Conn., and drives a tractor-trailer for a living, took up his Toyota hobby as a teenager, after seeing a friend's car.
"It was a '76 Corolla with a 3TC," he said, using the carmaker's code for the 1.8-liter 4-cylinder engine that is popular with Toyota hot-rodders.
Like a BMW or Porsche buff, Mr. Bonilla refers to his Toyotas by the manufacturer's internal codes rather than their familiar model names. His favorite Toyota, the '70s Celica coupe, is known as an RA21, and the 1969 Corona coupe belonging to his 21-year-old son, Luis Jr., is an RT43.
Mr. Bonilla said that in the 1990s he and his friends encountered anti-Toyota prejudice at car shows, where their efforts were ignored.
"No matter how good our workmanship, we could not get respect or awards," he said. "They were never going to give a 'best paint' trophy to a Toyota over a Chevelle."
His response was to start the Old School Toyota Car Club of Bridgeport in 2000. Its 11 members, many from nearby towns in Connecticut, own 25 cars among them.
Ten years ago, Mr. Bonilla began organizing his own shows. Although skewed to older Japanese models, the events welcomed any cars, including American muscle cars like his neighbor's 1969 Chevelle SS396.
Mr. Bonilla took some inspiration from a big import car show he attended in Southern California, organized by a Toyota owners club run by Terry Yamaguchi and her husband, Koji.
"My shows offered a new playing field," he said. "At the first one, we had 32 cars. At our tenth and final show this year, we had 330. Cars came from as far away as South Carolina."
This year, Mr. Bonilla organized his club's first drag racing track day, renting Lebanon Valley Dragway near Albany, N.Y., on a weekday in May.
"It was a family event," he said. "The guys brought their wives and kids, and we grilled."
Most of the 38 cars that participated were older Toyotas, Datsuns and rotary-engine Mazdas. Modifications to the cars include souped-up engines, bigger wheels and brakes and lowered suspensions — similar to what the owners of American models, who were also invited to participate, do to their cars.
"We used to not talk to each other," said Mr. Bonilla of the muscle car owners. "Now we exchange ideas, we learn from each other."
They could certainly learn something from Mr. Bonilla. The 1973 Celica that he drag races would impress even the most devoted fan of Detroit's products. The turbocharged 3TC engine he built for it makes 462 horsepower, as measured on a dynamometer. The car has blazed down the quarter-mile in 10.2 seconds at 131 m.p.h.
Because there are few speed parts available for older Toyotas, Mr. Bonilla must adapt parts from other cars and even make some of his own. For his Celica, he bolted an aftermarket turbocharger to an exhaust manifold that he fabricated. The car's 5-speed manual transmission came from a wrecked 1990s-vintage Ford Mustang GT.
"Old school" certainly doesn't apply to Mr. Bonilla's approach to engine technology. He does not bother with the carburetors that came on the older cars, but installs modern computer-controlled fuel injection.
"I incorporated everything I've learned into that car," he said. He plans to make the Celica even faster by building a turbocharged 4-cylinder engine from a Toyota Tacoma pickup truck, which he estimates will produce 900 horsepower.
Mr. Bonilla also owns a second Celica, a 1972 model that he rescued from a scrapyard in Norwalk, Conn., 20 years ago, paying $200. He drove it for years and now he's replacing its 4-cylinder engine with a 3-liter in-line 6 from a 1990s Lexus SC 300.
"When I finish, it will look like it came factory-installed," he said. "I do that with all my engine swaps."
A 1969 Toyota Corona that he is customizing with Luis Jr. has a 400-horsepower V-8 from a Toyota Tundra pickup. For now, the young man's daily transportation is a mildly customized '82 Corolla coupe with a 2RZ 2.4-liter 4-cylinder engine from an older Tacoma truck.
Mr. Bonilla's wife, Madeline, and the couple's 16 year-old son, Jonathan, also enjoy the Toyotas. Mrs. Bonilla drives a 2006 Avalon, and a "fun" car for her, a 1985 Corolla GT-S, is in the works. It's a rear-drive model with its own loyal following among Toyota buffs around the world, who know it as the AE86.
Organizing more drag race days is in Mr. Bonilla's plans, with an eye toward growing participation. He cited the Pan American Nationals, an event held each July at Atco Raceway in southern New Jersey. That event, for older Japanese cars, began 19 years ago with a few dozen participants. It grew into one of the track's two largest annual events, the other being Honda Day, according to Joe Sway, who owned the track until last December and remains a consultant there.
"We had to limit the number of racecars to 350," Mr. Sway said. "Cars come from as far away as Aruba, Canada, Curaçao and Puerto Rico to race."
Mr. Bonilla did not finish the engine work on his Celica in time to make this year's race. Instead, he installed a turbocharged Tacoma 4-cylinder engine in his son's Corolla for the race.
"Nothing crazy, a simple swap," he said in an e-mail. The Corolla ran the quarter-mile in 12.07 seconds at 110 m.p.h., but driveshaft problems kept it from further competition.
Mr. Bonilla's brand loyalty is not absolute. He tows his racecars to the track with the one vehicle in his family that's not a Toyota, a Dodge Dakota pickup.
"It's a well-made, reliable truck," he said.