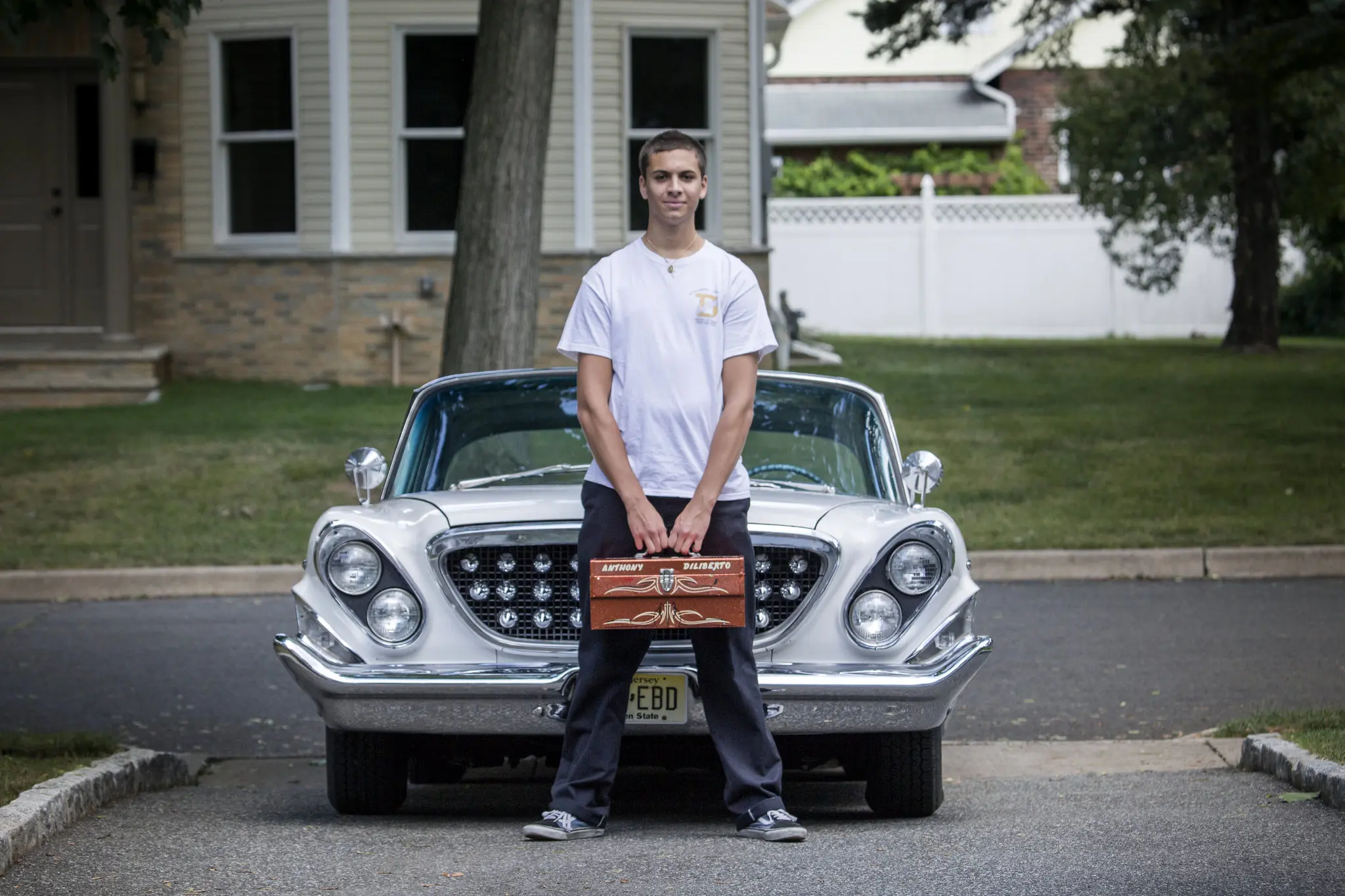 NEW MILFORD, N.J. — The course of Anthony Di Liberto's passion for car culture is neatly summed up in two snapshots.
In the first photo, taken when he was 10 years old, he is intently studying a pinstripe artist, Alan Johnson, applying fine lines of paint to a body panel at an annual car show in New Jersey. In a second photo, taken five years later at the same event, the Dead Man's Curve Wild Hot Rod Party, he has progressed to working side-by-side with Mr. Johnson.
"He's been watching me for years, kind of shadowing me," said Mr. Johnson, considered a master of the craft by the owners of hot rods, customs and multimillion-dollar classics who hire him.
The second photo was taken last year. In November, when Mr. Di Liberto turns 17, he will take his state driver's test.
With his license, he will be able to drive to New Milford High School in the North Jersey suburbs, where he'll be hard to miss at the wheel of the leviathan 1962 Chrysler Newport that he bought with earnings from his pinstriping commissions.
A desire to stand out is not what motivated the young artist to buy a car that is more than three times as old as he is.
"Anthony should have been born in the '60s," his father, Don Di Liberto, quipped on the patio of the family home here.
The observation was more about the gravitational pull that old cars exert on his son, a high school senior, than a reference to, say, an affinity for the Woodstock era. But an attraction to the early part of that decade certainly influences the teenager's tastes: He cited the car-centric coming-of-age movies "American Graffiti" and "Grease" as favorites.
Encouraged by his father, who has been taking him to auto events in the Northeast for many years, Mr. Di Liberto pursued his interest in cars and art.
"I always loved to draw cars," he said. "My dad taught me how to draw flames on them."
Watching Mr. Johnson work, Mr. Di Liberto said, inspired him to take up the pinstriper's brush. Mr. Johnson credits a similar episode from his own youth — the time his father took him to see Ed Roth, creator of the Rat Fink cartoons, striping a car in New York City — with sparking his career in art and advertising.
"Anthony is a gifted young man," Mr. Johnson said in a phone interview. "It will be interesting to watch where he goes with this."
Mr. Di Liberto, who has had no formal training, initially did his artwork on paper, then on metal panels. "At first, I basically made a mess," he said.
He kept at it, upgrading his tools and practicing faithfully.
He said that one of his proudest moments came last May, when he was invited by Mr. Johnson to letter a restored 1960s drag-race car, the "Hemi Healy," an Austin-Healey powered by a Chrysler V8. (The misspelling was intentional.)
Some pinstripers have encouraged Mr. Di Liberto to pursue the craft as an occupation, but he sees it as a potential sideline to a career as an automotive technician. In that, he'd be following his father, a technical trainer for BMW of North America at its Woodcliff Lake, N.J., headquarters.
"My dad is my hero," he said.
In his high school years, Mr. Di Liberto has been honing his mechanical skills building custom bicycles, using parts scrounged from garage sales and eBay. This summer, he combined parts from Schwinn Town and Country Tri Wheeler and Sting-Ray models, painted the unique concoction of candy-orange metalflake, and rode it around town.
Even while building bikes, he'd been preparing for the day he'd buy a car.
"I wanted an old car as a daily driver, but I thought that it was unattainable and would be hard to maintain," he said.
Mr. Di Liberto's personal taste dictated a pre-1965 four-door sedan, a model that would be more affordable than a coupe or convertible of that vintage. At times, the search led to disappointments, as sellers, he found, misrepresented their cars. The most discouraging episode involved a drive to Maryland to see a 1964 Chevrolet that he was sure would be his car.
"I called the guy when we were about a half-hour away," said Mr. Di Liberto. "He said, 'I just sold it' and hung up. I was devastated, but also embarrassed, because my parents had given up their Saturday to drive me."
Consoling him, his father advised that such a letdown was a basic lesson in buying an old car. Not long after that incident, Mr. Di Liberto found the Chrysler just half an hour away, in Fairfield, N.J. He took a liking to the headlight design, an odd canted configuration that is very similar to 1958-60 Lincolns. It was a look that customizers of the period liked to add to their own creations, he explained.
He and his father went to see the car on a rainy day last March.
"When the guy popped the hood and we saw that you could eat off the engine, we looked at each other and both knew this was the one," Mr. Di Liberto said.
The car, which had just 50,000 miles, was mostly original. The seller delivered the Chrysler to the Di Liberto home a week later and gave the new driver a stack of documents. He also went over the car thoroughly, pointing out any items that might need attention.
Added to the Chrysler line in 1961 as a lower-price entry model, the Newport lacked the pillarless hardtop roofline and plush interior of the larger New Yorker sedan. It remained the Chrysler brand's most popular car for many years.
Mr. Di Liberto paid $4,500 to become the car's fourth owner and started adding custom touches right away. He modified the suspension to make it ride lower, doing the heavy work by himself in his driveway. He painted a subtle metalflake pattern on the roof's edges and redid the grille and headlight bezels in black. The 28 chrome bullet-shape ornaments he attached to the grille cost $8 each; he added one to each hubcap, too.
The Chrysler is huge by today's standards, 215 inches long and boasting expansive rear legroom. Still, one must duck to enter it because of the lowered stance.
On the drive to his favorite hangout, the Cool Beans coffee shop in the neighboring town of Oradell, Mr. Di Liberto showed confidence and smoothness that belied his few months of at-the-wheel experience. His learner's permit allows him to drive with a licensed adult in the front seat.
He enthusiastically showed off the Chrysler's unusual interior features, including a steering wheel that's not quite round and a rearview mirror mounted to the dashboard instead of the windshield.
The turn signals operate from a lever on the dashboard and make the pronounced ka-link, ka-link, ka-link sound characteristic of older cars. Above the lever is a highlight of Chrysler products from the period, the push-button control panel for the TorqueFlite automatic transmission.
The centerpiece, however, is surely the instrument panel, a 1960s vision of future tech that Chrysler called Astradome. A chrome-trimmed plastic bubble houses a large semicircular speedometer and smaller ancillary gauges in a kind of 3-D fishbowl array. When the headlights are on, the gauges glow blue; Chrysler called it Panelescent.
The front seat, a broad bench upholstered in vinyl and fabric, felt squishy and unsupportive, typical for the period. The 361 cubic-inch V8 is quiet and smooth running, but it guzzles fuel. Filling the tank costs $80, a drawback, Mr. Di Liberto lamented, that makes him carefully consider driving distances.
Underway, the car took gentle curves well, but it rode somewhat stiffly, mainly as a result of the lowering blocks installed in the rear suspension. Chrysler claimed rattle-free driving for its unitized body structures, and, except for a loose metal speaker grille atop the dashboard, that's true of Mr. Di Liberto's car. He doesn't use the car's Golden Tone AM radio, but instead connects his iPod to an aftermarket stereo in the glove compartment.
Any teenager pining to drive a modern, sporty car in high school would be sorely disappointed behind the wheel of a 1962 Chrysler. But Mr. Di Liberto has found his automotive bliss.
Speaking more out of enthusiasm than boastfulness, he added: "I think I'm going to be that kid at school. I'm tall, kind of goofy and artistic. Now they'll also remember me as the kid with that cool car."