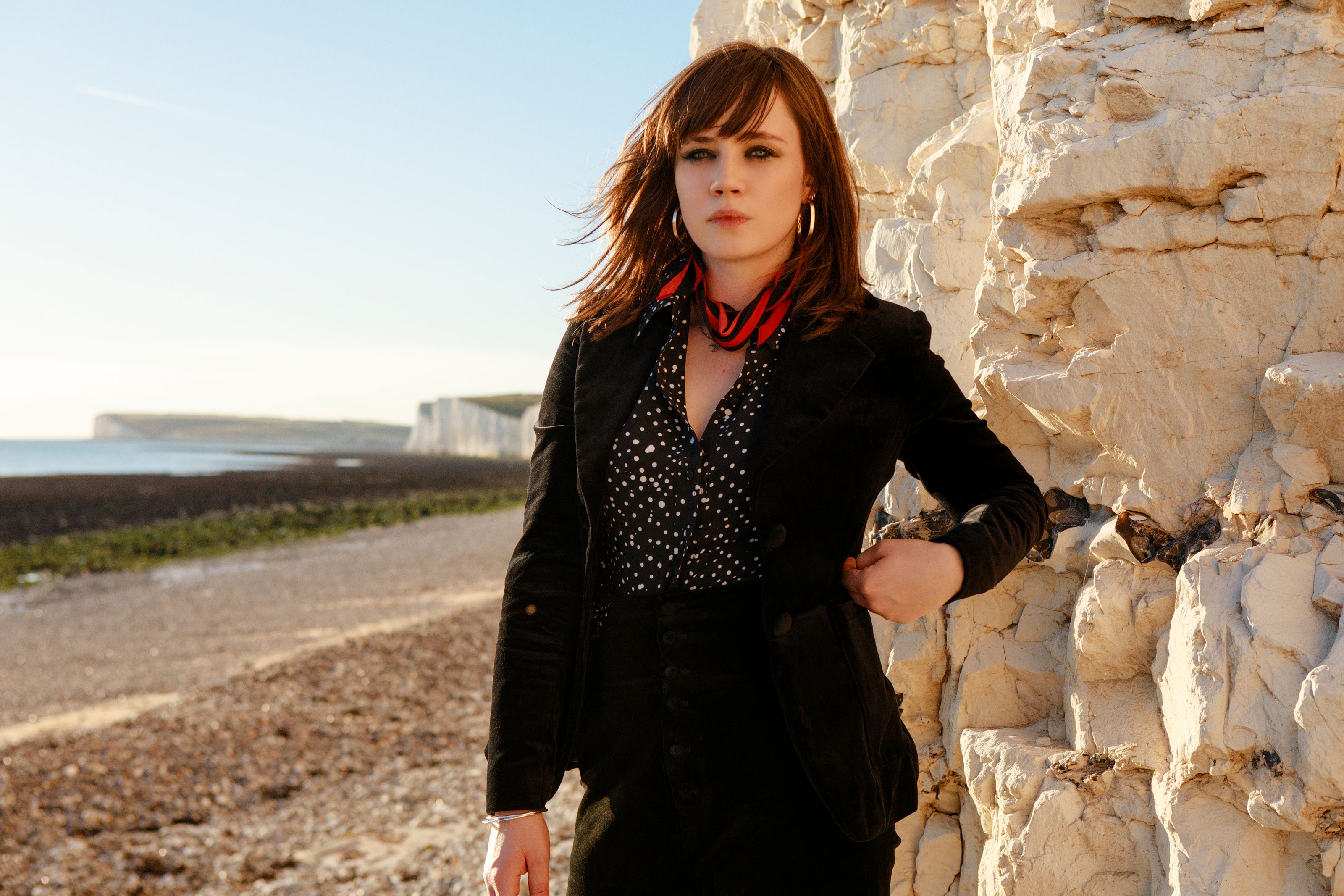 Rose Elinor Dougall was a founding member of girl band The Pipettes before going solo and working with superproducer Mark Ronson. So how did lockdown in Lewes inspire her creativity? Words: Jeremy Blackmore. Photos: James Kelly
Singer-songwriter Rose Elinor Dougall finds herself inescapably drawn to the county where she grew up and took her formative steps into music. She cannot help but be inspired by the dramatic landscapes of Sussex, choosing the beauty and grandeur of Cuckmere Haven and Seven Sisters as locations for the photoshoot for her recent album A New Illusion.
Rose has spent the last 15 years touring the world, first with Brighton girl group The Pipettes and latterly as a solo artist and with superstar producer Mark Ronson. Although she is now based in London, she retreats to the Sussex countryside every few weeks.
Lockdown was spent at her mother's house in the countryside outside Lewes. It was a real antidote at a troubling time, but it is a journey she makes on a regular basis.
"Every few weeks I need to get out of London, come down and be amongst those different landscapes. I feel that's where I belong.
"I feel very, very attached to the landscapes of Sussex. I've been going to the Ashdown Forest all my life. That's a really important place for me. It's a very different kind of landscape to the South Downs which I also spend a lot of time walking around."
Rose moved to Brighton with her parents and brother Tom, guitarist in the band Toy, when she was 13. It was a period of musical discovery. She devoured her musician father Alastair's large record collection, which included plenty of sixties folk albums, while her mother was also a huge music fan.
"I was never going to get away from it!" she laughs.
By her mid-teens that music became really important to her on her own terms. She found herself drawn to strong female voices from the pop/rock of Debbie Harry (Blondie) and Justine Frischmann (Elastica) to the folk/blues of Joni Mitchell and Karen Dalton and the jazz stylings of Billie Holiday and Ella Fitzgerald.
"Strong female voices are something that I've always been really drawn to. I need to hear those voices. They're very important to me."
Rose started to find her confidence to play her own music, learning piano at Squeeze Box in Brighton run by Jem Hannam.
"I was playing piano and singing. Then we'd do little shows, doing covers. It was a really amazing learning experience as a young teenager. That was my first taste of all that. I was very shy and introvert when I was at school, so I didn't actually expect to find myself on stage, but it was something that came surprisingly naturally."
Brighton's music scene was particularly vibrant in the early 2000s, spawning Electric Soft Parade, British Sea Power, Eighties Matchbox B-Line Disaster, Tenderfoot and Electrelane.
Living midway between the Metway and Mark Beatty's Mockin' Bird studios in Kemptown, Rose recalls watching a steady stream of young boys walking past with guitars on their backs.
"Just walking down the Lanes, there was such a strong sense of music being a really strong focus for the town. So, it was only a matter of time before I was going to join. I do feel a bit sad that there are a number of really amazing venues that don't exist anymore. Brighton's always had a really strong music focus.
"There was a period in the early noughties, where everyone was getting signed on good big record deals. We knew something was happening in that bit of Brighton. It was really exciting."
It was at the Basketmakers pub that Rose made her entry into that burgeoning scene when she was introduced to the other members of a band that was being put together to revive the Sixties girl group sound with a modern twist.
The Pipettes adopted the classic 1960s Brill Building approach to writing the three-minute classic pop songs.
"We had quite a lot of rules about how we wrote songs. That was a really great first start for me to have to think about writing for other people, writing for a different idea, getting outside of my own head and applying this framework around the way I thought about writing music. Then those songs were being tested by the rest of the band and then they got released. That felt really magical to me and it still does."
She joined the group while still at school, often attending rehearsals in school uniform, later juggling music with life as a student at Camberwell College of Arts.
Wearing trademark polka dot dresses, The Pipettes are clearly having a lot of fun with the Sixties concept in a string of videos for chart singles like Pull Shapes.
"It was really fun!" Rose laughs. "I guess all of us felt a bit surprised when we did actually get signed and then suddenly we were in Japan and we were number 2 in the charts. It was a contrived concept that we'd come up with in the pub and then suddenly it has a life of its own. I don't know whether that idea would fly now in 2020.
"It also became quite intense and pressured quite quickly, which I don't think any of us really expected."
The Pipettes format demanded writing about life as a young girl within a tight framework for three voices. Tiring of the concept despite the success, Rose looked for opportunities to write from a more personal perspective and channel the pysch-folk influences and strong female voices she was listening to.
The 2010 album Without Why was the result and a critical success. It was lead-off single Another Version Of Pop Song though that catapulted her into the big time.
Ronson, a fan of The Pipettes, heard the track and asked if Rose would join him in Brooklyn to write and play on his next album.
"I was like, are you joking?!" she recalls. "I hadn't heard any music, I didn't know what I was letting myself in for at all and then two weeks later I was on a plane and spent nearly a month, recording at the Dap-Kings' incredible studio in Brooklyn, which is like the most crazy experience ever.
"It's not something I went looking for. It just kind of happened. In fact, I was kind of shunning all that pop stuff at the time. Thought I was going to be a serious artist! It's something you can't really turn down."
The Grammy-nominated Dap-Kings were funk and soul royalty who had also recorded and toured as Amy Winehouse's band.
"The musicianship was on a whole other level to anything I'd witnessed before. I was meeting rappers. Just a completely alien world to what I came from in Kemptown in Brighton. It was terrifying, but it was incredible."
The resulting Ronson album Record Collection featured a co-write with Rose, and she spent a whirlwind two years touring with him, playing to thousands of people every night.
"That was quite a daunting prospect, having always had two other girls flanking me and suddenly having to stand in the middle of these enormous stages and perform this music. That was quite a steep learning curve."
Perhaps the most nerve-wracking moment came in 2016 when she performed with the Royal Ballet at the Royal Opera House in esteemed choreographer Wayne McGregor's production of Carbon Life. Ronson, who wrote the music, asked Rose to help rewrite a couple of the songs and sing them.
"That is still the most frightening thing I've ever done in my life, standing in the Royal Opera House on that stage with these incredible dancers, this amazing choreography by Wayne McGregor, wearing a Gareth Pugh dress. Just being in that environment where the level of professionalism is just on another scale. The rigour and discipline of those people, being in that building. I just felt like, how have I managed to sneak my way into this!"
At the time, she described her second solo album Stellular as 'a more sophisticated pop record'. Looking back, she believes it was a subconscious reaction to the pop world she had been living in over the past few years.
"I think I wanted to just be a bit more outward looking than I had been on my first record, and all the experiences that I'd had subsequently. You just can't help but be informed by those things. It's inevitable that's going to feed into the music."
By contrast, last year's A New Illusion goes back to basics. Shorn of the synths of Stellular, Rose sings backed by piano and guitar, reminiscent of the 'sweet-sharpness' of Kirsty MacColl, dreamy jangling pop lifted by clear folk vocals and minor-key melodies.
Having spent much of the past 10 years, reshaping herself to fit into other people's projects, she was keen to take charge and make an album that reflected her influences. Co-producing the album with long-time friend, Brighton musician and sound engineer Matthew Twaites, she aligns herself with the tradition of English folk singers who sang with proud fragility, essential and earthy, like Sandy Denny.
"I just wanted to sit at the piano and play. I wanted to return to something essential. It was driven by a feeling of disquiet. There's something comforting and solid about that instinctive relationship with music, with playing and singing."
Describing it as 'more of a grown-up affair', she says that with it being her third album and having reached her early 30s, she felt she should trust her instincts more.
"I just shed all the thoughts of what I should be or what's my angle. I've made a lot of records now and I just wanted to test myself. I just felt I wanted to do something that was much more of a direct line from my own personal musical influences, and just make something a little bit more scenic and filmic."
The record found her looking with despair at post-Brexit Britain. As she alludes to on the title track: "Whilst I was writing it, the whole world started to fall apart. And I think there's a sense of dislocation that I still am not over."
As the albums grapples with what the country will look like in even a year's time, she also looks at how her loved ones, friends and her brother [who plays guitar on the record] are moving into the next phase of their lives, exploring how you reconcile your past successes and failures into your present.
"All these things that seemed so stable and reliable have become very fragile. These songs are about trying to find solidity in fragile territory, trying to find hopelessness in a bleak landscape."
The pandemic followed the promotion for A New Illusion. With the world in shock, she found it hard to find motivation for song-writing. Towards the end of lockdown, ideas started to emerge. It will be interesting to see how lockdown in Lewes informs the new album's dynamic.