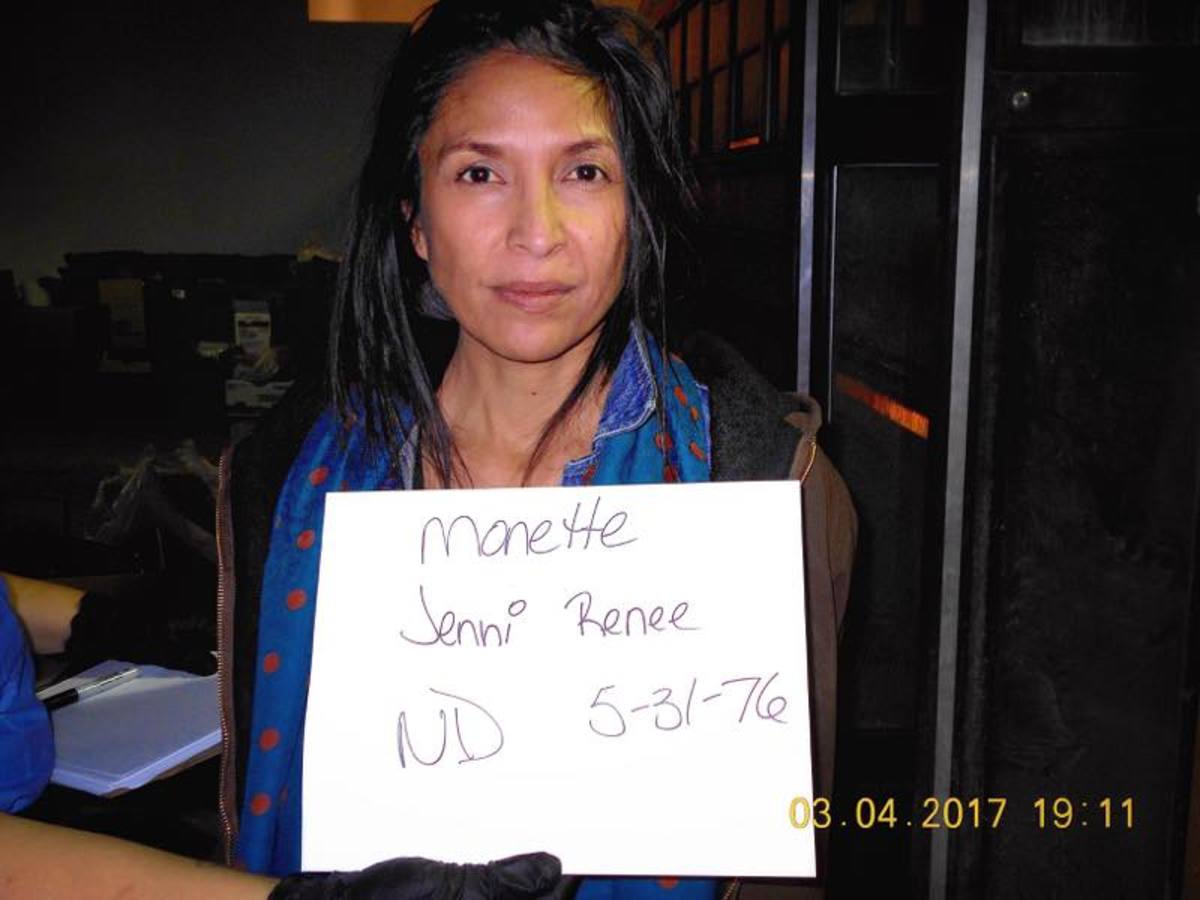 UPDATE, Feb. 9, 2017: This post has been updated to reflect the easement granted to Dakota Access LLC by the U.S. Army Corps of Engineers that allows the energy company to complete construction of the Dakota Access Pipeline.
The morning after I was bonded out of the Morton County jail, I took to Twitter and posted a detail that I only could have known from actually being on the inside.
"#MniWiconi is inscribed everywhere."
And it's true.
The signature slogan of the movement to try and stop the controversial Dakota Access Pipeline has been scrawled, carved and etched throughout the jail—on cinderblock walls, paint-chipped tabletops, cold metal doors. In Lakota, it loosely translates to "Water is Life."
[text_ad]
Since August, hundreds of protesters, known as water protectors, have passed through those cellblocks as a form of punishment for their unwavering commitment to protect the Missouri River from a potential oil spill. According to the Morton County Sheriff's Department, it has processed a total of 696 protest-related arrests.
On Wednesday, February 1, I became one of them.
I was flex-cuffed while reporting on a police raid of the Last Child Camp, the seven-teepee community that was dismantled just hours after being erected. The encampment was nestled on a bluff directly west of Highway 1806 on historic Treaty land, across from the main camp, Oceti Sakowin. It was among the sprawling network of RVs, tents and teepees where, two months earlier, thousands had gathered in the spirit of peace and love and prayer.
So much has happened since then, when on December 4, the U.S. Department of the Army, under the administration of President Barack Obama, had decided to hit the pause button to reassess what has been central to this pipeline battle all along: Treaties, sovereignty and indigenous ties to the land.
But under President Donald Trump, little time has been wasted on turning its back on these virtues. In the week since my 40-hour detention, the Department of the Army has outright reversed its December decision calling for an Environmental Impact Statement (EIS) to be conducted. On Tuesday, February 7, Army terminated the EIS, which has all but paved the way for completion of the $3.8 billion Dakota Access pipeline. The Standing Rock Sioux Tribe has vowed to legally challenge the move.
On Wednesday, February 8, the Corps released a statement and told me that the easement is effective immediately. By nightfall, Energy Transfer Partners has said it had begun drilling and that completion of the pipeline would take 83 days. It's unclear whether the Standing Rock Sioux Tribe's preliminary injunction was filed in time to try and stop the easement from being issued.
Meantime, the U.S. Army Corps of Engineers (USACE) has issued a notice to close by February 22 the lands on which fewer than 500 water protectors remain camped out in a known floodplain at the confluence of the Missouri and Cannonball rivers. There has also been an uptick in the presence of federal agents on tribal lands. Fewer journalists are on the ground to understand what that even means.
It is a critical time in this ongoing battle, and instead of following these important developments, I'm forced to fight my own battle in defending my constitutional right to free speech.
[text_ad]
I now face criminal charges for presenting my press credentials when asked; for falling back behind police lines when directed; for attempting to leave when ordered. In short, my detainment came as a total surprise.
My journalism colleague, Caroline Grueskin, who has shown stalwart performance in chronicling the months-long NoDAPL movement for the Bismarck Tribune, reports that North Dakota Highway Patrol Cpt. Tom Iverson denied that I ever presented my press pass when asked.
However, a personal audio recording during that exchange proves otherwise.
Over the course of my reporting of the standoff at Standing Rock, I have documented several instances in which law enforcement and state officials have pedaled misinformation, only to backtrack on their statements when queried. Morton County press releases about events stemming from many of the actions that I have personally observed have oftentimes erroneously portrayed water protectors as being armed when they were not.
Meantime, in the case of Red Fawn Fallis, a Standing Rock Sioux water protector who faces attempted murder charges on a police officer, Morton County has refused to produce the gun to substantiate its allegations to members of the media, despite repeated requests. In fact, no one I know has seen the alleged weapon. County officials cite that the case is under investigation as the reason for withholding this information. But it contradicts how Morton County has handled a similar case involving Sophia Wilansky, the New York City–based water protector accused of attempting to lodge an improvised explosive device at police when parts of her arm were blown off in a November 20 protest near the main Oceti Sakowin camp. The day after the violent assault, which involved police dousing demonstrators with water in sub-freezing temperatures, Morton County distributed images of a charred propane canister it said was meant to be used as a weapon and claimed that that was what had caused Wilansky's injury.
On February 1, as police approached the semicircle of teepees and a bright-burning midday fire pit, Iverson ushered the huddled group of camera-people and myself off to the side. He asked for our press passes. With cold, naked fingers, I fumbled for my phone in the side pocket of my jacket where I keep photographs of several credentials. (As an independent journalist, I hold many press passes from my clients.) Both of the people with video cameras failed to produce a media credential and made their way down the hill, free from arrest. But when I showed Iverson a press pass from Yes! Magazine, a publication that I routinely write for, I was guided off to the side, behind police lines—behind the teepees.
"There's my media pass," I said.
"Okay, alright, now let's head this way," said Lt. Iverson said.
He directed me to stand away from the teepees, behind the police line, and then he walked away. I felt I had overcompensated my distance by standing several feet away from where police, one by one, were bringing water protectors to their knees in arrest. It was the only time I had witnessed an action, in as many months, that didn't involve the use of chemical sprays, less-than-lethal ammunition or batons—weaponry that had become commonplace in the movement.
It crossed my mind that perhaps recent talks between North Dakota's new governor, Doug Burgum, and the Standing Rock Sioux had somehow influenced relations on the frontlines. Days before my arrest, the governor had met numerous times with tribal and camp leaders. The night of the raid, he was scheduled to meet with residents of Cannon Ball, the reservation community closest to the water protector camps. The focus of many of these talks was about dismantling a long-standing and humiliating roadblock just below the bluff of the police sweep.
As I stood back and observed, took notes and snapped the occasional photo, I thought maybe all of this goodwill had also infused the way police treated journalists. In October, the department had issued a warrant for the arrest of Democracy Now!'s Amy Goodman. Around the same time, police had also arrested UC Berkeley journalism school alum Sara LaFleur-Vetter. Maybe, I thought, they recognized me for my consistent and fair reporting.
Nearly a week after my arrest, that notion is laughable.
[text_ad]
When my arresting officer asked me to leave the bluff, I turned away and started to head down the hill without question.
"Walk or you're going to jail," he said, quickly making his way toward me.
I walked in the direction of Highway 1806, thinking about writing deadlines and whether the governor would still be arriving at Cannon Ball that night, despite the day's sweep. I was somewhat surprised when I was stopped by another officer sitting in a truck parked at the edge of a grassy ridge, halfway down the bluff. He smiled and informed me I was going to be placed under arrest.
That's when the first policeman, who was following me, met us at the truck.
"We told you to leave several times," he said.
I said nothing. Correcting the arresting officer or arguing with him would only make matters worse. As one policeman fumbled with my gear, and the other with cuffing my hands behind my back, there was an awkwardness to their clumsiness.
"You could just not arrest me," I said.
As the officers continued to wrestle with the process, I told them that I was being respectful to the police sweep by maintaining my distance—by standing back, I said.
To be sure, police portrayed the Last Child Camp demonstration as one giant step backward from the kind of high-level talks being exchanged the week before and, coincidentally, that night.
"There was some good communication going at a higher level between Standing Rock and our government," said an unidentified officer to Chase Iron Eyes. The pre-sweep dialogue between the policeman and the Standing Rock citizen was featured in a video posted by Morton County.
"You pretty much ruined it today," the officer said to Iron Eyes.
It was true. The Last Child Camp, the arrests, the raid—it shifted attitudes at a sensitive time at Standing Rock. Personally, as someone who has spent nearly six months writing about the movement, I too have gleaned renewed perspective about the continued pipeline battle, entirely because of my arrest.
As I was shuttled to jail in a school bus along Highway 1806, I was among the very few who have been able to cross the controversial bridge blockade that has been in place since late October. I was seated next to Iron Eyes, a native of these elephantine bluffs who loved his rural North Dakota and pined deeply over the recent despair that had consumed these ancestral grounds. As we made our way along Highway 1806, he innocently marveled at the opportunity to bear witness to a stretch of homeland that had been forcibly closed off to him for months.
"This is a war of attrition," he said out loud as we rolled past the last of the remaining teepees and tents still standing at the edge of the Oceti Sakowin camp.
As we made our way north toward the town of Mandan, we both expressed disbelief at what we saw about a mile up the road: a second roadblock.
"When did they put this up?" Iron Eyes questioned. For as long as the bridge had been closed, no one but the police and their allies knew for sure what had been taking place behind these fortified lines.
The road stretched as I remembered, long and gentle over the rolling prairie. But there was now something harsh about this serene landscape. Sharp concertina wire—razor wire—stretched across the countryside on the east side of the highway in the direction of the pipeline. It looked like a prison yard.
As we passed the site of that first demonstration, where Standing Rock Sioux Chairman Dave Archambault II had been arrested in August, there was a noticeable absence. Gone were the beautiful banners and flags that had once decorated the fence line.
"I wonder what happened to them," I asked Iron Eyes.
"They probably burned them," someone else responded, referring to the police or the energy companies.
We also passed the elaborate police staging area that I had known about, but only from drone footage. It was situated midway between the pipeline drill pad and the main camp—not to be confused with the active command center several miles north at Fort Rice. The former military post, ironically, was once the gathering spot for soldiers plotting the 1863 Whitestone Hill Massacre. Some 150 Sioux had been killed in that land battle and just as many more imprisoned.
[text_ad]
As we approached a third roadblock, the original one set up in August by the previous governor, Jack Dalrymple, I wondered what all those concerned citizens of nearby Cannon Ball, who desperately wanted their road reopened, would think of these added hurdles that no one, not even the likeable governor, was talking about.
What were all those talks about bridging peace at Standing Rock, anyway? Was it all for show for the new governor?
Would these residents of Cannon Ball stand up and fight, or would they succumb to the passive aggressiveness that is seemingly inherent in their white neighbors?
I experienced strains of these dynamics while locked inside a chain-link holding cage with 18 other women during the five hours that we were being booked inside the Morton County Correctional Center.
Many of them were indigenous women who grew up among the high plains.
Next: Part Two of Jenni Monet's experience of being detained by Morton County while reporting on the controversial Dakota Access Pipeline.