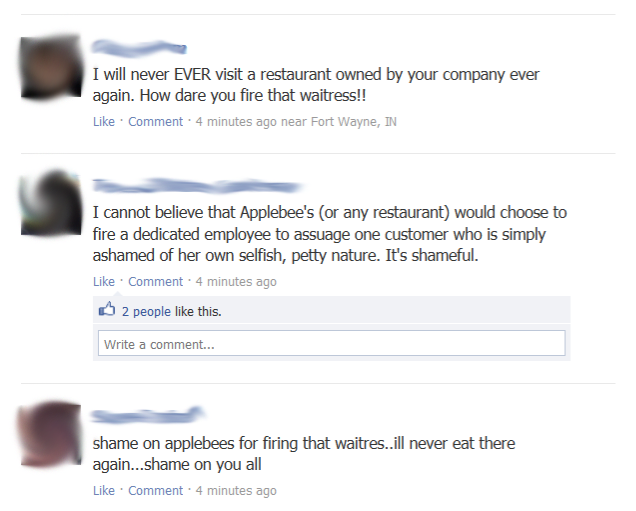 You probably know about the Applebee's waitress who was fired for posting a customer's receipt that had a derogatory statement on it. You may not be aware of the aftermath, which took place in the wee hours of Saturday, February 2. It's virtually a textbook example of what not to do in a PR crisis.
Around noon on Friday, Applebee's issued an official statement about the firing on its Facebook page, explaining that posting a customer's name was a violation of its policies. Defenders of the waitress rushed to Facebook to complain, noting that Applebee's itself had posted a photo of a customer's name on Facebook – though that customer's note was positive. Rather than address the issue, Applebee's deleted the photo. And the company remained silent as the negative comments mounted, surpassing 17,000 after midnight.
At 2:53 a.m., whoever runs Applebee's Facebook page suddenly began replying to the comments. Worse, instead of making a big, clear announcement with a new post, Applebee's replied in the comments of its original post, where it was quickly buried under hundreds of new complaints. Even worse, Applebee's committed a cardinal sin of social media by deleting some negative comments and blocking select people from commenting. This, of course, led to a new round of criticism and mockery.

It was now after 3 a.m. Did Applebee's issue an apology and call it a night? No, the restaurant began posting the same boilerplate reply over and over, tagging negative commenters' names to make sure they would see it. The commenters then decried the repetitive posts. Applebee's continued with the cut-and-paste replies, sometimes tagging individual commenters and pleading for understanding. One critic responded: "Stop insulting us by claiming we got our facts wrong…if there is some specific information we do not have that will correct the record, then either share it or continue to hide behind your lawyers."
At almost 4:30 a.m., Applebee's stopped making comments and finally posted an official status update – a bland non-apology for the "unfortunate situation." 2,000 negative comments to that update followed. Applebee's then hid its original post, taking the 20,000 comments with it. People then accused the restaurant of deleting criticism. The saga didn't end until the following evening; one blogger estimated that Applebee's three status updates had garnered more than 40,000 comments – almost all of them negative.


How can brands avoid a similar social media disaster? Here are some tips:

- Reply During Daylight Hours
There is no reason to post a major update at 3 o'clock in the morning. At best, you're unlikely to reach your intended audience. At worst, you may find the late-night crowd a little more ornery then others.

- Make Statements Clear
Facebook doesn't make every comment visible, so Applebee's replies were quickly bumped off the page. Instead, the company should have posted new status updates, which stand out and look official.

- Don't Lose Your Cool
Another mistake was switching from "we" to "I": "No one's asking me to comment at 5 am. I am because I care, we care." Was that Applebee's speaking or just one of its employees? Or its PR firm? Statements like that only confuse the situation.

- Don't Put Your Social Media in the Hands of an Intern
I doubt that Applebee's official PR firm or marketing department was posting at 3 a.m. It's tempting to let the summer intern handle your social channels, but disasters like this should make you reconsider who's in charge of these very important public communications outlets.
At the same time, a similar debacle took place on Twitter, showing that Applebee's truly needs to re-evaluate its social media strategy – and its personnel.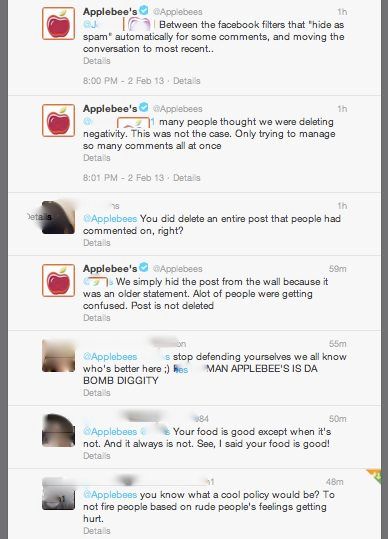 Jason Ginsburg has led social media campaigns for Home Shopping Network, Flavorwire, Show-Score, Planned Parenthood, and Science Channel. Follow him on Twitter @Ginsburg.