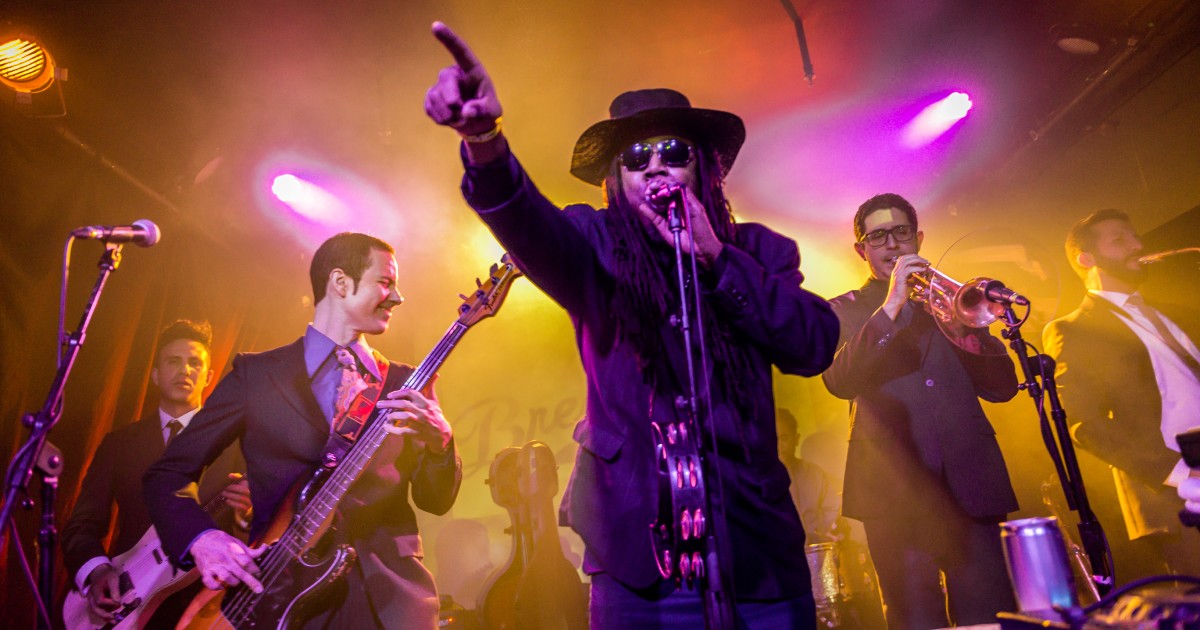 The city of Riverside may be the last place one would expect a revolution in soul music to sprout from, but the Inland Empire town holds a special place in the recent revival of the genre. As author Jessica Lipsky documents in her book, "It Ain't Retro: Daptone Records & The 21st Century Soul Revolution," Riverside and other California locales hold the keys to portions of soul music's past and present.
The story Lipsky documents in "It Ain't Retro" is mainly the story of Daptone Records, a record label based in Brooklyn that shaped and led the soul music revival through the turn of the century. She begins her book in San Francisco as she reminisces about her younger days when she first fell in love with soul during the reign of Britney Spears and N'Sync.
"KFRC 99.7 FM in the San Francisco Bay Area — an oldies station that played sounds from approximately 1956-74 — saved me," she writes in her book. "It was a sonic elixir of classic rock, Summer of Love hits, and, most importantly, soul. The station opened my ears to the sounds of Motown, Stax, and Chess; made me dance; and drove me to buy books, CDs, and movies that evoked sounds of the era."
In 2007, Lipsky found a copy of an album by Sharon Jones & The Dap-Kings at community radio station KUSF 90.3 FM in San Francisco where she hosted a late-night radio program dedicated to soul music. Jones' voice and the rhythm and swagger of the Dap-Kings hooked her ears as she realized that the soul music of yesteryear that hummed out of KFRC's antenna years ago was still very much alive thanks to a new generation of artists.
"It also, in an instant, gave me a swell of hope for more modern sounds in soul and funk," she writes. "Although I was a few years behind the curve (Sharon Jones & The Dap-Kings already had three records out), I felt as if that moment was the start of everything — the start of the soul revolution."
The artists at Daptone, such as Sharon Jones & The Dap-Kings, Antibalas, Charles Bradley, Menahan Street Band and The Sugarman 3, to name but a few, were at the tip of a steadily rising wave of a new generation of soul artists. The Dap-Kings even found themselves working for a time for the late Amy Winehouse. They recorded most of "Back to Black" with her and producer Mark Ronson in the studio and performed with her as her stage band on many occasions.
Listen to the sound of soul in this playlist curated by Jessica Lipsky
The stature of an artist like Winehouse coupled with the general misunderstanding of soul music as a product of a bygone era provided Lipsky with some challenges when she set out to write "It Ain't Retro." She initially wrote the book as a scene study of soul music but had a difficult time selling it to a publisher.
"After working on that for some time, it turns out it was too broad and too niche," she explains by phone. "No one wanted to buy it and I had to pivot. A lot of the time, the people that are making these editorial decisions, be it in publishing or in journalism, this really isn't their bag. Soul music is Motown and it's oldies and that's pretty much it. Then there was Amy Winehouse and that's pretty much it. My experience was that a lot of folks didn't really think that there is a market for telling these stories."
Lipsky instead focused on writing the story of Daptone Records and its place within soul music today, which, by extension, turned out to be the story of modern soul music. Part of that story takes place in Southern California where she informs the reader of the region's important place in soul music.
"Thousands of miles removed from the grit, grime, and supreme funkiness of Manhattan, the vast swathes of Los Angeles and Orange counties might not seem amenable to the raw soul and funk sounds culled from the hardest of East Coast nights," writes Lipsky. "Yet Los Angeles, without a doubt, has deep roots in the soul revolution. The sprawling city was once home to much of the soul music industry — including Motown's headquarters, beginning in 1972; Soul Train's famous stroll; and the site of the WattStax benefit — and was a profitable place for touring and homegrown bands such as War, Shalamar, and The Brothers Johnson. Yet such sounds had fallen out of popularity by the early to mid-80s, when hair metal and pop reigned supreme along the Sunset Strip. Meanwhile, punk rock had already become part of the DNA of the area's youth culture and pushed older soul sounds further to the margins."
Thankfully, hip-hop artists from both coasts sampled heavily from soul, funk and other genres to keep them alive outside of solely nostalgic avenues, such as oldies music stations. This also had the effect of creating a collector's culture around soul music where the most devoted fans dug through crates of records at stores, swap meets and any place that carried vintage vinyl records, to search for the original sources of their favorite samples.
Turntablist Cut Chemist, aka Lucas MacFadden, of Jurassic 5 and Ozomatli was one such devotee when he first attended Peace Pipe in the early '90s, a party in L.A. devoted to hip-hop. Parties like Peace Pipe would eventually incorporate funk and soul music to test out the waters with attendees — an experimentation that eventually led to the growth of funk and soul parties in Los Angeles. Peace Pipe, for example, eventually became The Breaks, a hybrid of funk, hip-hop and turntablism. The Root Down, a party that also bridges funk and hip-hop with soul, oldies, and more, spun off from The Breaks.
Other parties and club nights dedicated solely to funk, soul and R&B eventually appeared and it wasn't long until venues such as Star Shoes (RIP) in Hollywood, The Echo in Echo Park, Alex's Bar in Long Beach and others were packed on a regular basis for soul music nights such as Good Foot in Long Beach and Funky Sole in Hollywood and Echo Park. As crucial as these parties were for sustaining the soul music scene in Los Angeles and elsewhere, it wasn't enough to sustain it for the long-term. Lipsky quotes DJ Clifton Weaver, a longtime resident of Funky Sole, who surmises that soul music was nothing more than a weekly or monthly club night experience and wouldn't have lasted without artists such as the ones on the Daptone label to keep it fresh.
"It's one thing to have records that have that aesthetic, but I think that if it was just records, soul would have been a trend that evaporated within four or five years," says Weaver in the book, "[b]ut you have performers that are going out there and supporting those records, playing shows to that same kind of level of intensity and showmanship that they had back there in the '60s and '70s. It's almost like a religious experience."
Though the artists on Daptone were at the center of the soon-to-be soul revival, a handful of artists in Southern California were also hard at work placing their own stamp in the growing scene. In L.A., Weapon of Choice melded funk, jazz, hip-hop, reggae and rock in dizzying combinations. Orgone from the San Fernando Valley performed instrumental tunes influenced by funk and disco. Meanwhile, Orange County's 00 Soul created original music inspired by '60s funk and soul.
Lipsky also quotes New York DJ Matt Weingarden and musician Binky Griptite who offer their own takes on soul music and the effect Daptone had on its return to the pop culture imagination. For Weingarden, "Soul never died, but it was definitely lacking on the top charts for decades until the Daptone people came along."
Griptite concurs with that assessment, stating that "Soul music never went away and soul lovers never went away, but they're just kind of closeted because they didn't think it was commercially viable. Even soul fans inside of the record labels grew up with this…Then, when Amy [Winehouse]'s record hit, all the undercover soul fans are like, 'I'm free.' And then that's when everybody's like, 'Oh, there's money in it now.'"
Lipsky traces the birth of Daptone Records back to Riverside where a teenager by the name of Gabe Roth developed a taste for grimy blues music after spending days digging through records at local record shops and flea markets. He left California for New York before the funk and soul scenes in L.A. took off but he discovered Soul Kitchen, "a party where deep funk and breakbeats were served up along with chicken wings and forty-ounce Colt 45s," in Manhattan and developed a love for the music of James Brown.
Roth later partnered with Philip Lehman, who Lipsky describes as "an eccentric producer from a monied family," to found Desco Records in Manhattan in the mid-'90s. The duo focused on creating '70s-style funk, soul-jazz and Afrobeat music until 2000 when they opted to go their separate ways. Undeterred by the mountain of debt left after the demise of Desco, Roth, with some prodding by musician Neil Sugarman and help from his newly formed Dap-Kings outfit featuring Sharon Jones on vocals, founded Daptone Records in 2001…and the rest, as Lipsky documents in more than 200 pages, is now history.
Lipsky concludes the book by plucking the reader out of New York and back into California. Roth has been living in Riverside again since 2010 and has since launched Penrose Records, an in-house imprint of Daptone, or Daptone West as Lipsky refers to it in the book. Roth continues his work with Daptone but is currently focused on Penrose where he serves as a mentor to his roster of soul artists rather than as torch bearer of a new paradigm.
"Named for his daughters Penelope and Rosalie," writes Lipsky, "Roth envisioned Penrose not as a West Coast recreation of Daptone's magic but an opportunity to invest in an existing community and new generation of musicians."
Penrose is host to a bevy of artists from Los Angeles, the Inland Empire, Orange County and San Diego County who tend towards the oldies, souldies/Chicano soul and doo-wop/girl groups style of soul music. Artists such as Thee Sinseers, Vicky Tafoya, Thee Sacred Souls, Los Yesterdays (who Roth performs with) and others draw on the influence of artists and the local scene and culture from 1960s L.A. that remained firmly embedded within Mexican American culture through generations. The music came to be known as Chicano Soul and remains an intrinsic arm of the culture (lowriders, cruising and barbecues) associated with it.
"The sounds of the '60s were passed from parent to child, all along the boulevard, without much expectation that those sounds would be recreated, live, in later years," writes Lipsky.
The rise of Penrose doesn't mean that Daptone has come to a halt. There's still plenty of activity, releases and pandemic-delayed tours in the works going on back in Brooklyn but neither label on either coast is alone. There are other labels today, such as Colemine, Truth & Soul and Big Crown publishing soul artists in other areas. Artists in Seattle, Cincinnati and Las Vegas have nurtured their own music scenes as well. Where soul music goes from here, however, is anyone's guess.
"I'm kind of wondering, and this totally remains to be seen, but I feel like prior to the pandemic, we were in such turmoil in this country for a million different reasons, politically and socially, that this sort of sweet soul was very soothing to people and we really wanted that," says Lipsky.
"Not that we don't want to be soothed today, but I wonder if maybe there's going to be a turn away from that because we've all been locked inside for a year and a half, so what we want to do is party," she continues. "Will there be a return to hard funk? Are we gonna go disco? Who knows?"