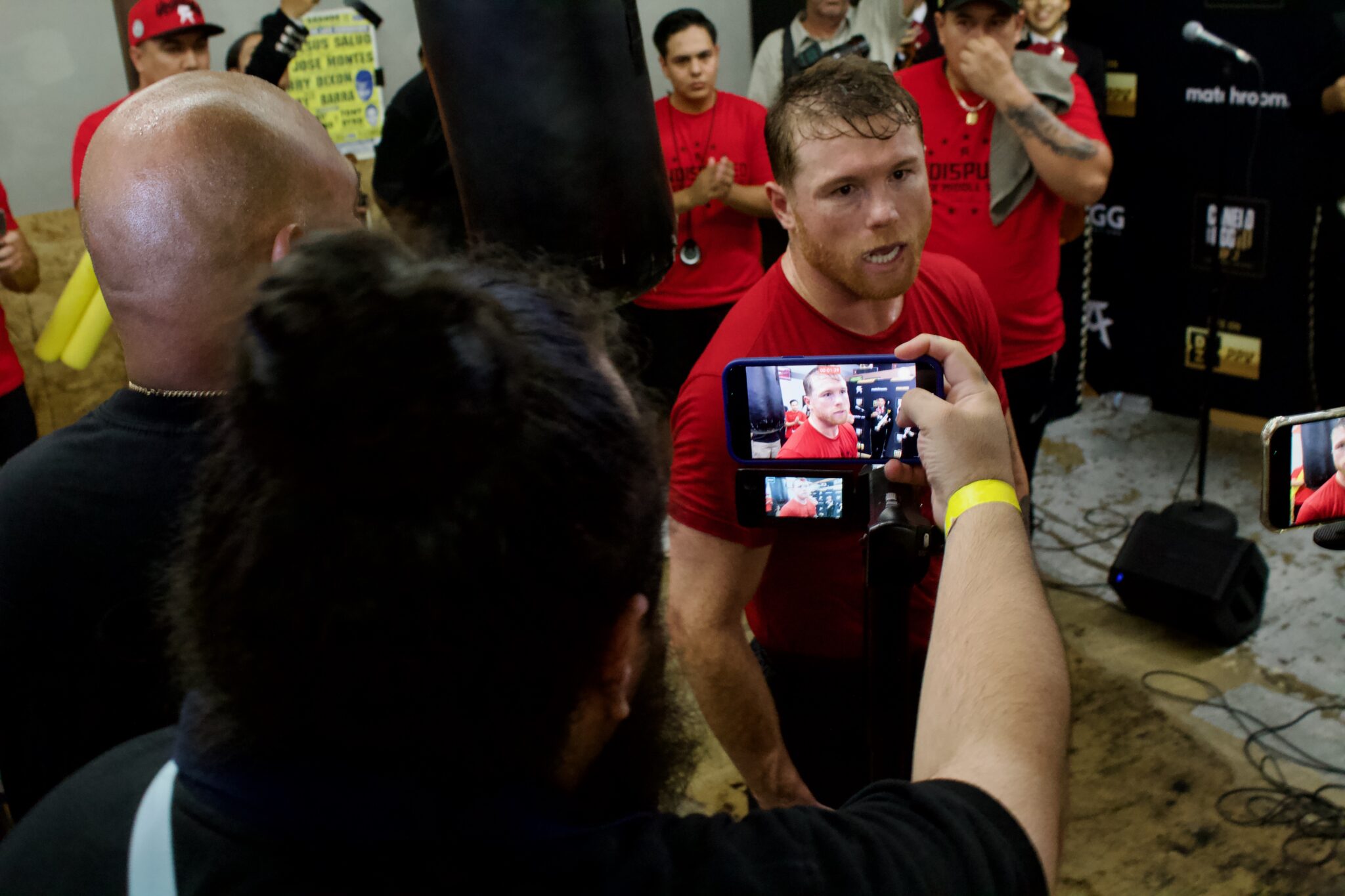 "My objective is to win by knockout starting in the first round," he told L.A. TACO. "My goal is to end the fight before the third round. It's going to be a difficult and complicated fight, but that's my goal and what I intend to do from the first round."
La tercera es la vencida. The third time's the charm.
As all the paisas know, this Saturday, September 17th will mark the third and final time Saúl "Canelo" Álvarez will face Gennadiy Gennadyevich Golovkin, aka GGG, in the ring. For Canelo, la tercera needs to be a statement win: either by knockout or a clear victory through 12 rounds, as he clearly put it during a media day at the House of Boxing in San Diego two weeks ago.
"My objective is to win by knockout starting in the first round," he told L.A. TACO. "My goal is to end the fight before the third round. It's going to be a difficult and complicated fight, but that's my goal and what I intend to do from the first round."
The animosity between Canelo and GGG appears to be mostly professional despite what both fighters have said in the big bout. It's certainly nowhere near the intensity of Fernando Vargas' jealousy-fueled bloodlust against Oscar De La Hoya, nor does it have the single-minded intensity of Juan Manuel Márquez' quest to KO Manny Pacquiao. Instead, both fighters are looking at different career-defining moments in this fight.
Golovkin, now 40 years old, has publicly expressed his nod towards retirement and has admitted that Saturday's fight would "help me retire from a financial standpoint."
More importantly, a victory for Canelo would feel like justice served for the results of the previous two fights: a draw followed by a loss that he and his fans dispute as being won by GGG in both cases. That draw and loss to Canelo are the only ones of his career.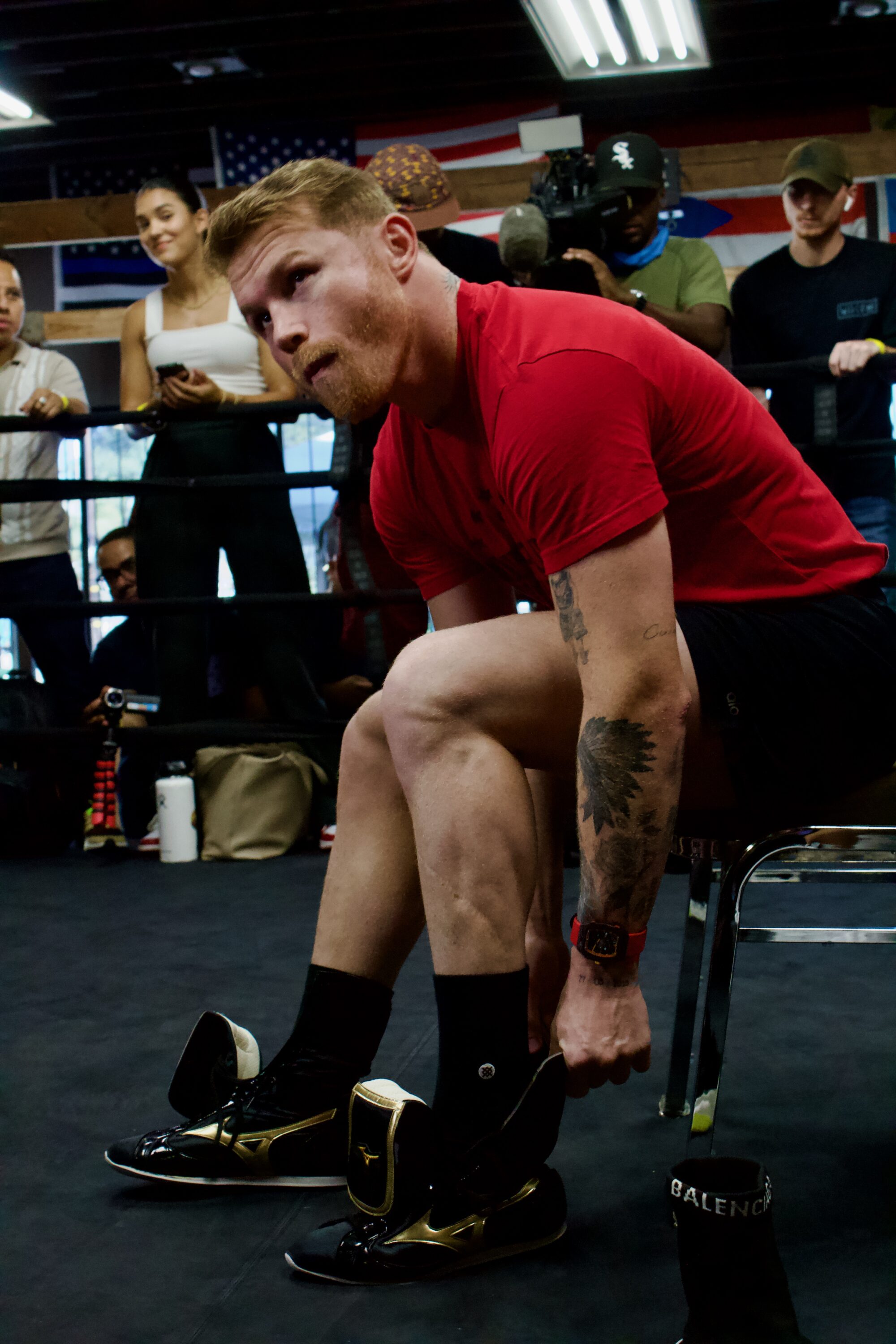 Canelo recently has said he wants to retire GGG. However, there are other things at play other than retiring an "asshole." There's the albatross named clenbuterol hanging over him that forced a postponement of his second fight with GGG. There was also some questionable scoring in the first fight that led to the draw. Perhaps it's less about GGG and more about his critics that Canelo wishes to silence and retire.
"I think it's Canelo's unfinished business to shut the critics once and for all," says Rudy Mondragón, UC Chancellor's Postdoctoral Fellow in the Institute for Research on Labor and Employment at UCLA and boxing aficionado.
"For fans who know boxing, the trilogy is coming way too late," he continues. "If Canelo really wanted to shut that chapter and resolve the unfinished business, that rematch would've happened immediately. Like with Terence Crawford and Errol Spence, you're letting it marinate too long. Or Mayweather vs Pacquiao. We should have had that fight three years, four years prior to when it actually happened."
Canelo's victory in 2018 saw him walk out of the ring with Golovkin's three belts. Critics would later accuse Canelo of running from GGG to complete the trilogy's final chapter for years afterward. In hindsight, it's clear what Canelo's plan was: to defeat the at-the-time best middleweight champion, GGG, as the first step towards his own path to become one of the greatest middleweight champions in boxing.
Over a three-year period, he won seven of eight fights. Of those seven, he wrecked the bodies and undefeated streaks of three British boxers: Callum Smith (detached left bicep injury), Billy Joe Saunders (right orbital bone fracture; hasn't fought since losing to Canelo in 2020), and Caleb Plant (first loss & TKO).
The victories against Saunders and Plant cemented Canelo's status as a one-of-a-kind champion. He became the unified super middleweight champion against the former and the undisputed super middleweight champion against the latter.
Canelo is only the sixth boxer to become the undisputed champion. Canelo is the first Mexican boxer to achieve that distinction. Canelo is the first boxer, ever, to become the undisputed super middleweight champion.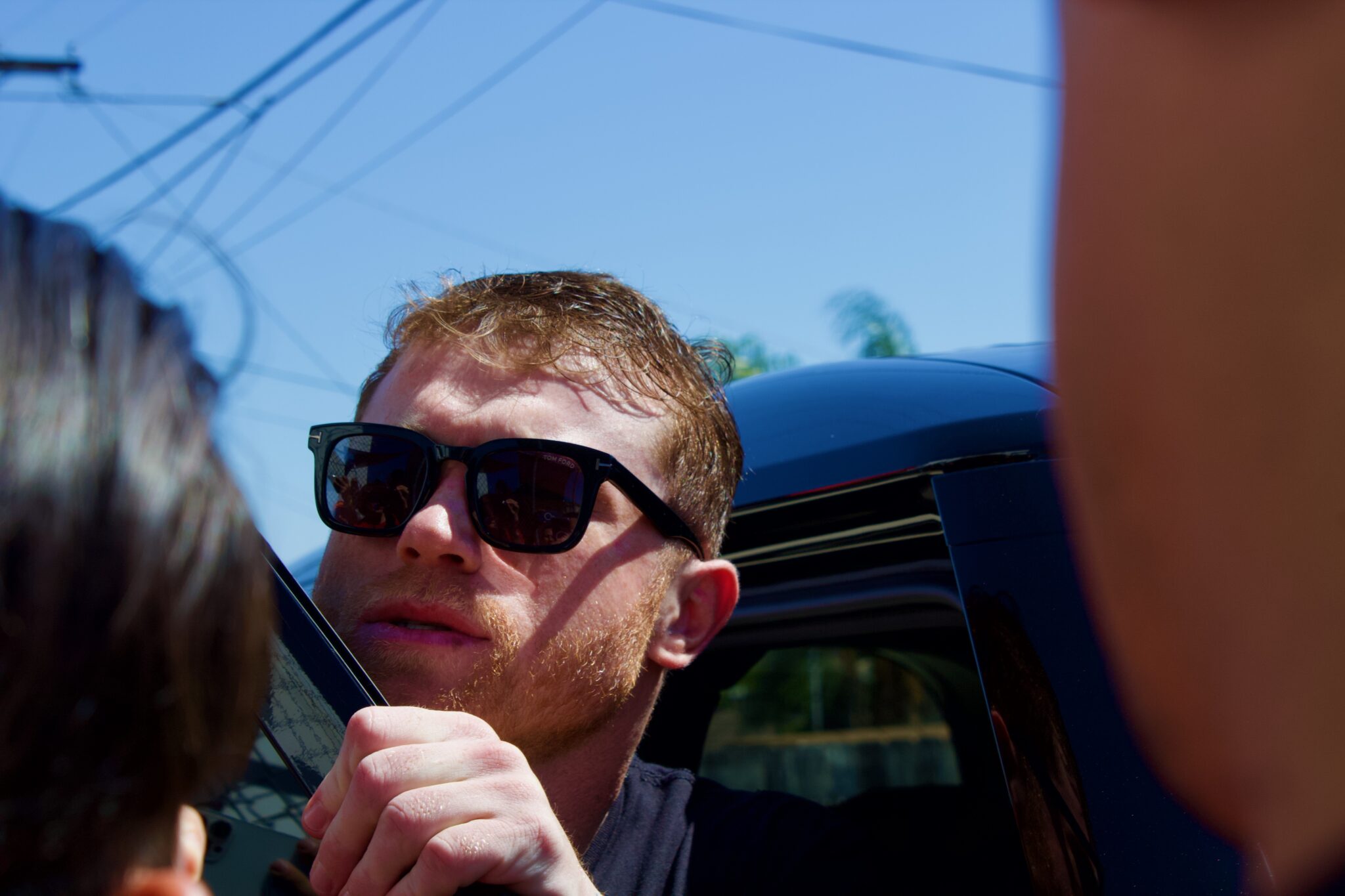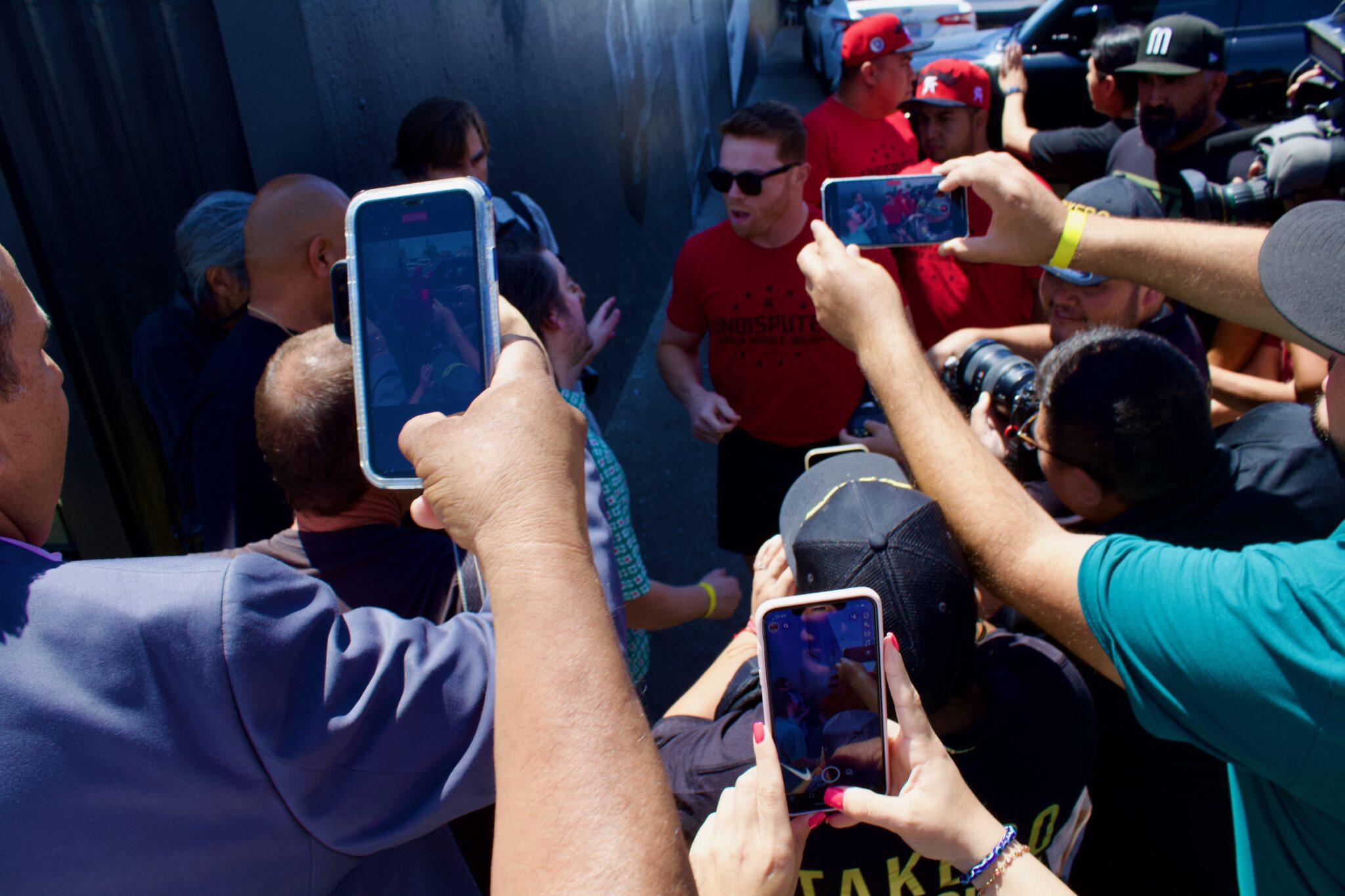 A photograph from the night Canelo defeated Plant is entirely emblematic of his rise to greatness. He is standing in the middle of the ring, surrounded by his team and, despite being weighed down by two belts on his right arm, two belts off his left arm, another belt in his hands, another belt hanging off his right shoulder and a head adorned with a gold crown, he stands tall, smiling, appearing to absorb the weight of his historic moment.
And yet there are still chumps out there who undervalue these accomplishments, sometimes going so far as saying that GGG, as an "honorary Mexican" (a topic former Taco staffer Erick Galindo explored some years ago), is more Mexican than Canelo himself.
Never mind that Canelo: was born and raised in Mexico; lives in an enormous rancho in Jalisco; rides horses; was gifted a horse by the late Vicente Fernandez; trains to rancheras, norteñas, and mariachi; is trained by the Reynoso family of boxers from Mexico.
¡Ni el mezcal es más Mexicano!
Much of this identity-gatekeeping heat stems from GGG's connection to Mexican boxing, via his Mexican-American former trainer Abel Sanchez who boasted about combining GGG's Kazakhstani boxing style with the aggressive Mexican style of boxing. Credit also to his team for working overtime behind the scenes in other ways to ingratiate him towards Mexican and Mexican-American fans of boxing.
Canelo, on the other hand, took a different approach.
"Canelo has actually come out and said 'I don't fight Mexican style,'" explains Mondragón. "He says it in regards to how people describe it. He says 'I don't fight like a pendejo,' and it's true because Mexican style isn't that, but they describe it as being something similar to flying in there blind and throwing putazos and giving people a slugfest."
Funnily enough, Canelo's boxing style can still be described as Mexican style when one considers his propensity for launching devastating shots to the body, like the ones that crippled Rocky Fielding four times in three rounds.
"Mexican style is known for vicious body attacks, and Canelo is known for that," adds Mondragón. "If you think about what made a lot of fans love [Julio César] Chávez, it was his sustained body attack. Now Canelo, you look at mostly the right side of his opponents, those ribs are broken. It's a subjective thing that, for fans, it depends on the opponent, on whether they feel Canelo worked hard enough for it."
On the Monday before the fight, I visited my grandparents, both originally from Jalisco, and showed them the video of the interview I recorded in San Diego. My grandmother smiled from ear to ear and was awed by the fact that I was face to face with Canelo. My grandfather was equally excited.
"La próxima ves que hables con el," he said as he watched the video, assuming that I interview Canelo on a regular basis, "le dices que tu abuelo era un boxeador amateur en Jalisco y que estoy muy orgulloso de el."
"Que lástima que las peleas de hoy todas están por cable," he lamented. "No puedo verlas pero ojalá que gane Canelo y que gane bien."
Augusto Romero contributed to this story.
Like this article? We're member supported and need your help to keep publishing stories like this one. You can contribute any amount you like, or join our membership program and get perks, event access, merch, and more. Click Here to Support L.A. TACO