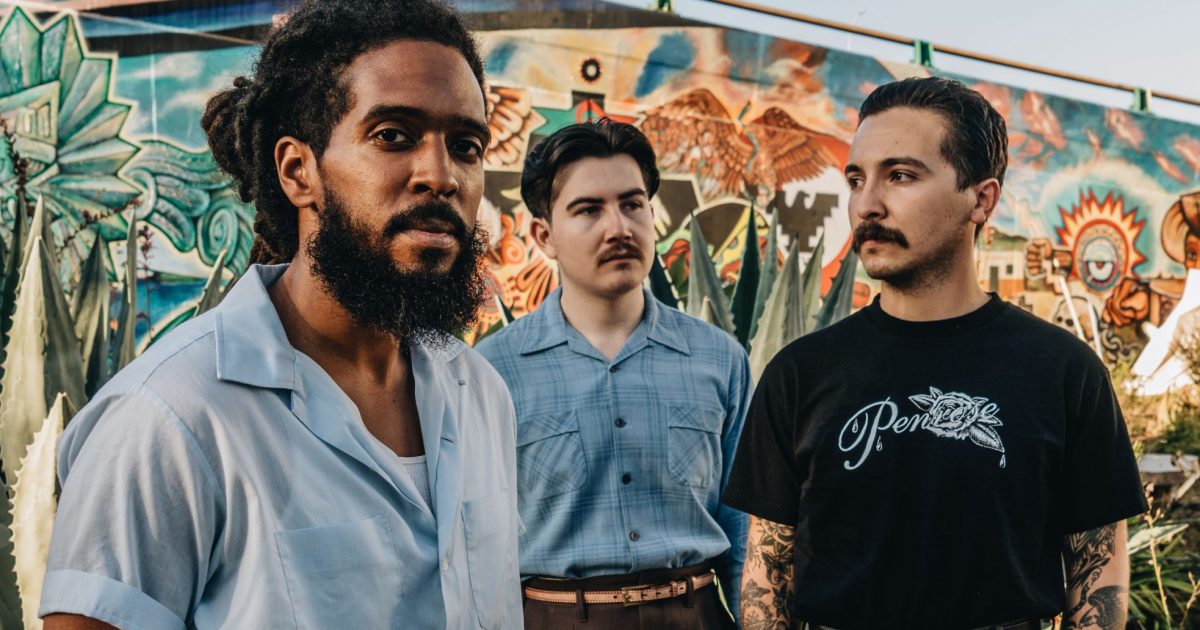 A new crop of artists from the Southland have taken on the mantle of Chicano soul and oldies. Groups such as Thee Sacred Souls, Thee Sinseers, Los Yesterdays, The Altons, and Vicky Tafoya and the Big Beat, to name a few, have recorded music that invoke the romance, longing and nostalgia of yesteryear, while adding flourishes of other genres into the mix.
Musical genres are often phrased in a way that not only describes the style and mood that the music provokes but that also places it within a specific time period. Chicano Oldies, for example, brings to mind the romantic combination of soul and R&B created by Mexican American artists during the 1960s who were influenced by African American artists of that era as well as those who came before.
That phrase, however, does more than simply recall a style of music. It can also recall long, hot summer days spent in parks or backyards barbequing with friends and family and late nights cruising down a large boulevard in a beautiful, vintage car, typically a lowrider. The music was perfect for those moments and perfect for professing one's love to a special someone (or overcoming heartbreak caused by a formerly special someone, if you were unlucky). It's a style and a vibe that has spent many decades since the 1960s alive as a living piece of nostalgia from a bygone era at car shows and family gatherings.
Honestly, it feels good to take a genre that's been around and is very historic to American culture ... try it on and to try to fit into the shoes, but also with an original flair to it.
Recently, a new crop of artists from the Southland have taken on the mantle of the new wave of soul and oldies. Groups such as Thee Sacred Souls, Thee Sinseers, Los Yesterdays, The Altons and Vicky Tafoya and the Big Beat, to name a few, have recorded music that invoke the romance, longing and nostalgia of yesteryear. These artists also add flourishes of other genres into the mix in what sounds to be not only a resurgence but also a renaissance for oldies music as they and other artists across the country create their own crop of timeless, romantic ballads.
"I feel like it's opening up a lot of people to different styles of music, even people that don't casually listen to soul or oldies," says Sal Samano of San Diego-based group Thee Sacred Souls. "It might be opening them up to something new and realizing that there's a new sound or style of music that they're missing out on."
Listen to the sound of Thee Sacred Soul's "Can I Call You Rose?" and see the influence of Chicano and car culture in their music video.
"Honestly, it feels good to take a genre that's been around and is very historic to American culture and to, not cover it necessarily but, try it on and to try to fit into the shoes, but also with an original flair to it," adds his bandmate, Alex Garcia.
Samano, Garcia and Josh Lane made their debut as Thee Sacred Souls last year with single & video "Can I Call You Rose?" The song highlights Lane's soulful, Marvin Gaye-esque (that's not hyperbole either!) vocal work while the video emphasizes a few aspects of Chicano and car culture such as a couple of vintage cars and lowriders supplied by Samano's father and friends cruising down a street.
The familial connection to the music and the culture is one shared by nearly all the artists involved in this resurgence of oldies music. Samano recalls his parents putting artists such as The Delfonics and Brenton Wood on heavy rotation during his childhood. Lane grew up on gospel and studied "the pillars of northern soul" while studying music in college. Garcia's father had a record collection that included Smokey Robinson, Mary Wells and Brenton Wood plus dozens of doo-wop artists.
The same goes for Vicky Tafoya, founder and singer of Vicky Tafoya and the Big Beat, who grew up surrounded by the sounds of doo-wop, big band and Motown. As the youngest of 12 children, she inherited the vinyl records that each one of her siblings left behind as they moved out. She became completely enamored with the music and had a life-changing experience in 1989 when she joined The Doo-Wop Society of Southern California. It was there that she would spend years watching and even performing acapella doo-wop on the same stage as the artists she listened to obsessively at home: Vernon Green and The Medallions, The Teenagers, The Six Teens, The Chantelles and many other legendary artists.
Vicky Tafoya and the Big Beat draws on soul, Motown and oldies influences. Listen to their song "Forever."
Tafoya and her band mainly focused on doo-wop and big band sounds from the 1940s and 1950s on their albums "Meet the Beat" and "Never Let Go, Vol. 1." They took a different route on their latest singles, "Forever" and "My Vow to You," where they draw on soul, Motown and oldies influences and let Tafoya's vocal prowess lead the way.
Tafoya paid it forward to her siblings by sharing the same music with her nieces and nephews. One of the nephews she helped raise is now the drummer for The Big Beat as well as for her punk rock project, Vicky and the Vengents.
"My sister's kids, any time they're with Tía Vicky, they learn about The Beach Boys," explains Tafoya. "They're the only band that's not a doo-wop group that's in the doo-wop bible because of the vocals. Whenever the kids were with me, I would always make sure I'd play them some kind of girl group, some kind of doo-wop."
Singer and multi-instrumentalist Joey Quiñones had a similar experience to Tafoya's time with the Doo-Wop Society. He was in a number of bands in East L.A. including ska and reggae groups such as The Delirians and The Steady 45s. It was through these bands that he met and collaborated with many legendary reggae and ska artists from the 1960s including Pat Kelly, The Clarendonians and The Pioneers when they performed in L.A.
"We would be the cheapest, but most experienced, backing band option in L.A.," explains Quiñones. "We were in awe of seeing Derrick Morgan and Stranger Cole in our studio talking to us and running the rhythms with us, teaching us and stuff. It was kind of intimidating to hear their experiences in the industry and things like that… but the way that they would talk about people like Chuck Berry and Jerry Lewis and Al Green and their heroes. You start tracing back to what your influences were listening to and they were listening to all the American R&B and soul music."
"So you start digging deeper and deeper and you go to jazz, you go to blues," he adds. "I think that's what the cycle just brings you back to. I think a lot of the reggae songs that we were playing were a lot of the soul covers that they were doing. They were listening to soul music from Philadelphia and New York and L.A. and they were adapting it and making their versions of these songs. They came out with rocksteady and they came out with reggae and that's what influenced us."
Quiñones' current project is Thee Sinseers, a throwback to oldies and soul with himself as the creative force. The band got its start as a backing band for Riverside-based, soul artist Trish Toledo. She was looking for a band to help her record a live cover of a classic soul track. Quiñones had begun building his studio around that time and took up her offer. They recorded a live performance together with friends he gathered as her backing band and invented the name on the spot. As Toledo's fame grew in the local scene, so too did that of Thee Sinseers by association.
Thee Sinseers got started as a backing band for Riverside-based soul artist, Trish Toledo. Listen to their music.
I think blurring the lines is important. It shouldn't just be boxes you can check off.
Speaking of musical associations, Quiñones also plays in another soul-influenced band: The Altons. The group from Maywood includes Bryan Ponce and Adriana Flores, who are also in Thee Sinseers, as well as Caitlin Moss and Chris Manjarrez. What separates The Altons from other groups is their deviation from playing strictly soul music. The songs on their full-length debut album "In The Meantime" are a warm heaping of soul and oldies with flashes of alternative/indie, surf and psychedelic rock.
"We like to try different things that don't have a particular genre or put a genre to whatever we think fits the song," explains Ponce. "We don't want to pigeonhole ourselves. There's a lot of stuff that's sprinkled into it. The guitar is a little more distorted or the drums are a little louder, but if you strip the songs down or if you play them acoustically, I feel like that they can fit in that certain style [of soul] because they're really influenced by that."
"It comes at the expense of being the oddballs in the lineup," adds Flores. "I'm all for it. I think it works in our favor. I think blurring the lines is important. It shouldn't just be boxes you can check off."
Gabriel Rowland and Victor Benavides of Los Yesterdays had a different trajectory. The duo, who have been friends for decades, spent much of their careers performing in separate bands that were as far from soul and oldies as one could get.
"We were doing all kinds of different, wild stuff to separate ourselves from the herd," recalls Benavides, who eventually retired from his music career. "I quit doing music when I was 40. I was done and I didn't want to chase it anymore."
His un-retirement came about three years ago when Rowland, at the suggestion of his wife Kristen, approached him for help on a jingle he was working on.
"He called me in and then he told me about the idea about doing this Chicano soul stuff and how he really thought that we could get a lot of love," he explains. "I was broken-hearted at the time. I had just ended a very long-term relationship at the time, or it had ended. I didn't end it and I was pretty depressed."
The song became their first single, "Mr. Yesterday," which caught the ear of Gabriel Roth, aka Bosco Mann, and Tommy Brenneck of Daptone Records, home of the iconic soul and funk group Sharon Jones & The Dap-Kings, which they were also members of. Roth recently launched Penrose Records, a soul/oldies imprint under Daptone where he works with and collaborates with many of the aforementioned artists in this article. He and Brenneck were so enamored by Los Yesterdays that they signed them to Penrose and even joined their band. The group has since recorded four other Chicano soul/oldies singles and has enough material for a full-length record as well.
Los Yesterdays speaks about a love that was untrue in "Nobody's Clown." Watch their video.
"I think it's all soul music, honestly, because it's all the same emotion," says Jason Joshua, a self-taught musician from Miami, Florida who founded Mango Hill Records in 2016. He publishes his own work as Jason Joshua & The Beholders, mixing soul with a bit of funk and tropical vibes, as well as music by other soul/oldies-influenced artists including a few singles by Trish Toledo and Joey Quiñones.
Joshua's mission at Mango Hill is to work with and promote soul artists of color. He's worked as a professional musician for 15 years and was ignored and rejected by record labels for 12 of those years until being picked up by Daptone.
Jason Joshua's music has been rejected by record labels for more than a decade until being picked up by record label, Daptone. Listen to his music.
Signing with the legendary label didn't deter Joshua from continuing his work with Mango Hill. He wanted his own label where he could publish his own work and assist other artists of color to publish and promote their own music. To that end, his label doesn't own any of the masters of the music they publish and they pay their artists up front.
"We're creating our own safe space, our own jobs, our own equities, our own accolades," explains Joshua. "We're just trying to change the narrative of like 'sign to a label and lose everything!' I think that the most important thing is to try to create that awareness and a safe space for musicians."
"We're not just taking the secret and keeping it for ourselves," he continues. "Whether it's pressing plan information or pay structure, whatever it is, we are more than willing to share the key with everyone. We're not here for competition. We're here to have something to leave behind."