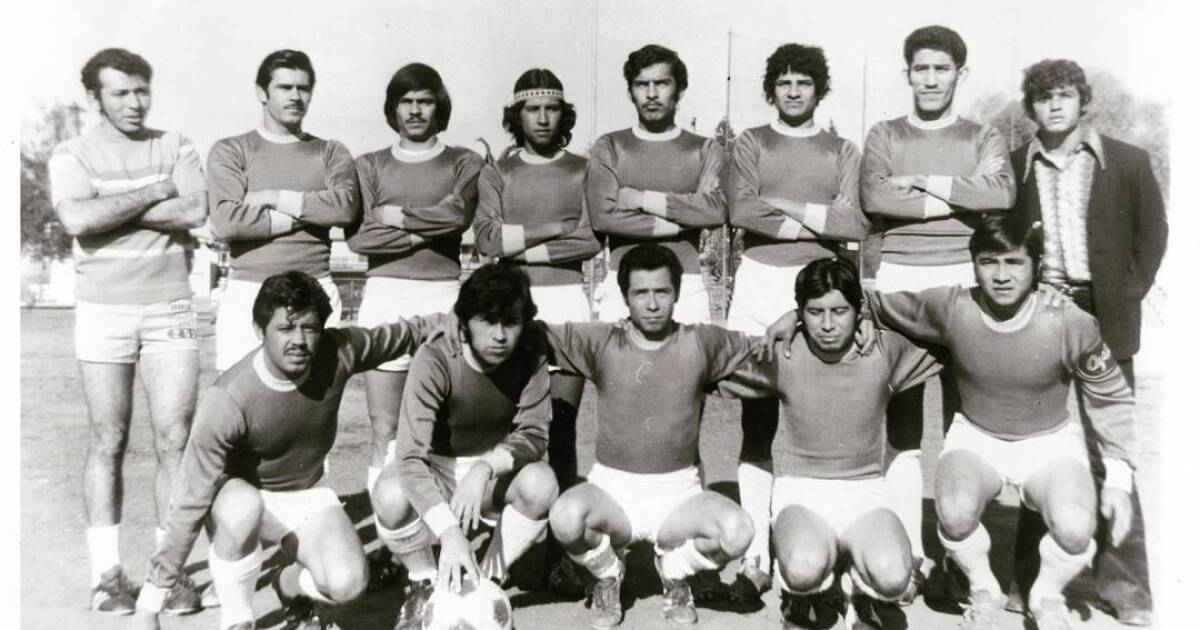 On many Sundays when he was a child, Rob Lopez' parents would dress him up in the traditional clothes of a cora, a native person of the Mexican state of Nayarit. With Lopez wearing a two-piece, long-sleeved suit of cotton adorned at the neck, waist and cuffs with floral designs of various bright colors and a round, long brim hat adorned with tassels, his father would then put on his jersey and shorts and the family would leave together to a park in East L.A. to watch their patriarch play soccer with Deportivo Coras USA, the team co-founded by his father and uncles after moving to the US from Mexico.
"That was fun and exciting," recalled Lopez of the team he and his family were synonymous with for half a century. "There was a lot of pride. The fanbase was there and people knew who we were. We would go to Orange County and people knew who we were. We would go to Santa Barbara or Oxnard and people knew who we were."
What began as a fun ritual for the weekend grew into a family legacy of community-building that lasted half a century. During its existence, Coras USA united working-class, immigrant families from Nayarit and other regions of Mexico in Los Angeles and provided youth players a pathway towards a professional career during its final years in the city of Riverside.
"Its original name is Deportivo Coras USA," explained Lopez of the team founded by his father and uncles. "The first name that it had was Coras de Los Angeles. Along the years, it had a couple of name changes like Deportivo Nayarit [and] Deportivo Coras Nayarit. It's always been Coras but it's been known for Coras de Los Angeles because it branched out of Coras de Tepic."
Coras de Tepic, aka Coras Fútbol Club, is a soccer club in Tepic, Nayarit located on the center-west coast of Mexico. It's where Lopez' father and uncles were raised in and played soccer in their youth.
"They actually grew up in the farming business," said Lopez. "They grew their own produce and sold the produce out in the streets. Then in the evenings, they would play street soccer and that was their education. That was their soccer experience."
Video Player is loading.
Play Video
Play
Mute
Current Time 0:00
/
Duration 0:00
Loaded: 0%
Stream Type LIVE
Seek to live, currently behind liveLIVE
Remaining Time -0:00
Share
1x
Playback Rate
Chapters
Descriptions
descriptions off, selected
Captions
captions settings, opens captions settings dialog
captions off, selected
Audio Track
Picture-in-PictureFullscreen
Quality Levels
This is a modal window.
Beginning of dialog window. Escape will cancel and close the window.
TextColorWhiteTransparencyOpaqueBackgroundColorBlackTransparencyOpaqueWindowColorBlackTransparencyTransparent
Font Size100%Text Edge StyleNoneFont FamilyProportional Sans-Serif
Reset restore all settings to the default valuesDone
Close Modal Dialog
End of dialog window.
Close Modal Dialog
This is a modal window. This modal can be closed by pressing the Escape key or activating the close button.
Close Modal Dialog
This is a modal window. This modal can be closed by pressing the Escape key or activating the close button.
In this video, GlobalGirl citizen journalists profile artist and soccer enthusiast Erick Roldan.
At some point in their teens, they were discovered by Coras Tepic and given a chance to play with the team. Though they never got a shot with the team's senior squad, they did get a small taste of professional soccer as they played the sport through the team's reserve squads in Tepic. One of Lopez' uncles lived the dream and left Coras Tepic for Club Deportivo Guadalajara, aka Chivas de Guadalajara and one of the cuatro grandes (top four) historic and popular clubs in Mexico, and played with the first team for some time. That all came to an end in 1965 when they decided to take advantage of their visas and moved north to Los Angeles.
"Their whole idea was to work on the fields of southern California," explained Lopez. "They went to go work at Oceanside and Adelanto. They were out there picking produce during the whole Cesar Chavez movement. They were a part of that movement."
The East L.A. Gas Station That Fueled the Change
On one fateful day in 1966, Lopez' father and his brothers decided to attend a labor rally in downtown Los Angeles. A stranger approached them who recognized them from their family ties in Tepic, where he was also from. He offered them work at the gas station he owned in East Los Angeles on Brooklyn Avenue (now East Cesar Chavez Avenue) near the on-ramp of the Interstate 5 freeway. That chance encounter would become a pivotal moment for the creation of Coras USA and the future of the Lopez family.
"The gas station is no longer there but it was there for many years and thank God for that owner and that gas station," exclaimed Lopez. "My uncles at that time had never driven a car. They were campesinos. Now they're working at a gas station in the U.S.… [when] the gas stations were full service. They pumped the gas, checked the oil and did automotive repairs. Thanks to that, years later, my uncles opened their own shops in East L.A. and El Monte. One was an alternator shop and another one was a radiator shop."
Their jobs at the gas station would prove pivotal in two other ways. The first was in 1966, soon after being hired, when a woman from a local Catholic church arrived to have gas pumped into her car. She passed out flyers to promote the soccer tournament her church was hosting at the time as part of a community event. Lopez' father got his brothers, cousins and a few friends together to compete as a team at the event. They won the tournament and decided to join the Belvedere League in East L.A. to continue playing soccer together.
"They played there in 1966 and 1967," said Lopez. "Then they got kicked out because they were considered pro players. They were encouraged to play in the California League."
The California League was one of a handful of amateur leagues in the Los Angeles area at the time, including The Greater Los Angeles League, the Continental League and the Pacific League. Unfortunately, the league required an entry fee, approximately $2,800, according to Lopez.
The gas station owner proved pivotal once again: he provided the Lopez kin with a loan to pay the entrance fee. In 1969, the Lopez family officially debuted their team, Deportivo Coras USA, aka Coras de Los Angeles. Two years later, Lopez was born in East L.A. and raised there and in the city of Bell. Coras USA would become a central pillar of his life for decades to come.
Coras in U.S.A.
Coras USA was more than a local team for everyone involved. Local businesses owned by people originally from Mexico supported and sponsored the team. The local Spanish-language newspaper La Opinión dedicated many articles covering the team's exploits in the city, which helped them grow in Southern California.
"The fanbase was there and people knew who we were and that was very exciting," said Lopez. "We would go to Orange County and people knew who we were. We would go to Santa Barbara or Oxnard and people knew who we were."
The team also functioned as a cultural and ethnic umbilical cord that connected the Nayarit and Mexican diasporas in Los Angeles with their families and friends back home in Nayarit as well as the original Coras team in Tepic. Game days were a time for families to reunite and socialize. It was also an outlet for professional players from Mexico to reconnect with families and friends in Los Angeles while practicing their sport.
"I saw a lot of pro players who played for Coras de Tepic come to the U.S. to play for Coras de Los Angeles," said Lopez. "La Opinión in L.A. would write articles about Coras and the players would mail the newspaper to Tepic so that their family members could read all about what's happening out here in Southern California."
"Some of these players would go back to Tepic and talk about what's going on," he added. "Some of the players from Coras Tepic would come out just for the season and then go back home and talk about it. [Others] ended up staying out here and becoming citizens and raising their families in L.A.."
Coras USA's home field was at a couple of different parks in East L.A., including Belvedere Park and another park nicknamed El Hoyo (The Hole) on Soto St. and 8th St. They also played at Whittier Narrows Park. No matter where they played, the players and their families would meet at the restaurant at the top floor at El Mercadito in East L.A. for dinner in the evening.
Lopez and other members of his extended family eventually left Los Angeles and resettled in Riverside. Meanwhile, Coras USA would change hands before Lopez himself would directly tend to his family's legacy.
"In the '80s and '90s, different family and friends took over Coras de Los Angeles," said Lopez. "In the late '90s, it was struggling out in L.A. My cousin Galo and my brother-in-law were the last owners of Coras de Los Angeles and, after a couple of years, they weren't able to continue the team. At that time, I told my brother-in-law, 'I want to bring the name out to Riverside.'"
Inland Empire: An Overlooked Football Hub
The team began with his family and should, therefore, be where the family is as well. Thus, in 2013, Coras de Los Angeles, aka Deportivo Coras USA, left its original home in Los Angeles to the Inland Empire where it would become Riverside Coras FC. The team played its first season in the So Cal Premier League (now known as the Southwest Premier League) in 2014 and joined the National Premier Soccer League the year after.
With his family's legacy now in his hands, Lopez sought to connect with a new community and, more importantly, build a local team that could serve as a launching point for young, talented local players towards a professional career in soccer.
The team played home games at fields on La Sierra University, the University of California Riverside, Ramona High School and John W. North High School. It had the support of then-mayor Rusty Bailey and then-councilmember Andy Melendrez. As in Los Angeles, it also found support from local businesses, received news coverage in the local paper, The Press Enterprise and had a post-game dinner spot at Casa Ortega. More importantly, it found support from a diverse, soccer-loving community from within and outside of the city of Riverside.
Steven Ramirez was one of the team's early supporters. He grew up playing soccer locally alongside his brother and watched Major League Soccer and the U.S. national team. It was around 2014 or 2015 that he took an interest in lower league soccer. He did a bit of research and was happy to learn that Coras USA had recently relocated from L,A. to his backyard.
Soon after, Ramirez headed out to Ramona High, not too far from his house, to watch the Coras play a friendly against the U21 squad of Club Tijuana Xoloizcuintles de Caliente, aka Tijuana Xolos, a professional first division team in Mexico. It was love at first kick. Something about Coras struck Ramirez as a vessel to represent his city.
"I see my community of Riverside as being a really diverse community that is unique to a lot of other communities in Southern California with how we pride ourselves on art and ingenuity," he said. "I saw that play out in my mind at this grassroots club, that it could actually be a professional club one day just because of the amount of population that we have and the amount of talent the Inland Empire develops. Riverside is, in my opinion, the biggest conduit or biggest hub for the Inland Empire."
Ramirez is quick to note some of the country's best players that grew up in the Inland Empire. Landon Donovan, the best U.S. player of his era, grew up and played in Redlands just 15 miles northeast of Riverside. Nick Rimando, one of the best goalkeepers in MLS history, is originally from Montclair 25 miles west of Riverside. Chad Marshall, a celebrated and decorated defender during his time in MLS, hails from Riverside.
"This is an area for soccer," he added. "There's so much talent out here. When I started to realize that, that's how I could believe in the Coras or that there could be a professional soccer team out here and if they really got into the identity of the community, it could really be something unique down here."
Ramirez soon joined the team as a volunteer staff member. He started small and worked his way up into one of the staff's most important members as he got his hands on everything. He wrote the team's press and marketing releases, created content for their social media channels, provided live match commentary, sat in on business meetings for sponsorships and meetings with city councilmembers and worked with Lopez to craft the team's identity.
"I was really privileged to get that experience from Rob especially as someone who wasn't in the sports industry before," said Ramirez. "He saw that I was passionate about the club and thought I had some good ideas, so he really let me in to learn a lot about lower league soccer."
Coras USA started off strongly, but things looked grim by 2019, the year Lopez planned on celebrating the team's 50th anniversary. He had invested hundreds of thousands of dollars of his own money with little return. The various expenses continued to pile up.
"You start thinking, 'wow, this is too expensive," said Lopez. "Instead of moving forward, it seems like we're moving backwards. The hardest part of a business is knowing when to quit because you're always hoping things will turn around. You're always being positive and hopeful that things will turn around."
One Last Lifeline from Tijuana
A lifeline came from Mexico. Lopez had built a positive rapport with the Tijuana Xolos since moving Coras to Riverside, especially with youth academy president Ramon P. Vazquez and academy coach/director of coaching Ignacio Ruvalcaba. They were impressed by Lopez' work and success in training and developing youth players.
Under Lopez' guidance, Coras USA had sent numerous players to professional teams around the world. Two of his players left Coras to join teams in the United Soccer League in the US. Six other players left Coras to join teams in Brazil, Germany, Mexico and Spain. The Xolos organization knew that the Inland Empire was fertile ground for future talent and wanted dibs in the region.
After a few meetings, the Xolos made their offer: they wanted to convert Coras USA into a Xolos satellite team in the NPSL complete with an officially licensed youth academy up to the U20 level supported by the Xolos.
"We were excited, to be honest with you," said Lopez. "The number one reason why I was okay with that is because we would keep soccer alive in Riverside. The doors would be open for the next generation of soccer players to chase their dreams. There's hope for them versus us walking away and closing the door. One of the things that kind of made me feel good was that it doesn't matter if it's no longer Coras. The kids will still have an opportunity to chase their soccer dream."
Steven Ramirez
On Oct. 29, 2019, Lopez announced one of the most difficult decisions he'd ever made in his life: Deportivo Coras USA/Riverside Xolos FC had officially rebranded as Club Xolos USA U-23. The announcement was made formal on Nov. 12th with a press conference and media event outside the steps of Riverside City Hall.
The news took everyone by surprise. For Ramirez, though he was shocked it happened, he also wasn't surprised that it happened, considering all that he witnessed as a volunteer working behind the scenes and everything he'd learned about lower league soccer in the US.
"The amount of clubs that I've seen, and I'm talking about successful football clubs that have been around for 10 years and they fold, is just very surprising," said Ramirez. "Unfortunately, it's the nature of the business."
"The Xolos themselves were willing to take more than an investment in the club," he continued. "Not just financially, but also with the development of players in our community. Just for the fact that they get these opportunities to better themselves in their career, it would be almost selfish to say no to that opportunity just because you want to keep your identity that you've had or the control that you've had."
Others weren't as understanding.
"There's soccer family members who don't talk to me because we did that," said Lopez. "These gentlemen that hold resentment are from my dad's generation. They're heartbroken. They just didn't agree, and we lost contact."
On Feb. 29th, 2020, Club Xolos USA played its first home game at Ramona High. It was exactly what Lopez had wanted. From the time of the announcement to the opening match, the team's youth academy had registered 93 players. Some of these players were invited on a trip to the Estadio Caliente, the home field of the Xolos, to play scrimmage games against Xolos youth academy players from Tijuana where they would be scouted by professional coaches for development.
Lopez and his staff also benefitted from the partnership. Lopez, who grew up watching his family play amateur soccer in local parks, was learning about the intricacies of running a multimillion-dollar team in a professional, first division league. His coaching staff was learning directly from professionally licensed coaches. His players were being coached by highly trained and educated coaches-in-training working towards their professional licenses.
Then the pandemic happened.
Months after the country shut down, Lopez shut down Club Xolos USA for good. Coras USA did not last a decade in the Inland Empire. It was, first, a victim of the brutal reality that is lower league soccer in the US. It was then one of the many victims of the global pandemic. A former staff member from Coras/Xolos is currently coaching three recreational soccer teams gear and continues to use some of the team's old gear, but he has found it difficult to rebuild what was lost.
Still, Lopez, Ramirez and everyone involved with the team in Riverside take comfort knowing that they put their own grain of sand in the soccer landscape of the Inland Empire and planted a seed that remains waiting for the right circumstances to grow and bear fruit once more.