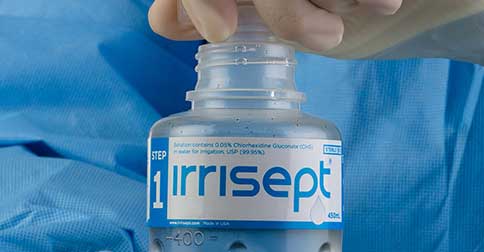 Preparing for Growth
When David Meyer joined Irrimax as Vice President of IT in 2018, the company was poised to more than triple in revenue, which as of 2021 it indeed has!
His challenge, as he quickly saw, was the need to implement automation solutions, digitization, core accounting and supply chain systems that would accommodate the predicted growth. It was an exciting challenge to have!
At that time, the company was using Quickbooks for invoicing, and tracking everything using manually prepared Excel spreadsheets described as the Excel "farm." All spreadsheets on this "farm" had been created by one employee who left the company not long after David Meyer arrived.
ABOUT IRRIMAX:

Irrimax Corporation is focused on reducing infections, healthcare costs and improving patient outcomes. Innovation Technologies, Inc., parent company

to Irrimax Corporation, holds the rights to US and worldwide patents that provide broad protection for the use of low-concentration CHG (at less than 1%) technology. The company's flagship product, Irrisept Antimicrobial Wound Lavage, is a single- use, manual, self-contained irrigation device.
Since Irrimax's products are used in healthcare settings, they were subject to a variety of government regulatory acts, so compliance was a major concern, as was the security and privacy of the data and the network.
Solution Selection Process
Meyer immediately undertook to hold a vendor evaluation competition in which he looked at various enterprise resource planning (ERP) and supply chain platforms, as well as experts to implement and integrate them into the company's operations.
"We had several decisions to make," explains Meyer, "starting with which platform would be our platform to manage this digital transformation we needed to undergo to grow the company as much as planned."
He hastens to add, "but that's only really less than half of the equation. For me, the other big part of it is choosing the partner that is going to help me on that journey. At the beginning, these are big complex, vastly complicated systems that have so many features and different ways you can configure them and use them. I knew I'd need an expert to help me on that path."
"These are big complex, vastly complicated systems that have so many features and different ways you can configure them and use them. I knew I'd need an expert to help me on that path."
David Meyer VP, IT
Mitigating Risk
Meyer observes, "You can pick the right product, and you can have the right employees on my team. But if the partner is not on their game, and they don't give me the right implementation resources, the thing goes off the rails and it's a disaster for everybody."
He had set out on his search with minimizing risk as one of his core goals for this project. "It's not just organizational risk," explains Meyer voicing a concern quite common among IT executives. "If the project goes south, our business gets interrupted, and we can't ship product. And that's a huge risk to the entire company and the livelihood of all the people that work here. And to me, as VP of IT, there's career risk too."
A Series of Smart Selections
Ultimately, David Meyer chose the Microsoft Cloud Platform and Microsoft Dynamics 365 Business Central and awarded the implementation contract to Velosio.
"It was a good experience from the beginning," reports David Meyer. "The implementation of these products are very complicated. They have a lot of moving parts and a million places where they can go wrong and become very stressful."
Despite the usual delays, unexpected personnel changes, unanticipated obstacles, and other challenges, David Meyer happily shares, "We got everything done and the go-live was very smooth." He smiles broadly as he adds, "We've been up and running now on our brand-new ERP system, with really very few hiccups and very few problems."
Focus on the Supply Chain
Looking back, Meyer acknowledges that the accounting functions of the ERP were not a source of concern for him or the company. Their big concern was putting a superior automated supply chain solution in place. Dynamics 365 Business Central supply chain management is fully integrated and designed to generate actionable insights that drive efficiency and improve productivity.
Now that that automation is in place, their supply chain manager expresses gratitude that he now can run reports using real-time data unified in a single system, a major improvement over previous solutions. He can confidently produce accurate forecasts, running "what-if" scenarios such as analyzing if demand goes up, and Sales says they're going to increase 25% sales next quarter, "What does that do to the requirements for making the product and the supply chain and then he can actually model that with the system now, where before it was like you're flying blind," explains Meyer.
The Velosio Experience
Asked to evaluate the project and his experience working with Velosio, David Meyer launches by assuring, "The project was a big success. It's been a great experience so far and Velosio is my go-to for all the Microsoft stuff. They have helped me have a very successful ERP project, which is never a guarantee. They helped me pick the right product, and put all the right employees on my team."
Next, Irrimax is talking with Velosio about their plans to implement a Microsoft Dynamics 365 Customer Engagement (CE) system alongside their ERP.