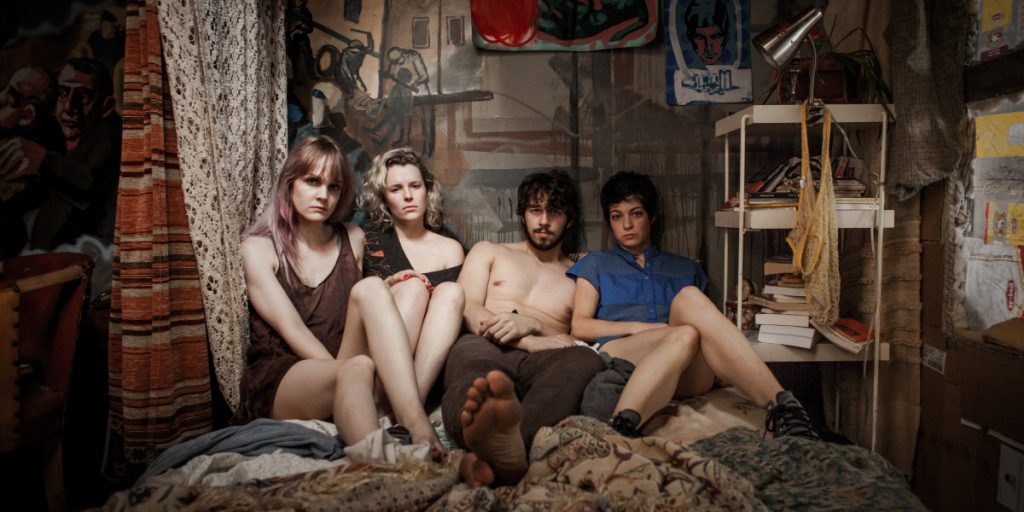 Lost in the media feeding frenzy over what celebrity was quaffing champagne where during the course of the Toronto International Film Festival was, among other things, an epic 3 hour must-see Canadian film.
Written and directed by Quebec filmmakers Mathieu Denis and Simon Lavoie, Those Who Make Revolution Halfway Only Dig Their Own Graves follows four student radicals as they set about attempting to terrorize Quebecers out of their complacency. The visually stunning film is set in the aftermath of the 2012 so-called Maple Spring when 200,000 students in Quebec took to the streets to protest a plan to significantly raise tuition rates for higher education. Embittered and enlivened by the denouement of the protest, in which students returned to class after a grudgingly promised tuition freeze, the four form an increasingly insular cell. From an eerily familiar dark and decrepit Montreal apartment, they deface billboards, set buildings on fire, dumpster dive and foment against the compromises and falsities of contemporary capitalism.
But the film's energy, even genius, doesn't just come from its powerful and sympathetic portrayal of young people caught in the exhausted hypocrisy of 21st century Canada. It also derives its power from its nuanced understanding of how four privileged young people come to hate their parents, their world and, at times, even each other.
Perfectly executed, this is the first film I've seen that truly captures both the impossibility and necessity of revolution in the age of YouTube democracy. Go watch the trailer on TIFF's website, or better yet, hunt down the whole thing to watch.
Hal Niedzviecki is a writer, culture commentator, and the founder of Broken Pencil Magazine.