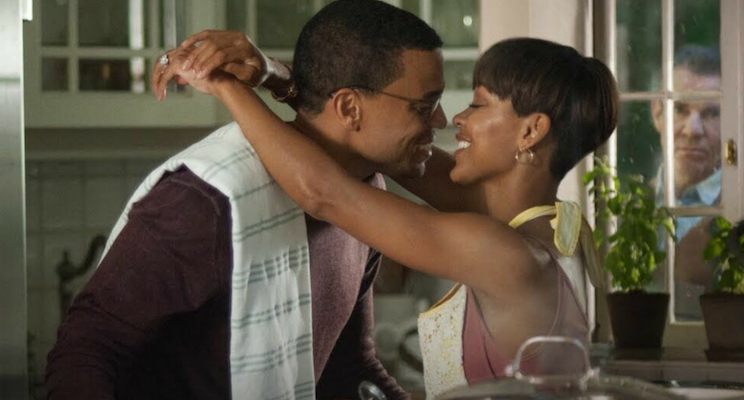 Yes, yes, I know, the big box office story of the weekend is supposed to be the continuing onslaught of Avengers: Endgame. It made another estimated $145.8 million this weekend and became the fastest movie ever to reach $600 million in domestic earnings (10 days, two days faster than Star Wars: The Force Awakens). It also boasts the second-best second weekend numbers ever, a hair behind SW:TFA. (Some haters are clucking, why only second-best? Could be that SW:TFA made its money while kids were out of school, giving it an advantage over the Marvel release.) At any rate, Endgame is still mighty, and the three other studios that put out wide release films this weekend were foolish to think their puny offerings could serve as viable counterprogramming without the superhero saga smashing them like an angry Incredible Hulk.
Still, given that the only suspense this weekend was in the race for second place, The Intruder's estimated $11.0 million finish starts to look like an upset win. After all, the weekend's top non-Marvel movie was supposed to be Long Shot, a lavish romantic comedy with two big stars, strong reviews, and a very wide release (for the genre), on 3,230 screens. Plus, it's the first real romantic comedy of the year (if you consider Isn't It Romantic more a spoof of romcoms than an actual romcom), and it was expected to pull in a romance-starved female audience seeking an alternative from the testosterone-heavy heroics of Endgame. Pundits projected a premiere anywhere from $12 to $20 million.
In contrast, The Intruder, a low-budget thriller about a black couple menaced by the previous owner of their new home, did not have any big box-office-draw stars (sorry, villain Dennis Quaid doesn't count), opened on 1,000 fewer screens, and got terrible reviews. It was supposed to consider itself lucky to come in fourth with about $9 million, after Long Shot and new cartoon UglyDolls.
Intruder's $11.0 million weekend may be just 22 percent ahead of what was projected, but it was good enough to beat Long Shot for second place. Long Shot mustered just an estimated $10.0 million, while UglyDolls was fourth with an estimated $8.5 million. Per screen, Intruder scored an enviable $4,950, compared to just $3,104 for Long Shot and $2,330 for UglyDolls. At a cost of no more than $9 million to make (some sources say as little as $5 million), Intruder is well on its way to profitability, while Long Shot and UglyDolls (both of which cost well over $40 million) are both, um, long shots to ever reach the black.
How did Intruder manage to break into the upper reaches of the box office chart? Here are six ways.
The genre. The African-American domestic thriller genre, that is. This has been a successful-yet-overlooked group of movies for about a decade now. They take a plot that was very popular in '90s thrillers (but ones that tended to have mostly white casts) and recast it with rising black stars. Intruder fits the formula: an African-American woman (or couple) achieves a new level of prosperity (in this case, buying a dream house), only to have their status threatened by an interloper, often one partner's psycho ex. Many of these movies have done very well at the box office, with some, like No Good Deed or The Perfect Guy (which co-starred Intruder's Michael Ealy) opening well above $20 million. Critics may not have thought much of Intruder (it got just a 27 percent fresh rating at Rotten Tomatoes), but audiences came anyway because they knew just what to expect.
The director. Deon Taylor isn't a household name (yet), but he seems to know what he's doing. He's had some success with black-cast movies, both thrillers (Traffik) and spoofs of thrillers (Meet the Blacks). He's efficient (his makes films on very modest budgets) and prolific (he has two other films coming out this year: another thriller and a Meet the Blacks sequel). He's no Will Packer (the producer who's turned the making of such low-cost, all-black movies into an efficient, cash-printing machine), but give him time.
The distributor. Many of these thrillers have come from Screen Gems, the Sony imprint that's become expert at marketing them. From Obsessed to The Perfect Guy, No Good Deed, When the Bough Breaks, and now The Intruder, Screen Gems has a decade-long history with the genre. It also puts out African-American romantic comedies and general horror films, which also appeal strongly to African-American audiences. So Screen Gems knows its market and how to reach it, For Intruder, it staged advance screenings at historically black colleges and universities, with Taylor and his attractive cast in attendance. That tour helped raise social media awareness of Intruder to about 70 million impressions across various platforms, according to tracking service RelishMix. Long Shot, which actually features big-name stars, created 67 million impressions.
The competition. Speaking of Long Shot, audiences didn't love it as much as critics did. While professional reviewers gave it an 83 percent fresh grade at Rotten Tomatoes, paying customers gave it just a meh B grade at CinemaScore. Even UglyDolls got a B+. (Critics at RT gave it a 34.) So word-of-mouth was weak for both movies.
Plus, UglyDolls represents the first foray into computer-animated features for four-year-old studio STX Entertainment, a distributor that's enjoyed success with grown-up movies like the Bad Moms films and The Upside but is new to the family market. UglyDolls is an apparent attempt to duplicate the success of Trolls; it's also based on a line of toys, its voice cast consists largely of popular singers, and there's a streaming cartoon series all ready to go on Hulu. A cynical observer might think that STX, which reportedly spent between $45 and $53 million to make UglyDolls (a modest sum by CG animation standards), was making the feature largely as a loss leader, more of an ad for the upcoming show than a product meant to be profitable in its own right. In any case, if STX thought UglyDolls was going to attract a large audience of kids too young to sit through three hours of Avengers violence, it thought wrong.
Seth Rogen. Give the Long Shot star credit: he knows his niche and has made himself a household name in the process. And yes, the whole basis of the film is how improbable it is that a schlub like him could date someone as out of his league as Charlize Theron (in Long Shot, he's a reporter, and she's the U.S. Secretary of State). But still, a lot of moviegoers have a suspension-of-disbelief problem watching someone like Theron fall for someone as romantically unappealing as Rogen. Besides, as guest host Adam Sandler joked on Saturday Night Live this weekend, he himself has already made about four of these beauty-and-the-beast movies. So has Rogen, and apparently, few people want to see yet another one. Long Shot may have been targeting an audience of women, but whom do you suppose women would rather watch: Seth Rogen, or Endgame's Chris Evans and Chris Hemsworth?
The audience. Let's face it, Hollywood routinely underestimates both African-American viewers and the movies that cater to them. Yet they typically make up a disproportionate fraction of the North American moviegoing audience. According to pollsters at PostTrak, some 34 percent of Intruder viewers were African-American. (By the way, an equal percentage was white, suggesting that the movie had a crossover appeal few had predicted.)
CinemaScore didn't publish a grade for Intruder, though Box Office Mojo claims the grade is a B-. Which means that even though black viewers came out in disproportionate numbers to see it, even they didn't think it was that great. That, in turn, only speaks to how hungry African-American viewers are to see movies where they're depicted as attractive, heroic protagonists. Given the alternative of the mostly white heroes in Endgame and the white couple in Long Shot, can you blame so many for choosing Intruder instead?