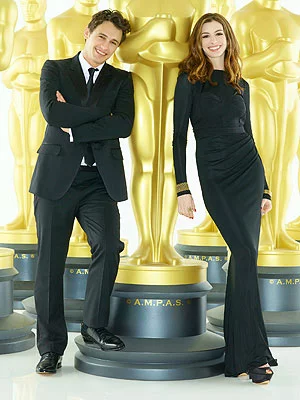 Breathlessly awaiting the 83rd Academy Awards ceremony Sunday? Questions about the Oscars keeping you up at night: Who will be the next fashion stunner (or trainwreck) on the red carpet? Will The King's Speech beat The Social Network for Best Picture? And when was the last time an actor like 127 Hours nominee James Franco managed to co-host the ceremony and win an Oscar on the same night?
Never fear, PEOPLE has you covered. As for that last question – It was 1959, when co-host David Niven won Best Actor for Separate Tables. It's just one of many little-known facts revealed in Red Carpet Trivia Live, the live online game launching on PEOPLE.com during the Oscars Sunday night.
The game will offer a stream of questions and fun facts about the presenters and nominees as they appear on TV. Here's a chance to brush up on some trivia in advance with five things you may not know about Hollywood's golden night.
1. The red carpet runs through a mall
The Oscars may be the only major awards show held in a shopping mall. The home of the Academy Awards, the Kodak Theatre, is tucked away in the middle of Hollywood & Highland Center, just past an Aveda store and an Auntie Anne's Pretzels.
2. Anne Hathaway and Jesse Eisenberg have a secret past
Co-host Hathaway and Best Actor nominee Eisenberg (The Social Network) made their professional acting debuts together, playing sister and brother on the short-lived Fox family drama series (Get Real (1999-2000). They're reuniting as voice actors in the animated feature Rio, due in April.
3. Buzz Lightyear got dance lessons from Cheryl Burke
In Best Picture nominee Toy Story 3, Buzz Lightyear's Spanish jigs were choreographed by none other than Dancing with the Stars' pro dancers Cheryl Burke and Tony Dovolani.
4. Amy Adams's mom was a bodybuilder
Adams spent much of her youth preparing for her Oscar-nominated role in The Fighter as boxer Micky Ward's brassy barmaid girlfriend. Not only did she do a brief pre-fame stint as a Hooters hostess, but she and her siblings also hung around the gym a lot, since her mother was a semi-professional bodybuilder. "Mom worked in the gym where she trained," Adams told the U.K. Guardian, "so we hung out there and we terrorized the place."
5. The Oscar curse is real
According to a recent study, of all the women nominated for Best Actress over the past 75 years (not counting the current nominees), 60 percent got divorced sometime after their Academy Award nods. That includes five out of the last 10 winners – Halle Berry, Hilary Swank, Reese Witherspoon, Kate Winslet, and Sandra Bullock.
The 83rd annual Academy Awards will air live Sunday, Feb. 27, at 8 p.m. ET (5 p.m. PT) on ABC from Hollywood's Kodak Theatre.
Please note: Comments have been suspended temporarily as we explore better ways to serve you. Your opinion is important to us; you can find current discussions at facebook.com/peoplemag.