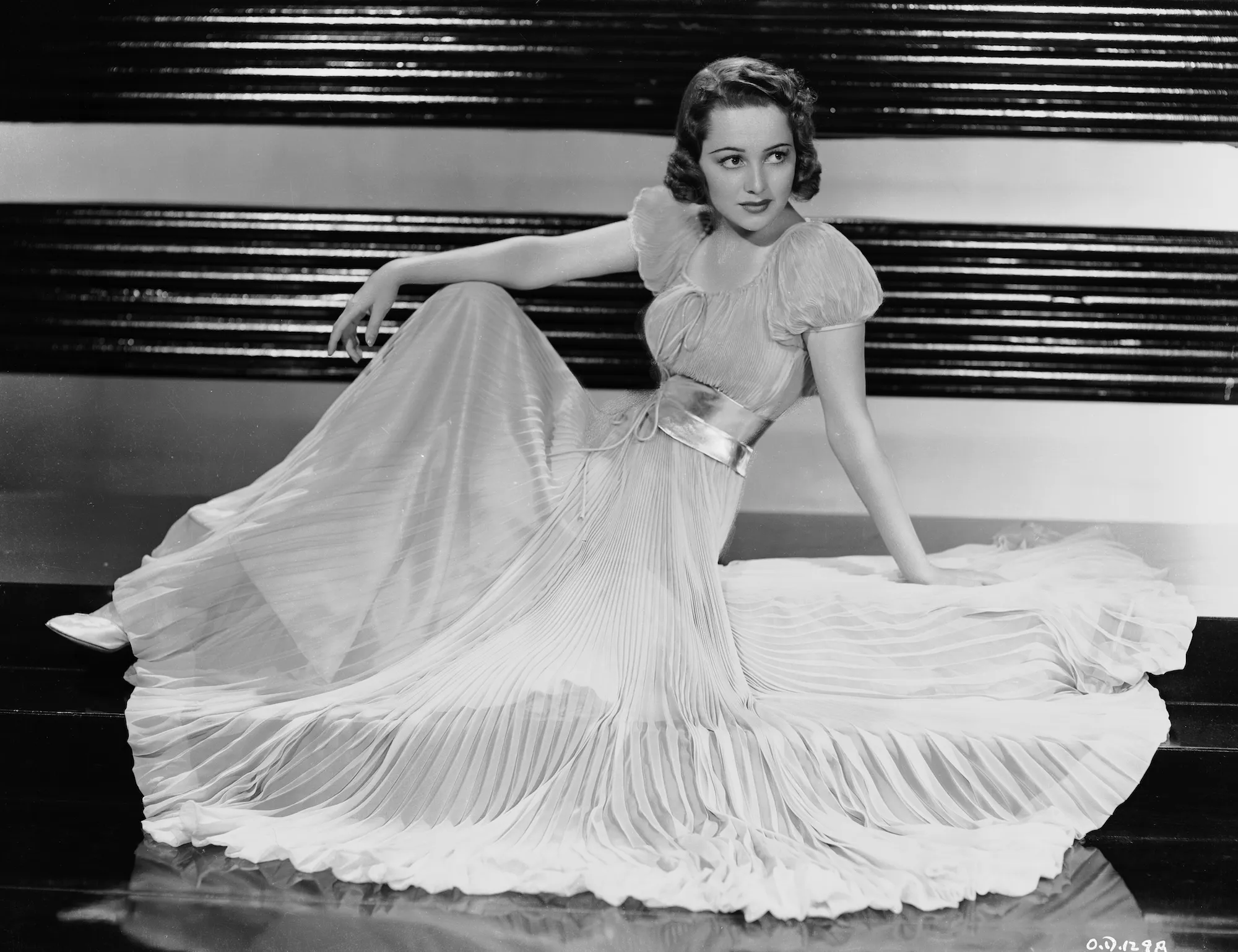 Offscreen, de Havilland was gracious as well. She was too discreet to say much about her lifelong feud with her sister, fellow golden-age star Joan Fontaine—at least, until the eve of her 100th birthday, when she opened up about their difficult relationship in the pages of Vanity Fair.
A year younger, Fontaine nonetheless managed to do nearly everything first, from getting married to winning her Oscar (for 1941's Suspicion, beating de Havilland, who was nominated that year for Hold Back the Dawn), to becoming a mother, to dying (at 96, in 2013). The two often vied for the same roles as well. Fontaine had once auditioned to play Melanie; in fact, Fontaine claimed, it was she who suggested to the filmmakers that her sister was dowdy enough for the part. Meanwhile, de Havilland had sought to play the nameless female lead in Rebecca, a role that proved to be Fontaine's big break. When de Havilland finally won her first Oscar, for 1946's To Each His Own, Fontaine waited in the wings to congratulate her sister, but de Havilland reportedly snubbed her and walked away.
"Our biggest problem was that we had to share a room," de Havilland told Vanity Fair in 2016 with a sigh, elaborating that the trouble between them stemmed from Fontaine's apparent desire to have what de Havilland had: "I suppose the way I saw it then was that I wanted Hollywood as my domain, and I wanted San Francisco society to be hers. I thought San Francisco was superior, I really did—the art, the opera, the clubs, the balls. I thought the sophistication Joan gained from her time in Japan made her perfectly suited for high society. But she wasn't the slightest bit interested. 'I want to do what you are doing' was her mantra."
The steel beneath de Havilland's delicate façade was apparent, not just in movies or in her relationship with Fontaine. After Gone with the Wind, she chafed at the ingénue parts Warner Bros. kept foisting on her. Each time she objected, the studio would issue a suspension, and then demanded that she make up that time—in total, six months—after her seven-year contract was up. Instead, she sued the studio and won, setting a precedent that benefitted all entertainers signed to similar long-term show business contracts. The battle kept her off the screen for three years, but her first role upon her return was unwed mother Jody Norris in To Each His Own. The performance earned de Havilland her first of three Oscar nominations in the next three years and the first of her two best-actress victories. (She'd be nominated again for 1948's The Snake Pit and 1949's The Heiress, winning for the latter.)
The sisters came by their talent naturally; their mother, Lillian, was a stage actress before she married and moved to Tokyo, where the girls were born, and where her husband, Walter, practiced patent law. De Havilland was not yet three, in 1919, when Lillian, due to a rocky marriage and for the sake of her sickly daughters' health, moved with her girls to Saratoga, California. Walter and Lillian divorced in 1925; once the divorce was final, Lillian married department-store owner George Fontaine. De Havilland took to acting as a teen and was just out of high school when she got to understudy Gloria Stuart as Hermia in Max Reinhardt's 1934 Hollywood Bowl production of A Midsummer Night's Dream. Taking over for Stuart after she left for a film role, de Havilland earned glowing reviews and signed with Warner Bros. when Reinhardt adapted the production to the screen.
Over the years, de Havilland was linked romantically to Howard Hughes, James Stewart, and John Huston. (Never to Flynn, though; despite their obvious chemistry, they never acted upon their mutual attraction.) She was married twice, to author/screenwriter Marcus Goodrich, and to Paris Match editor Pierre Galante; each marriage produced one child before ending in divorce.
De Havilland settled in Paris when she married Galante in 1955, and despite occasional visits to Hollywood over the next three decades for film and TV appearances, she lived there for the rest of her life. She made headlines only rarely in her twilight years—most recently, when she tried to sue Ryan Murphy and the FX network for defamation over its series Feud: Betty and Joan, which featured de Havilland as a character (played by Catherine Zeta Jones).
The "FX series puts words in the mouth of Miss de Havilland which are inaccurate and contrary to the reputation she has built over an 80-year professional life, specifically refusing to engage in gossip mongering about other actors in order to generate media attention for herself," her lawyers claimed—honing specifically on the fictionalized de Havilland describing Fontaine by using the word "bitch." Ultimately, a California appeals court ruled to toss the suit on the grounds of the First Amendment.
For all her accomplishments, de Havilland will be best remembered for that epic she made when she was 22. Seven decades later, she was still justifiably proud of Gone with the Wind, a movie she had watched often and still found suspenseful every time. "But you know," she said in a 2010 Evening Standard interview, "you never really need to watch the films you made again. They stay inside you, always with you."
— Cover Story: Viola Davis on Her Hollywood Triumphs, Her Journey out of Poverty, and Her Regrets About Making The Help
— Ziwe Fumudoh Has Mastered the Art of Putting White People on the Spot
— Netflix's Unsolved Mysteries: Five Burning Questions Answered About Rey Rivera, Rob Endres, and More
— Watch the Celebrity-Filled Fan-Film Version of The Princess Bride
— Carl Reiner's Fairy-Tale Ending
— The Secrets of Marianne and Connell's First Sex Scene in Normal People
— From the Archive: Uncovering the Secret Snaps of Sammy Davis Jr.
Looking for more? Sign up for our daily Hollywood newsletter and never miss a story.