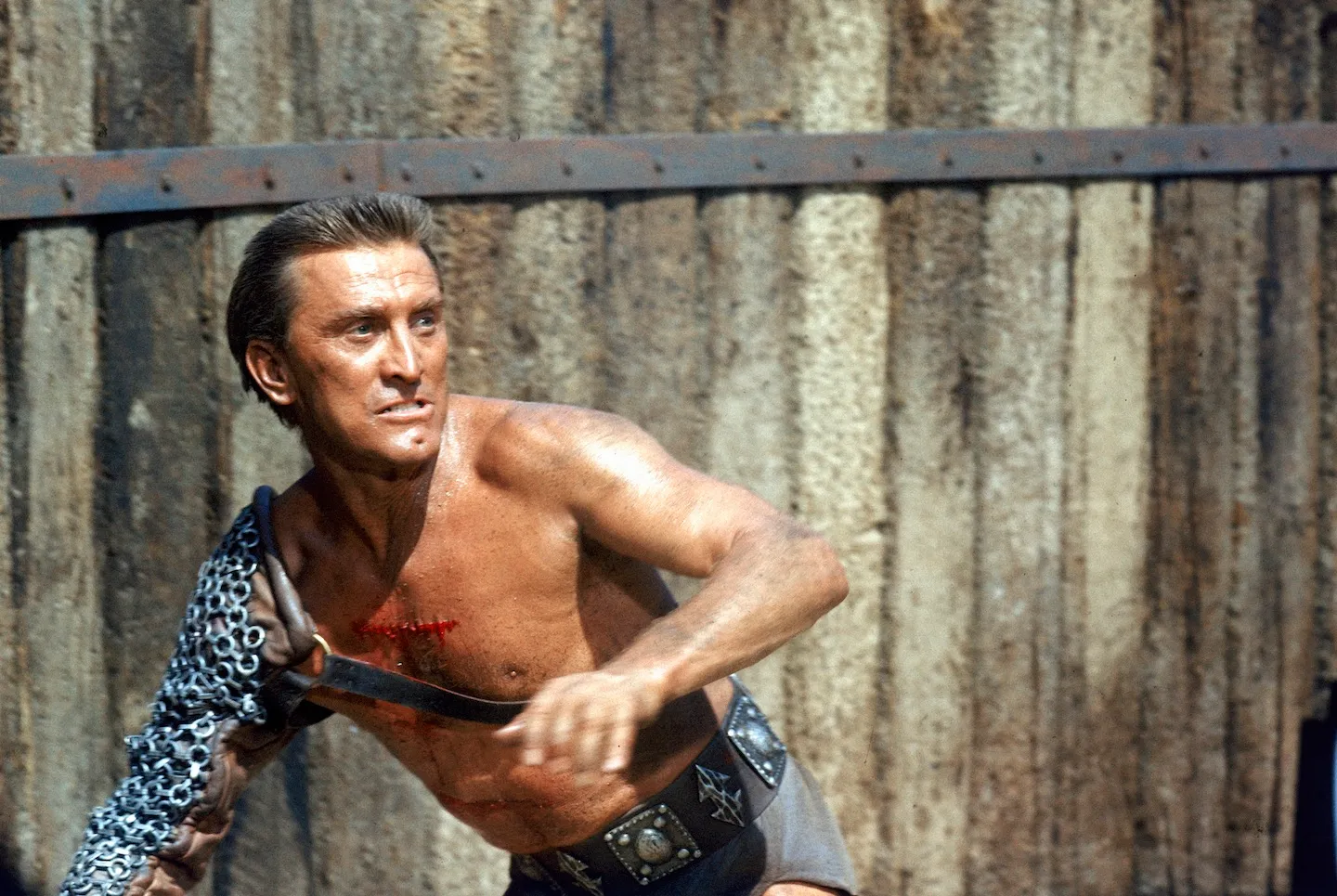 "But to me and my brothers Joel and Peter he was simply Dad, to Catherine, a wonderful father-in-law, to his grandchildren and great grandchild their loving grandfather, and to his wife Anne, a wonderful husband."
"Kirk's life was well lived, and he leaves a legacy in film that will endure for generations to come, and a history as a renowned philanthropist who worked to aid the public and bring peace to the plane. Let me end with the words I told him on his last birthday and which will always remain true. Dad- I love you so much and I am so proud to be your son."
Given the eyes and the jaw, Douglas was equally adept at playing heroes and cads. He rose to fame playing the latter, in movies like Out of the Past (as a treacherous crime boss), Champion (as a scruple-free boxer), Ace in the Hole (as a scruple-free reporter), and Hollywood exposé The Bad and the Beautiful (he was both). But he soon moved to nobler, if equally volatile characters, in such films as 20,000 Leagues Under the Sea, The Vikings, Gunfight at the O.K. Corral (one of seven films he made with pal Burt Lancaster), Lust for Life (where, as Vincent Van Gogh, he hid his dimple under a beard), Paths of Glory, and of course, Spartacus.
That Stanley Kubrick epic gave Douglas a chance to prove his heroism off-screen as well. As a producer of Spartacus, Douglas hired Hollywood Ten member Dalton Trumbo to write the screenplay under his real name, thus helping to bring an end to the Hollywood blacklist of suspected Communists that had kept Trumbo and other filmmakers from working openly (or at all) for a decade.
Douglas remained muscular and heroic on-screen well into his 70s. (Watch him pretending to be a frail coot in 1994's Greedy, an act that should have fooled no one.) Even after the 1996 stroke that impaired his speech and slowed his movement, he proved he retained his trademark intensity in movies like Diamonds and It Runs in the Family (which he made with son Michael, grandson Cameron, and even ex-wife Diana playing his relatives). For once, the eyes outperformed the chin.
Though he earned an honorary Oscar in 1996 and was nominated three times (for Champion, The Bad and the Beautiful, and Lust for Life), he never won an Academy Award in competition. He might have if he'd been able to star in One Flew Over the Cuckoo's Nest, which he had produced and starred in on Broadway. He tried for a decade to bring the project to the screen, only to see his son Michael achieve the feat. The younger Douglas, as producer, claimed the movie's best picture Oscar, while Jack Nicholson won an Academy Award in the part Kirk had coveted.
Douglas was understandably proud of Michael, whose fame as a leading man rivaled his own. Then again, Michael had grown up as the son of a legendary movie star; Kirk had been the son of a rag-picker. Born Issur Danielovitch in Amsterdam, New York, the future Kirk endured a childhood of Dickensian privation and anti-Semitism before turning to wrestling, then acting, at St. Lawrence University in Canton, New York. In New York City, he studied alongside future wife Diana Dill and Lauren Bacall at the American Academy of Dramatic Arts. After a war-time stint in the Navy, Douglas found fame under his new, de-Judaized name on Broadway and then Hollywood (having been recommended to producer Hal Wallis by pal Bacall).
Douglas, who was married twice (to Dill in the 1940s and to publicist Anne Buydens since 1954) and had four sons, claimed to have slept with most of the legendary Hollywood beauties of his day. It wasn't a boast, just an assertion in line with his particular brand of old-school masculinity. With Lancaster and Charlton Heston long since having passed, Douglas was the last of a particular breed of Hollywood he-men, actors who—even as stars like Marlon Brando and James Dean were changing film acting forever by introducing a new kind of tormented, emotional man—still commanded the screen the old-fashioned way, with stage-trained delivery of impassioned monologues through gritted teeth and clenched jaws, and then through two-fisted action and sweating pectorals.
It wasn't just machismo that Douglas and his peers put on display, but a pageant of machismo , part of a kind of showmanship that has long since fallen out of favor. It's to Douglas' credit that he was able to keep it going for so long, to serve as a living reminder for all those decades of what kind of moxie it took, during the darkest days of the last century, to claw and brawl your way to the top. It was all there in Douglas, carved into that chin, and looking out from those eyes.
— Vanity Fair's 2020 Hollywood cover is here with Eddie Murphy, Renée Zellweger, Jennifer Lopez & more
— Who would defend Harvey Weinstein?
— Oscar nominations 2020: what went wrong—and did anything go right?
— Greta Gerwig on the lives of Little Women—and why "male violence" isn't all that matters
— Jennifer Lopez on giving her all to Hustlers and breaking the mold
— How Antonio Banderas changed his life after nearly losing it
— From the Archive: A look at the J. Lo phenomenon
Looking for more? Sign up for our daily Hollywood newsletter and never miss a story.